Continued surge in small-cap listings powers IPOs to an impressive 60.6% average return in 2017: OnMarket Report
MEDIA RELEASE: Continued surge in small-cap listings powers IPOs to an impressive 61.6% average return in 2017
08 February 2018 @ 9:00am

MEDIA RELEASE
Continued surge in small-cap listings powers IPOs to an impressive 61.6% average return in 2017: OnMarket Report
Smaller IPOs on average up 69.8%%, outperforming large IPOs.
8 February 2018: 2017 was an exceptionally strong year for Australian companies floating on the Australian Securities Exchange (ASX). According to the OnMarket 2017 IPO Report, which details Australian Initial Public Offering activity, IPOs that listed in 2017 returned an average 61.6% from their listing date through to December 31, 2017. This was an impressive 54.6% outperformance of the benchmark S&P/ASX 200 index, which had a solid 7.0% return in 2017.
The number of IPO listings in 2017 rose to 113 (96 in 2016, 85 in 2015), implying an average of almost ten a month.
IPOs of less than $50m were, on average, up 69.8% at December 31.
Key data findings:
The number of IPOs has steadily increased over the past 3 years, yet the total market capitalisation of listings has decreased, indicating a surge in small-cap listings in the market and an overshadowing of larger IPOs.
Smaller IPOs have consistently returned more to investors than traditional, larger IPOs, with IPOs that issued less than $50 mil. outperforming those that issued more than $50 mil. by 46.3% in 2017 (refer graph on next page).
The top performing IPOs for 2017 were (refer Top 10 list on next page):
o Ardea Resources (ASX: ARL) – listed in February 2017, as a spin out of Heron Resources Ltd, and raised $5.1 mil. at $0.20 per share. At the time of the Prospectus, gold was the focus, but such have been the developments in cobalt ARL has been transformed to focus on cobalt. 850% return in 2017.
o Wattle Health Australia (ASX: WHA) – listed in March 2017, raising $8.0 mil. at $0.20 per share. In 2017 the infant formula group's share price rose 815% from their listing date to December 31.
o Cann Group (ASX: CAN) – listed on the ASX in Q2, raising $13.5 mil. at $0.30 per share. CAN returned 813.3% by year-end. CAN was the first Australian company to secure the necessary licences to undertake research and to cultivate cannabis for human medicinal purposes.
· The largest 3 floats in 2017 were all LICs. The largest listing, Magellan Global Trust (ASX: MGG), came to market in October and alone raised $1.5bn of the total $6bn of all IPOs in 2017.
· Netwealth Group Ltd (ASX: NWL) ended the year crowned as the IPO with the greatest market cap having gained 96.8% by year end following its 43.8% first day rise.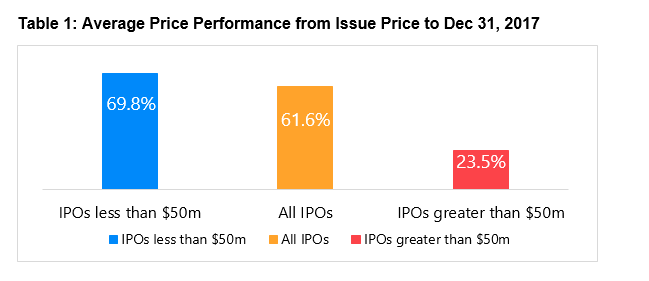 One of the most interesting sector trends in 2017 was the number of medicinal cannabis stocks to list on ASX. In total there were 6 medicinal cannabis companies to list on the ASX in 2017, with two of those companies part of the top 10 performers for the year. They are Cann Group (ASX: CAN) and The Hydroponics Company (ASX: THC) with an 813.3% and 240.0% return at year-end.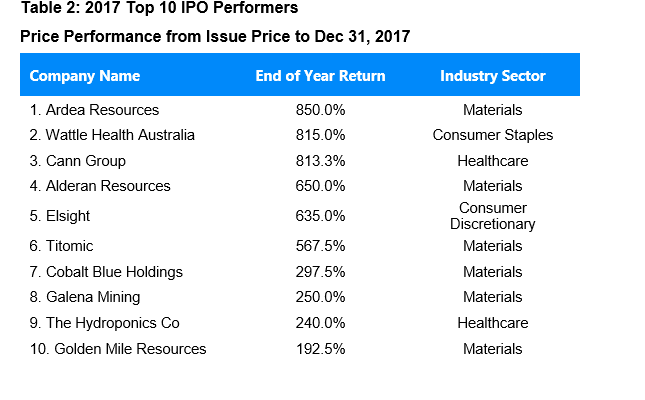 OnMarket CEO Ben Bucknell, said, "In last year's 2016 IPO report, we noted the outperformance of smaller IPOs over large IPOs and we forecasted a strong year ahead. This prediction proved to be correct with the trend continuing in 2017 with IPOs raisings of less than $50 million returning 69.8% to investors.
"Most institutional investors are not permitted to invest in smaller IPOs which means that there is room for self-directed investors to access returns. OnMarket was able to offer more than 1 in 3 ASX IPOs to retail investors in 2017. Our aim in 2018 will continue to be delivering capital to companies and outperformance for self-directed investors.
About OnMarket
OnMarket is the world's first app for crowdfunding IPOs. Investors from any broker can sign up, bid and invest in companies without paying any commissions or brokerage. The OnMarket app is available in the App store and Google Play.
OnMarket makes investing and capital raising an efficient, simple and transparent process that is accessible to everyday investors and businesses. OnMarket has offered 1 in every 3 ASX IPOs to investors since launch.
OnMarket is one of the first platforms in Australia to be granted an equity crowdfunding licence by ASIC. This enables OnMarket to offer equity crowdfunding, which connects all investors with businesses that are making a change for the better. By investing in companies offering equity via OnMarket, everyday investors can share in the upside in businesses that ultimately will make a better, smarter, more sustainable world.
For further information go to www.onmarket.com.au