Solar D is a patented Vitamin D Promoting SPF technology which lets through more of the UVB light that our bodies use to produce vitamin D, while still protecting with Broad Spectrum SPF. With 3,000 retail outlets in Australia including Woolworths and Chemist Warehouse, Solar D also white labels its formula to Spain's largest pharmaceutical company, Almirall. Share registry includes two prominent Australian Private Equity groups.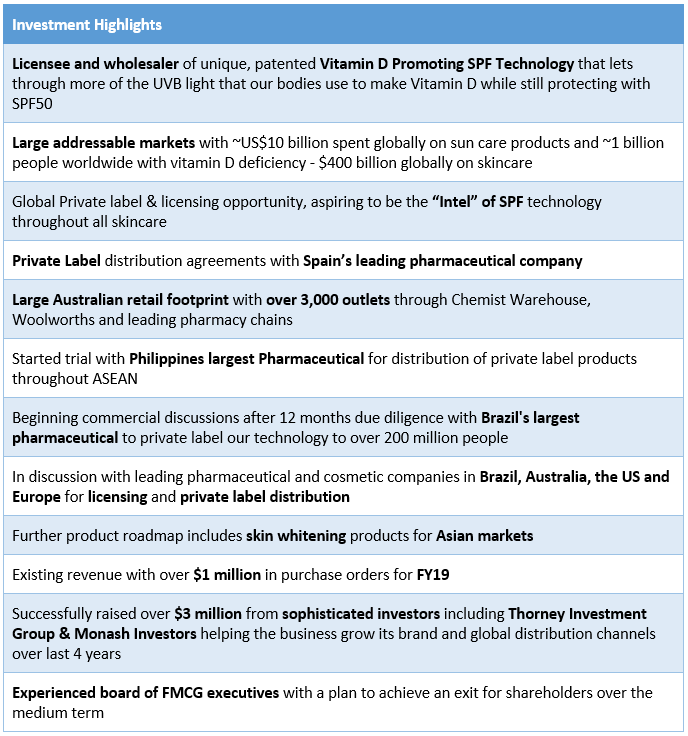 Introduction
Nexdius is the 100% owner of Solar D Skincare Pty Ltd which is principally engaged in the manufacture and wholesale distribution of sunscreen products under the "Solar D" brand name.
The Company is the exclusive global licensee of patents, trademarks and rights to ground breaking intellectual property in relation to Vitamin D promoting sunscreen technology that permits more of the light that our bodies use to make vitamin D, while providing SPF broad-spectrum sun protection.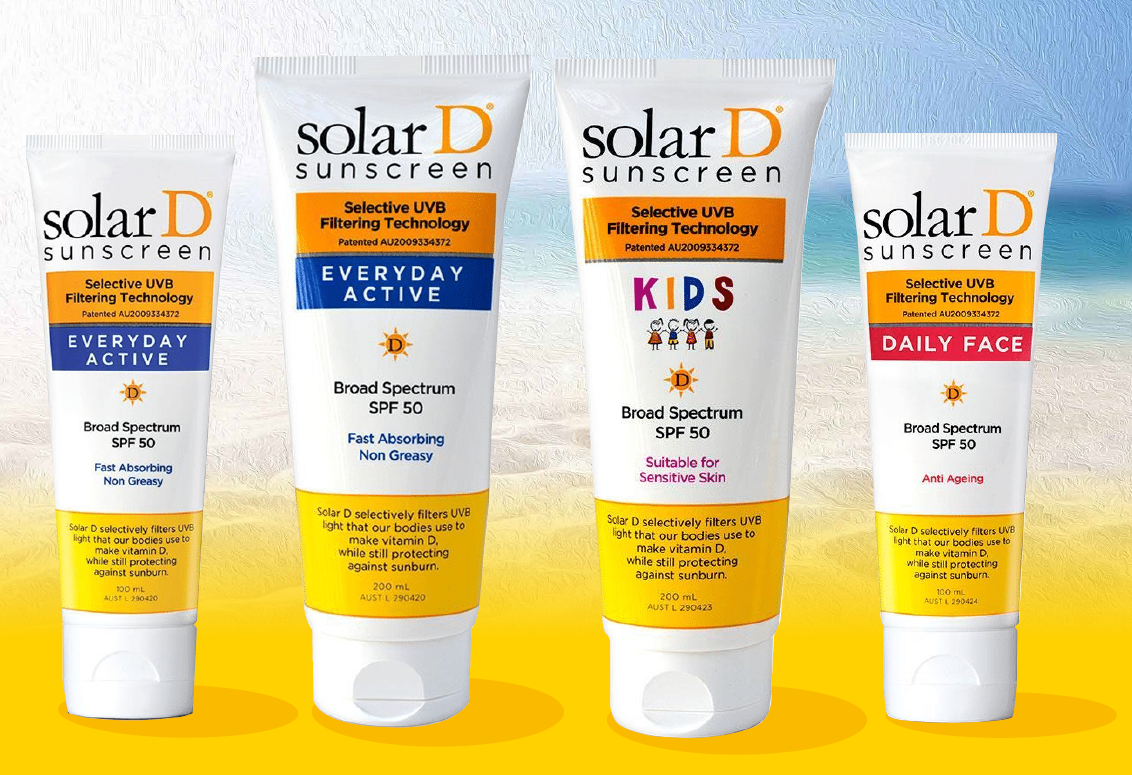 The Company (or the Trading Company) has signed agreements and/or commenced sales in the following locations:
Australia via over 3,000 outlets, including Chemist Warehouse, Woolworths, Amcal, Terry White, Chempro, Alliance Pharmacies and other leading pharmacy chains;
Spain & Italy (with an option for 70 other countries) through the Company's first private label opportunity with leading Spanish pharmaceutical company, Almirall;
United States via Walmart.com and Amazon
India via Cloudtail / Amazon; and
Licensing through Viva 5 (in the United States), a technology licensing company specialising in developing & licensing skincare technology to major pharmaceuticals and leading cosmetic groups.

Market Opportunity
The global beauty and personal care products market size is anticipated to reach US$716.6 billion by 2025, registering a CAGR of 5.9% during the forecast period. The global sun care market was worth roughly US$10 billion in 2018.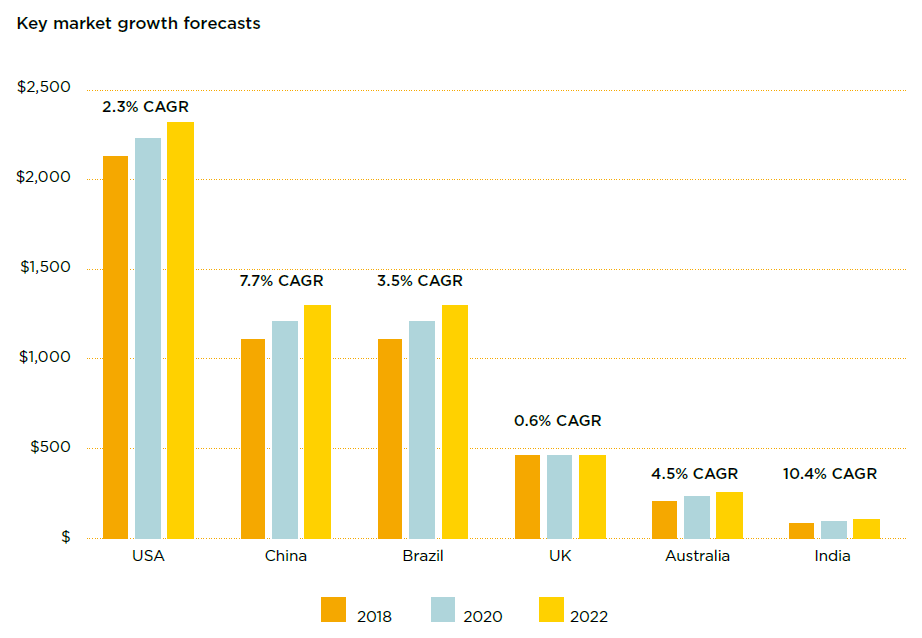 Need for Vitamin D
When bare skin is exposed to UVB light from the sun, the human body naturally produces approximately 90% of the vitamin D that our bodies need. At present, an estimated 1 billion people worldwide do not have adequate Vitamin D levels.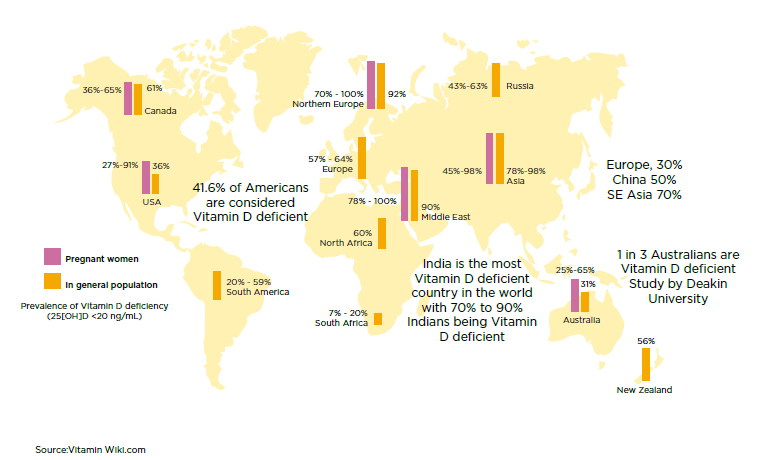 Licensing Vitamin D promoting technology
Solar D Skincare has private label and licensing discussions with some of the world's leading Pharmaceutical and cosmetic companies outlined below:
Almirall (Spain & Italy): First delivery of 100,000 units due to dispatch in March for distribution of Private Label product into Spain & Italy. Almirall is Spain's largest Pharma group and has distribution to over 70 countries across the globe, including most of Europe and the US.[1]
Large Pharmaceutical (Brazil): Final stage due diligence and early stage commercial discussions on private label opportunity with Brazil's largest pharma company. They sell to over 200 million Brazillians and we have begun commercial discussions. Management expects they can reach a memorandum of understanding and commercial outcome by H1 2019.
Large Australian Cosmetic: Entered into commercial discussions with a global leading bronzing brand to white label a sunscreen and skincare range for distribution through 20,000 stores in Australia, UK and US.
Large Pharmaceutical (Philippines): Received first purchase order for a trial from the largest pharmaceutical company in the Philippines for distribution throughout South East Asia. Management expects trial outcome to be reached in October 2019.
Large Cosmetic Direct Marketing Group (US & Asia): Early stage licensing discussions for private label distribution throughout Asia & the US through direct selling/marketing business.
Large Natural Retail Brand (US, China, Europe): Currently in due diligence phase for private label/licensing opportunity with large distributor of health and hygene products with worldwide distribution to over 50,000 stores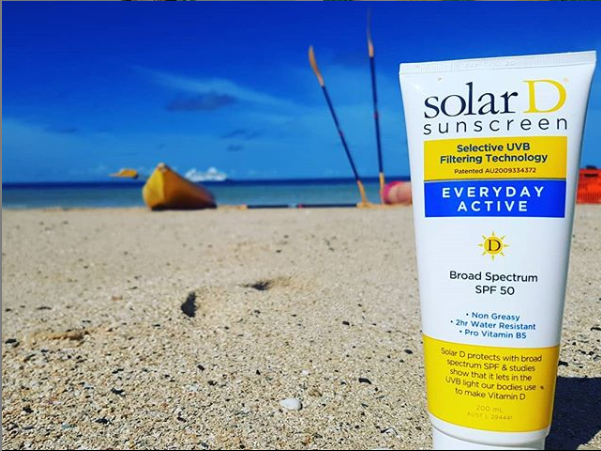 Terms of the Offer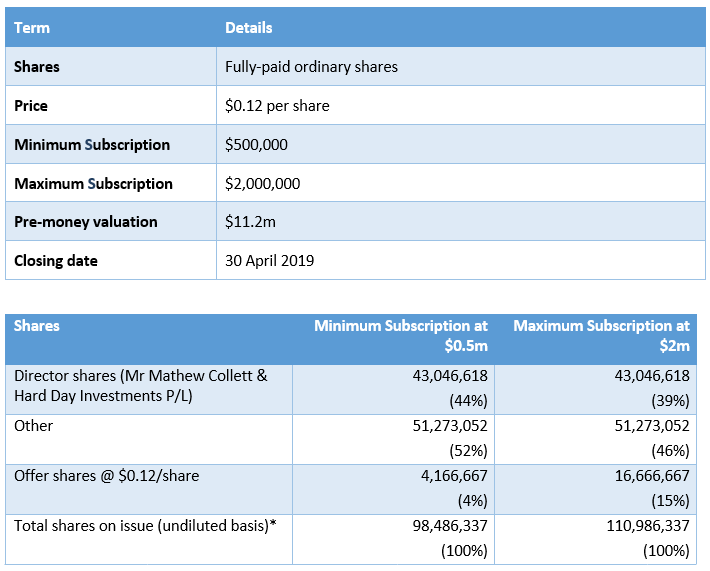 Use of Funds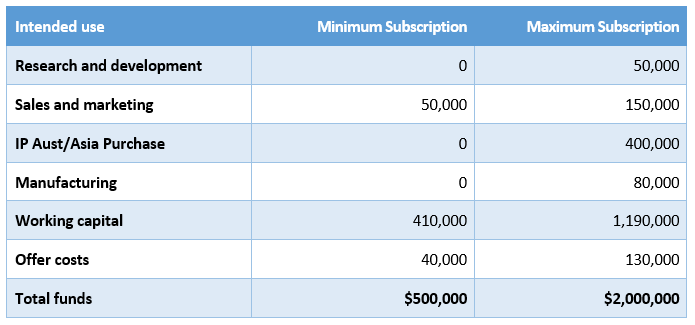 Risks
Intellectual property and competing technologies risk: The success of the Company depends on the Company's ability to protect its intellectual property and the Solar D IP, as well as the exclusive use of the Patents and Solar D IP without infringing the proprietary rights of others.
Manufacturer and supply risk: The loss of manufacturers or interruption in the manufacturing process could have a material adverse effect on the manufacturing, packaging and general supply chain relating to the Solar D products and might result in the Company losing sales, breaching obligations to its licensees/distributors and/or not achieving its strategic business objectives.
Sales and distribution risk: The Company is heavily reliant on its main customers, licensees and distribution partners. If there is a significant issue with any of these parties, the Company may not achieve its strategic business objectives, or those objectives may be delayed.
Future funding needs: If the Company does not generate sufficient income and/or raise all of the requisite funding, it may not achieve its strategic business objectives
Competition risk: The industry in which the Company is involved is subject to domestic and global competition. Some of these competitors have greater resources than Nexdius and may be able to respond more effectively to changing business and economic conditions, which may affect the Company's ability to reach its goals.
Management and Board
Kristina Arnott – Non-Executive Director & Chairperson: Kristina is a practising lawyer with over 20 years' experience. She has advised fast moving consumer goods (FMCG) companies and their Boards on a broad range of issues including litigation, regulation, governance, corporate law and contracts across multiple jurisdictions.
Mathew Collett – Director & CEO: Mathew has over 30 years' experience across Business Management, Banking, Corporate Advisory, FMCG and Marketing. Mathew was a former Director at JBWere Futures and Managing Director of ICAP Futures Australia.
Titus Day – Non-Executive Director: A veteran in the entertainment industry with over 23 years' experience, Titus has successfully founded businesses and managed leading companies. He has worked at IMG LA-based Atlantic Talent Management and the media management company, 22 Management.
The Offer is subject to a Maximum Subscription amount of $2,000,000. If the Maximum Subscription is reached, the Offer will close early. Applications will be treated on a time priority basis and may be subject to scale back, so please fund your application as soon as possible.
IMPORTANT: Please read the below information before investing in this Equity Crowdfunding offer.
RISK WARNING: Crowd-sourced funding is risky. Issuers using this facility include new or rapidly growing ventures. Investment in these types of ventures is speculative and carries high risks. You may lose your entire investment, and you should be in a position to bear this risk without undue hardship. Even if the company is successful, the value of your investment and any return on the investment could be reduced if the company issues more shares. Your investment is unlikely to be liquid. This means you are unlikely to be able to sell your shares quickly or at all if you need the money or decide that this investment is not right for you.
Even though you have remedies for misleading statements in the replacement offer document or misconduct by the company, you may have difficulty recovering your money. There are rules for handling your money. However, if your money is handled inappropriately or the person operating this platform becomes insolvent, you may have difficulty recovering your money. Ask questions, read all information given carefully, and seek independent financial advice before committing yourself to any investment.
5 DAY COOLING OFF PERIOD: There is a 5 business day cooling off period for retail investors. During this period, you may withdraw your application and receive a full refund into your nominated refund account. Please note: After the 5 day cooling off period has expired, you will be unable to withdraw your application. More information here.
ONMARKET FEES: Upon successful completion of the Offer, a maximum fee of 7.5% of the funds raised will be paid to OnMarket by the Company.
ONMARKET INTERESTS: OnMarket and its associates may be participating in this offer.
ONMARKET INTERESTS AND AMOUNTS SUBJECT TO COOLING OFF: The funding bar displayed under each crowd funding offer may include applications where payments are yet to be made and amounts that are subject to the cooling off period.
Section 734(6) disclosure: The issuer of the securities is Nexdius Ltd ACN 165 149 968. The securities to be issued are fully-paid ordinary shares. The disclosure document for the offer can be obtained by clicking on the link above. The offers of the securities are made in, or accompanied by, a copy of the disclosure document. Investors should consider the disclosure document in deciding whether to acquire the securities. Anyone who wants to acquire the securities will need to complete the application form that will be in or will accompany the disclosure document (which can be done via the electronic application form which will become available by clicking the bid button above).​
.