he Simble Solutions Ltd IPO has closed early via OnMarket.
OnMarket bidding will OnMarket very limited allocation in the Simble Solutions Ltd IPO and the offer may close early. Maximum bid size of $10,000, and allocations may be subject to scale back. Allocations will be made on a time priority basis, and we cannot guarantee that all funded bids will receive and allocation.
Simble Solutions Limited (ASX: SIS) is an Australian enterprise Software as a Service (SaaS) company focused on business and resource management. Their solutions help businesses automate, mobilise, monetise, control and visualise their operations.
The Company has two solution suites – Mobility and Energy Management. SaaS is their primary source of revenue. SaaS is a software licensing and delivery model in which software is licensed on a subscription basis and is centrally hosted. The Simble Energy Platform is an Internet of Things (IOT) enabled control and visualisation tool, designed for businesses to reduce and manage their energy consumption.
All of Simble's software products are cloud-based and accessible by customers through any mobile, tablet, laptop or desktop device with an internet connection and feature full offline mode capabilities for Simble Mobility. The software products are available for download by end users either via app stores or customer portals in the case of the Company's enterprise customers.
Offer Overview
Simble Solutions Ltd is looking to raise up to $7.5 million via its IPO, and will have an estimated market capitalisation of $17.9 million if maximum subscription is achieved. The proceeds of the IPO will be used to:
expand into new geographies and industry verticals
establish distribution channel partnerships with utilities for Simble Energy, focussing on Government mandated upgrades of energy metering infrastructure
establish distribution channel partnerships with additional telecommunication companies in new markets
develop new products and technologies as well as improving and upgrading existing products and technologies
cover costs associated with an ASX-listed company, and other typical administration costs
Key Products
Simble targets two segments of the enterprise SaaS market.
Mobility
The market for mobile enterprise software was estimated to be US$74 billion in 2016, and is projected to grow at an average annual compound rate of 9.5% – reaching US$128 billion by 2022. The suite of mobility solutions enables organisations to automate business processes and their workers to operate efficiently, remotely, and collaboratively utilising their mobile device or tablet. Our mobility suite is catered for enterprise and SME markets across a range of industries including Government, Building and Construction, Agriculture, Healthcare, Education, Property and Asset Management.
Energy
The market for energy management systems software was estimated to be US$32.4 billion in 2016, and is projected to grow at an average annual compound rate of 18.8% – reaching US$76.7 billion by 2021. The Company's energy management suite enables grid-connected premises to reduce energy wastage, automate control of their switch circuitry and monetise surplus microgeneration capacity. The suite of energy management solutions is principally catered towards enterprise and SME markets across a range of industries including retail, healthcare, utilities, construction, hospitality and industrial customers.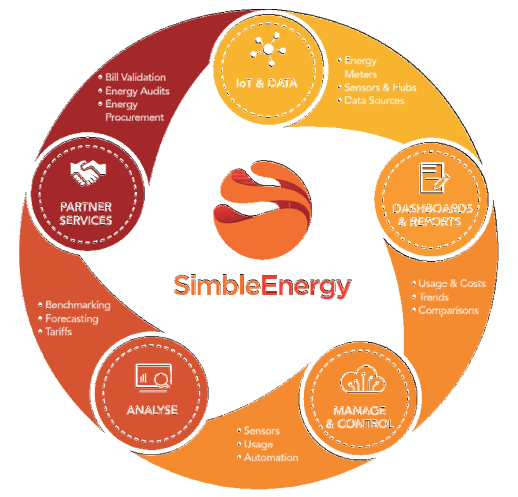 Business Model
Simble's enterprise product suite is delivered to customers across the Australian, New Zealand and UK markets, with its focus being on building a channel based SaaS business. This enables the company to generate revenue from SaaS subscription agreements, that create a significant level of recurring revenue.
Sales and marketing activities are principally driven by channel partners, mitigating the need for a large direct sales force. Simble has existing channel partnerships in place with a major Australian telco, Vodafone New Zealand and a selection of specialist energy service companies.
With just under 15% of revenue derived from customers introduced by channel partners, the company aims to increase its channel partnership network by targeting telecommunication companies, utilities, financial and energy service providers seeking to complement their existing product and service mix.

Some of Simble's customers include Auckland Council, Barwon Health, Bayer Australia, Boral Ltd, Jurlique, Municipal Association of Victoria, Symbion Pharmacy Services, Tasmanian Ports, Tassal Group Ltd, TW Power Services and Northern Beaches Council.
Growth Strategy
The following initiatives have been recently implemented in relation to the Simble Energy Platform:
opening of a dedicated UK sales office to service legislative driven demand stemming from the UK Government's smart meter rollout;
introduction of '2-way Smart Control' and billing functionality into the platform; and
engagement with channel partners hosting volume-based sales and marking infrastructure.
Management and Board
Simble is led by an executive team with over 50 years combined experience in the enterprise software / ICT industry. The Board of Directors offer significant capital markets and fund-raising experience. Key personnel include:
Phillip Tye – Director and Chairman with over 20 years' experience and recently established HFL Advisors Limited and ran DragonBack Capital, a multi-strategy hedge fund manager.
Fadi Geha – Director and CEO with over 25 years' experience and held senior management positions with SAP Australia and Accenture. Fadi was the founder of Acresta, now part of Simble.
Phillip Shamieh – Executive Commercial Director with over 20 years' experience and has been the Founding Director and CFO of Allied Resources Limited since 2011.
Mark Duke – Chief Financial Officer with over 25 years' experience and recently spent 14 years with Findex subsidiary, Crowe Howarth Australia and served as Vice President of Security Capital Group throughout it's NYSE listing.
As set out in Section 7 of the Prospectus, Simble Solutions Ltd is subject to a range of risks, including but not limited to competitive landscape, supply chain risk, technology reliability, product errors and research and development.
Section 734(6) disclosure: The issuer of the securities is Simble Solutions Limited ACN 608 419 656. The securities to be issued are ordinary shares. The disclosure document for the offer can be obtained by clicking on the link above. The offers of the securities are made in, or accompanied by, a copy of the disclosure document. Investors should consider the disclosure document in deciding whether to acquire the securities. Anyone who wants to acquire the securities will need to complete the application form that will be in or will accompany the disclosure document (which can be done via the electronic application form which will become available by clicking the bid button above).​
OnMarket has a limited allocation. The offer may close early and the 'Pay By' dates may change. Bids over $10,000 may be scaled back more heavily. Duplicate bids under the same investment profile, investor name or residential address may be cancelled.