Introduction
Shekel Brainweigh Ltd (ASX: SBW) is a profitable company developing, manufacturing, marketing and distributing advanced weighing systems for the retail, healthcare and industrial markets for over 40 years.
It was an early participant in the development of digital scaling in the 1970s, and provides precision weighing solutions to customers including Toshiba, Fujitsu, Datalogic, Diebold-Nixdorf and GE Healthcare.
Shekel Brainweigh has established a network of global partners and clients in the retail and healthcare markets. The company designs and manufactures weighing systems for original equipment manufacturers (OEMs) including GE Healthcare, Toshiba, Fujitsu, Diebold-Nixdorf and Datalogic. These relationships provide Shekel Brainweigh with the data and testing ground to optimise its designs, as well as a broad distribution network for both existing and proposed new products. Geographically, Shekel Brainweigh's products are sold across Australia, North and South America, China, Europe, Japan, New Zealand, Israel and Africa. Through this focus on the OEM market, Shekel Brainweigh has accelerated its revenue streams without the up-front costs of marketing and sales.
Recently, Shekel Brainweigh has developed its Product Aware Surface Technology. This Technology allows real-time identification of individual products and objects placed on a given surface (i.e. on a grocery shop shelf, etc.).
This exciting technology will allow retailers to know exactly what is on their shelf at any time and to track consumer behaviour, reducing the huge out of stock and overstock issues that supermarkets currently face. Given Shekel's scale and weighing technology has been present in some of the world's largest supermarkets for many years, this should give them a huge head start in introducing this new technology to the major players.
The business model for this "Smart Shelf" technology is based around a Software as a Service (SaaS) model.
Offer Overview
Shekel Brainweigh Ltd is seeking to raise $10.15 million via its IPO and on listing, the expected market capitalisation of approximately $48.65 million
The proceeds from the offer will be used to fund:
research and development;
manufacturing;
sales and marketing costs;
provide working capital; and
cover the costs of the offer.
Generation of Revenue
The Company currently generates income primarily from sales of scaling solutions and weighing systems to OEMs in the retail and healthcare sector globally and to industrial customers in Israel. Income is also derived from the sale of branded weighing products to the healthcare industry globally.
The Company also generates income from the provision of after-sales service to customers in Israel and France.
The following table sets out the consolidated revenue, gross profit, operating profit and profit after tax of the Group for the financial years ended 31 December 2015, 2016 and 2017.

Products and Services
The Group currently designs and manufactures a wide range of high-precision weighing systems for retail, healthcare and industrial sectors. The range consists of small weighing systems that integrate into self-checkout and Point of Sale (POS) solutions as an OEM component. In addition, the Company's precision weighing systems were one of the first in the world to be incorporated to warmers and incubators for premature babies and are now sold as an integrated component for such products.
The Company also produces its own range of physician's scales, special needs scales (such as wheelchair and ramp scales) and domestic scales. The Company markets these products under the Healthweigh® brand.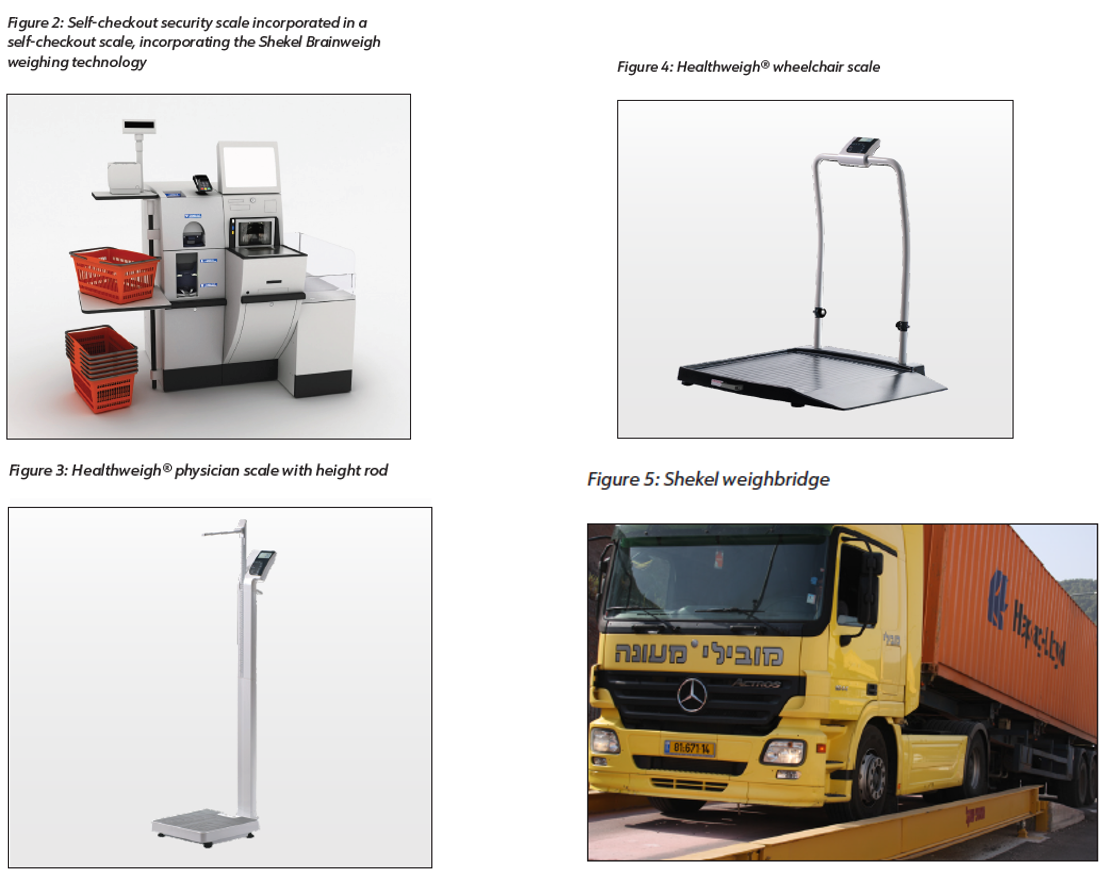 In addition to its existing products, the Company is developing and intends to sell the following products, which together comprise the Retail Solutions Suite:
Product-aware shelf: a shelf system using the Company's Product Aware Surface Technology, which identifies the quantity and location of individual objects on the shelf in real-time, providing instant feedback on inventory levels and product rotation.
The Bay: composed of five product-aware shelves, providing a ready-to-install solution for retailers.
The Promotion Bay: located at store endcaps, this product provides accurate real-time data for retailers and CPG vendors in promotion campaign roll outs, inventory levels and consumer behaviour.
Innovendi: an autonomous vending machine utilising the Product Aware Surface Technology.
Singular: a real-time analytics solution for the retail sector with advanced, predictive deep learning capabilities.
Goopi: a cloud-based portal allowing retailers, based on a customer's barcode scanning, to cheaply and quickly create customised digital video at check-out advertisements that can be delivered through a range of technology platforms.
iPC Scale: a digital scale for use at grocery store checkouts, which automatically recognises the fruit, vegetable, meat or other product that is being weighed.
Directors and Key Personnel
Shekel Brainweigh Ltd is led by a board who have a strong understanding of the technology, experience leading emerging technology companies from start-up to large scale profitable companies. Key personnel include:
Dave Sharma, Non-Executive Chairman served as Australia's Ambassador to Israel from 2013 to 2017 and is currently Director and Principal at Kelly+Partners Government, Incentives & Innovation practice.
Tzipi Avioz, Non-Executive External Director, previous Group Head of Digital Commerce at Woolworths Limited.
Yorman Ben Porat, Executive Director and CEO, In 1988 co-founded NUR Macroprinters Ltd, an Israeli-based international manufacturer of industrial digital printers. Between 1988 and 2000, Mr Ben Porat acted as CEO for NUR Macroprinters, during which time, in 1995, the company listed on NASDAQ.
Yedida Yossef, Deputy CEO with over 25 years' managerial experience in product engineering and development in the telecommunications sector. He has deep exposure to taking products from the initial stages of development through manufacturing and production processes to introduction and distribution to both Israeli and international markets.
Barak Nir, CFO over 25 years' experience serving as chair, CEO and chief financial officer for several international private and public companies in the fields of technology, real estate, finance and electronics.
Guy Moshe, Chief Technology Officer and was the co-founder and chief executive officer of Supersmart Ltd, during which time he oversaw the development of an algorithm for shopping carts to become instant checkouts. Mr Moshe also served as an officer in a technological unit of the Israeli Defence Force.
Risks
You are encouraged to read the Prospectus carefully as it contains detailed information about the Company and the Offer. Like all investments, an investment in the Company carries risk. As set out in Section 9 of the prospectus, Shekel Brainweigh Ltd is subject to a range of risks, including but not limited to intellectual property, reliance on key personnel, customer preference, development and commercialisation risks.
Section 734(6) disclosure: The issuer of the securities is Shekel Braingweigh Ltd ARBN 625 669 445. The securities to be issued are ordinary shares. The disclosure document for the offer can be obtained by clicking on the link above. The offers of the securities are made in, or accompanied by, a copy of the disclosure document. Investors should consider the disclosure document in deciding whether to acquire the securities. Anyone who wants to acquire the securities will need to complete the application form that will be in or will accompany the disclosure document (which can be done via the electronic application form which will become available by clicking the bid button above).​
OnMarket has a limited allocation. The offer may close early and the 'Pay By' dates may change. Bids over $10,000 may be scaled back more heavily. Duplicate bids under the same investment profile, investor name or residential address may be cancelled.
.