The company has advised that it has received commitments in excess of the $5 million minimum offer size. OnMarket has a limited allocation and bids over $5,000 may be scaled back more heavily. Duplicate bids under the same member profile or residential address may be cancelled.
Introduction
Security Matters Ltd (ASX: SMX) is the next generation solution to address the anti-counterfeit, brand protection, client liability and track and trace markets. The Company has developed a suite of integrated solutions to solve both authentication and track and trace challenges in order to uphold supply chain integrity, and provide quality assurance and brand accountability to producers of goods.
The Company's technology was initiated by the Soreq Nuclear Research Center, an Israeli Government research and development institute for nuclear and photonic technologies under the Israeli Atomic Energy Commission. This Source IP is in use by the State of Israel, and has been licenced to the Company with rights to exclusively commercialise the technology for civilian uses.
The technology comprises a sub-molecular based hidden 'barcode' system, alongside a unique 'reader' to identify these 'codes', and a record to store and protect ownership data. The technology works as a track and trace system using a unique algorithm embedded within the Reader and recording system.
The Company has identified several market for development and commercialisation, including plastics, and plastic packaging, precious metals and stones, electronics and raw materials. There are a number of pilot programs, early stage trials and negotiations with several industry leaders for the adoption of a developed solution, including with leading chemical company BASF and with Kafrit Industries in plastics and packaging.
The Company intends to settle the acquisition for all of the shares in Security Matters Ltd. (Company number 515125771) (a company incorporated in, and registered under the laws of Israel) (Security Matters Israel). Immediately prior to Completion of the Offer, Security Matters Israel will become a wholly owned subsidiary of the Company.
Offer Overview
Security Matters Ltd is seeking to raise between $5 million and $6.5 million via its IPO and on listing, the expected market capitalisation at maximum subscription will be approximately $20.0 million
The proceeds from the offer will be used to:
provide funds for research and development of technology;
provide the ability to service multinational customers;
fund sales and marketing costs;
provide working capital; and
cover the costs of the offer.
The Technology
Markers are embedded sub-molecular particles applied to any type of raw material (e.g. solids, liquids or gases).
A Reader is a patented wavelength spectral profiling system that 'reads' Markers by the detection of energy from the 'read' object in response to an energy-ray applied to it.
A Reader identifies a Marker in order to track and trace a product or raw material (as a stand-alone Reader or by way of cloud-based verification technology) from the inception of the production process (or any other marked good along a supply chain) all the way to the end customer.
Each identification of a Marker is stored, either locally on the Reader, on private servers, cloud servers or on a blockchain record to store and protect data ownership. Markers can denote unique meanings for each product, batch and geography, resulting in a single or multipoint identification process. Unique meanings ascribed to Markers include origins of manufacturing, product provenance and date of production to the end customer.
A common use is simply to use Markers to confirm the authenticity of a good or material. Markers can be embedded and identified in solids, liquids or gases.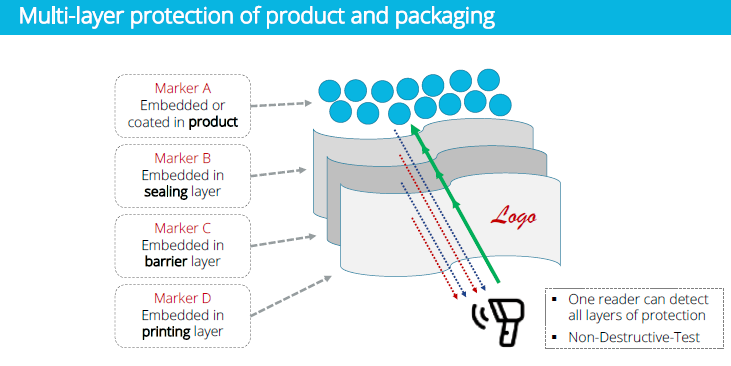 Business Model
Security Matters Ltd targets leading brands and manufacturers (instead of targeting direct consumers) in order to create a new market standard for brand authentication and supply chain integrity.
The Company has two main features of its business model:
The Company as a business to business company; and
The Company offering a 'white label' solution.
The Company's pricing is based on the perceived value proposition of the Company's solution for the customers. This generally includes three stages to the pricing model (which aligns with the three business activities described below):
set up fee (for initial consultations);
Marker implementation fee (typically on a per item or per kg basis); and
service fee (for reading, blockchain services and other support services).
Competition
The main advantages the Company, has as opposed to its competitors mean that there is no direct competition to the Company within the following features:
Multi-layer solution – the ability to mark the product in several locations/materials, as well as several packaging layers with one technology;
Numerous codes – large number of codes created by the Marker;
Durable and undetectable Markers;
Ability to mark solid, liquid and gas;
Cost effective solution; and
Does not interfere with product properties.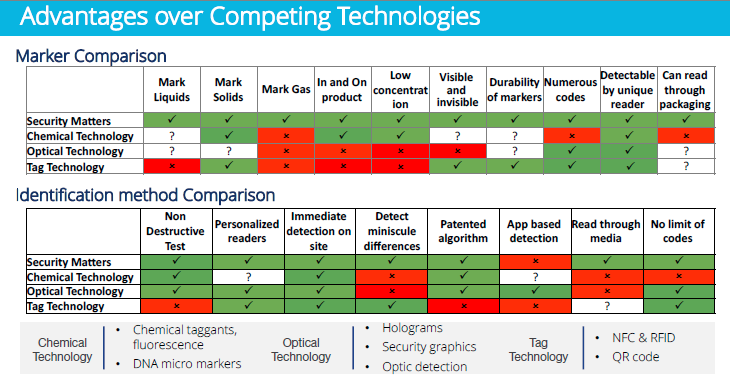 Directors and Key Personnel
Security Matters Ltd is led by a board who have a strong understanding of the technology, experience leading emerging technology companies from start-up to large scale profitable companies. Key personnel include:
Haggai Alon, Founder, Executive Director and CEO with over 17 years' experience in commercialising technology. Haggai has commercialised technology out of the Ministry of Defence in Israel.
Everardus Hofland, Executive Chairman and co-founder of Security Matters Israel and has brought multi-million dollar investments to the Arava Desert region of Israel.
David Rosenblatt, Executive Director and Vice Chairman. David is a co-founder of Security Matters Israel and developed and scaled businesses in Silicon Valley, Wall Street and Israel.
Jovanka Naumoska, Australian based Non-Executive Director with ASX board-level experience as a non-executive director of Imagion Biosystems Ltd (ASX IBX).
Dr Gregory J Clarke, Australian based Non-Executive Director and world-renowned scientist. Gregory is also a director NextDC (ASX: NXT) and recently retired as director of the ANZ Banking Group (ASX: ANZ).
Risks
You are encouraged to read the Prospectus carefully as it contains detailed information about the Company and the Offer. Like all investments, an investment in the Company carries risk. As set out in Section 9 of the prospectus, Security Matters Ltd is subject to a range of risks, including but not limited to intellectual property, reliance on key personnel, customer preference, development and commercialisation risks.
Section 734(6) disclosure: The issuer of the securities is Security Matters Limited ACN 626 192 998. The securities to be issued are ordinary shares. The disclosure document for the offer can be obtained by clicking on the link above. The offers of the securities are made in, or accompanied by, a copy of the disclosure document. Investors should consider the disclosure document in deciding whether to acquire the securities. Anyone who wants to acquire the securities will need to complete the application form that will be in or will accompany the disclosure document (which can be done via the electronic application form which will become available by clicking the bid button above).​
OnMarket has a limited allocation. The offer may close early and the 'Pay By' dates may change. Bids over $5,000 may be scaled back more heavily. Duplicate bids under the same investment profile, investor name or residential address may be cancelled.