Offer Overview
Depression is the most common cause of disability in the world. Currently there is no commercially or clinically accepted, objective diagnostic process to detect it, nor to separate it from bipolar disorder. A person suffering from depression visiting a General Practitioner (GP) to seek treatment, has a 40-50% chance of receiving a correct diagnosis. NeuralDx represents an opportunity to be a part of a highly promising transformational breakthrough for the diagnosis of mental and neurological disorders. It is an Australian medical first.
Investment Highlights
Australia's first Equity Crowd-Funded mental health diagnostic company
Patented technology, EVestG™, addressing global unmet need for an objective diagnostic service in mental health
Large target market with approx. 20% Australians requiring diagnosis and treatment for psychiatric or neurological disorders each year, and costing ~$60b p.a. to manage
Compelling unit economics and affordable price point and accurate diagnostic decision-making leading to significant cost savings
+$10 Million capital already invested in R&D to develop the scientific evidence underpinning EVestG™
2015 Australian Museum Eureka Award Finalist for Excellence in Multidisciplinary Research
Experienced board and management possessing a well-balanced skill set to guide the growth of the Company
Introduction
NeuralDx represents an opportunity to participate in an historic change to the global mental healthcare market through the development and commercialisation of a technology that aims to provide faster, more accurate, objective diagnostic decision support service to GPs, specialist psychiatrists and neurologists. The patented technology, EVestG™, is addressing this global unmet need for an objective diagnostic service. The A$10 million invested to date has been applied to de-risk the technology and build sound scientific evidence toward EVestG™'s commercialisation and entry into a large global market.
The EVestG™ Technology
NeuralDx is developing the EVestG™ technology - a fast, painless, and objective diagnostic tool for mental and neurological disorders, with potential to discriminate between different psychiatric and neurological disorders with a test that takes no longer than one hour to administer and interpret. EVestG™ represents a paradigm shift for the diagnosis, treatment, and management of psychiatric illnesses and neurological disorders.
EVestG™ uses sensitive recording electronics attached to soft conductive probes placed painlessly and non-invasively just inside the ear canal close to the ear-drum to capture and record the continuously and spontaneously evoked irregular stream of tiny vestibular field potentials and their firing patterns.
These signals are identified and extracted using EVestG™'s software based on wavelet transformation to allow the extraction of electrical signals from the vestibular apparatus of the central nervous system in response to a variety of tilt or other stimuli applied to a patient. The electrical signals are recorded. The measurement, recording, and analysis takes less than 45 minutes.
The EVestG system consists of the component parts shown in the diagram below: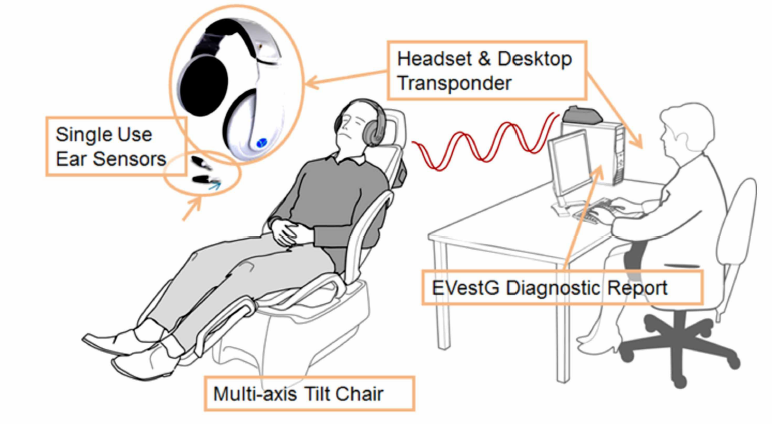 Advantages of EVestG™ Technology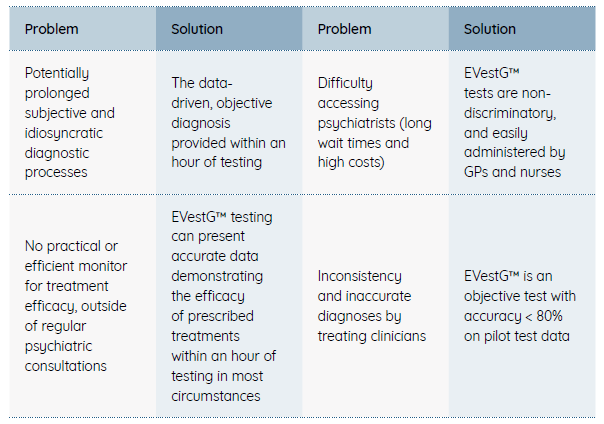 Market Research
The World Bank Report on mental illness concludes that the global economy loses about $1 trillion every year in productivity due to depression and anxiety. It further estimates that the annual costs in the USA are US$210 billion a year. Australia's costs burden for depression, dysthymia, bipolar, anxiety, and suicide was estimated in 2017 to be as high as A$24.6 billion. These conditions accounted for around 9% of the total burden in health care and lost productivity.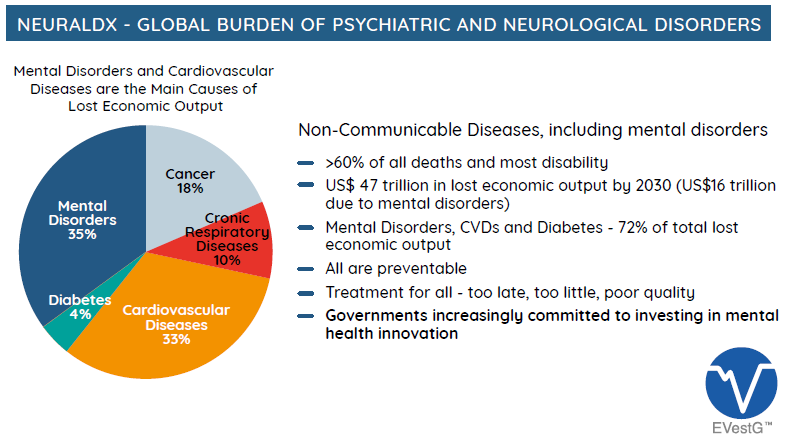 Business Strategy
NeuralDx's EVestG™ technology is the result of a decade of R&D and more than A$10 million in capital investment, which has been applied to de-risk the technology and build sound scientific evidence toward EVestG™'s commercialisation and entry into a large global market.
Short Term
With the patented EVestG™ technology, NeuralDx will complete the design and fabrication of a new sophisticated headset and chair as the next step towards regulatory approval and commercialisation. Once a re-engineered CE-Marked EVestG™ system is available, it can be marketed without TGA or FDA registration and can be used for research and development by organisations such as neuroscience research institutions.
Medium Term
Validate EVestG™ as a clinical diagnostic tool for use by specialist clinicians and GPs for the classification of major depressive disorder from bipolar disorder.
Seek TGA/FDA regulatory approval of EVestG™ and medical benefit service schedule item reimbursement.
Collaborate with and establish license agreements with major pharmaceutical companies involved in central nervous system drug development.
Long Term
High volume sale or lease of EVestG™ units to imaging/pathology clinics, specialists and GPs in Australia, North America, and Europe.
Licence agreements to third parties for distribution in India, China, and Japan.
Seek to partner with domestic and international defence forces for large-scale, high volume screening of combat-exposed personnel vulnerable to mental illness.
Screening services for OH&S in industry (aviation, emergency services, police, etc).
Revenue model
NeuralDx anticipates that the primary source of revenue will be the provision of a brain-function analytical diagnostic support service to the healthcare industry sectors by way of the following income streams:
Charge by NeuralDx (anticipated to be A$100) for analysing neurological signals recorded from a subject and delivering a report to the clinician via the internet.
Sale of single-use electrode set ($60) and associated consumables required for each measurement, each set with Q-code or equivalent for signal analysis.
For neuroscience R&D centres, sale or lease of an EVestG™ biomarker development toolbox and access to secure firewalled databases.
EVestG™ System User accreditation training services.
Licenses to drug companies and clinical trial organisations.
Terms of the offer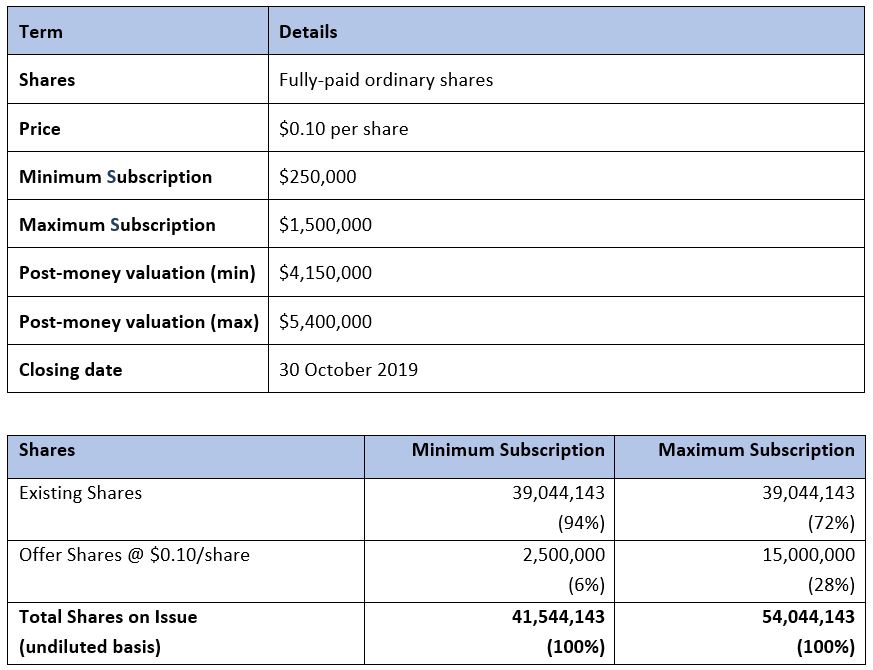 Use of funds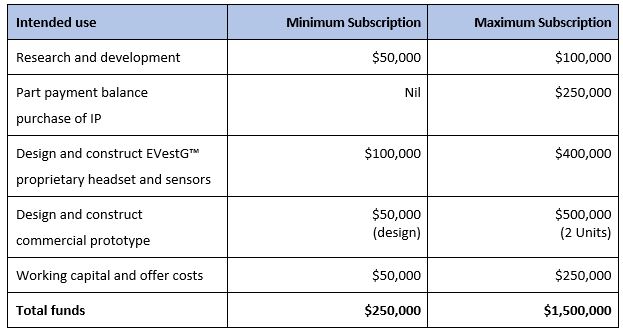 Management and Board
The NeuralDx team is made up of experienced professionals, bringing together a track record for management in the BioTech space and of public companies.
Directors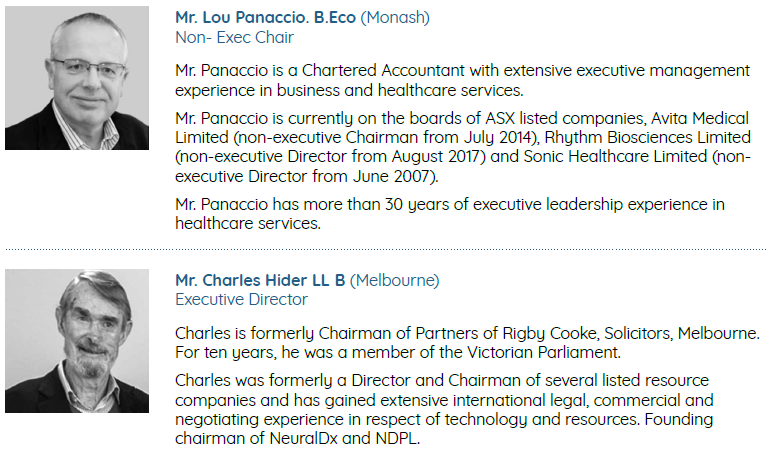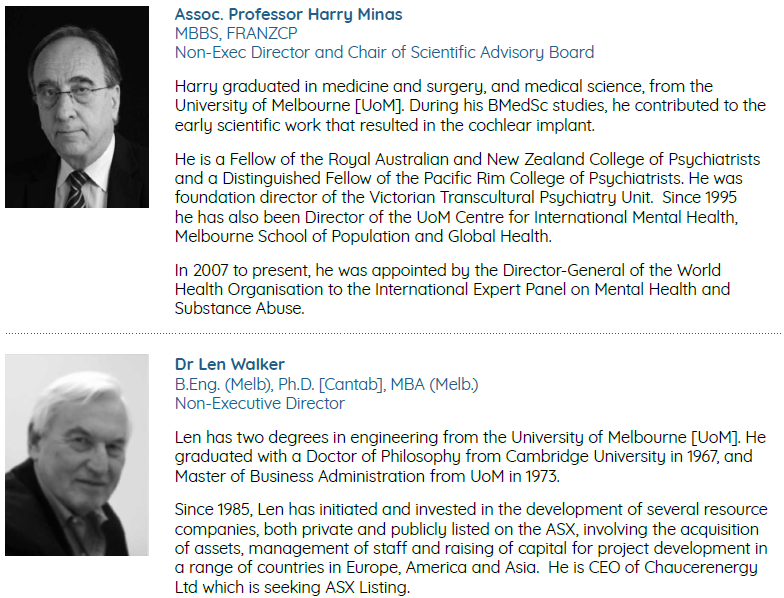 Management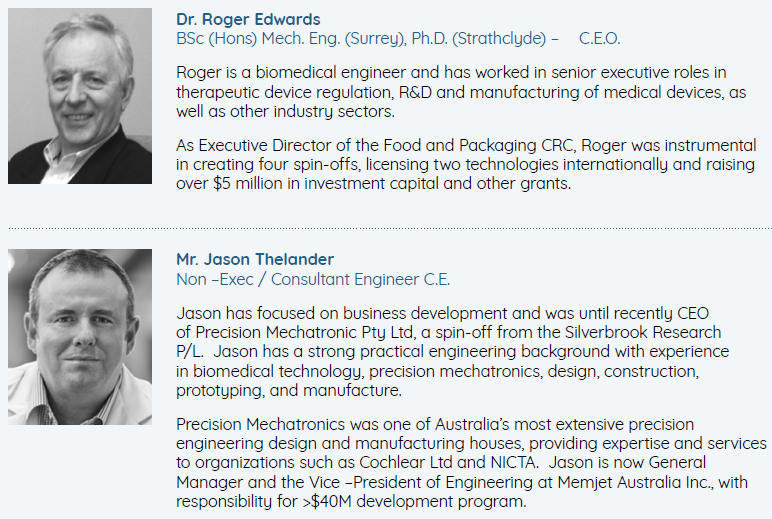 Principal Researchers and Advisors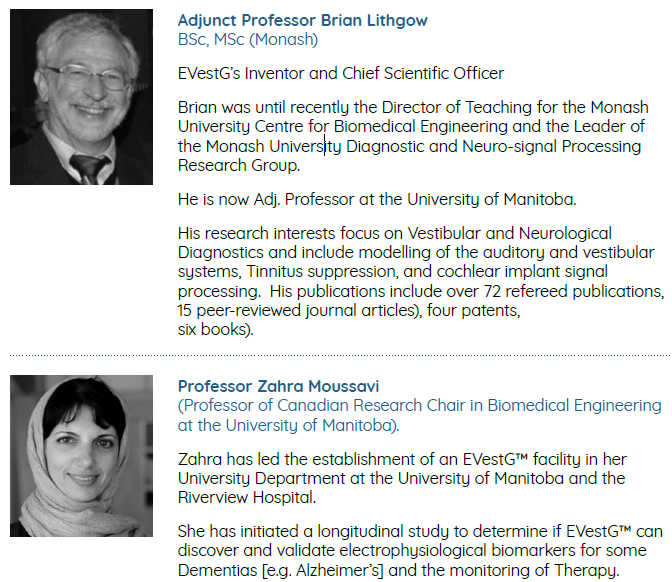 Risks
The Company's product is still in the development and clinical trial phase and may never be successfully commercialised and may not obtain the regulatory approvals required to sell its product. The protection of the Company's intellectual property is critical to our business and commercial success. The Company will need to obtain additional funding to continue operations and execute its business strategy.
Tax incentives
Based on an objective self-assessment, the Company believes that it meets the criteria as a qualifying early stage innovation company ('ESIC') for the purposes of this Offer. Investors who purchase new shares in qualifying ESICs may be eligible for certain early stage tax incentives. We recommend that investors seek independent tax advice about their investment.
The Offer is subject to a Maximum Subscription amount of $1,500,000. If the Maximum Subscription is reached, the Offer will close early. Applications will be treated on a time priority basis and may be subject to scale back, so please fund your application as soon as possible.
IMPORTANT: Please read the below information before investing in this Equity Crowdfunding offer.
RISK WARNING: Crowd-sourced funding is risky. Issuers using this facility include new or rapidly growing ventures. Investment in these types of ventures is speculative and carries high risks. You may lose your entire investment, and you should be in a position to bear this risk without undue hardship. Even if the company is successful, the value of your investment and any return on the investment could be reduced if the company issues more shares. Your investment is unlikely to be liquid. This means you are unlikely to be able to sell your shares quickly or at all if you need the money or decide that this investment is not right for you.
Even though you have remedies for misleading statements in the replacement offer document or misconduct by the company, you may have difficulty recovering your money. There are rules for handling your money. However, if your money is handled inappropriately or the person operating this platform becomes insolvent, you may have difficulty recovering your money. Ask questions, read all information given carefully, and seek independent financial advice before committing yourself to any investment.
5 DAY COOLING OFF PERIOD: There is a 5 business day cooling off period for retail investors. During this period, you may withdraw your application and receive a full refund into your nominated refund account. Please note: After the 5 day cooling off period has expired, you will be unable to withdraw your application. More information here.
ONMARKET FEES: Upon successful completion of the Offer, a maximum fee of 7.5% of the funds raised will be paid to OnMarket by the Company.
ONMARKET INTERESTS: OnMarket and its associates may be participating in this offer.
ONMARKET INTERESTS AND AMOUNTS SUBJECT TO COOLING OFF: The funding bar displayed under each crowd funding offer may include applications where payments are yet to be made and amounts that are subject to the cooling off period.
Section 734(6) disclosure: The issuer of the securities is NeuralDx Ltd ACN 619 270 709. The securities to be issued are fully-paid ordinary shares. The disclosure document for the offer can be obtained by clicking on the link above. The offers of the securities are made in, or accompanied by, a copy of the disclosure document. Investors should consider the disclosure document in deciding whether to acquire the securities. Anyone who wants to acquire the securities will need to complete the application form that will be in or will accompany the disclosure document (which can be done via the electronic application form which will become available by clicking the bid button above).​
.