Business Overview
LGP, together with its exclusive Manufacturing Partner and via its distribution arrangements, operates a vertically integrated medicinal cannabis business, comprising cultivation, production, research and development, manufacturing, and distribution of medicinal cannabis products.
The Company has invested significantly into product development, sales and marketing and cultivation capabilities to become a leading Australian medicinal cannabis company. Nearly two years of successful cultivation has allowed LGP to produce locally-grown product into final dose form with more than 4,500 bottles of medicinal cannabis oil sold to more than 1,400 patients in Australia.
LGP Business Model

1. If the Manufacturing Partner wishes to terminate the agreement for convenience it can only do so after 22 November 2023 and with 12 months' notice, meaning the earliest date on which the manufacturing agreement could be terminated is 23 November 2024.
2. Subject to the Company receiving the Maximum Subscription under the Offer
Cultivation and Production
LGP's cultivation facility, located in Western Australia, operates an indoor, closed-loop hydroponic system to ensure cannabis plants are cultivated under highly specific climate, light, and irrigation control at all times.
There are currently two flowering rooms operating in the cultivation facility which have the capacity to produce cannabis flower to manufacture approximately 15,000 bottles of medicinal cannabis oil per annum. Following the completion of a planned expansion of its cultivation operations, which is targeted for completion in Q1 CY2020, and subject to Office of Drug Control (ODC) licensing and permitting, a total of nine flowering rooms are scheduled to be operational along with two vegetative and two mother rooms, together with drying, manufacturing and storage capability at premises on an adjoining site. At full capacity it is expected that the cultivation facility will have the capacity to produce sufficient cannabis flower to manufacture more than 110,000 bottles of medicinal cannabis oil annually, the equivalent of approximately 1,750kgs of dry cannabis flower.
LGP's cultivation facility in Western Australia

Manufacturing Partner
LGP has entered into an exclusive six-year agreement with its manufacturing partner (Manufacturing Partner), a fully licensed TGA GMP-certified pharmaceutical manufacturing company in Western Australia, to manufacture final dose form medicinal cannabis products on LGP's behalf.
LGP's medicinal cannabis products are manufactured by the Manufacturing Partner on a semi-automated production line on a batch-by-batch basis in accordance with applicable GMP guidelines in facilities audited and certified by the TGA.
The Manufacturing Partner has the ability to produce oil, gel cap, suppository and sublingual spray products, and is anticipated to be able to manufacture dry cannabis flower in early 2020. The Company is actively monitoring market demand, with a view to determining which delivery systems are preferred in the various potential markets.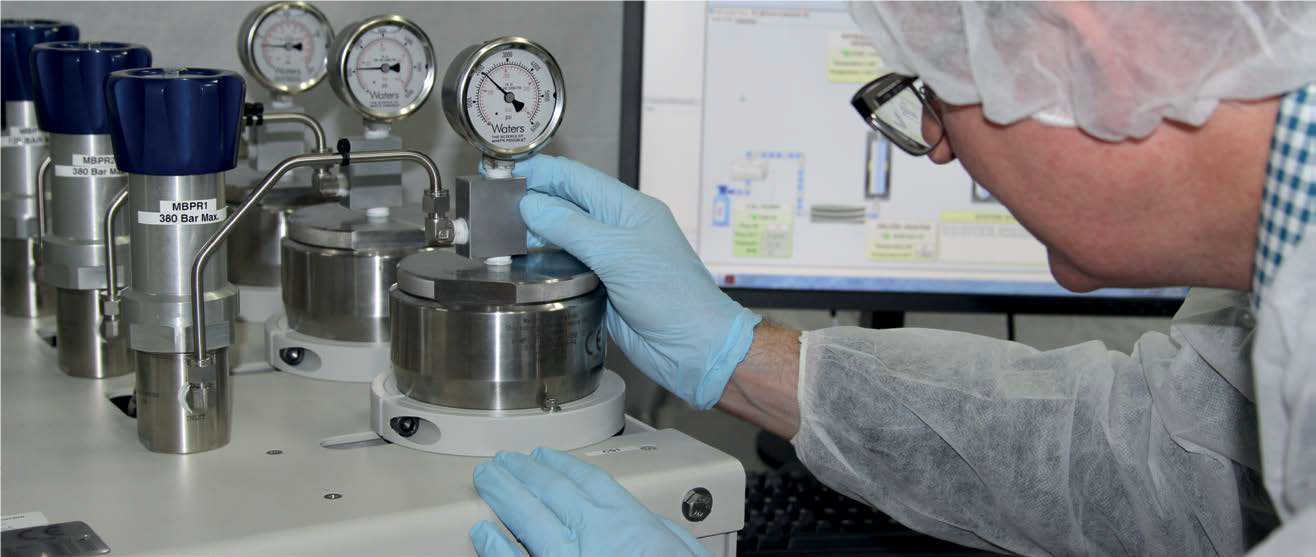 Product Range
LGP has developed a proprietary range of LGP-branded products suitable for distribution in the domestic and certain international markets. The current product range comprises the "Classic" line of oil-based oral medicinal cannabis products, providing three oil formulations with different THC:CBD ratios.
LGP has sold over 4,500 units of product since launch with approximately 45% of patients using LGP products prescribed for the first time over the 3 months prior to the date of the Prospectus. LGP is continuing its stability testing which is currently for 24 months in cold storage conditions (2-8°C) and twelve months at ambient conditions (below 25°C). Such stability testing is commercially recommended for many domestic and international distributors to sell pharmaceutical products.
In addition to oil-based products, LGP is also able to produce dry cannabis flower meeting TGO93 requirements. Interest for dry cannabis flower has been expressed from distributors in European markets.
Overview of LGP Product Range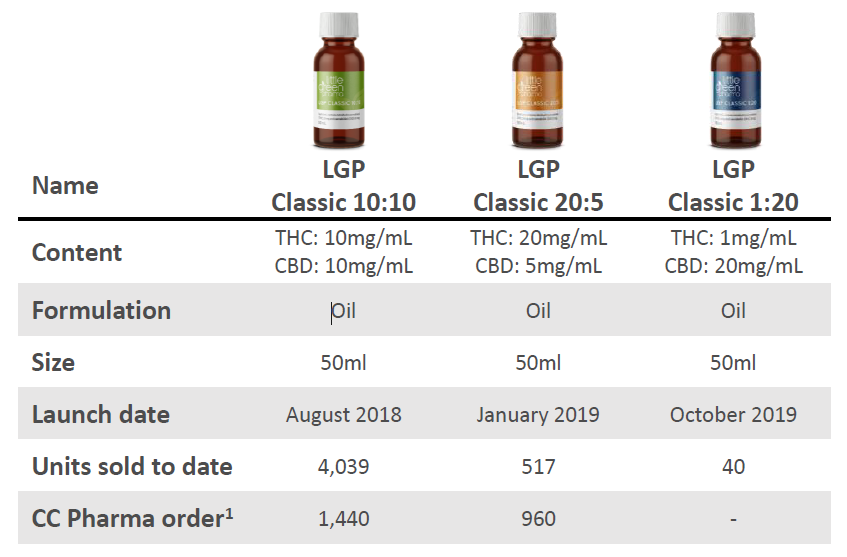 1. Fulfilment of order is expected to take place following completion of cultivation facility expansion
LGP is also considering developing a "Plus" product range. Plus would combine the Classic product with the Company's small particle formulation technology to potentially enable reduced dosing requirements compared to LGP's current Classic oil line. LGP also plans to develop a line of "Plus Natural" products, which would use LGP's patented small particle formulation containing higher ratios of carboxylated cannabinoids.
Sales and Distribution
LGP currently distributes its products across Australia via its Australian distribution partners and intends to continue growing its market penetration and market awareness of its medicinal cannabis products within Australia. As it expands, LGP also proposes to capitalise on Australia's international reputation for trusted and high-quality products by exporting its products offshore, including to Germany, the UK, Canada and New Zealand.
LGP currently sells and distributes its medicinal cannabis products in Australia through Oxford Compounding Pty Ltd for patients in Western Australia and Health House International Pty Ltd for patients in other states and territories.
As of October 2019, more than 1,400 patients in Australia have used LGP's products.
Cumulative Number of Australian Patients using LGP Products

Internationally, LGP has identified Germany as a highly prospective territory for market entry, as medicinal cannabis products have been approved for reimbursement through health insurance. The Company has recently received its first commercial order of 2,400 units to be distributed to Germany. Fulfilment of this order is expected to take place following completion of the cultivation facility expansion.
LGP has also entered into proof-of-concept conditional purchase orders with parties in Canada and New Zealand for the sale of LGP products.
Clinical development
LGP believes that its brand recognition and reputation as a medicinal cannabis provider will likely be derived from its commitment to clinical development activities aimed at developing innovative products, including novel delivery systems and precisely formulated cannabinoid products, as well as improving the methods, processes and technologies employed to manufacture such products on a commercial scale.
The Company has a number of clinical development activities underway, including:
A patented small particle formulation - the use of a small particle emulsion is anticipated to result in more rapid absorption, higher bioavailability, prolonged therapeutic effects, lower toxicity, and improved ease of administration and dosage control than simple oil products
ARISE - A novel product development and formulation project with Curtin University in Western Australia using atomised rapid injection for solvent extraction (ARISE) technology that generates particles of active pharmaceutical ingredients that are more readily absorbed by the body.
Clinical Investigations - LGP is involved in several clinical investigations, including two open-label designed studies as well as a double-blind placebo-controlled clinical trial run by a leading Australian research organisation for palliative care and advanced cancer. These study and trial outcomes will assist in informing the Company's future clinical trial plans and product development.
Medicinal Cannabis Licences
LGP holds all licences and permits required in Australia to cultivate, produce and sell medicinal cannabis products, and all licences to import and export medicinal cannabis products offshore. The Company's Manufacturing Partner holds all relevant licences to import and export medicinal cannabis products as well as all licences and permits to manufacture and distribute finished medicinal cannabis products for Little Green Pharma. The Company holds the following licences and permits:
Medicinal cannabis licence
Medicinal Cannabis Permits
Indent Licence
Schedule 9 Licence
Licence to Import
Licence to Export
ARTG Exporting
A summary of the licences and expiration dates is provided in Section 3.10 and 9 of the Prospectus.