This is a restricted offer and is only open to Professional, Sophisticated and Experienced investors. More information on how to qualify here.
Minimum application size of $10,000.
Company Update
Cannatrek is please to provide a Company Update detailing the following:
Their first medicinal cannabis seeds ('Lot 1') were planted at the UL01 cultivation facility in late August and are now established plants. Lot 1 is part of a series of breeding harvests that will be used to provide stable mother stock, supporting commercial medicinal cannabis production
Dr Susan Pond has joined the Cannatrek board as a non-executive Director. Susan is an experienced company director, including former CEO and Director of Johnson & Johnson Research
Their dedicated medical access support team has now helped doctors and patients access over 1,000 units of Cannatrek's low cost medicinal cannabis products
The full Company Update is available here
Introduction
Cannatrek Limited is an Australian based medicinal cannabis company, developing production, manufacturing and distribution assets across Australia. The Company is uniquely placed in the high-growth global medicinal cannabis industry, with a strong asset base, granted licenses and permits, revenues, and an outstanding team.
Cannatrek is one if the first companies in Australia to be issued the full suite of medicinal cannabis licences, including Cannabis Research (RL002/18), Medicinal Cannabis Production, Manufacture, Import and Export Licences and National Distribution licences state by state.
The Company has also recently been awarded a permit to commence growing medicinal cannabis at its 3,200m2 climate-controlled greenhouse in southern Queensland. At full capacity, Cannatrek will have a perpetual harvest facility near the central Victorian city of Shepparton, for which development approval has already been received. The 160,000m2 facility will make Cannatrek one of the world's largest producers of medicinal cannabis.
With economies of scale, Cannatrek will be a low-cost producer of high-quality medicinal cannabis that will be available to consumers in Australia and overseas, via a vertically integrated "from seed to patient" business model.

The business began in 2015, receiving one of the first medicinal cannabis licences from the Australian Federal Government. Cannatrek is an unlisted public company with three years of audited financial results. It complies with corporate governance regulations, and has an experienced board of directors, operational team and scientific/medical advisory panel with deep industry expertise.
Investment Highlights
From "seed to patient" – fully integrated medicinal cannabis business model across all aspects of the value chain
Market leading position – one of the first companies to be issued with full suite of federal and state government medicinal cannabis licences
Operational growing facility – operational 3,200m2 research and production facility in Queensland, and planned development of 160,000m2 glasshouse facility in Victoria
Market access – Patient access hub via Cannahealth, providing access to patients, doctors and pharmacists
Strategic research partnerships – undertaking clinical trials with some of Australia's leading hospitals, universities and research institutes testing the effects of CBD on schizophrenia, anxiety and post-traumatic stress disorder (PTSD)
Existing revenues – revenues of ~$100k via sale of imported medicinal cannabis products, looking to increase to $550k-$1m in FY2020
Large addressable market - global medical cannabis market of ~US$11.7B in 2018 and is expected to grow to around US$148.35B p/a by the end of 2026
Guided by an experienced board and management team with expertise across all aspects of the medicinal cannabis value chain
Offer overview
Cannatrek is looking to raise up to $10m via this offer, with the ability to take oversubscriptions for up to $5 million. Applications are for ordinary shares, at an issue price of $0.40 per share, giving the company a pre-money valuation of $65 million.
Funds raised under the offer will be applied to:
Phase 1 of the 160,000m2 Shepperton glasshouse facility
Sales/marketing and business development
Further enhance the existing IT platform
General working capital, including human resources
Cannatrek has an intention to list on ASX in mid-2020 raising $40-50 million via an IPO. Funds from the IPO would be predominately used to further the development of the 160,000m2 Shepperton facility.
For more information see the Term Sheet.
Market opportunity – global and in Australia
The global medicinal cannabis market was approximately US$11.7B in 2018 and is expected to grow to around US$148.35B per annum by the end of 2026 – a growth rate of 26.4% per annum. The legal cannabis market has had significant growth since the relaxation of rules worldwide to permit its use. Several states in the US have legalised recreational consumption, Canada legalised recreational consumption in October 2018, and other countries like the UK and Germany have legalised it for medicinal use. Recreational use in markets such as Canada is placing pressure on supply of medicinal cannabis. Consequently, there is a need for high-quality products with known components, cultivated at large scale for consistent, reliable supply in many markets.
Australia can be one of the key supply centres of for APAC and world markets due to its advantageous climate conditions and excellent clean green standards.
In Australia, nearly all medicinal cannabis is imported, making it expensive. Since 2016, several Australian states have legalised access to medicinal cannabis via the Special Access Scheme (SAS), allowing patient prescriptions. This has led to significant growth in the number of approvals, as shown in the chart below. This is expected to reach over 20,000 by the end of 2019.
Total TGA Special Access Scheme Approvals

Market Access
A key success factor for any medicinal cannabis producer is to have platforms to access patients, doctors and pharmacists. Cannahealth is Cannatrek's Patient Access hub spot. It is being rolled out nationally to develop trusted support networks for the supply of quality medicinal cannabis products for GPs, participating pharmacists, carers and an estimated 300-500,000 eligible patients currently in Australia.

Properties
Cannatrek currently has two production sites. The first, UL01, is located in southern Queensland and has 3,200m2 of growing area. Commissioning has been completed and has recently received the research permit to begin growing. Annual production will be up to 5 tonnes.
Aerial view of UL01 Qld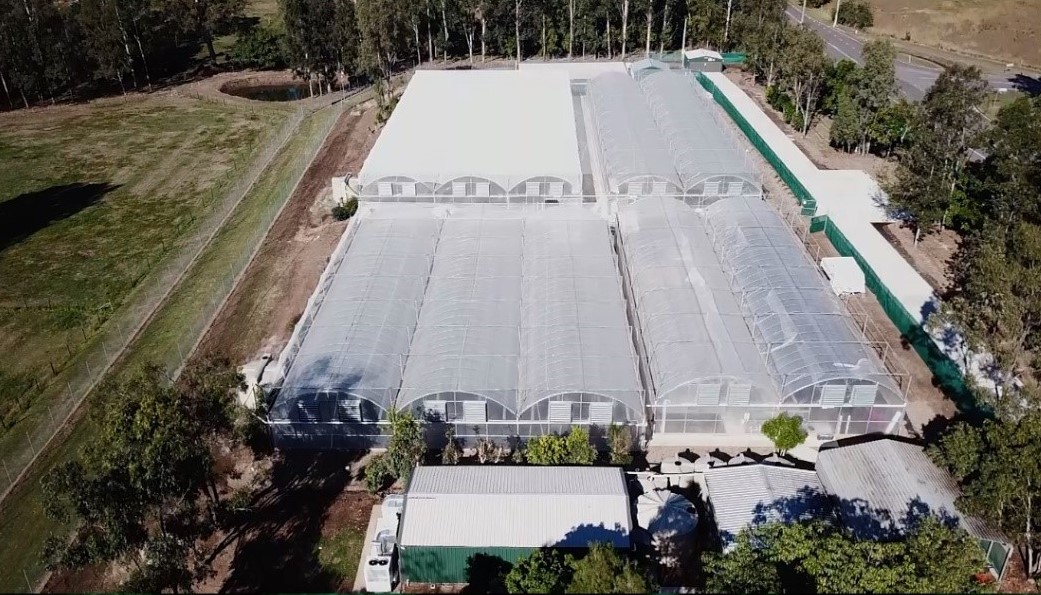 The primary commercial site, UL02, will be based on 178 acres of land recently purchased near Shepparton. Local council Development Approval (DA) has been received to commence construction of the facility on a staged basis. The facility will eventually include 160,000 m2 of growing area under a giant high-tech glasshouse. When completed, annual production will be 160-200 tonnes.
Detailed schematic of UL02 Vic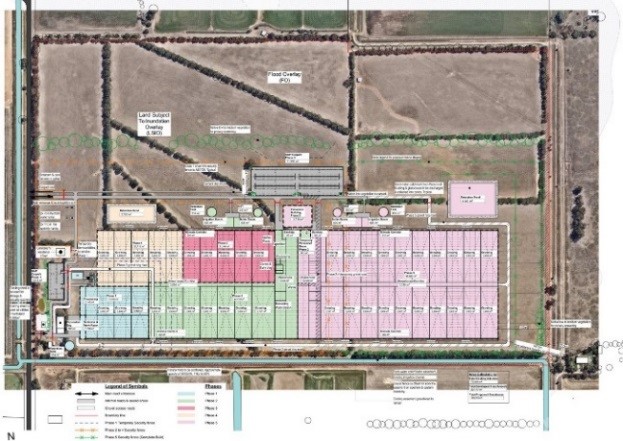 Digital aerial view of UL02 Vic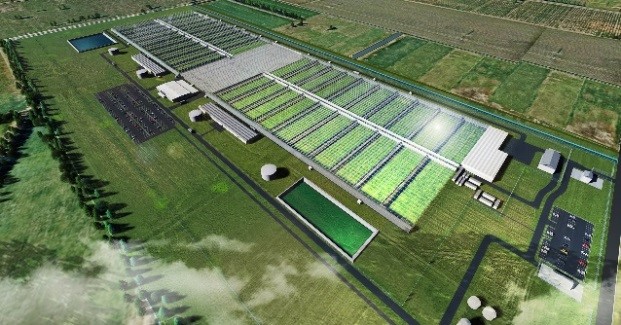 Strategic partners
In January, Cannatrek received a financial grant and industry support from the Victorian State Government to develop the Shepparton site and create over 200 jobs that would support regional industry.
Cannatrek also has a Memorandum of Understanding (MoU) with La Trobe University to assist with research, education and plans for a patient access call-centre facility. The company is in discussions with numerous parties regarding offtake supply agreements.
Other
The company plans to commence two ground-breaking clinical trials in mental health – one on the therapeutic effects of Cannabidiol (CBD) on schizophrenia with a leading Victorian hospital, and another on anxiety and post-traumatic stress syndrome (PTSD) for military veterans and first responders with a leading research institute.
The company is finalising its application for Major Project Status (MPS) from the Federal Government that will prioritise any pending and future medicinal cannabis licenses/permits once it has been granted MPS. This would establish Cannatrek as a leading project in the nascent Australian medicinal cannabis industry.
Risks
You are encouraged to read the Investor Presentation and Term Sheet carefully as they contain important information about the Company and the Offer. Like all investments, an investment in the Company carries risk. As set out on page 2 of the Term Sheet, Cannatrek Ltd is subject to a range of risks, including but not limited to; being an early stage company in a new industry, the requirement for additional funding, construction risk and agricultural risks associated with cannabis cultivation.
Section 708 disclosure: The Investor Presentation and Term Sheet are issued by Cannatrek Ltd ACN 056 175 369 ("Cannatrek"), and OnMarket makes no representation as to their accuracy or completeness. The purpose of these documents is to provide information for prospective investors to decide whether they wish to invest in Cannatrek. These are important documents. Recipients should read these documents in their entirety before making a decision to invest and, if in doubt, should consult their professional advisors.
This Investor Presentation and Term Sheet are intended to provide potential investors with information only and does not constitute a prospectus, short form prospectus or other disclosure document as defined in the Corporations Act 2001 (Cth) ("the Act"). These documents have not been lodged with the Australian Securities and Investments Commission ("ASIC") or any other government body. The offer made under this Investor Presentation and Term Sheet is only available for persons who qualify as sophisticated or experienced investors (as defined in s708(8)-(10) of the Act), professional investors (as defined in s708(11) of the Act), investors to whom personal offers are made under s708(1), or investors to whom disclosure is otherwise not required under Part 6D of the Act (collectively, "Qualified Investors"). Cannatrek will not issue any shares under this offer to a person unless it is satisfied that the person is a Qualified Investor.
You should read the Important Notice on page 2 of the Investor Presentation before making a decision whether to invest.
.