The 13 Seeds Limited IPO is closed via OnMarket. Please ensure applicationsare funded ASAP to avoid missing out.
Introduction
13 Seeds Limited (ASX: 13S) is an Australian hemp food and nutraceutical company established in 2016 and based in Tasmania. The Company was founded in 2016 and sources high-quality hemp seeds for processing by third parties and then distributes its products online (through its own website and other affiliate websites) and via its nationwide distribution partners.
The Company currently has 15 products in its gourmet food range and 10 products in its skin care range with their current focus on its food products and are able to leverage their access to a large percentage of non-major supermarkets, independent grocers, and health food stores across Australia.
13 Seeds has the regulatory approvals it requires to conduct all aspects of its current hemp food business in Australia and will continue to source and secure a sustainable supply of high-quality hemp seeds direct from Tasmanian farms and seed companies.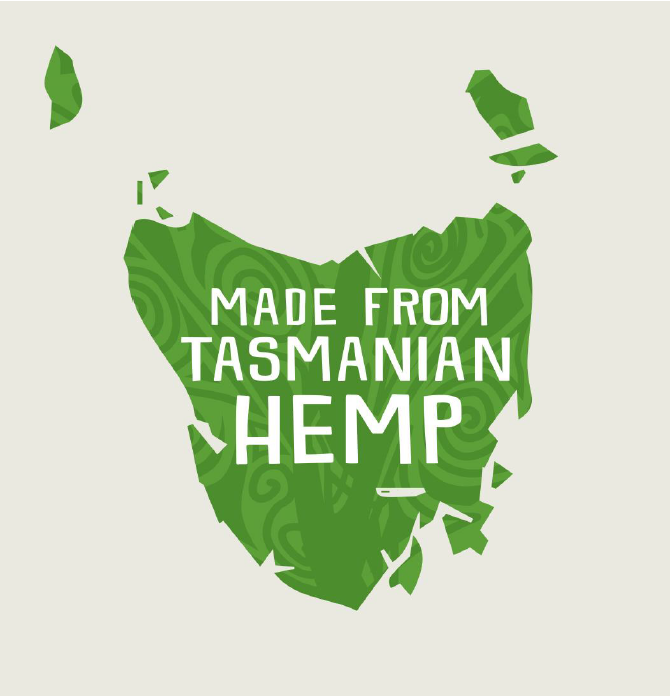 Investment Highlights
Revenue generating, brand focussed business model leveraging contract growers and third-party providers
Established product portfolio with 15 gourmet food products and 10 skin care products in market
Products sold via multiple channels, including online, via its own website and other affiliate websites, and via nationwide distribution partners
Distribution agreements provide its products with access to stores across Australia, including independent grocers, health food stores and pharmacies
Necessary regulatory approvals in place to conduct all aspects of its current hemp food business in Australia
Global hemp food market is expected to grow at a compound annual growth rate (CAGR) of 24% between 2018- 2022
Led by an experienced fast-moving consumer goods (FMCG) executive team to drive future growth
Offer overview
13 Seeds Ltd is looking to undertake an IPO on ASX to raise up to $6 million via the issue of up to 30 million shares at an offer price of $0.20. The company proposes to use the funds raised from the Offer to:
Fund sales and marketing;
Fund seed supply and raw materials supply
Purchase plant and equipment
Cover online distribution set-up costs
Fund new product development
Pay operational wages, salaries, support costs and administration costs
Provide working capital; and
To pay for the costs of the Offer.
Why Hemp
13 Seeds was founded on the premise of the health benefits that can be gained from including hemp and hemp seedbased products in consumers diet and daily routine. Hemp seeds have very high oil and protein contents. The protein produced by hemp seeds are considered to be a complete protein as they contain essential fatty acids and amino acids that the human body requires for optimal health.
The oil produced by pressing hemp seeds also contains lipids that closely mimic the lipids found in human skin. These lipids are important to the moisturising and hydration of skin. Importantly, hemp seeds and hemp seed oil contain anti-inflammatory properties that can be used both orally and topically allowing for a wide variety of food, nutraceutical and skincare applications.
As hemp foods were only legalised in Australia in November 2017, the Directors of 13 Seeds consider the industry as emerging and fast growing. The global hemp food market is expected to grow at a compound annual growth rate (CAGR) of 24% between 2018- 2022.
Business Overview
13 Seeds aims to be a leader in the provision of hemp-based and hemp-derived products as consumers seek healthier alternatives as part of their diet and daily routine. 13 Seeds' business model is focussed on building leading brands in the value chain with an initial focus on the Australian market. The Company sources high-quality hemp seeds for processing by third parties and then distributes its products online (through its own website and other affiliate websites) and via its nationwide distribution partners.
With 15 products in its gourmet food range and 10 products in its skin care range. 13 Seeds has a wide range of hemp products and has access to a large network of non-major supermarkets, independent grocers, and health food stores across Australia.

Business Model
To execute the Company's growth plan and implement its business model, 13 Seeds will rely on the following strategic initiatives:
Brand focus – 13 Seeds will focus its capital and strategy on further developing and strengthening the 13 Seeds' brand across a variety of product ranges with an initial focus on food.
Provenance – 13 Seeds is a proud Tasmanian company and will seek to source hemp seed from Tasmania as a priority (subject always to availability, harvest quality and price) and market Tasmania's reputation for being a pristine environment that the Company believes is capable of producing some of Australia's best agriculture crops.
Third-party providers – In order to support the Company's brand focused strategy 13 Seeds will operate a capital-light model that is reliant on third-party providers including primary producers, logistics providers, contract manufacturers, wholesale distributors and retailers.
Product development – 13 Seeds' initial focus is on the food, nutraceutical and skincare markets however the Company will continue to develop new hemp-based products as it identifies and responds to customer demand.
Producer relationships – 13 Seeds is proud to maintain strong working relationships with hemp seed producers throughout Tasmania and other select regions to ensure continuous supply of hemp seed.
13 Seeds specialises in the manufacture and sale of hemp-based products and has a 'capital light' strategy, under which 13 Seeds outsources the growing, dehulling, milling and pressing processes.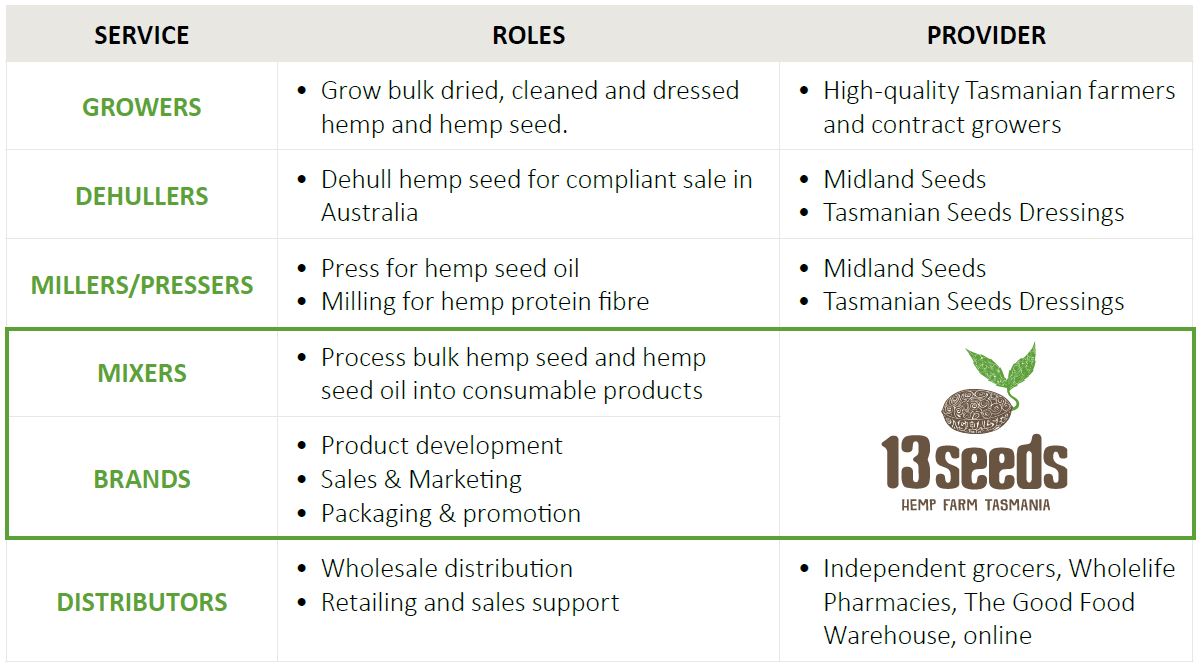 13 Seeds Regulatory Status
13 Seeds holds the following regulatory licences and certificates, including negative assurances and processes that are currently being implemented:
Food management and safety system – certification under the HACCP Codex risk assessment tool
Notification of Foods Business – confirmation that the company is not preparing/manufacturing potentially hazardous foods
Industrial Hemp Licence (Commercial) – allowing 13 Seeds to cultivate, supply and manufacture industrial hemp for commercial purposes
Industrial Hemp Licence (Research) – allowing 13 Seeds to cultivate, supply and manufacture industrial hemp for research purposes
Product Lines
13 Seeds has multiple product lines, including:
Gourmet food range – 15 products: including hemp hearts, protein, super greens, flour, oil, porridge, muesli, chai, chocolate and honey. Most products are available in both 450g and 225g size bags. These products are sold through distributors, and online through 13 Seeds' website.

Skin care range – 10 products: shampoo, conditioner, hand cream, moisturiser, night cream, exfoliator, body wash, cleanser, eye cream and toning mist. These products are sold through distributors and online through 13 Seeds' website. 13 Seeds does not undertake processing or manufacturing of skin care products. 13 Seeds' current inventory of skin care products has been purchased from third party manufacturers and has been labelled and marketed by 13 Seeds.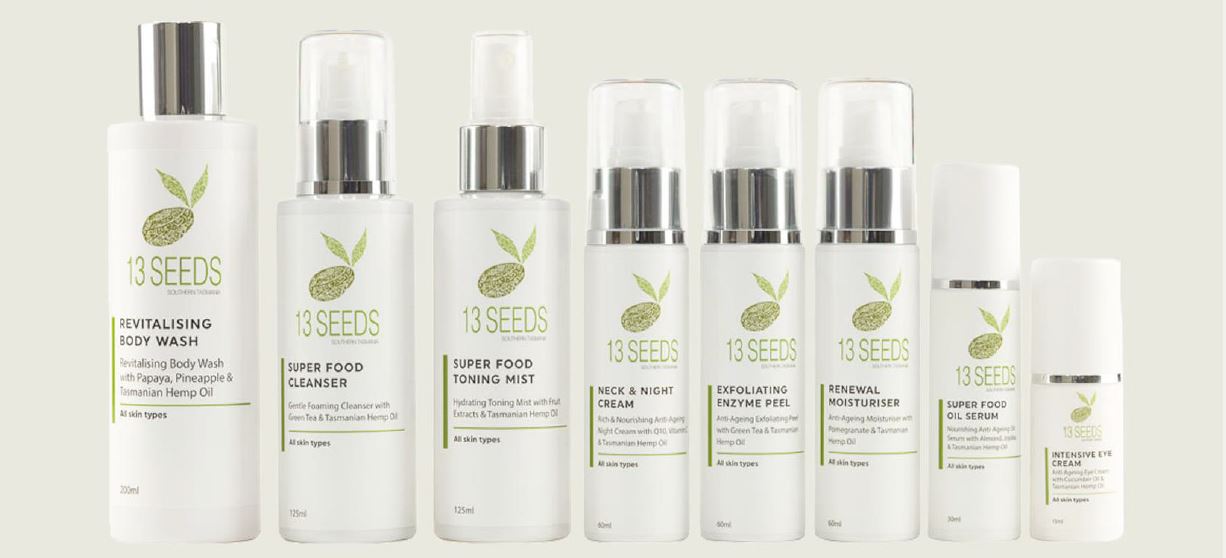 13 Seeds also has a number of products in development, including specific customer specific brands and an expanding product range to target new consumer profiles.
Revenue
13 Seeds generates, and is aiming to generate, revenue from the sale of its hemp-based food and nutraceutical products to consumers, wholesalers, distributors and retailers in Australia.

Growth Strategy
13 Seeds intends to grow sales of its hemp-based products via a multi-faceted growth strategy:
Domestic Distribution – 13 Seeds plans to expand distribution by entering into additional distributor arrangements with various distributors and large retailers and pharmacy chains. It is intended that these additional distribution arrangements will allow for the distribution of hemp products in a wider number and variety of stores throughout Australia.
Online – 13 Seeds intends to actively promote the Company's products through its existing online channels, principally its website. In conjunction with its online presence the Company will actively promote the benefits of hemp-based products through social media and online marketing.
New Product Development – 13 Seeds will respond to demand for new hemp-based products as it identifies consumer opportunities. The Company is confident that it will be able to leverage its grower network and distribution capabilities to efficiently market new products as, and when, they seek to bring them to market.
Supply of hemp & hemp seeds
The Company has opted to source hemp, rather than grow it, consistent with the Company's capital-light, brand-focussed business model. The Company currently sources hemp seeds from Midlands Seed, a specialist global company headquartered in New Zealand which supplies seeds grown in Tasmania. Under a supply agreement with Midlands Seed, 13 Seeds secured 30 tonnes of hemp seeds from the 2019 Tasmanian crop and has a Supply Option to acquire a further 35 tonnes of hemp seed from Midland Seeds for the 2020 harvest. Midlands Seed sources hemp from various third party growers predominantly in Tasmania, thereby reducing the risk of supply shortages.
Board and Management
13 Seeds Ltd is led by a management team with significant industry experience including:
Gernot Abl – (Non-Executive Chairman) Mr Abl started his career within corporate advisory as an advisor and management consultant at Deloitte and also founded his own consulting business drawing on his directorship and management consultant experience to provide corporate consulting services to a range of businesses – specifically start-ups. Mr Abl is currently the Managing Director of Esports Mogul Asia Pacific Ltd (ASX: ESH) and was previously a nonexecutive director of Transaction Solutions International Limited (ASX: TSN).
Justin Mouchacca – (Non-Executive Director and Company Secretary) with over 12 years' experience in public company responsibilities including statutory, corporate governance and financial reporting requirements. Mr Mouchacca is currently the company secretary of Auctus Alternative Investments Limited (ASX: AVC), Cohiba Minerals Limited (ASX: CHK), Wellness and Beauty Solutions Limited (ASX: WNB), JV Global Limited (ASX: JVG) and Optiscan Imaging Limited (ASX: OIL).
Corey Montry (Non-Executive Director) – a former General Motors (GM) Executive with over 15 years of commercial finance and accounting senior leadership experience working in U.S. multinational organisations. Previously, Mr Montry was a successful Group Financial Controller for Metcash Trading (a $14 billion ASX 100 FMCG business), leading the accounting/finance transformations including implementing many innovative best practice initiatives, including improving FP&A processes and regular board reporting.
Terry Memory – Co-Founder and Director of Operations - has held executive roles as a National Sales Manager, Business Development Manager and the General Manager of Sales and Marketing for the Australian Audio Company. Mr Memory has also founded several businesses including advertising and production agencies in Sydney, NSW and business development consultancies in Melbourne, VIC. Mr Memory has a strong background in IT and was one of the first Sound Engineers to commercialise Digital Audio/Video recording on the IBM platform in Australia in the early 1990s
Gemma Lynch-Memory – Co-Founder and Director of Innovation - founded the Tasmanian Tea Company, which focused on delivering unique organic therapeutic blends and premium quality teas from Tasmania and around the world. Ms Lynch-Memory oversaw new business development, product development, company positioning, branding and contract negotiations. In 2016, Ms Lynch-Memory co-founded 13 Seeds with her husband Mr Terry Memory.
Risks
You are encouraged to read the Prospectus carefully as it contains detailed information about the Company and the Offer. Like all investments, an investment in the Company carries risk 13 Seeds Ltd is subject to a range of risks, including risks associated with limited history, loss making operations and future capital requirements, agricultural risk, power of suppliers, third party and contractual risks and brand establishment and maintenance. Please refer to Section 4 of the prospectus for further details.
Section 734(6) disclosure: The issuer of the securities is 13 Seeds Ltd ACN 614 347 269. The securities to be issued are ordinary shares. The disclosure document for the offer can be obtained by clicking on the link above. The offers of the securities are made in, or accompanied by, a copy of the disclosure document. Investors should consider the disclosure document in deciding whether to acquire the securities. Anyone who wants to acquire the securities will need to complete the application form that will be in or will accompany the disclosure document (which can be done via the electronic application form which will become available by clicking the bid button above).
OnMarket has a limited allocation. The offer may close early and the 'Pay By' dates may change. Bids over $5,000 may be scaled back more heavily. Duplicate bids under the same investment profile, investor name or residential address may be cancelled.
.