* The Size of Offer and Progress Bar includes $3,200,000 recently committed by sophisticated and professional investors under a Wholesale Offer in ordinary shares and at the same issue price.
The CSF Offer is part of a broader capital raise, with $3,200,000 recently committed by sophisticated and professional investors in ordinary shares and at the same issue price, plus $1,000,000 received in July 2019 from Merchant Funds Management via a convertible note.
Advanced AI technology developed by the CSIRO making buildings safer, more energy efficient and more sustainable
Overview
Ecocentric Group Limited is at the forefront of the energy data revolution, creating technologies for digital transformation in the built world. The company's Numen technology is designed to make the world's buildings safer, more energy efficient and more sustainable.
Ecocentric's target customers face a huge problem: they don't understand the performance and efficiency of the machines which drive their business. Many of these machines fail at the most critical time and when they do, the impact can be catastrophic.
Ecocentric is a deep tech business which helps asset owners to better manage the machines and electrical systems within their buildings by providing real-time performance monitoring, fault prediction, electrical fire prevention and energy optimisation.
Ecocentric's Numen technology uses advanced AI developed within the CSIRO and is compatible with both old and new buildings, providing a truly global solution driving digital transformation within the built environment.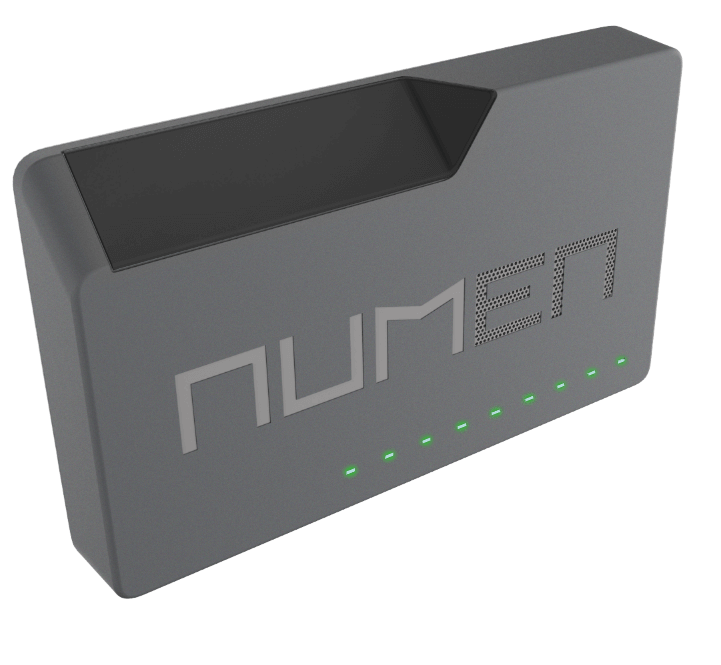 Highlights
SaaS business that allows building owners to better manage their assets through real time performance monitoring of machines and electrical systems, fault prediction , electrical fire prevention and energy optimisation.
Ecocentric's hardware and software solution, Numen, uses advanced AI developed within CSIRO to help make the world's building safer, more energy efficient and more sustainable.
Large addressable global markets with ~$2.8 trillion expected to be invested in retail energy digitisation by 2025 and ~$95 billion invested in fire prevention by 2023.
All machine performance data owned by Ecocentric.
Pilots successfully completed with global fast food chain, McDonalds, large Australian insurance group, IAG and UK energy giant Haven Power.
Market leading Intellectual Property with 7 years of R&D and collaboration with the CSIRO resulting in 2 families of patents granted in all target markets or at PTC stage.
Global Exclusive Licence for CSIRO AI granted for 10 years, with a 10 year option along with contracted support from CSIRO data scientists to improve the Numen system.
$3.2 million committed from sophisticated and professional investors in at the same issue price, plus $1m received in July 2019 via convertible note from Merchant Funds Management.
Roadmap to a liquidity event in the next 24 months.
Introduction
Ecocentric Group is at the forefront of the energy data revolution, creating technologies for digital transformation by building new business intelligence from the world's machines and buildings.
Ecocentric's Numen technology is designed to make the world's buildings safer, more energy efficient and more sustainable. Numen embodies next generation digital transformation, where hardware, software and intelligent data converge. Numen's artificial intelligence ('AI') driven monitoring enables real-time performance monitoring of machines and household electrical goods, providing insight and value in the form of fault prediction, electrical fire prevention and energy optimisation and has an interface that can be accessed anywhere in the world.
Ecocentric has a vision to collect and analyse the data from the world's machines as it seeks to become the search engine of energy and aims to build strong annual recurring revenues using a SaaS model via channel partners who will be selling Numen into their marketplaces. As this happens, Ecocentric will be building an incredibly rich data set on the performance of the world's machines that can be monetised under licence in several ways.
Market Potential
Digital Transformation is defined as the novel use of technology to solve traditional problems. According to McKinsey Digital, linking the physical and digital worlds could generate US$11.1 trillion a year by 2025. Numen Intelligent Monitoring has broken new ground and combines the best elements of these offerings to create a revolutionary platform. It is a powerful and low cost edge device with machine learning and diagnostic capabilities that bring old devices into the internet of things ('IoT'). It has an open AI platform ready to disrupt expensive consultancy models, building a powerful global data set.
Ecocentric's initial market focuses on channel partners in the energy, financial services and mechanical services sector. These businesses are motivated by digital transformation, while facilities management is motivated by addressing critical risks.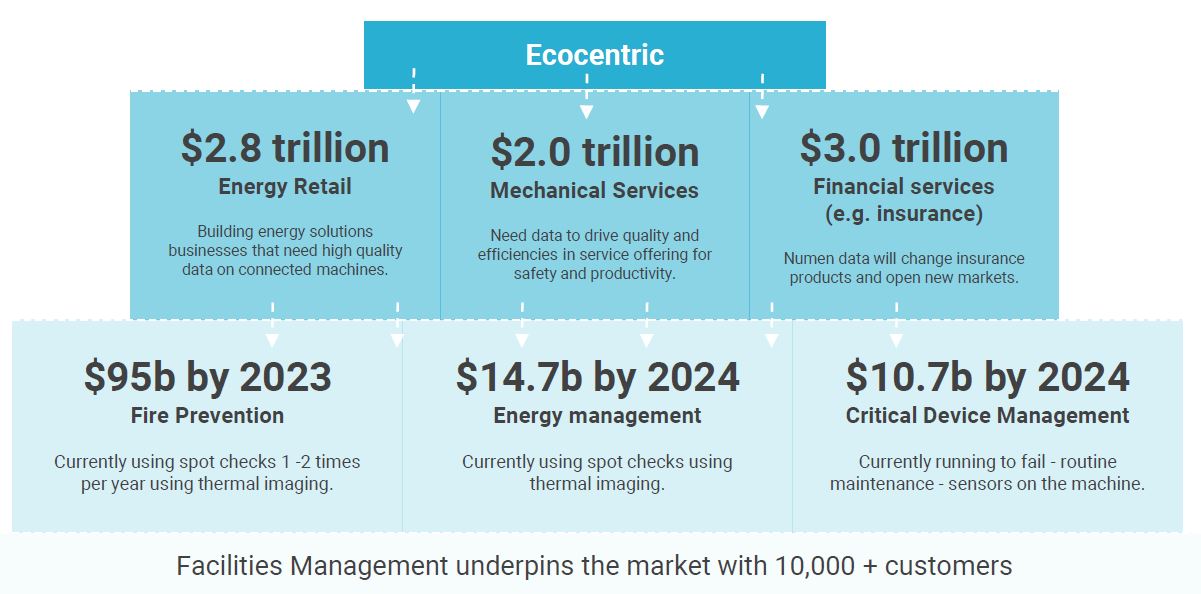 The Problem
The world's buildings are old, unsafe and inefficient. In April this year, the 856-year-old Notre-Dame de Paris cathedral burst into flames after a structural fire broke out beneath its roof. While investigations into the cause of the fire are still underway, a malfunctioning electrical system has been suggested as a possible cause. In 2017, a malfunctioning refrigerator housed in West London's 24-storey Grenfell Tower block was potentially responsible for the deaths of more than 72 people. These are just some of the latest examples of electrical systems sparking disaster.
One of the biggest problems confronting facilities managers globally is the lack of tools to ensure machinery is operating efficiently and as it is expected to. Compounding this global problem is the lack of visibility that decision makers currently have about the operational performance of their company's machinery.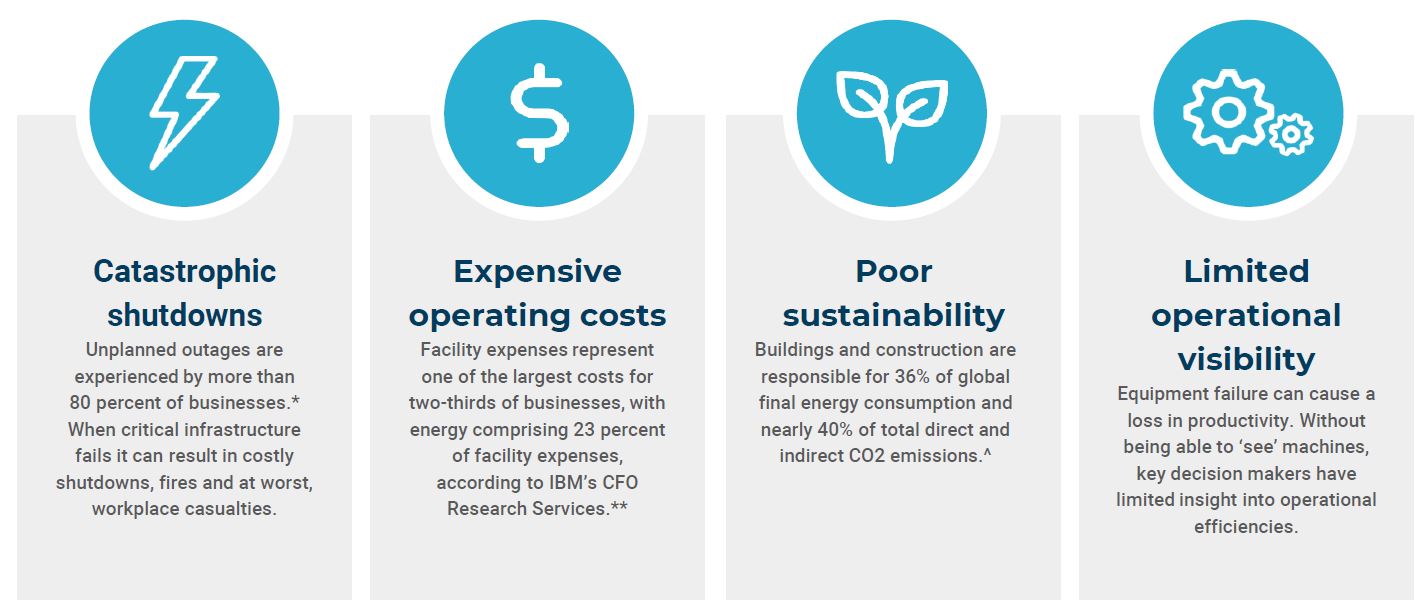 The Numen Technology
Numen can solve key global energy problems.
In the US alone there is an average of 37,910 fires at industrial or manufacturing properties each year. Equipment failure is one of the major causes of lost productivity in a business; almost 92 per cent of maintenance-related shutdowns are unplanned.
Just like humans, machines can 'get sick' too, but only communicate this when it's too late - after an electrical fault has already started sparking or has shut down operations completely.
Numen uses sensors to acquire high frequency electrical data on machines and equipment that is fed into cloud-based algorithms, enabling the system to identify the signature of individual devices, monitor their performance and predict faults. The Numen watchlist auto-configuration tracks device performance, safety and operation over time on machines such as fridges, dryers or air conditioners.
The alert system notifies key personnel in real-time of abnormalities and early signs of failure modes, allowing intervention to avoid costly unplanned outages and electrical failures, as well as provide insight into how to best optimise energy efficiency.
Numen is already actively monitoring critical infrastructure as part of several trials underway with a range of multinational companies including insurers, manufacturers and major retailers.
With a number of patents already registered, Ecocentric has significant intellectual property vested in Numen, its proprietary energy monitoring hardware and software, as well as an exclusive licence for electrical fingerprint technology developed by Australia's science agency - the CSIRO.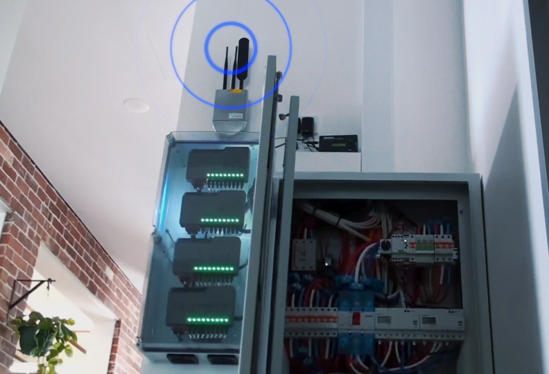 Business Model
Ecocentric's energy management, critical device monitoring and arc detection capabilities are delivered as SaaS products that solve the most pressing issues for facilities managers in target markets (e.g. data centres) via channel partners.
Ecocentric's "channel partners" are investing in digitisation. They currently include power utilities, insurance and engineering companies who have large existing facility manager customer bases.
The SaaS products' ability to collect data on the performance of the world's machines constantly accumulates and feeds AI capability to spin out new SaaS products with low Customer Acquisition Costs. The Platform as a Service (PaaS) business emerges as this data can be harvested and data, analytics and insights can be sold under licence to existing market and third parties.
Traction
Insurance Group Australia (IAG) - engaged Ecocentric to trial Numen in one of their critical buildings, the Burwood Data Centre Melbourne.
Haven Power - specialist business energy suppliers with a portfolio of over 400,000 businesses across the UK market have executed an agreement under which Ecocentric will demonstrate Numen's capabilities in one of Haven's customer's sites.
McDonalds Franchisee - engaged Ecocentric directly to implement a trial to understand and evaluate Numen's capabilities. Now installed across all of this franchisee's sites under full commercial terms.
CSIRO - engaged Ecocentric to equip three key sites (Head Office Black Mt Canberra, Energy Flagship Newcastle NSW and Australian Resources Research Centre Kensington WA).
Diamond FS - a UK-based facilities management business who has signed an MOU to provide installation and commissioning services of Numen in UK markets.

Revenue Model
The company is proposing to develop multiple revenue streams which include the cost of the hardware, monthly SaaS subscriptions and future PaaS data licensing. Annual Recurring Revenue from subscription income quickly covers the costs of ongoing manufacturing.
Motivated channel partners are offered the Numen devices on a cost recovery basis to encourage them to distribute the devices to their customers in a "one to many" channel strategy. The more machines are connected to the Ecocentric platform, the more data is created.
Ecocentric has planned its technology development pipeline to be able to derive revenues from licensing by giving third parties access to de-identified data that Numen has collected. The Ecocentric Platform-as-a-Service (PaaS) will offer de-identified Numen data to third parties (such as the original equipment manufacturers) and specialist big data analysts. Revenue can be generated in one-off payments for specific data or as a subscription to the platform. Ultimately, the revenue from PaaS is expected to be a significant percentage of total revenue once the Numen hardware has been provided to customers.
Terms of the Offer
This Crowd Sourced Funding offer forms part of a larger fundraising initiative currently being carried out by Ecocentric. The Company will be raising $0.25 million to $1.5 million under this CSF raise, having already secured $3,200,000 through a wholesale offer at the same issue price.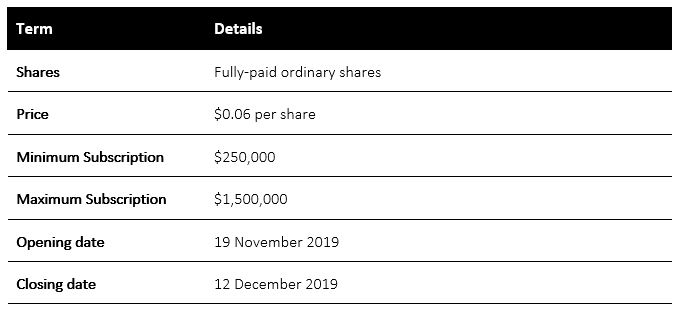 Use of Funds

Risks
The company is an early stage business, on the cusp of disrupting international industry sectors. The opportunity is significant, but there is a degree of risk associated with any early stage company seeking to break into competitive markets. This includes but is not limited to contractual risks associated with performance thereto obligations to time and quality of work performed, reliance on core information technology and other systems, limited operational history, intellectual property risk and the Company may need to obtain additional funding if there are changes to operations requirements, market conditions or business opportunities.
Management & Board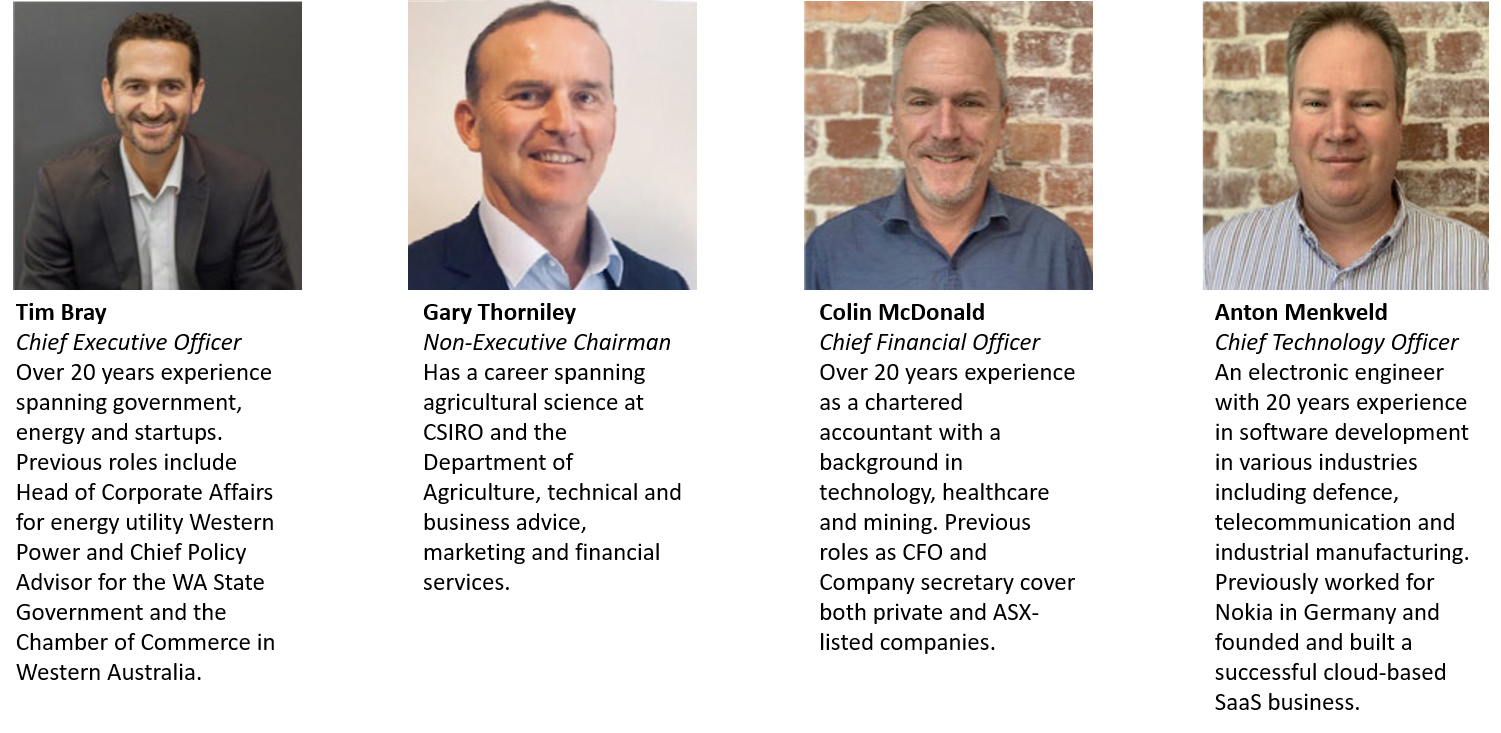 The Offer is subject to a Maximum Subscription amount of $1,500,000. If the Maximum Subscription is reached, the Offer will close early. Applications will be treated on a time priority basis and may be subject to scale back, so please fund your application as soon as possible.
IMPORTANT: Please read the below information before investing in this Equity Crowdfunding offer.
RISK WARNING: Crowd-sourced funding is risky. Issuers using this facility include new or rapidly growing ventures. Investment in these types of ventures is speculative and carries high risks. You may lose your entire investment, and you should be in a position to bear this risk without undue hardship. Even if the company is successful, the value of your investment and any return on the investment could be reduced if the company issues more shares. Your investment is unlikely to be liquid. This means you are unlikely to be able to sell your shares quickly or at all if you need the money or decide that this investment is not right for you.
Even though you have remedies for misleading statements in the replacement offer document or misconduct by the company, you may have difficulty recovering your money. There are rules for handling your money. However, if your money is handled inappropriately or the person operating this platform becomes insolvent, you may have difficulty recovering your money. Ask questions, read all information given carefully, and seek independent financial advice before committing yourself to any investment.
5 DAY COOLING OFF PERIOD: There is a 5 business day cooling off period for retail investors. During this period, you may withdraw your application and receive a full refund into your nominated refund account. Please note: After the 5 day cooling off period has expired, you will be unable to withdraw your application. More information here.
ONMARKET FEES: Upon successful completion of the Offer, a maximum fee of 6% of the funds raised will be paid to OnMarket by the Company.
ONMARKET INTERESTS: OnMarket and its associates may be participating in this offer.
ONMARKET INTERESTS AND AMOUNTS SUBJECT TO COOLING OFF: The funding bar displayed under each crowd funding offer may include applications where payments are yet to be made and amounts that are subject to the cooling off period.
Section 734(6) disclosure: The issuer of the securities is Ecocentric Group Limited ACN 155 436 918. The securities to be issued are fully-paid ordinary shares. The disclosure document for the offer can be obtained by clicking on the link above. The offers of the securities are made in, or accompanied by, a copy of the disclosure document. Investors should consider the disclosure document in deciding whether to acquire the securities. Anyone who wants to acquire the securities will need to complete the application form that will be in or will accompany the disclosure document (which can be done via the electronic application form which will become available by clicking the bid button above).​
.