How is the Solar D sunscreen technology different to every other sunscreen?
27 April 2019 @ 12:00AM
By Mat Collett, Co-founder & CEO of Solar D
Solar D has developed the world's first vitamin D promoting technology and is recognised as a next generation sunscreen. Solar D technology gives you the best of both worlds where you still get SPF 50 protection, but it also lets in some of the UVB light that is used in vitamin D production.
What is Solar D SPF Technology?
Solar D was specifically designed to let in more of the UVB light so our bodies can produce more vitamin D without sacrificing the Sun Protection Factor (SPF).
Vitamin D is important [link to previous article] in maintaining good wellbeing, however, it is important that sun protection is not sacrificed in order to achieve our required vitamin D levels. No other sunscreen has been able to create this technology. The issue with traditional sunscreens is that they block out all the UV light, including the beneficial UVB light used to make vitamin D.
Solar D sunscreen has been specifically formulated over years and supported by world leading Vitamin D researcher, Dr Michael Holick who stated in his study:
"Solar D Sunscreen helps the skin make more vitamin D without sacrificing sun protection."
Solar D Sunscreen is also Reef & Marine Safe. There has been a lot of recent speculation and debate around the environmental impact that sunscreens have on marine life and reefs. Recently Hawaii and Palau have announced they will be banning sunscreens with "certain ingredients" starting in 2020. Solar D contains none of the listed banned ingredients and therefore is considered Reef & Marine Safe.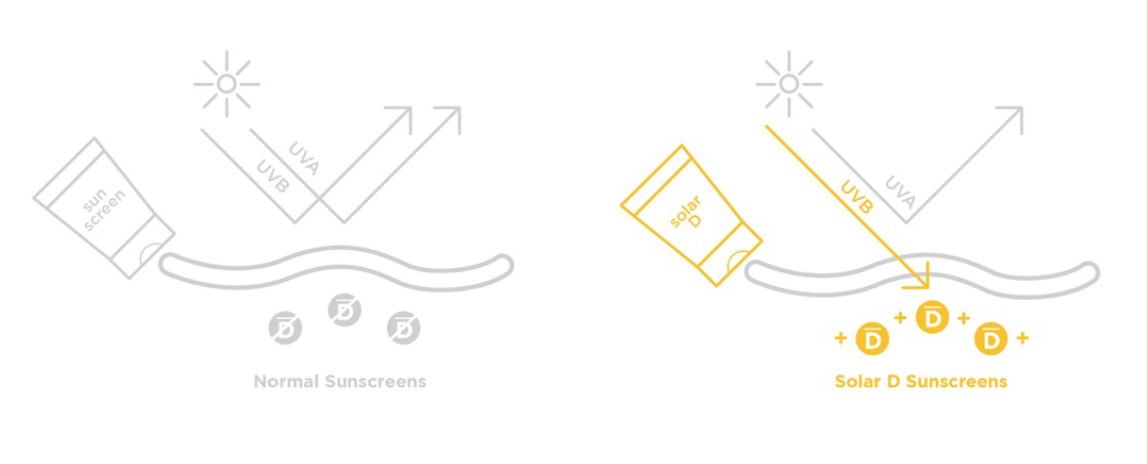 Solar D technology not only protects you from burning, ageing and helps prevent melanomas, it has been specifically formulated and patented to let in some of the UVB light so we can produce vitamin D without the risk of any DNA damage.
How is Solar D different?
Solar D is the world's first and patented Vitamin D promoting technology, protecting you from the sun and helping to promote healthy muscles and bones. Our goal is to be the "Intel" of SPF technology. with our patented technology embedded throughout the world.
We already have global traction with over US$1 million in purchase orders and have signed our first private label deal with one of Spain's largest pharmaceuticals. We have also begun commercial discussions with one of Australia's fastest growing cosmetics companies for distribution in Australia, the UK and the US.
The cosmetics industry is a major market opportunity for us as our vitamin D promoting SPF technology can be used in any product that contains SPF. This opens the door for Solar D technology in the US$500 billion skin care market that includes pharmaceuticals and cosmetics.
These are all private label opportunities to build the Solar D technology into their brands for distribution across the globe.
Solar D's equity crowdfunding offer is now live via the OnMarket platform. Solar D have already raised $521,000 and is 104% funded. Don't miss your opportunity to own a piece of the sunscreen technology revolution, Invest now!