Why you're missing out if you're not investing in SPPs
02 March 2021 @ 12:00AM SPP Harvester
Since COVID-19 hit the Australian economy in March 2020, ASX listed companies have raised over $63 billion. Of this, $4.7 billion has been raised by way of Share Purchase Plans.
But what is a share purchase plan? How can you gain access? And why share purchase plans?
An Overview of Share Purchase Plans
A Share Purchase Plan (or SPP) is a form of capital raising by a listed company that offers shareholders the opportunity to apply for new additional shares at a discount. In order to access these share purchase plans, investors needed to be a shareholder on the record date, typically prior to the date of the SPP announcement.
Over the last decade, ASX300 companies have completed 325 share purchase plans at an average discount of 9%.
Historically, share purchase plans conducted by the largest 300 ASX-listed companies have shown good returns for investors in a very short space of time. The holding period for shares purchased in a share purchase plan, or the time between application and trading, is typically between 3 and 4 weeks. Investors who had sold their shares 1-day after the shares begin trading they would have seen an average return of 10% for share purchase plans that were in the money at the close of the offer.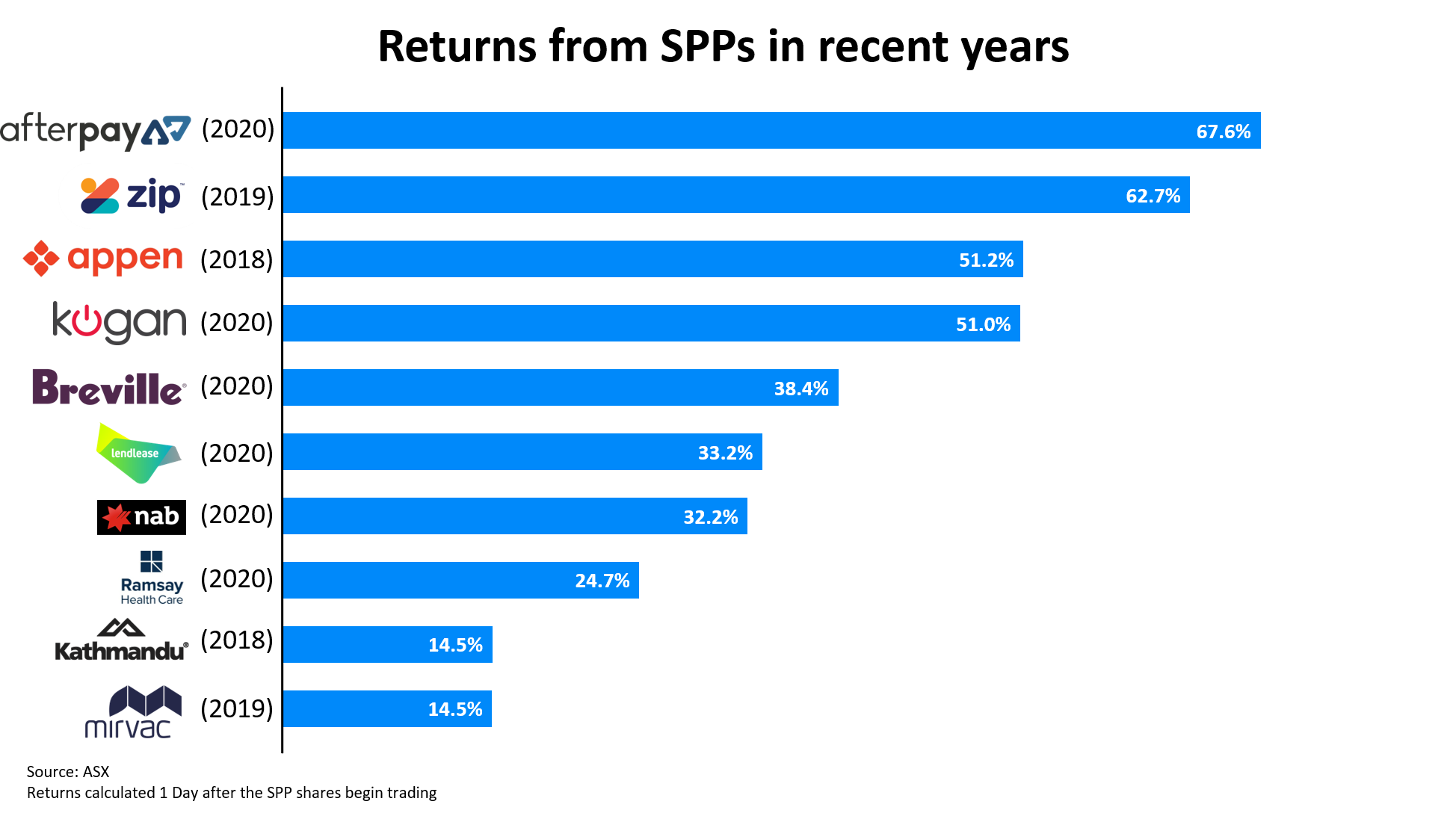 The short holding period makes this return even more impressive, enabling investors to efficiently recycle their capital into the next share purchase plan.
Why Share Purchase Plans?
So, why share purchase plans? They give retail shareholders access to discounted ASX capital raisings and enable them to recycle their capital efficiently with historically strong returns over a very short holding period.
To get into all of these SPPs you would have needed an initial capital outlay of at least $150,000 to own shares in all of the ASX300 companies given the minimum parcel requirement of $500. That's why we launched SPP Harvester. We give all investors the opportunity to participate in share purchase plans at a fraction of the upfront cost.
We buy you 1 share in all of the top 300 ASX companies (instead of $500 worth in each company) and invest in share purchase plans as they are announced on your behalf. We then sell the SPP shares as soon as they are available so that your capital can be recycled into the next SPP.
SPP Harvester was launched in May last year and since then have seen some outstanding returns for our investors. For those that got in right from the start and invested the maximum $30,000 into every SPP, they have seen a return of $69,000 in less than 12 months.
You can find out more about the performance of our SPP Harvester service here.
All data from ASX. Historical performance of share purchase plans is not a reliable indicator of the future performance of share purchase plans.