The Techformation of ASX
Posted by Alex Galin 14 November 2014 @ 12:00AM
Mining has been woven into the fabric of Australia from Captain Cook's landing of The Endeavour – which, incidentally, began life as a coal ship before being refitted for exploration. Since then, Aussie mining has gone from strength to strength – in 2011-2012 iron ore, coal, and gold together accounted for 40% of all Australian exports.
The lifeblood of the industry are its explorers – the entrepreneurial dream and promise of future supply. But while the mining sector is investing in Australia, it seems Australia is no longer investing in the mining sector.
Spooked by rapidly tumbling coal and iron ore prices and a bearish commodities outlook, Australian investors have turned instead to the mushrooming local technology economy – and have embraced it with open arms.
FROM HERO TO XERO
The number of mining companies listing on ASX has fallen dramatically over the last four years. In 2010, mining companies raised $1.1bn from Australian investors through 66 IPOs, accounting for 70% of all listings that year.
At time of writing, by comparison, only five miners had successfully listed in 2014, raising $28m among them.
Only one of the five was a market standout: copper explorer and ASX BookBuild pioneer Stavely Minerals (ASX: SVY) listed at 20c, peaked at 69c end of July, and is up 70% since listing. The track record of management and the large number of broking houses participating in their fixed-price IPO likely yielded a wider than usual following for a junior miner in what are very tough conditions.
Technology companies, by comparison, have thrived since 2010 both in number of listings and in value raised. Compared to 2010 when technology company listings accounted for a mere 3% of all ASX IPOs and raised $60m – this year's 15 tech IPOs have raised over $1.2bn from investors.
Technology v Mining IPOs on ASX by Value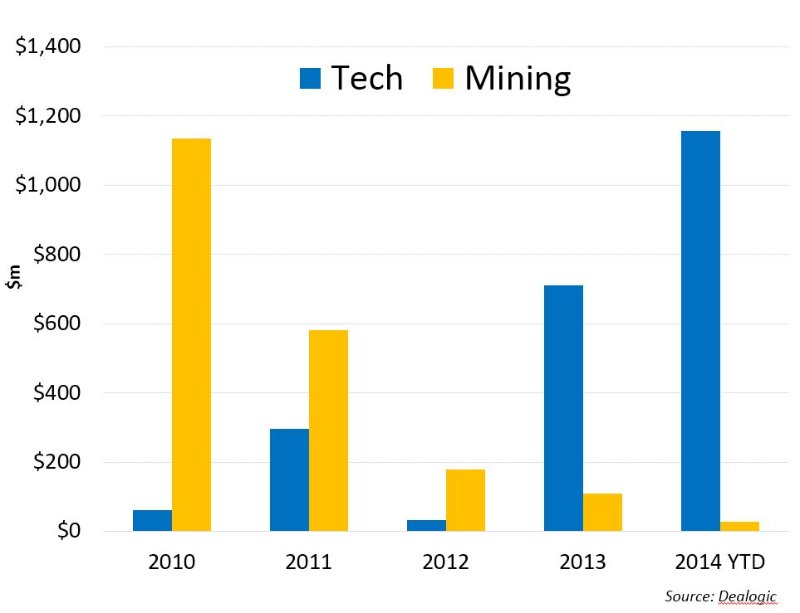 Perhaps even more telling than the number of companies listing is the investor demand for tech stocks post-listing: investors can't seem to get in (the raisings are highly oversubscribed) and can't seem to get enough in the aftermarket.
Silicon Valley start-up 1Page (ASX: 1PG) jumped 70% on its first day of trading. Cloud based building service provider Urbanise.com (ASX: UBN) closed its IPO early four times oversubscribed and jumped 50% on debut. Rewardle Holdings (ASX: RXH), a digital customer engagement company, jumped 50% on debut and closed the first day up 40%. iSentia (ASX: ISD) was up 19% on day one. Social media tech start-up MigMe (ASX: MIG) peaked at 125% of its listing price on the first day and closed up 95%.
From the perspective of the founders and pre-IPO shareholders there was a lot of money left on the table this year from a very keen market.
And from the perspective of all the investors interested in technology stocks, a question as to why they weren't given access – they could have been if the company had used ASX BookBuild…
THE ACCIDENTAL TECH INVESTOR
But it's not only the sector of choice for Australian investors – there's another way to get into technology stocks. It's a new trend – Accidental Tech Investment, or "ATI", the incidence of which has increased in frequency.
ATIs occur when investors in mining exploration companies inadvertently find themselves with holdings in technology companies after a reverse listing of a tech company into a mining company shell – aka Reverse Takeovers or RTOs.
To just name a few this year - MigMe (ASX: MIG) reverse listed into Latin Gold. Covata (ASX: CVT) vended into Prime Minerals. Rare earth miner Lithex Resources (ASX: LTX) has indicated that it could soon house Mpire Media, a Perth-based marketing business. Social network Spring.me will reverse list into GRP Corporation (ASX: GRP). Red Gum Resources (ASX: RGX) has left the resources space and refocused on travel and leisure – acquiring Holiday Planet and the Australian Travel Group. And, the Silicon Valley born 1Page (mentioned above) was a mining company RTO as well.
IS SV THE NEW KAL?
Fellow ShareCafe columnist and Freelancer founder, Matt Barrie, recently wrote that "the ASX will be the primary way in which technology companies raise equity in this country in the future."
ASX for its part, has certainly played a role in the unfolding technology story – amending its minimum price requirements for RTOs and going public about seeking to be the technology hub in the entrepreneurial Asia Pacific.
With a persistently high AUD and Chinese demand for coal forecast to peak in 2016, it looks as though ASX may soon have a register of companies more closely resembling the residents of Silicon Valley than exhibitors at Kalgoorlie's Diggers & Dealers.