OnMarket wins 'Crowdfunding Innovator of the Year' at the FinTech Business Awards
Posted by OnMarket 10 April 2018 @ 12:00AM
OnMarket was very proud to be awarded the 2018 'Crowdfunding Innovator of the Year' at the recent FinTech Business Awards held in Sydney.
The FinTech Business Awards recognise outstanding innovation and entrepreneurship in the Australian financial technology sector. The 2018 'Crowdfunding Innovator of the Year' award recognises a company that assists retail or institutional investors to access investment opportunities via the internet.
The award was assessed on 4 key criteria:
Product, marketing strategy, customer base and approach to customer service
Market potential and process for scaling
Unique selling points and competitive advantages
Unique technological innovations developed
OnMarket continues to make investing and capital raising an efficient, simple, and transparent process that is accessible to everyday investors and businesses making a change in the world.
In addition to revolutionising the way IPOs are made available to retail investors, by providing the world's first free-access portal and app for capital raisings, OnMarket has become one of the first crowdfunding platforms to be granted an Equity Crowdfunding Licence in Australia. The Licence was granted to OnMarket in January 2018, since then, we have closed two of the first three equity crowdfunding deals in Australia.
Members of the OnMarket team accepting the 'Crowdfunding Innovator of the Year' award at the FinTech Business Awards 2018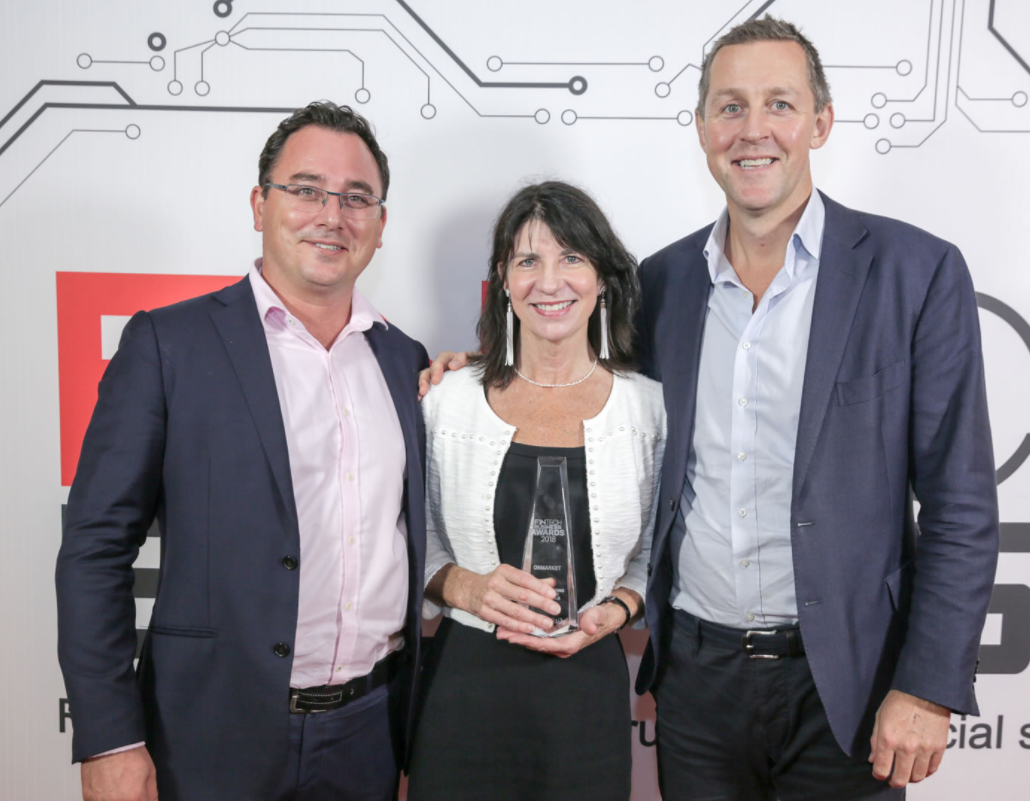 Equity crowdfunding brings entrepreneurs and investors together for the first time, and that is what OnMarket was able to achieve with Revvies, the first equity crowdfunding deal to close in Australia. Revvies has developed an innovative, fast dissolving mouth strip that delivers 40 mg of caffeine. It provides athletes, students and busy people with the ability to have a faster, sugar-free, safe and consistent caffeine boost. Revvies successfully raised close to $300,000 from over 250 investors via the OnMarket platform.
The second equity crowdfunding deal completed by OnMarket was DC Power Co., which has become the world's most popular equity crowdfunding offer by number of investors. DC Power Co. has given close to 15,000 Aussie investors a piece of Australia's first solar-focused energy retailer which offers to optimise household solar systems to use less energy and earn more money.
Amassing the largest ever crowd to participate in an equity crowdfunding raise, really shows what we at OnMarket believe to be the true essence of equity crowdfunding, that is, to bring together the community to invest in companies making a difference. This seed raising provides DC Power with 15,000 people that have bought into their investment thesis. While the $2.2m that they have raised is huge for a seed funding round, what is even more important is that they have amassed 15,000 people to be a ready-made engaged customer base.
We are extremely happy to be the winners of the 2018 FinTech Business Award for 'Crowdfunding Innovator of the Year'. OnMarket looks forward to continuing to innovative our capital raising platform, and bringing our 45,000 investors access to the most innovative and growing Australian companies seeking capital.
OnMarket's CEO Ben Bucknell speaking at the FinTech Business Awards 2018