Fitgenes Equity Crowdfunding Case Study
24 September 2021 @ 12:00AM Equity Crowdfunding: Case Studies
Fitgenes is a QLD based, revenue generating, established DNA-based HealthTech business focused on detecting, preventing, and managing chronic disease.
How? Through personalised health and dietary solutions. Tapping into the macro trend of health and wellbeing, years of operational experience and development led Fitgenes to their moment of growth.
Their nutrigenomic (DNA-based) business model taps into a global market that is estimated to reach over USD $900 million by 2025.
So, what sets Fitgenes apart from alternate Nutrigenomic companies? To date, Nutrigenomic companies have taken a B2C approach, resulting in higher inefficiencies and costs.
Fitgenes was one of the first companies to uptake a practitioner led business model. Their collaboration with health practitioners to deliver professional health advice enhances the wellness benefits that come from nutrigenomics and delivers the advice in an effective manner.
Over 1300 independent health and allied health practitioners across Australia, New Zealand, Asia and the US have been trained and accredited by Fitgenes.
Fitgenes continues to look at new technology to elevate everyday individual's health and wellbeing
Darren Scotti, advisory member at Fitgenes
To learn more about their business model, click on the button below to watch their 'Questions from the Crowd' interview!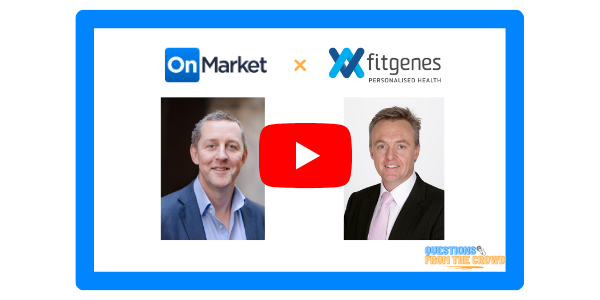 A quick campaign run through!
The interest in Fitgenes from investors was present from day dot to the final moments – with $150k of capital invested in the final week.
Throughout the duration of the raise, Fitgenes achieved many milestones and released exclusive information to OnMarket investors. These breakthroughs included:

QLD government grant: To improve IT infrastructure and global scalability

Equine product pilot study success: Entering a new $1billion market by using existing system, procedures, and knowledge, and applying it to thoroughbreds.

ImmuneChoice product insight: A new product that detects potential health risks via DNA-based reports - ultimately personalising risk prevention.

Global distribution partnerships: Signed distribution partnerships on a global scale, including Malaysia, Indonesia, Philippines, U.S., NZ, AUS

Online accreditation program: Collaboration between Fitgenes and Intergria Health. The program offers an online 19-module self-learning accreditation programme for practitioners and students, which also includes a Fitgenes Health & Wellbeing test for learning and application.
The capital from the raise has enabled Fitgenes to market our existing portfolio and expand new and exciting products in relation to people and more broadly mammals. We even released our Equine Product for horses during the campaign.
Darren Scotti, advisory member at Fitgenes
Where to now?
The success of their raise has opened a gateway of opportunities, with their primary focus being GROWTH.
Fitgenes have already begun to roll out their practitioner training program and will amplify the awareness of the online course. The beta Equine product that was exclusively released to OnMarket investors will be prioritised in moving from beta phase to market entrance, and the public launch of their ImmunityChoice products follows suit!
Not to mention, their plans for global expansion with key global distributors in place. With all the right ingredients, and support of investors, Fitgenes is ready to magnify their market reach and revenue.

OnMarket and Fitgenes Partnership
OnMarket is very easy to work with, provide excellent indications of what's to come, and well prepares you well for every step of the process. The relaxed and supportive team dynamic aided the success of the raise.
Darren Scotti, advisory member at Fitgenes
A note about equity crowdfunding, from Fitgenes to you!
Being the first equity crowdfunding raise Fitgenes has completed, OnMarket decided to deep dive into their perception on the method of raising capital to assist other Australian businesses in decision making! Here's what Darren Scotti had to say;
The equity crowdfunding raise is a much simpler, and manageable process, in comparison to a private round – the structure of the CSF approach improves the experience and ensures clarity. In essence, it puts positive pressure on the company to perform and investors to commit.

And that's a wrap!
We look forward to seeing Fitgenes' next steps, and a long-lasting partnership with the innovative HealthTech business.
First equity crowdfunding, then growth, then global distribution!