COVID-19 is accelerating the shift to a cashless society
08 July 2020 @ 9:00AM Equity Crowdfunding Investors
COVID-19 has impacted virtually every corner of the globe from health to business, even the way we purchase goods.
As the threat of COVID-19 increased, the use of cash decreased with fear that it could potentially carry the virus.
Contactless and mobile payments were already becoming increasingly popular. How has this global pandemic impacted this shift?
Key Points:
Contactless and mobile payments are rapidly increasing in popularity
COVID-19 has shown that we are willing and able to embrace a shift towards a cashless society
The Payment App provides a route to a seemless shift with their advanced payment gateway creating a rich ecosystem of data and reducing fraud
The Impact of COVID-19 on payments
New data from the RBA shows that ATM withdrawals in April declined 30% from March and declined 40% from April last year indicating a significant drop in cash transactions as a result of COVID-19. But, it isn't just COVID-19 that is killing cash, it was already on the decline and the pandemic has only accelerated the change.

According to the Reserve Bank of Australia, prior to the pandemic the number of Australians paying with cash had declined from 69% in 2007 to 37% in 2016. The RBA went on to say that "the share of cash transactions is likely to have declined further since." The chart below highlights this data, not only showing a noticeable decline in cash transactions per capita but also the rapid rise of debit and credit card transactions over the same period.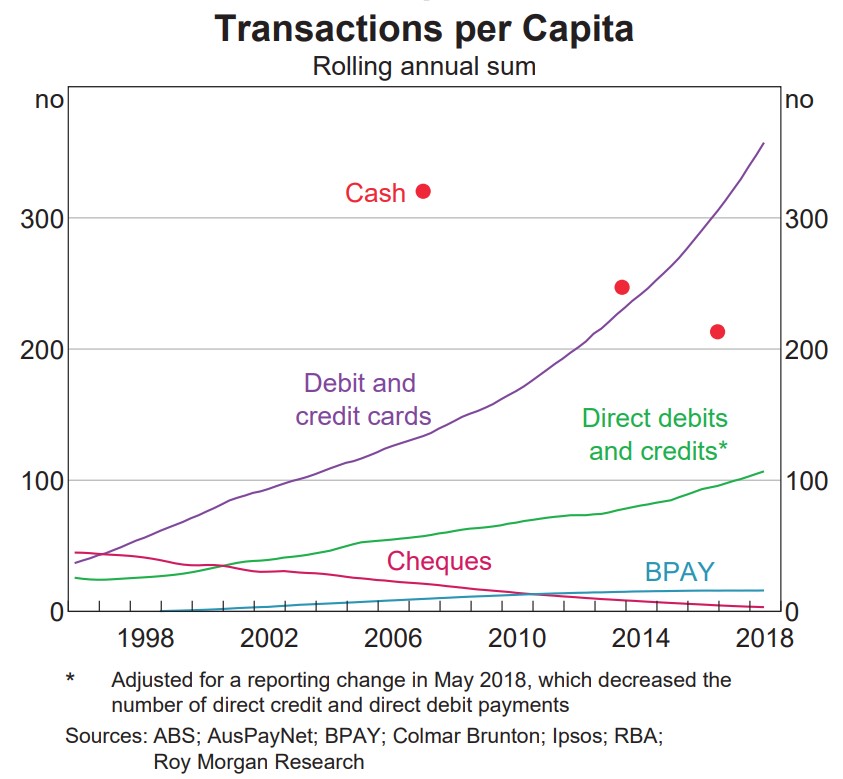 A new opportunity
Increasing card payments has also meant increase mobile payment via "tap and go" with consumers able to hold credit, debit and other cards on their phone.
According to the 2019 JP Morgan Global Payment Trends report, the mobile commerce market is now worth $8.3 billion and makes up a sizeable 25% of the total e-commerce market. With smartphone penetration at 68% of Australia's population this can only be expected to grow.
Founder and CIO of The Payment App, Benjamin Banks, says "COVID has shown that we can accept and embrace digital payments and with that we need to have a cashless society where there is a rich ecosystem of data and payments interacting".
The Payment App has developed software that combines a proprietary payment gateway with an AI driven data engine delivering heightened insights about consumers. Mr Banks believes that his company can become a powerful tool as we evolve into a cashless society, "Every mobile transaction is an opportunity to analyse consumer data. TPA is taking that opportunity and making it a reality.
With TPA's technology, merchants will be able to create a comprehensive 360-degree view of their customers to create a better relationship that goes beyond the transaction and creates a tailored experience.
The Payment App is currently live with their equity crowdfunding campaign and have already raised $190,000. For information and to become a shareholder in this revolutionary technology, head to The Payment App offer page.