Case Study: Qantas Placement and Share Purchase Plan
01 September 2020 @ 12:00AM SPP Harvester
Overview of Qantas
Qantas Airways Ltd (ASX:QAN) might have taken a brutal hit to earnings, posting its worst result it its 100 hundred-year history, but the same isn't true of investors in its recent share purchase plan (SPP) via SPP HarvesterTM.
A company's troubles can be a boon for investors: SPP HarvesterTM investors earnt 18.3% in 20 days.
Air travel has taken a huge hit from the COVID-19 pandemic and commercial travel is unlikely to return to normal in the near future. Border closures and restrictions mean that domestic travel, for now, is extremely limited for Australians and Qantas have already said that regular commercial international travel won't return until July 2021.
A look at the equity raising
Bleeding cash, Qantas launched an equity raising consisting of a $1.36 billion institutional placement and $500m share purchase plan. Qantas shares were down 39.8% for the year at the time the equity raising was announced, and the Placement and accompanying SPP was presented to shareholders at a further discount of 12.9% against the last traded price of $4.19 on 24 June 2020.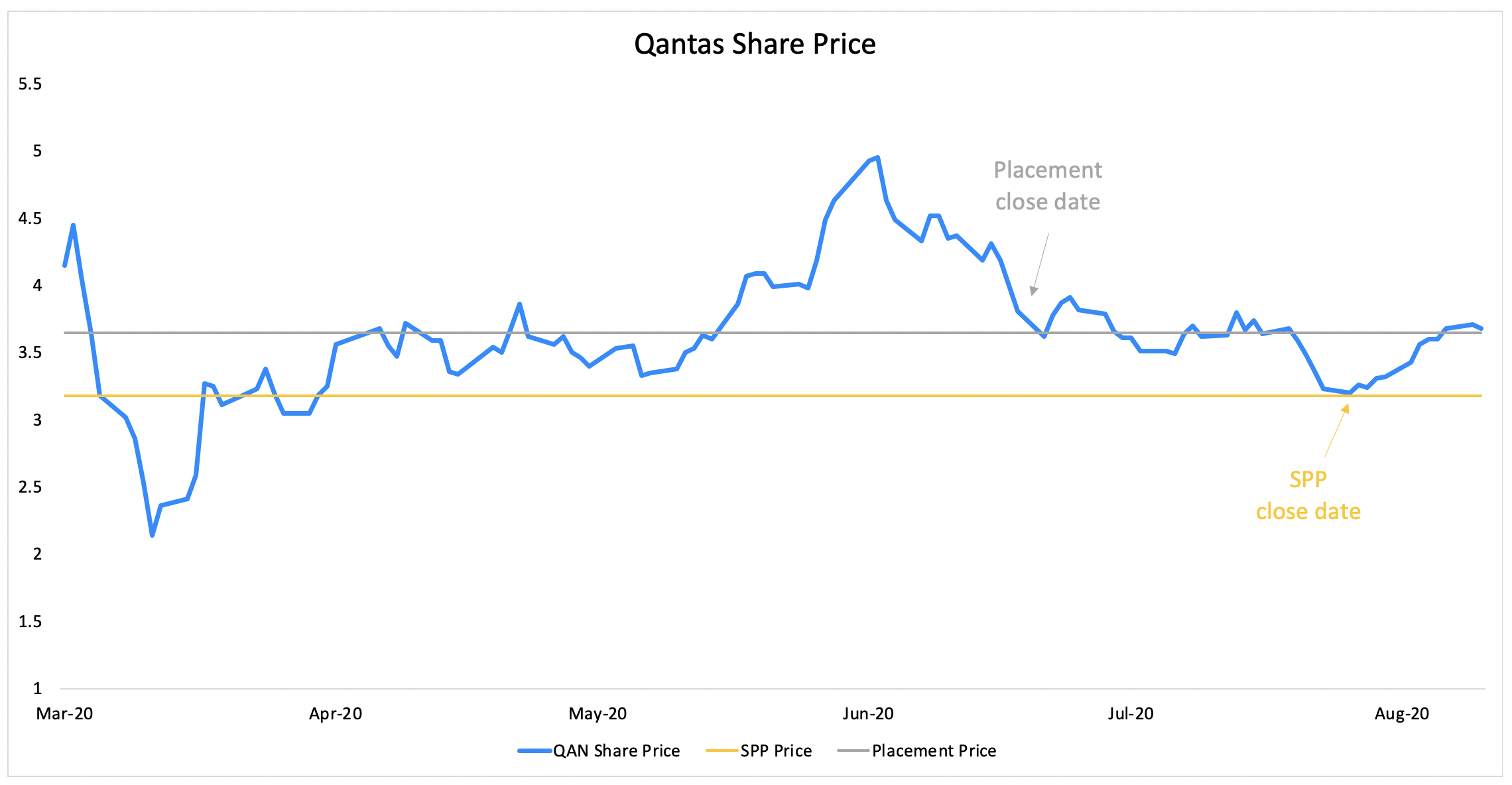 In an unusual turn of events, the SPP closing date was extended from 22 July 2020 to 5 August 2020, to "ensure eligible shareholders have additional time to participate" due to "the impact of the lockdown and state border restrictions imposed in response to the COVID-19 outbreak in Victoria". That's pretty rare. This extension came despite Qantas saying that it did not expect this to have a "materially adverse impact on the three year Recovery Plan".
Qantas Airways Institutional Placement

Qantas Airways Share Purchase Plan

Close Date

25 June

Close Date

5 August

Price

$3.65

Price

$3.18

Discount

12.9%

Discount

1.9%

Size

$1.36 billion

Size

$73m

Return on Day 1

6.0%

SPP HarvesterTM Return

18.2%
Comparing the Placement and the share purchase plan, it is clear that at the time, the institutional investors were looking at a significantly larger discount to the trading price.
The uncertainty caused by the increased restrictions in Victoria during the share purchase plan is likely to be a reason why the share purchase plan was heavily under subscribed raising just $71.7 million of the slated $500m.
For participants in SPP HarvesterTM, this was a positive as all applicants received their full allocation.
And, with the uncertainty of the capital raising resolved, Qantas shares saw a noticeable uplift.
OnMarket members who had joined SPP HarvesterTM in time to participate in the Qantas share purchase plan saw an 18% return on their SPP shares. Nice to see retail investors in the share purchase plan outperform institutional investors in the placement by 12% . Who says the little guys can't win?
Don't miss out on the next share purchase plan - join SPP HarvesterTM.