Case Study: OnMarket closes equity crowdfunding offer for transformational mental health diagnostic technology
18 November 2019 @ 12:00am Equity Crowdfunding: Case Studies
OnMarket has successfully completed the NeuralDx (NDX) equity crowdfunding campaign raising $366,338 from 172 investors. NeuralDx is commercialising a revolutionary neurological diagnostic technology. The power of the crowd and the OnMarket database was highlighted by the number of bids that came in under $2000 making up well over half (120) of the funded bids and contributing $81,000 in equity.
The NDX equity crowdfunding offer started strongly with 93% of the minimum subscription reached after the first week of the public offer period. It was clear that the global issue of mental health resonated with investors early. High profile media outlets showed keen interest, however, without the ability to see the EVestG technology in action, TV channels were reluctant to run the story. Therefore, the boost to momentum in the middle weeks of the campaign didn't eventuate.
Despite this, the minimum was reached in just the second week of the campaign and some media coverage in the final week of the campaign generated plenty of late interest with $90k raised from 62 investors in the final week of the offer.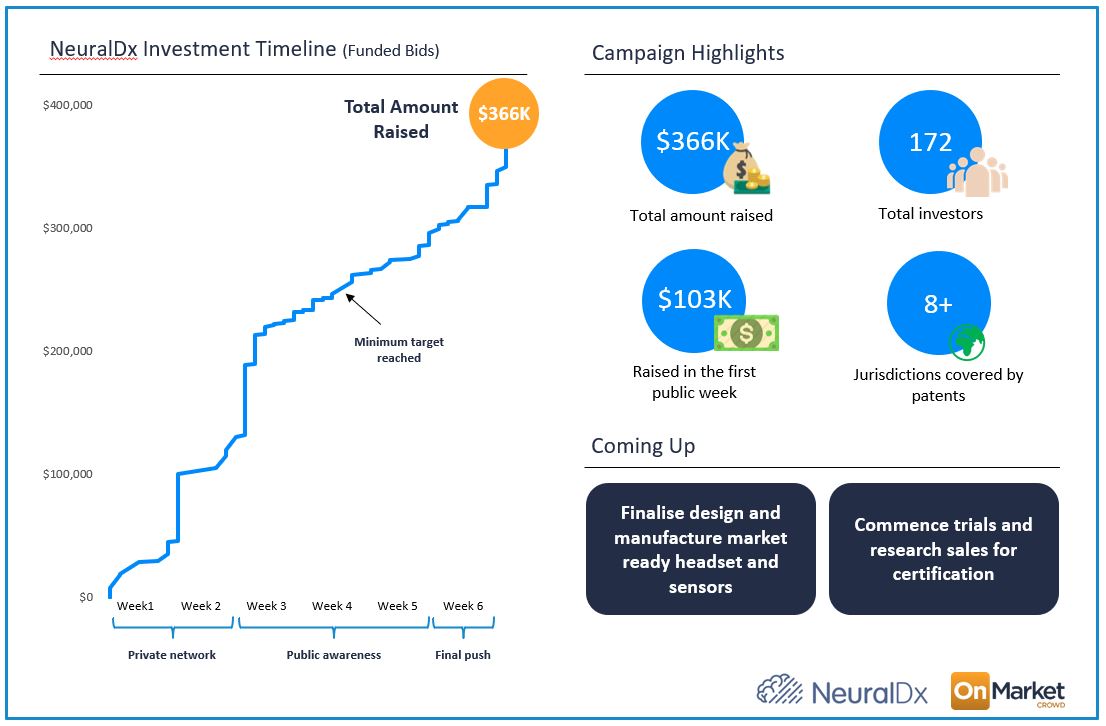 Based in Melbourne, NDX has set out to drastically improve the diagnosis and management of mental and neurological disorders. With no objective tests or methodologies to diagnose mental or neurological disorders at present, NeuralDx's patented EVestG technology is addressing a global unmet need.
To highlight the sheer size of the global need that NDX is solving, the World Bank estimates that anxiety and depression currently causes $1 trillion in lost productivity every year. The EvestG technology has been designed to improve the success in diagnosing depression and other mental health disorders enabling faster treatment and better management of people suffering from mental health disorders.
Looking to bring their first product to market, NDX have already built and tested three EVestG devices, with one currently in operation at their clinical demonstration facility in Canada as well as patents registered in Australia, the US, China and Japan.
CEO of NeuralDx, Dr Roger Edwards said that "an advanced diagnostic test like EVestG is needed globally so those that are suffering can get the right help faster with better health outcomes for all."
Having successfully completed their equity crowdfunding offer, NeuralDx will be utilising the funds to continue the progression of commercialising the technology. This involves the design and construction of an updated version of the EVestG headset and sensors to enable sales to research institutions. This will allow discussions to continue with a suitable medical device manufacturer and major pharmaceutical companies to make the technology accessible for all sufferers of mental and neurological disorders globally.
CEO of NeuralDx, Dr Roger Edwards, recently completed an interviewed with 2ser's radio program On The Money. Check out the full interview below: