Case Study: OnMarket closes equity crowdfunding offer for sustainable, technology-enabled coffee cup service
01 March 2019 @ 12:00AM Equity Crowdfunding: Case Studies
OnMarket closes equity crowdfunding offer for sustainable, technology-enabled coffee cup service.
OnMarket has successfully closed its fifth equity crowdfunding offer with The Cup Exchange, raising $776K from 284 investors.
The Cup Exchange is a sustainable, technology-enabled coffee cup subscription service. Founded by brothers Marty and Jeremy Rowell in September 2017, TCX was created to provide a convenient, affordable and sustainable alternative to single-use paper cups that benefits customers, cafes, government/councils and the environment. TCX set themselves a simple goal – to eliminate the need for single-use paper cups, of which Australians collectively send an estimated 1.2 billion to landfill every year.
The successful closure of The Cup Exchange equity crowdfunding offer in December 2018 comes at the end of a busy year for OnMarket, which included closing the very first equity crowdfunding offer in Australia in March 2018 (Revvies), and the world's most popular equity crowdfunding offer in April 2018 (DC Power). OnMarket Managing Director, Rosie Kennedy, reflected on OnMarket's success in giving everyday investors the chance to "invest in start-up ideas that could change the world", adding that TCX is "the first-to-market with [their] product – there is no reason [they] can't go global".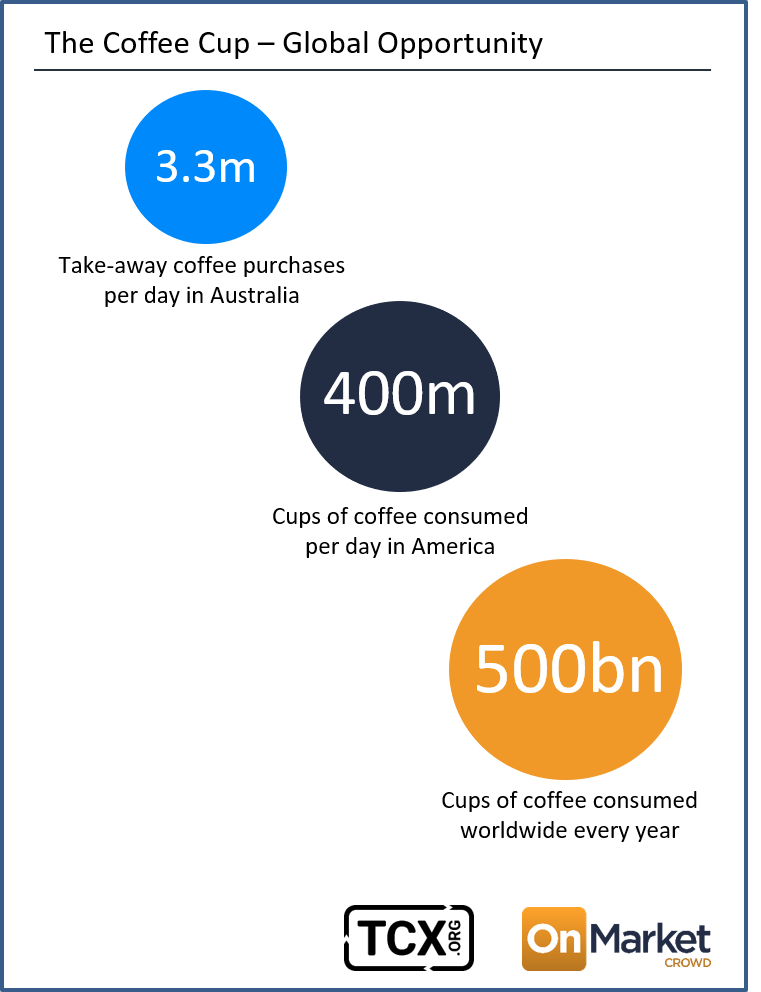 Following the successful crowdfund of over $776,500, The Cup Exchange plans to use the new funds to increase awareness of TCX through promotion and education, to increase the speed of the network rollout to cafes and precincts around Australia, and to expand the IT system capacity whilst maintaining reliability. At the end of 2018, TCX announced a three month trial agreement with the GPT Group to install and use the TCX system, and are looking forward to the official TCX launch at MICE 2019 and subsequent network rollout.
"We recently completed a successful pilot onboarding over 3,000 customers, effectively saving over 40,000 cups from landfill. For us, that was really exciting as it validated the business model, tech platform and user experience for customers and cafes. We're excited to help cafes, facility managers and councils reduce waste with the rollout of the TCX network in 2019,
said Jeremy Rowell, co-founder and CIO of TCX.