Case Study: OnMarket closes equity crowdfunding offer for innovative construction technology
Posted by OnMarket 22 August 2018 @ 12:00am Equity Crowdfunding: Case Studies
OnMarket closes equity crowdfunding offer for innovative construction technology
OnMarket has successfully closed its third equity crowdfunding offer with PT Blink, raising $815K from 468 investors.
PT Blink have developed an innovative construction technology that enables multi-story buildings to be constructed using steel columns and steel trays. The trays and columns are manufactured off-site before being delivered to the construction site for assembly, resulting in improved project IRR, worker safety, accuracy of design and environmental benefits.
The successful closure of the PT Blink equity crowdfunding offer follows the successes of Revvies DC Power Co. through OnMarket earlier this year (DC Power Co. is still the most popular equity crowdfunding offer to succeed worldwide and raised $2.2m).
Having successfully crowdfunded over $800,000, PT Blink is looking to expand its operations internationally to provide construction companies with a safer, faster and more cost-effective building method. PT Blink's founder Murray Ellen believes that "time is the most under-valued commodity in the construction industry. Reducing time delivers much higher returns, greater productivity and a safer environment."
The demand for fast construction is only increasing in the fast-paced modern world and with rising costs of construction a more affordable solution is also high on the agenda. In line with this trend there have been notable shifts within the $356b construction industry from on-site construction to on-site assembly and installation with the use of prefabricated and pre-construction techniques.
PT Blink has already successfully completed a 7 story, 31 apartment building in Spring Hill Brisbane. Through the utilisation of Blink Technology, the steel columns and steel trays were able to be installed in just 11 days, reducing the estimated construction time by 5 months. Since the offer, PT Blink have completed their second successful contract for a car showroom at The Gap, Brisbane.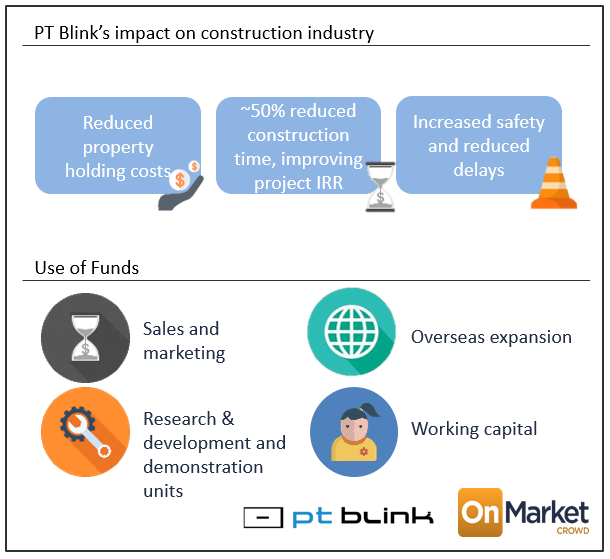 PT Blink currently have another 3 contracts signed with a growing pipeline of new opportunities in discussion both domestically and overseas.
Mr Ellen says that the equity crowdfunding experience has provided him with more than just a capital raise, having already received interest to use the Blink Technology for an additional 6 projects which would result in $5m of potential revenue. PT Blink are also leveraging the success of their capital raise to help them recruit for two new roles to help support their growth.
Equity crowdfunding has allowed us to capture the attention of the community and be able to educate them on the latest construction technology. The beauty of equity crowdfunding is that it not only provides our business with the necessary capital, but it also means that our investors will become endorsers and advocates for PT Blink and the PT Blink technology.