Case Study: NAB Placement and Share Purchase Plan
30 July 2020 @ 12:00AM SPP Harvester
With the launch of SPP HarvesterTM, we thought we would delve into some recent Share Purchase Plans (SPPs) and Placements over the next few weeks to see how they compare and provide a little insight to their performance.
First up is the largest capital raise of 2020 so far, National Australia Bank (ASX:NAB). Through the combination of a placement and share purchase plan, NAB raised $4.25 billion. The majority of this was completed via the placement but let's break it down a little.
NAB Placement
NAB announced a $3 billion placement on the 26th of April 2020. This placement, as is the case with all placements from ASX-listed companies, was open only to institutional investors – essentially large funds.
| | |
| --- | --- |
| Close Date: | 27 April |
| Price: | $14.15 |
| Discount: | 8.5% |
| Capital Raised: | $3 billion |
| Return on Day 1: | 14.1% |
The placement provided investors with a 14.1% return when the shares listed just 4 days after the completion of the placement. So, a healthy return for the institutional investors that were able to participate.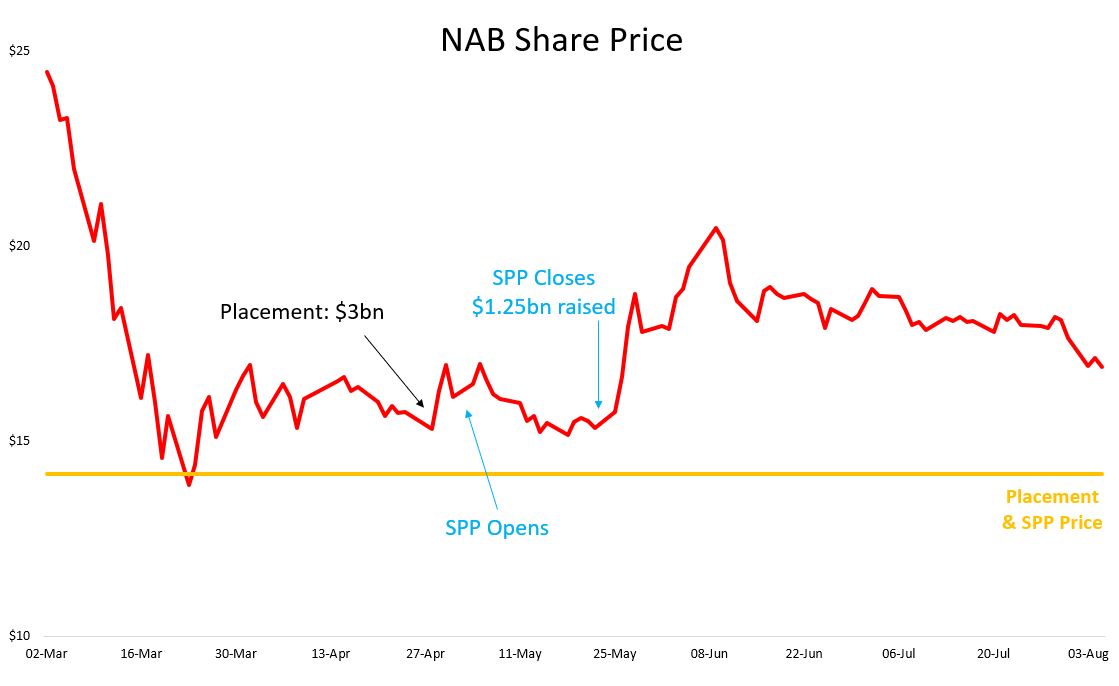 NAB Share Purchase Plan
Immediately following the placement, NAB gave current shareholders the opportunity to apply for additional shares at a discount by way of a share purchase plan. Initially a $500 million raise, the bank received large demand and as a result of this, and complaints about retail dilution, they upsized the capital raise to $1.25bn.
| | |
| --- | --- |
| Close Date: | 22 May |
| Price: | $14.15 |
| Discount: | 8.5% |
| Capital Raised: | $1.25 billion |
| Return on Day 1: | 27.2% |
The SPP offer was made to approximately 615,000 eligible shareholders, with valid applications received from approximately 155,000 eligible shareholders for a total value of approximately A$2.9 billion. Valid applications received represented a participation rate of approximately 25% of eligible shareholders (representing 21% by shareholding), with an average application amount of approximately A$18,500.
Unsurprisingly, with so much demand, every SPP investor was scaled back. How did this affect SPP HarvesterTM investors, holding 1-share in NAB? Every shareholder was allocated a minimum of $990.5 of shares. So, although it would have been nice to have received more, only $990.5 was put at risk, and this generated a return of $269. SPP HarvesterTM makes sure that brokerage on smaller trades is capped at 1.28% of the sale value (i.e. the fixed dollar ticket fee is waived on smaller trades).
SPP HarvesterTM investors that participated in the NAB share purchase plan made a 27.2%. return. A tidy profit for a 24 day investment period!