32% average returns (that's anything but average!)
Posted by Ben Bucknell 30 December 2015 @ 12:00AM
Everyone is asking…how have On-Market BookBuilds' deals performed for investors? So, we ran the numbers on a buy and hold strategy and the results speak for themselves: if you had invested $10,000 in every transaction we've offered to the public since October 2013, you would be 32% better off today.
That compares with -2.7% for the ASX Small Ordinaries over the same period.
We launched ASX BookBuild in October 2013. Since then, we've helped 14 companies in raising over $180 million – an impressive show perhaps, but we're working hard to give you the chance to bid into even more transactions.
The purpose of ASX BookBuild facility was to give all investors an equal chance to participate in IPOs and placements.
But, investors had to enter their bids via their broker…and too often their broker was unaware of the transaction.
Investors asked us to make it simpler for them to be notified and bid for IPOs and placements. So, we invested in our believers and launched the OnMarket app 2 months ago. Its early days, but with our two OnMarket deals up an average of 99%, we're feeling pretty happy for all those people that bid.
Blue Chips that gave investors the blues…
This isn't investing in safe blue chip stocks. Those very same safe blue chip stocks that would have let you sleep well at night...while losing value. An investment in BHP in Oct 2013 at $37.40 is trading at $18.30 today (losing 51% of your capital investment). Or you could have invested in the banks, an investment in NAB would have only lost 14% over the same period. At least CBA is up 7%...unlike ANZ where you would have lost 18% on your investment.
Nope, investing in OnMarket deals isn't boring, that's for sure.
Sure, there's been some black sheep, with Macphersons down 46%, and SVY down 38% (though to be fair, they did run up 200% on their IPO price at one stage). But, then there's the best performers: LNG (which at one stage was up 1300%), and is now still up, but only 139%...and Wonhe (up 185% since listing in December of this year).
So, the results (including dividends) are: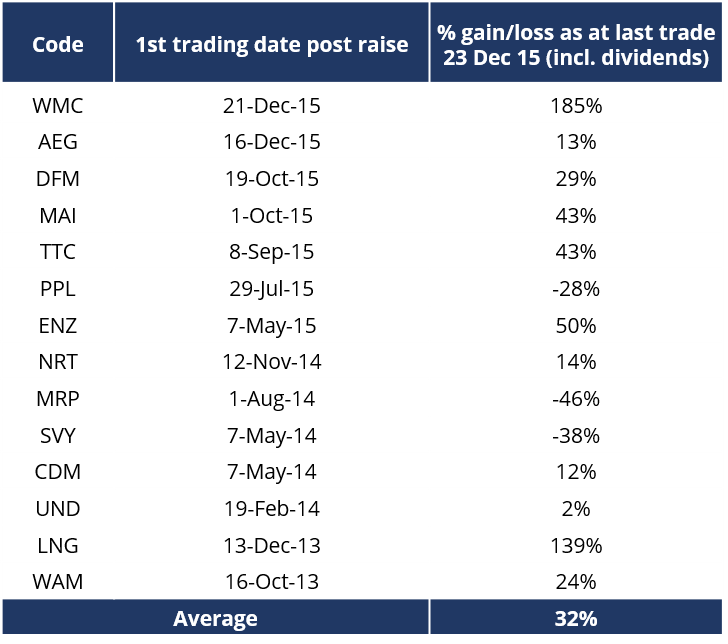 And the winner is…
Congratulations to all those investors that have earned themselves 32%. It wasn't difficult…all you had to do was invest the same amount in each transaction. But, you did bid. And you were rewarded.
What type of investor are you? Will you try to pick the winners? Or, will you invest in each one, knowing some will rise and some will fall.
By the way, we didn't charge any investor a fee. Not one cent. In fact, we've been sharing 50% of the fees that companies pay us on the capital raised with you, our subscribers…but more on that later.
Why are OnMarket deals outperforming?
We are reluctant to hypothesise about what makes these companies successful, but we will say this: it takes a certain type of executive to embrace a new technology, particularly for raising equity.
In a world where technology is disrupting every industry, taking the road less travelled indicates that the management team is comfortable with disruptive technology and knows how to use it.
Now that's surely a management approach that investors chasing outperformance can get behind.
Some of our investors have said they want to invest in IPOs and placements, but they're too busy. So, we're thinking about starting a fund for people that don't have the time to keep an eye OnMarket. If there's interest, we'll do it. We'll manage a fund that will invest in the IPOs and placements that choose OnMarket.
As they say, fortune favours the brave. Or perhaps even more apt…fortune favours those that actually do rather than those that ponder what could have been.
What next?
Do nothing, & wait until next year's email to see what you've missed
Create an investment profile, so that you are ready to bid
Express interest in a fund – to let OnMarket do the work for you