OnMarket has a limited allocation and the offer may close early. Applications in excess of $10,000 may be scaled back more heavily. We cannot guarantee that all funded bids will receive and allocation.
Introduction
Universal Biosecurity Limited (ASX: UBL) is a Perth based company with the intellectual property rights to an apparatus called Fume8™. The Company was established to investigate new fumigation technologies and identified a need for an alternative fumigation technology because of increasing concerns about environmental safety and efficacy of traditional chemicals used in the Australian fumigation industry.
The Fume8 apparatus is versatile as it can be used with a range of liquid fumigants. The Fume8 apparatus can be used with ethyl formate liquid fumigant resulting in an environmentally friendly fumigation solution. The environmentally friendly aspects of the use of ethyl formate with the Fume8 apparatus are the ethyl formate product itself is of low toxicity being a food grade natural product, the vaporisation process used with the Fume8 apparatus is with nitrogen gas rather than carbon dioxide and any residue from the process is limited.
The Fume8 apparatus can also be used with traditional liquid fumigants such as methyl bromide (one of the most commonly used global agricultural liquid fumigants) and propylene oxide (widely used fumigant for dried fruit and nut pasteurisation in many countries). The use of these chemicals with the Fume8 apparatus results in a traditional fumigation solution.
Offer Overview
Universal Biosecurity Limited is looking to raise $5 million via its IPO, and will have an estimated market capitalisation of $11.7 million.
The proceeds of the IPO will be used to:
Fund a 2 year R&D program for the Fume8 apparatus;
Pay fees associated with patent protection;
Provide working capital; and
cover costs associated with an ASX-listed company, and other typical administration costs.
Business Model
The Company's business model is focused on commercially developing the Fume8 apparatus as a versatile apparatus to be used both with traditional liquid fumigants to deliver a traditional fumigation solution as well as with ethyl formate to deliver an environmentally friendly fumigation solution. The development of the Fume8 apparatus with ethyl formate use is a possibly "disruptive" technology to relevant fumigation markets given its environmentally friendly outcome.
Common Fumigants
Fumigation is often mandatory for imports and exports. Many primary producers rely on fumigation chemicals to meet local and international market requirements for pest-free products.
Methyl bromide: a liquid, broad-spectrum pesticide having non-specific toxicity to a wide range of invertebrates. Methyl bromide represented 15% of the global agricultural fumigants market in 2016. Methyl bromide can have harmful effects on humans and other animals if they are exposed to high concentrations. Some countries have indicated that they plan to stop, or have already stopped, using methyl bromide for some or all of their quarantine and pre-shipment uses.
Phosphine: the most widely used fumigant in the Australian grain industry. Phosphine represented the largest share (26%) of the global agricultural fumigants market in 2016. It is an effective fumigant, if used properly. However, major drawbacks include that it is a comparatively slow-acting poison, in Australia, strong resistance to phosphine has been detected in stored grain pests, and it is highly toxic to humans if exposure is to occur.
Set out below is a pie chart illustrating portions of the 2016 global agricultural fumigations market that are represented by liquid, gas and solid phase fumigants. Liquid phase fumigants (at 43%) such as methyl bromide make up the largest portion of the global agricultural fumigations market.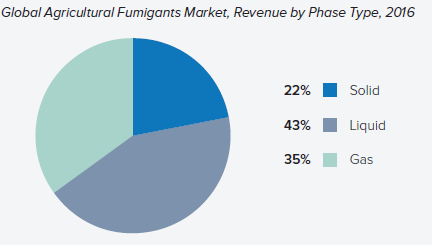 Although the Fume8 apparatus can deliver only liquid (and not gas or solid state) fumigants, it competes with the delivery of other phase fumigants such as gas and solid state.
The Fume8 Apparatus
The Fume8 apparatus is portable. Mixing and vaporisation of the fumigation chemicals can be carried out on site. The small size of the apparatus makes it suitable for use in small areas (such as a small grain silo) in addition to larger areas such as warehouses.
Flammability has been an issue curtailing the use of ethyl formate as a fumigant. The Fume8 apparatus overcomes flammability issues for ethyl formate and does so by the vaporisation process being in conjunction with nitrogen gas rather than the use of greenhouse gases such as carbon dioxide.
Features of Fume8 apparatus are:
the versatility of apparatus allows the use of both flammable and non-flammable liquid chemical fumigants. This enables the apparatus to deliver both traditional liquid fumigants such as methyl bromide and propylene oxide as well as ethyl formate with nitrogen gas in an environmentally friendly way;
its safety aspects include the liquid fumigant source being separate from the apparatus meaning little fumigant residue remains in the apparatus after use and the apparatus does not use a pressure vessel or operate under pressure;
its portability means the apparatus can be used in a variety of locations including tall structures and buildings, ship holds and train carriages. The small size of the apparatus provides for ease of handling;
it enables the continuous operation of the supply of the liquid fumigant only limited by the size the external chemical source. Comparable units operate via a batch process whereby an internal chamber must be filled with a fixed volume of chemical which, when depleted, requires the unit to be stopped and cooled before it can be filled again.
The Company will seek to develop the apparatus with a primary focus in the Australian market and a secondary focus in the South Korean market.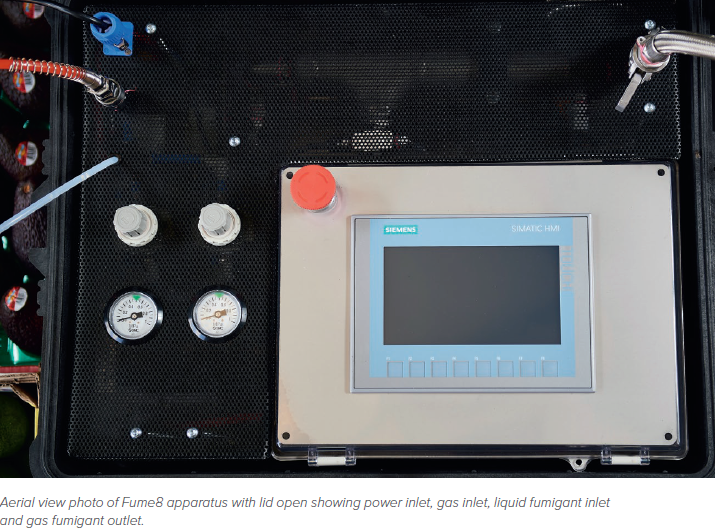 Marketability
Australia
The Company is looking to develop various revenue streams in Australia with the Fume8 apparatus with a particular focus on a royalty licensing model by which the Company licenses the Fume8 apparatus to fumigation operators. To date the Company has engaged fumigation operators under licensing agreements with Newren Pty Ltd engaged on an exclusive basis for the territories of Western Australia, South Australia, Tasmania and the Northern Territory and BioFume Pty Ltd engaged on a non-exclusive basis for the territory of New South Wales. The licensees will endeavour to provide commercial services using the Fume8 apparatus and the Company will earn revenue upon such services by the licensee paying a royalty upon gross revenue.
The Company ultimately intends to expand its Australian market focus for the delivery of ethyl formate with the Fume8 apparatus to broader commodities than packaged dried fruits. Grain and agricultural produce commodities are intended to be targeted expansion commodities.
South Korea
In South Korea, the Company will target the Fume8 apparatus being used with ethyl formate liquid fumigant on oranges and bananas. The use of ethyl formate liquid fumigant in South Korea upon the target commodities has government approval.
Management and Board
Universal Biosecurity Ltd is led by an experienced board with extensive skills and experience in both the development of technologies and business operations. Key personnel include:
Professor Simon McKirdy – Non-Executive Chairman has international expertise in biosecurity and, in particular, plant biosecurity. He was previously the Biosecurity Science and Risk Manager of Chevron Australia and currently provides advise to the WA government through the Minister for Agriculture and Food.
Simon Andrew – Managing Director with over 20 years' experience in financial markets in Asia and Australia.
Professor Yong Lin Ren – Non-Executive Director and one of the inventors of the Fume8 apparatus and an internationally recognised scientist specialising in post-harvest plant biosecurity.
Danielle Lee – Non-Executive Director with over 23 years' experience in law including 10 years as legal counsel at ASX Sydney.
As set out in Section 6 of the Prospectus, Universal Biosecurity Limited is subject to a range of risks, including but not limited to technology development, commercialisation risks, intellectual property and competing technologies and licencing or supply contracts and customer engagement.
Section 734(6) disclosure: The issuer of the securities is Universal Biosecurity Limited ACN 605963611. The securities to be issued are ordinary shares. The disclosure document for the offer can be obtained by clicking on the link above. The offers of the securities are made in, or accompanied by, a copy of the disclosure document. Investors should consider the disclosure document in deciding whether to acquire the securities. Anyone who wants to acquire the securities will need to complete the application form that will be in or will accompany the disclosure document (which can be done via the electronic application form which will become available by clicking the bid button above).
OnMarket has a limited allocation. The offer may close early and the 'Pay By' dates may change. Bids over $10,000 may be scaled back more heavily. Duplicate bids under the same investment profile, investor name or residential address may be cancelled.