Offer now closed - payments must be made by 5pm Monday 17 December

Introduction
The Cup Exchange Ltd (TCX) is a scalable, technology-enabled subscription service created to provide a convenient and sustainable alternative to single-use cups, benefitting all stakeholders. TCX combines a purpose-designed physical cup with an IT system, providing a solution for the 1.2 billion cups disposed of each year in Australia alone, with 90% ending up in landfill.
Investment Highlights
Scalable subscription model designed to replace disposable coffee cups
Large target market with 3.3m take-away coffee purchases per day in Australia
Heightened public awareness of environmental & economic problems of single-use items
Unique solution combining a purpose-built IT system and desirable physical product
Lack of genuine competition in the mass market both in Australia and overseas
Truly circular economic business, eliminating waste to landfill
Potential for tax incentives for eligible investors under ESIC scheme
Free 24-month subscription for investments $500 or more
System validated by successful pilot with PwC in Sydney and Melbourne over 2,500 users and 25,000 cups saved from landfill
Platinum sponsorship of Melbourne International Coffee Expo (Feb 2019) with ~150 exhibitors, and ~12,000 participants using TCX
Adopted by the Australian Specialty Coffee Association for competitive use
The Company believes that it meets the criteria as a qualifying Early Stage Innovation Company ('ESIC') for the purposes of this offer.
To encourage early stage investing, significant tax incentives are available for investments in qualifying companies, namely:
an upfront 20 per cent non-refundable tax offset; and
a 10-year CGT exemption for shares held for at least 12 months

Problem (Linear Economy)
The current process of continuously producing single-use cups (16,000 per second global), which are used by the consumer for a few minutes and then discarded, is now becoming socially and environmentally unacceptable.

Excessive paper cup production and disposal has resulted in a significant social consciousness condemning the consumption of single-use items, driven by programs such as the ABC's War On Waste series, while also placing a financial burden on cafés through the ongoing cost of purchasing cups, and on governments (and ultimately consumers) via the cost of waste collection and pollution management.
Lack of genuine alternatives – Awareness of the paper cup problem has driven an increase in the use of BYO cups. This has now stagnated at around 6-8% of the take-away cup market. Management believes this is because re-usable cups fail to address the convenience of use for the majority of consumers. Other alternatives include cups certified to be biodegradable or compostable. They are rarely degraded or composted due to a lack of waste stream segregation and facilities able to process them.
The TCX Solution (Circular Economy)
TCX has developed a circular economy solution based on a technology-enabled subscription service. TCX combines a purpose-designed physical cup with an IT system to solve the issues associated with single-use paper cups for all stakeholders, including the environment.
The Cup – is made of 100% Tritan from Eastman, providing:
Superior clarity of taste, similar to glassware
Insulation and heat transfer
Food safe (BPA and BPS Free)
Durable
Easy to Clean (over 4,000 washes without cracking, warping or discolouring)
Standard Sizes: 8oz, 12oz and 16oz with low stack height
A sustainable alternative to paper cups
Production
TCX has designed and owns all production tooling, which can be used to manufacture 12,000 TCX Cups per day (~4m p.a.).
TCX owns a customised production line with integrated lasering process that supports the final production TCX Cups.
Tooling and lasering processes can be upgraded to double capacity within 4 weeks.
IT
Back End – The TCX IT system has been designed to cater for the mass-market. The database engine utilises AWS serverless elastic technologies that scale in real-time to near-infinite capacity. The upgraded IT system has been tested to support over 2,000 transactions per second, and capable of handling the peak market demand for the entire Australian population. The new system is expected to be completed by January 2019 to enable it to be deployed at the Melbourne International Coffee Expo in February 2019.
Front End – TCX uses Progressive Web App (PWA) technology delivering a consistent and convenient UX for consumers on any platform or device (ie iOS, Android, Windows OS) as well as 'plug n play' deployment to Café operators.

How it works

Achieving zero waste
TCX was founded on the principles of the circular economy: that is, to re-use the material as much as possible, and then re-purpose that material when the consumer no longer needs it.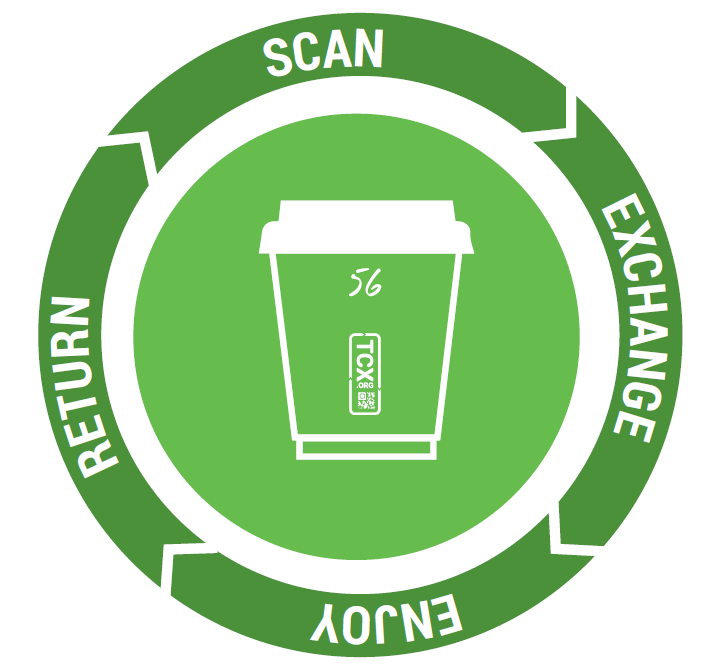 When TCX Cups reach end of life, we remove them from circulation, crush them down to recover the material, and use 100% of the material to create new TCX Cups. When combined with a subscription model, consumers are also deterred from throwing away cups, as it will cost them money to replace the lost credit. So, TCX cups need never go to landfill or risk polluting the environment.

Stakeholders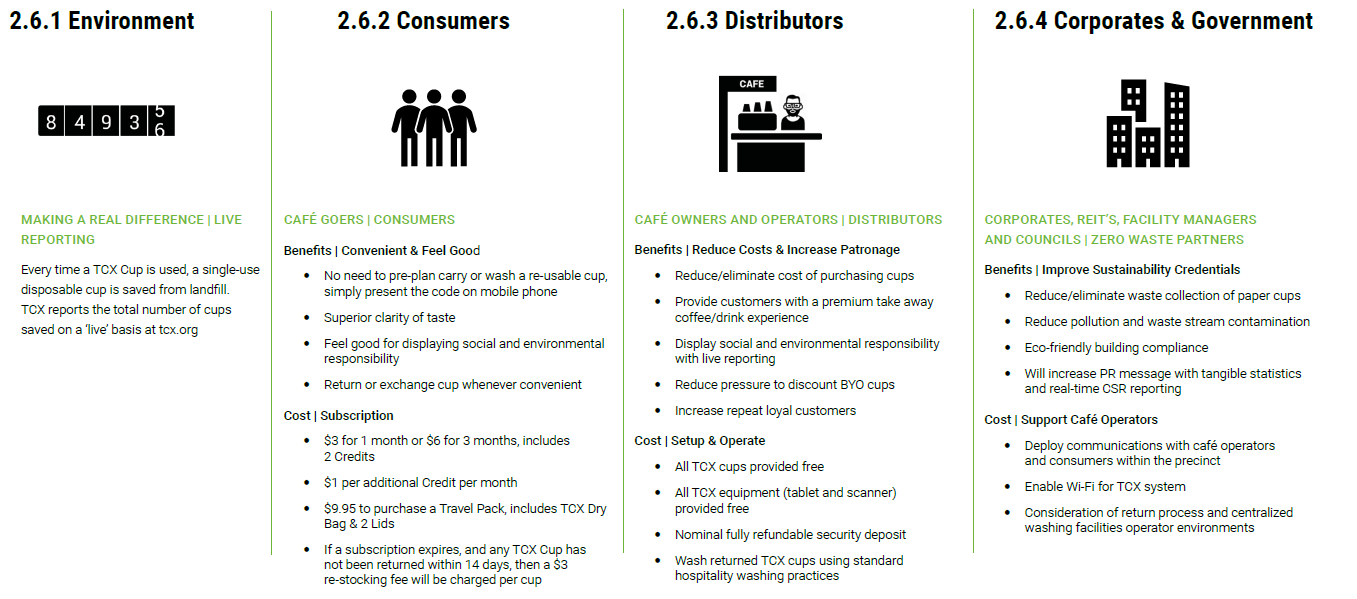 Market Opportunity
Australia – Drinking coffee has become part of our culture:
$8.3bn industry
Over 60% of adults consume coffee, on average 104 take-away cups per annum
average consumption is 3kg coffee per annum, equivalent to 1 cup per day
people who work longer hours, on average, consume 10 cups/week
concentrated take-away coffee purchases during morning commute and office entry
Peak: 8:00 to 9:30am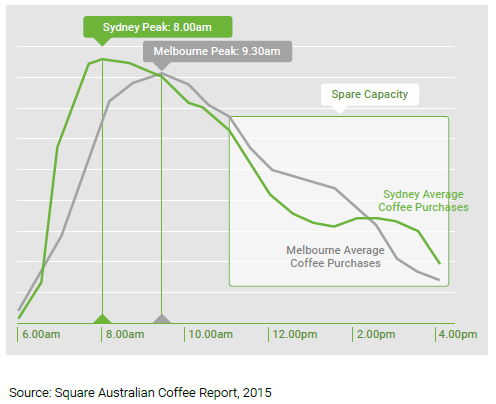 At 1.2 billion units per annum, single-use paper cups account for over 90% of the take-away market in Australia.
Overseas
After crude oil, coffee is the most sought commodity in the world
Worldwide, 500 billion cups of coffee are consumed every year
Coffee industry is worth over USD$100bn worldwide
Americans consumer over 400 million cups of coffee per day
Business Strategy
Management believes that TCX has an environmentally responsible, scalable solution that appeals to the consumer mass market, café operators, corporate entities and government.
TCX's strategy is to rapidly expand by:
Delivering desirable products that are affordable to consumers
Supporting café operators financially through the distribution of TCX products
Reducing the waste management burden and costs borne by corporate entities and government
Target Market
Despite some early take-up with first movers adopting reuseable cups, they have failed to attract adoption by the mass market. It is this mass market that TCX is targeting.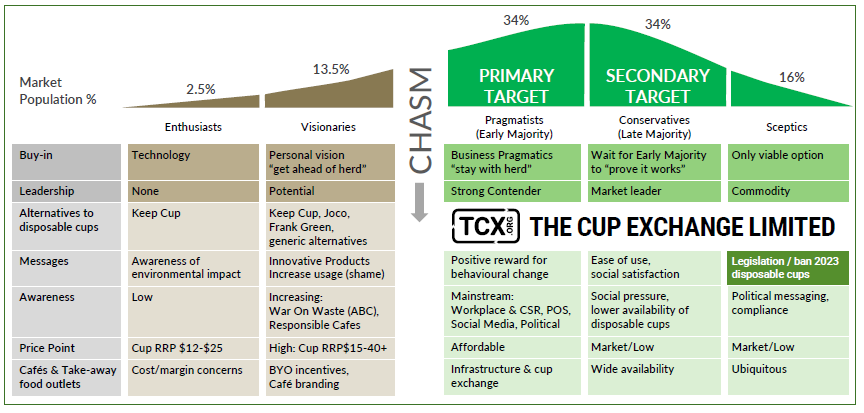 Manufacturing
TCX have engaged an Australian owned manufacturer, Fountain Products, which owns and operates manufacturing and warehousing facilities in Melbourne and China
Fountain Products has over 40 years' experience and produces items for blue-chip clients domestically and globally, including Kmart, Woolworths, Bunnings and Target
The manufacturer is regularly audited by these clients to confirm technical and ethical quality adherence
TCX owns all tooling, fibre laser marking equipment and automation systems to produce TCX Cups.
Market Differentiation
Some of the competing products in Management's view are mentioned in this table. This is based on publicly available information and on selected attributes only. It is not intended to be an exhaustive list.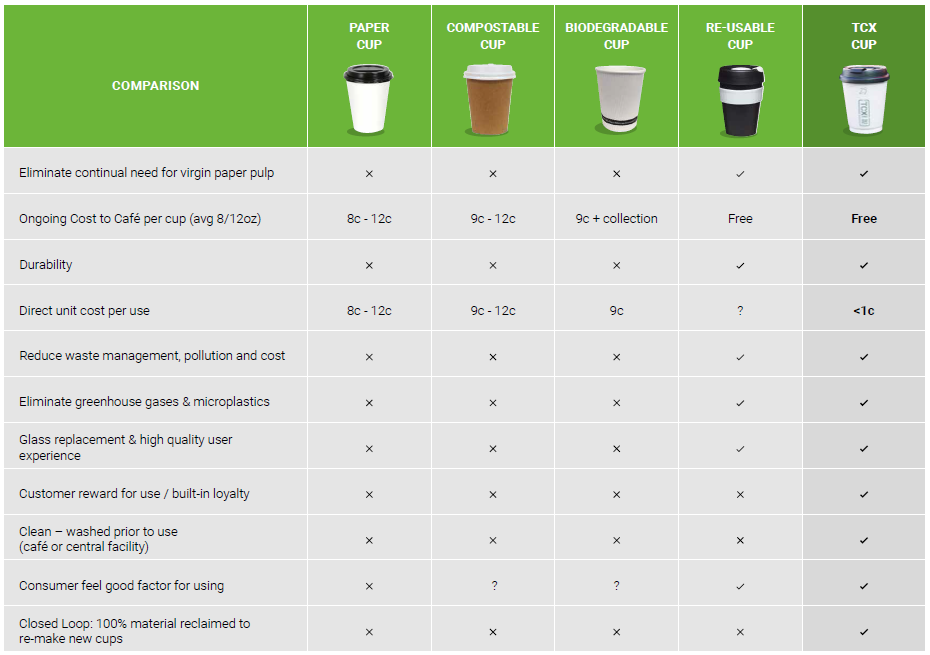 Distribution
TCX's distribution strategy is to supply products to cafes and food retailers for direct distribution to consumers. TCX products are delivered free of charge. This results in cafes acting as distributors directly to consumers at the Point of Sale.
The Company is also partnering with organisations looking to reduce their environmental impact and/or improve sustainability credentials. By doing so, TCX gains access to a higher volume and concentration of distributors operating within their jurisdiction. This reduces TCX's cost of distributor acquisition and increases the speed of the network rollout.
TCX will initially concentrate on rolling out the network to high density food and beverage locations. This includes office buildings and precincts, where consumption of take-away ready-made beverages by consumers is both high and repetitive. By focusing on epicentres, TCX can rapidly enable distributors, and subscribers can readily realise value. Managements' aim is to connect those epicentres to create a network with high consumer engagement and convenience.
TCX has developed a 'plug n play' kit which will be shipped directly to distributors. Once arrived, a TCX representative will provide setup support and training either in-person or online, as required.
Roadmap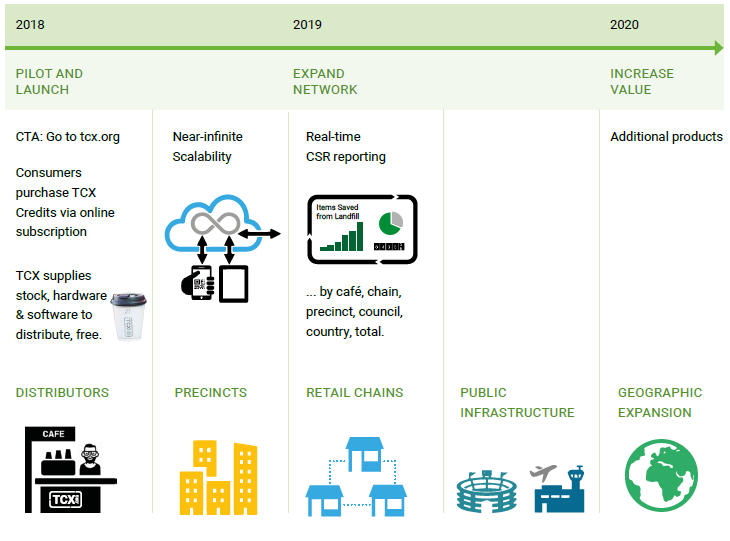 Exit
While the Company does not have any immediate plans for an exit or liquidity event, the Directors aim to achieve an exit/liquidity event for shareholders in the medium-term if they are able to achieve their goals. While there is no guarantee that this will occur, this could be in the form of:
A trade purchase of the Company
A listing on a recognised stock exchange (eg the ASX)
A private equity investment in the Company
A share buy-back by the Company
Offer Details
TCX has a pre-money valuation of 4.46 million. The Company is looking to raise a minimum of $500,000 and a maximum of $1,200,000 via this equity crowdfund offer (the Offer), as set out below.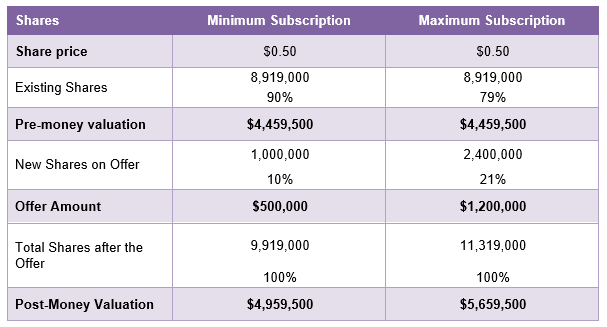 The funds raised from this Offer will be applied to the following areas: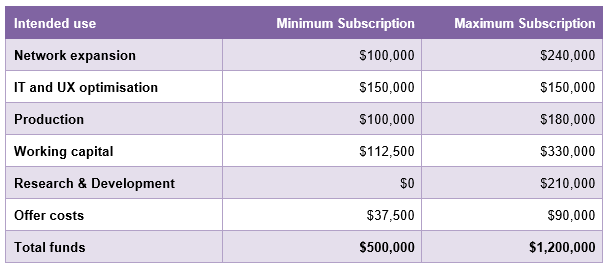 Investor Rewards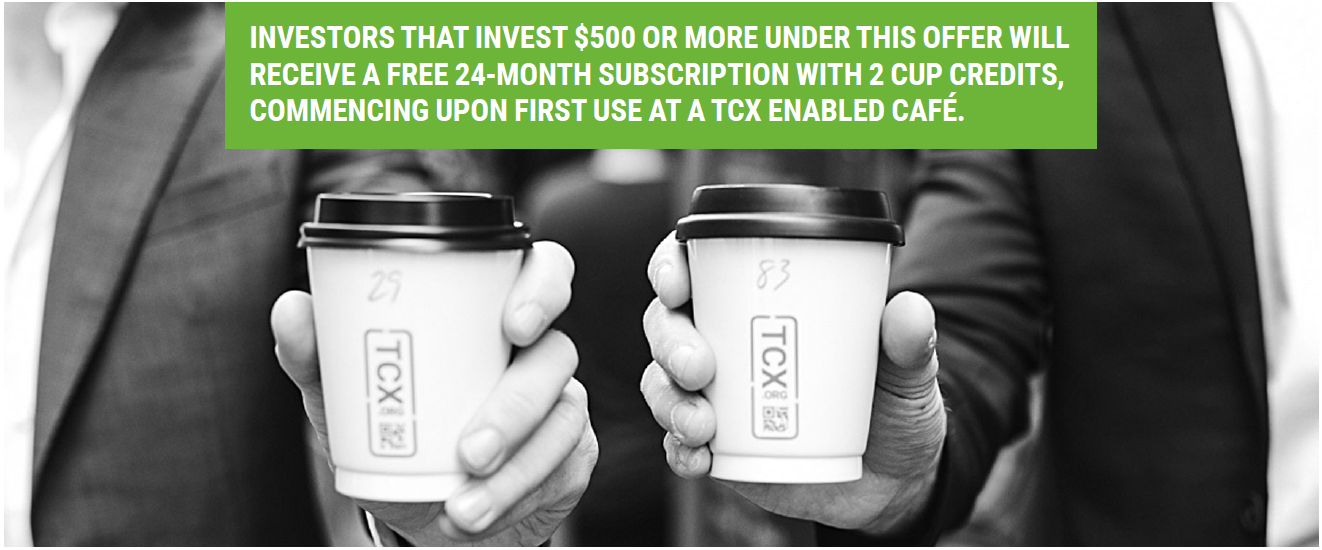 Key risks
Commercialisation – If the Company is unable to increase the awareness and acceptance of the TCX subscription model by consumers, then this will have a material adverse effect on the Company's potential revenue and prospects.
Key person – If TCX is not able to retain its key senior management, this may affect the Company's ability to achieve its goals.
Competition – If a competitor with a similar product enters the market with more resources and a wider footprint, this may affect the Company's ability to achieve its goals.
Supply – If the Company runs out of cups and/or lids, or there are supply issues with the current manufacturer, this may affect the Company's ability to grow and achieve its goals.
Management and Board
Marty Rowell | CEO & Co-Founder
20 years' experience in the telecommunications industry in Australia and UK with organisations including nbn, Telstra and Cable & Wireless
Held senior positions in Product Development and Strategy
Passionate about utilising technology to create value in the circular economy
Masters Entrepreneurship & Innovation, Swinburne University; Graduate Diploma Applied Finance, Macquarie University; Bachelor of Marketing, Monash University
Jeremy Rowell | Chief Information Officer & Co-Founder
Over 20 years' experience designing and implementing IT supply chain systems
Expertise spanning product development, manufacturing, inventory management, warehousing & logistics across wholesale, retail and online channels
Deep understanding of mathematics and process design to rapidly expanding businesses
Bachelor of Computer Science and Electrical Engineering, Monash University
Rosemary Kennedy | Non-Executive Director
Deep capital markets experience across debt and equity
Expertise in assisting companies from seed to IPO
Previously Head of Bond Trading at what is now UBS and senior management positions at ASIC and ASX
Founder and Managing Director at OnMarket
Passionate about making capital markets more accessible for retail investors
Bachelor of Commerce, University of Melbourne
David Blosfelds | Operations Manager
Over a decade of operational management experience in wholesale, retail and online
Solid understanding of the TCX IT System and UI gained through the development phase.
Experience dealing with manufacturers, inventory management, warehousing & logistics
Strong stakeholder management and communication skills dealing with customers, suppliers, distributors.
Early Stage Innovation Company Tax Incentives
To encourage early stage investing, significant tax incentives are available for investments in qualifying companies, namely:
an upfront 20 per cent non-refundable tax offset; and
a 10-year CGT exemption for shares held for at least 12 months
Based on an objective self-assessment, the Company believes that it meets the criteria as a qualifying Early Stage Innovation Company ('ESIC') for the purposes of this Offer. Investors who purchase new shares in qualifying ESICs may be eligible for certain early stage tax incentives. We recommend that investors seek independent tax advice about their investment and their eligibility.
See the link to the ATO website under the Company Releases tab for more information.
The Offer is subject to a Maximum Subscription amount of $1,200,000. If the Maximum Subscription is reached, the Offer will close early. Applications will be treated on a time priority basis and may be subject to scale back, so please fund your application as soon as possible.
IMPORTANT: Please read the below information before investing in this Equity Crowdfunding offer.
RISK WARNING: Crowd-sourced funding is risky. Issuers using this facility include new or rapidly growing ventures. Investment in these types of ventures is speculative and carries high risks. You may lose your entire investment, and you should be in a position to bear this risk without undue hardship. Even if the company is successful, the value of your investment and any return on the investment could be reduced if the company issues more shares. Your investment is unlikely to be liquid. This means you are unlikely to be able to sell your shares quickly or at all if you need the money or decide that this investment is not right for you.
Even though you have remedies for misleading statements in the replacement offer document or misconduct by the company, you may have difficulty recovering your money. There are rules for handling your money. However, if your money is handled inappropriately or the person operating this platform becomes insolvent, you may have difficulty recovering your money. Ask questions, read all information given carefully, and seek independent financial advice before committing yourself to any investment.
5 DAY COOLING OFF PERIOD: There is a 5 business day cooling off period for retail investors. During this period, you may withdraw your application and receive a full refund into your nominated refund account. Please note: After the 5 day cooling off period has expired, you will be unable to withdraw your application. More information here.
ONMARKET FEES: Upon successful completion of the Offer, a maximum fee of 7.5% of the funds raised will be paid to OnMarket by the Company.
ONMARKET INTERESTS: OnMarket and its associates will be participating in this offer.
ONMARKET INTERESTS AND AMOUNTS SUBJECT TO COOLING OFF: The funding bar displayed under each crowd funding offer may include applications where payments are yet to be made and amounts that are subject to the cooling off period.
Section 734(6) disclosure: The issuer of the securities is The Cup Exchange Limited ACN 621 364 556. The securities to be issued are fully-paid ordinary shares. The disclosure document for the offer can be obtained by clicking on the link above. The offers of the securities are made in, or accompanied by, a copy of the disclosure document. Investors should consider the disclosure document in deciding whether to acquire the securities. Anyone who wants to acquire the securities will need to complete the application form that will be in or will accompany the disclosure document (which can be done via the electronic application form which will become available by clicking the bid button above).​
.