Introduction
Tesoro Resources Ltd (proposed ASX code: TSO) is an Australian gold exploration company, with interests in two gold projects located in world class mining regions in Chile. The project names are El Zorro ('Fox' in Spanish) and Espina ('Spine' in Spanish) (together, the Projects). Tesoro was established with a strategy of acquiring, exploring and developing mining projects in the Coastal Cordillera region of Chile, with a focus on gold. The Coastal Cordillera region is host to multiple world class copper (Candelaria) and gold (Maricunga) mines, has well established infrastructure, service providers and an experienced mining workforce. Tesoro via its in-country network has been able secure rights to two district scale gold projects in-line with the Company's strategy.
Since December 2017, Tesoro has completed a sixteen hole diamond drill program at El Zorro with all holes intersecting gold mineralisation. The Company intends to rapidly advance exploration and development of El Zorro. This will include further diamond drilling, metallurgical test work,geophysical surveys and mapping programs to evaluate the wider project area. At Espina, two major epithermal style gold mineralised trends have been identified from detailed geological mapping and surface geochemical sampling, which have been completed by Tesoro. The Company is aiming to define initial drill targets for drilling during 2020.

Investment Highlights
Focused on Chile, a Tier 1 mining jurisdiction (6th on Fraser Institute) with outstanding infrastructure
Two high quality gold exploration projects with district scale footprints in the coastal Cordillera Belt Chile
>A$3m spent by Tesoro to date
Exciting discovery at flagship Project El Zorro, thick high-grade intercepts, emerging major gold deposit
16 holes drilled to date with 3 x 100g/m intersections, all holes intersecting high grade gold mineralisation including;

ZDDH0010 - 84.30 metres @ 1.30g/t Au - 110g/m Au
ZDDH0011 - 98.30 metres @ 1.58g/t Au - 155g/m Au
ZDDH0012 - 58.80 metres @ 1.70g/t Au - 100g/m Au

Strong Board and Management with significant in country expertise

Offer overview
The issuer of the prospectus is Plukka Limited (ACN 106 854 175) (ASX: PKA) (to be renamed Tesoro Resources Limited). Tesoro Resources Limited will trade under the ticker ASX: TSO. For more information, please refer to the Prospectus.
Tesoro Resources is looking to undertake an RTO on ASX to raise between $4.5 million and $5.5 million at an offer price of $0.03. The company proposes to use the funds raised from the Offer to:
Fund El Zorro exploration and earn-in expenditure
Fund Espina exploration and earn-in expenditure
Fund project payments and partial repayment of director loan to entities associated with Geoffrey McNamara
To cover the costs of the offer
Fund corporate overheads and administration costs
Fund Administration costs and working capital
The Mining Projects
Tesoro holds its interests in the Projects through a Chilean subsidiary Tesoro Chile.
El Zorro Gold Project
El Zorro is an emerging district gold system. Tesoro Chile has the right to acquire up to 80% of the El Zorro Gold Project (El Zorro), located 130km from Copiapo in Region III (Atacama) of Chile, approximately 850km north of the Chilean capital, Santiago. The project covers an area of approximately 10,500 hectares. The final 20% of the project ownership is subject to contribute or dilute conditions.
Gold mineralisation at El Zorro is associated with a suite of felsic to intermediate intrusive rocks (diorites and tonalites) which have been subject to multiple phases of faulting and brittle deformation resulting in the deposition of gold bearing fluids within the intrusive rocks.
Tesoro has undertaken considerable exploration work at the project including the drilling of 16 diamond drill holes. Tesoro's work has also identified numerous new gold prospects within a 4km by 4km area outside of the previously identified Coquetas prospect.
El Zorro Gold Project concession area, showing identified extensions to the El Zorro Tonalite at Toro Blanco and Drone Hill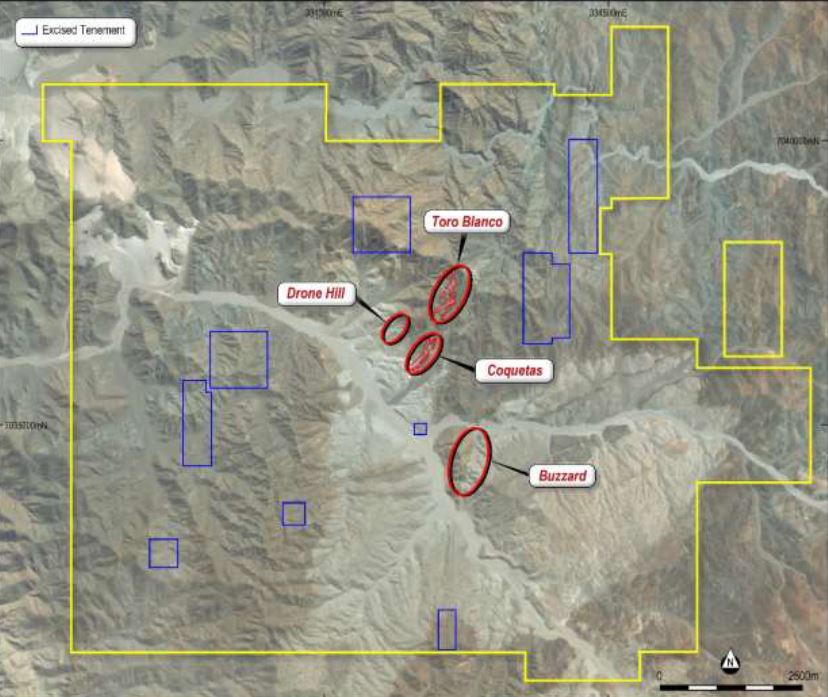 Espina Gold Project
Tesoro Chile has the right to acquire up to 100% of the Espina Gold Project (Espina), located approximately 50km south of Santiago, in the Maipo Valley, Chile. The Espina project covers an area of approximately 5,530 hectares and is within a well-known epithermal gold region 25km north of Yamana Gold's operating Florida mine.
Tesoro is targeting epithermal style gold mineralisation which has been identified within the project area. Tesoro has undertaken considerable exploration work at the project including mapping, systematic soil sampling (over 1,000 soil samples) and processing and interpretation of aeromagnetic data. Tesoro's work has identified two structural / fault trends which are delineated by strong geochemical anomalism, outcropping epithermal gold bearing veins and associated widespread alteration believed to indicate the presence of a large epithermal mineralising system.
Tesoro's work has returned rock chip results from outcropping epithermal veins of up to 69.30g/t Au. Two main trends have been identified; the Infiernillo Trend and the Puertelera Trend. These two trends have a strike extent in excess of 2kms each and are coincident with Au, Ag, As, Pb, Sb and Zn soil anomalies.
Geology and major mineralised trends at Espina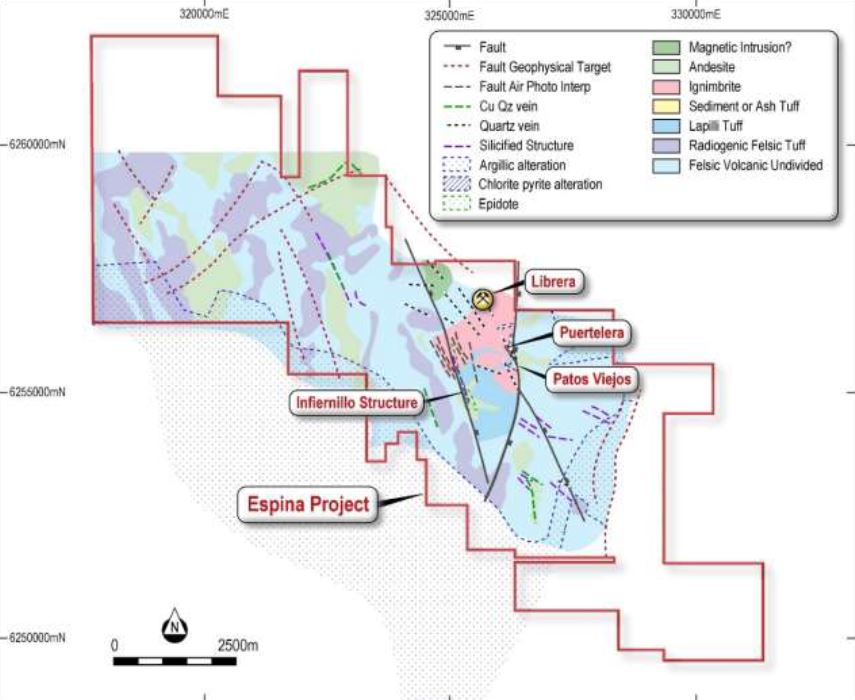 Near Term Program and Newsflow
El Zorro ready to drill on day one and expect first drill assays from Coquetas early February 2020. Over 1000 outcrop channel samples from El Zorro new targets ready to be assayed with results expected in January 2020.
Espina has 140 outcrop epithermal vein samples waiting to be assayed with results expected January 2020. 420 Soil samples from Espina epithermal trends waiting to be assays - results expected January 2020
Business Model
Following completion of the Offer and the Acquisition, the Company's proposed business model will be to further explore and develop the gold targets at both the El Zorro and Espina Projects and identified mineralisation. The Company's main objectives will be to:
systematically explore and seek to develop the El Zorro and Espina Projects;
focus on mineral exploration or resource opportunities that have the potential to deliver growth for Shareholders;
continue to pursue other acquisitions that have a strategic fit for the Company;
implement a growth strategy to seek out further exploration and acquisition opportunities in Chile; and
provide working capital for the Company.
The funds from the Offer, together with existing cash reserves will allow the Company to further progress this business model.
Revenue Model
The Company intends to generate income by adopting the following strategies:
to advance the exploration and evaluation of deposits located within the Projects (where possible) in proximity to established mining operations and infrastructure which demonstrate the ability to be developed into early production opportunities;
to evaluate and pursue other prospective opportunities in the resources sector in line with its strategy to develop high quality assets; and
use funds raised from the Offer to continue (or commence) exploration activities on the Projects aimed at the discovery of JORC Resources, in some cases based on evaluation of targets previously defined by the Company during previous exploration undertaken.
Management and Board
Tesoro Resources Limited is led by a team which has extensive experience in the mineral resources sector and significant country expertise. These include:
John Toll (Non-Executive Chairman) BComm, CA
Mr Toll brings valuable experience as a partner of Azure Capital Limited, a leading corporate advisory firm based in Perth, Western Australia. Mr Toll has over 15 years' experience in corporate advisory, focusing mainly on equity financing transactions across a range of industries including mining, technology, general industrials, biotech and infrastructure.
Zeffron Reeves (Proposed Managing Director) BSc (Hons) (Applied Geology), MBA, MAIG
Mr Reeves is a geologist with over 20 years' experience in the resources sector working on mineral resource projects through all facets of development from greenfield exploration, discovery, definition and feasibility, construction, production to closure. Mr Reeves was most recently Managing Director of ASX listed Metallum Ltd which had a number of development and operational projects in Chile.
Geoffrey McNamara (Non-Executive Director) BSc (Applied Geology), AusIMM, FINSIA, AICD
Mr McNamara is a geologist with over 25 years' experience in the resource sector, covering operational roles including Project Manager, Senior Mine Geologist and Mine Geologist for Ivanhoe Mines Ltd, LionOre Mining International Ltd and Western Mining Corporation Resources Limited.
Risks
You are encouraged to read the Prospectus carefully as it contains detailed information about the Company and the Offer. Like all investments, an investment in the Company carries risk. As set out in Section 10 of the prospectus, Tesoro Resources Limited is subject to a range of risks, including but not limited to exploration, tenement applications and license renewal, tenure and access, requirement for additional capital and re-quotation of shares on ASX.
Section 734(6) disclosure: The issuer of the securities is Plukka Limited ACN 106 854 175 (to be renamed to Tesoro Resources Limited). The securities to be issued are ordinary shares. The disclosure document for the offer can be obtained by clicking on the link above. The offers of the securities are made in, or accompanied by, a copy of the disclosure document. Investors should consider the disclosure document in deciding whether to acquire the securities. Anyone who wants to acquire the securities will need to complete the application form that will be in or will accompany the disclosure document (which can be done via the electronic application form which will become available by clicking the bid button above).​
OnMarket has a limited allocation. The offer may close early and the 'Pay By' dates may change. Bids over $10,000 may be scaled back more heavily. Duplicate bids under the same investment profile, investor name or residential address may be cancelled.
.