Introduction
Tartana Resources Limited (ASX: TNA) is a zinc and copper exploration company with assets being the Tartana Copper and Zinc Project in northern Queensland and the Zeehan Zinc Slag Project in western Tasmania. The Tartana Project is the flagship project. It comprises four mining leases which contains an open pit which was the source of copper oxide ore for historical copper sulphate production using heap leach pads and a solvent extraction/crystallisation plant, still on site
Past exploration on the mining leases has defined four separate exploration projects and mineralisation in each potentially relates to an interpreted deeper porphyry copper system. The projects are the Queen Grade Zinc Project comprising a zone of interpreted zinc skarn mineralisation, a Copper Oxide Project which is based on mineralisation evident within and around the existing open pit, a deeper Copper Sulphide Project below and to the north of the pit and lastly, the Valentino Copper/Gold/Silver/Cobalt Project which is further east but may also be related to the deeper sulphide mineralisation.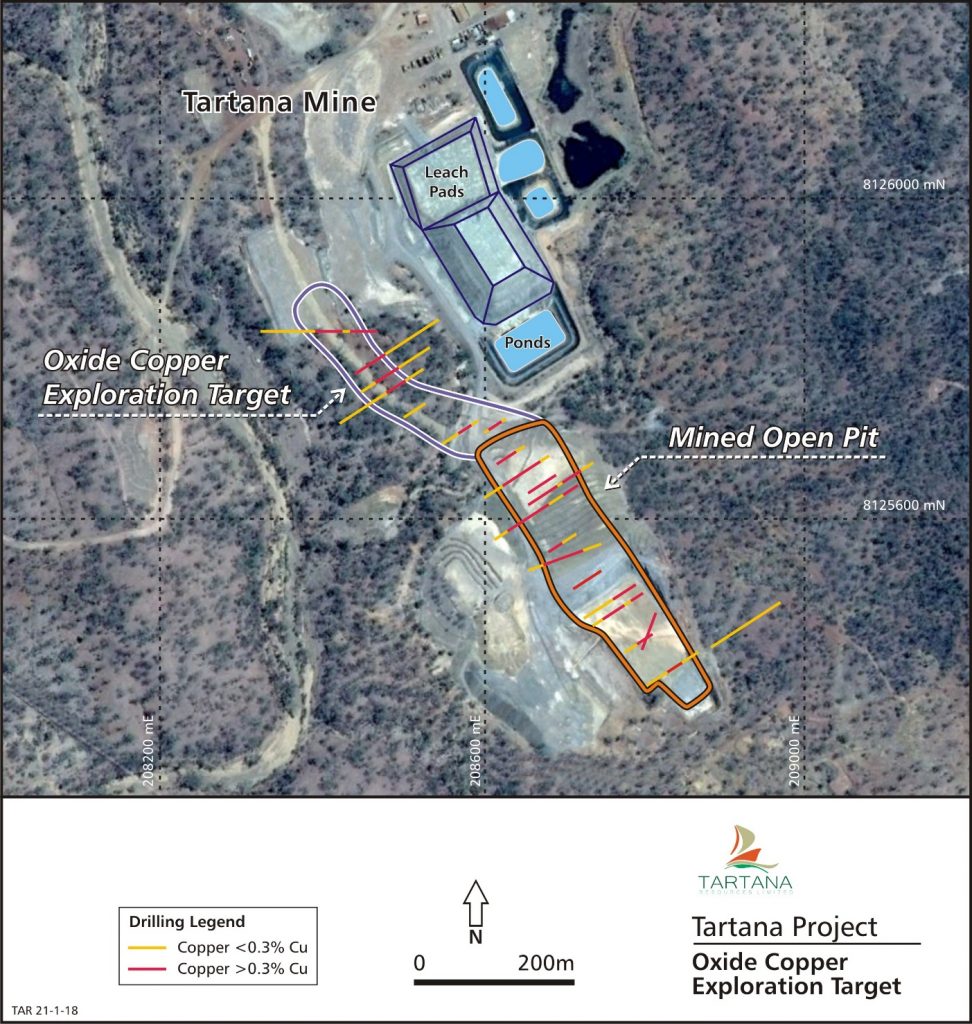 Recent work by the Company has involved defining JORC 2012 Exploration Targets for the Queen Grade Zinc Project and both the deeper Copper Sulphide and Valentino Projects.
Investment Highlights
Exploration potential – The Tartana Copper and Zinc Project is located in the prospective Chillagoe region and has previously operated as a mining operation and with further exploration, each of these Projects has potential for the Company to define copper or zinc resources.
Historical data – The Tartana Copper - Zinc Project has been sporadically explored over the years with historical drilling, geological and geophysical data available. The Zeehan slag dumps have been drilled by past explorers and the company has recently completed further drilling to upgrade the mineralisation to resource status.
Attractive commodities - copper and zinc are two commodities with attractive supply and demand fundamentals
Granted mining tenements – The four tenements associated with the Tartana Project are long-dated Mining Lease, the Zeehan Slag tenement is under a newly granted Mining Lease and the Mt Hess and Amber Creek Tenements are granted exploration permits renewable in 2022.
Experienced management team with significant expertise in mineral projects, project development and corporate finance.
Offer overview
Tartana Resources Limited is looking to raise $4 million to $6 million. The company proposes to use the funds raised from the Offer to:
undertake drilling on the projects within the Tartana Copper and Zinc Project mining leases;
advance the Zeehan Zinc Slag Project, commence initial exploration on the Mt Hess and Amber Creek Projects and undertake project generation;
Provide working capital; and
to pay for the variable costs of the Offer.
The Mining Projects
Tartana has a mission to become a significant copper and zinc company through development of its existing projects, acquisitions of new projects and exploration success.
The Tartana Project has been broken into four separate projects within the four mining leases and these are; Copper Oxide Project, Copper Sulphide Project, Queen Grade Zinc Project and the Valentino Copper/Gold/Silver/Cobalt Project.
Tartana Copper and Zinc Project, North Queensland
The flagship project is located approximately 150 km west of Cairns and 40 km northwest of Chillagoe along the Burke Development Road. This area hosts major porphyry and skarn related deposits including the Red Dome porphyry copper-gold skarn, the Mungana porphyry copper-gold-zinc-lead deposit, the King Vol high grade zinc skarn deposit and numerous smaller deposits along the belt. Historically, copper mineralisation has been reported at Tartana Hill where small scale mining has occurred in the past as well as elsewhere across our leases.
Separately, zinc mineralisation is present in the Queen Grade Project within our mining leases, and has similarities with the zinc mineralisation in other projects in the Chillagoe region including the neighbouring King Vol Zinc mine.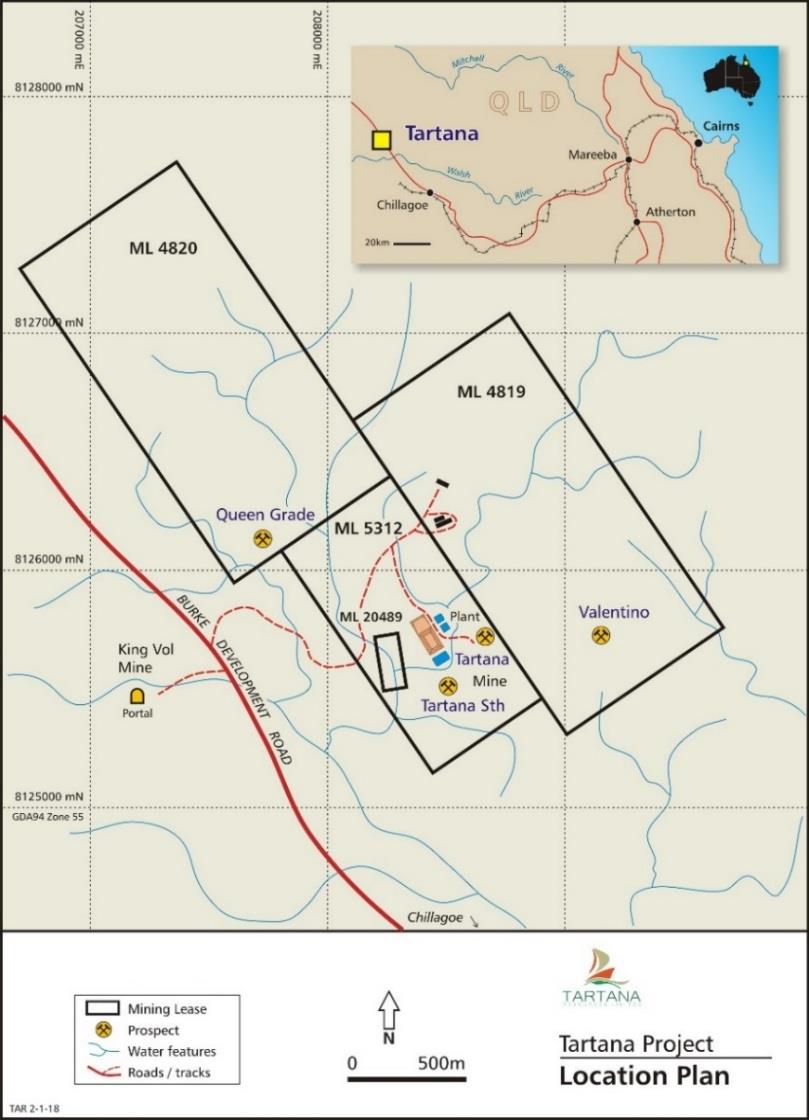 Copper Sulphate Production and Copper Oxide Potential
The previous owner and operator treated copper oxide mineralisation in a small scale heap leach solvent extraction operation which produced high quality copper sulphate. The process involved mining shallow oxide copper ore in an existing and now partially rehabilitated open pit and which was stacked on the leach pads for leaching to produce copper sulphate for sale into the mining and agriculture industries. There is ample evidence that oxide copper material is still available in the base and walls of the pit and also in a zone extending 280 m north of the pit and we will focus some of our exploration work on quantifying this copper mineralisation (See Figure 5 and 6).
Figure 5 - Heap leach pads and Solvent Extraction plant.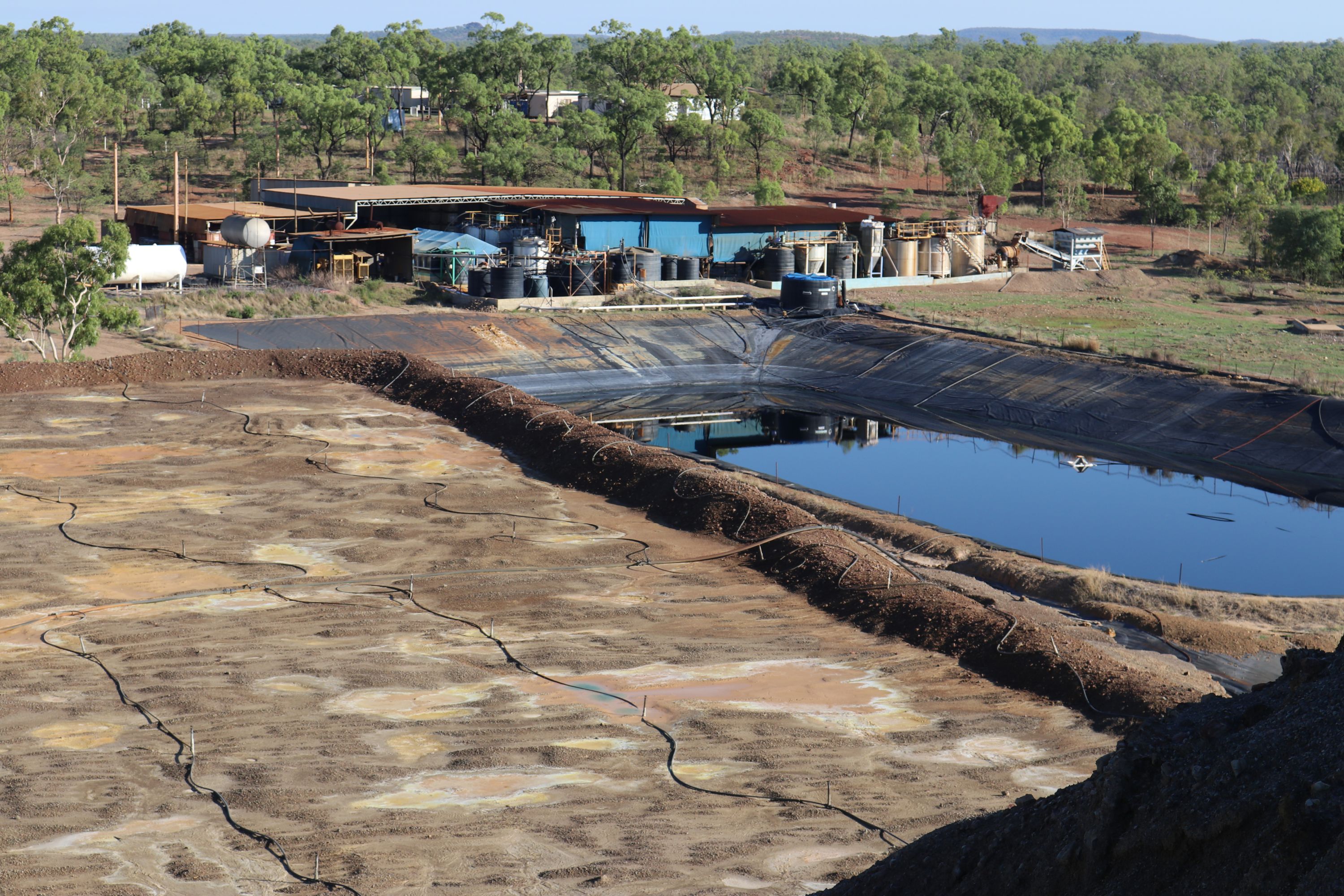 Figure 6 - Copper Sulphate in one tonne bulka bags which has been produced by the previous owner and awaiting shipment).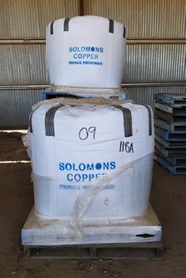 Zeehan Zinc Slag Project, Western Tasmania. Tartana's wholly owned subsidiary, Intec Zeehan Residues Pty Ltd owns Mining Lease ML 3M/2017 located approximately 2.5 km south of the township of Zeehan in western Tasmania. This lease contains an old smelter site along with residue stockpiles of zinc-rich slag.
The Zeehan smelter operated intermittently from 1898 and 1948 recovering lead, silver and copper from the processing of locally mined ores and ore concentrates. The Company recently implemented a 7-hole air core drilling programme to assist in verifying historical drilling data and to enable an upgrading of the mineralisation to a JORC 2012 Indicated Resource status

Tartana is investigating opportunities to monetise the zinc in the slag to provide working capital to finance other activities. And also to have the opportunity to improve the site in terms of its historical significance. They have investigated a number of options which include:
Leaching the slag to recover the zinc. This includes leach testwork which has been carried out by Core Resources Pty Ltd, and demonstrates that high zinc recoveries are achievable in a leach process.
Slag sales to a third party processor in Europe. Samples have been collected and sent overseas for testing in a Waelz kiln in Europe.
Slag sales to local smelters. This has involved the collection of a 5,000 tonne bulk sample which has been trucked to the Port of Burnie. This bulk sample has been shipped to Nyrstar's Port Pirie smelter in South Australia and been used in trial processing.
The Exploration Projects
Tartana has two exploration projects in Queensland which are held in the Company's 100% held subsidiary, Oldfield Resources Pty Ltd.
Mt Hess Copper-Gold Project - The Mt Hess Project is located approximately 100 km southwest of Mackay. The project area covers part of the Gotthardt granodioritic intrusion which intrudes into the overlying Permian sediments of the Bowen Basin. Skarn and porpyhry copper mineralisation is associated with this intrusion and within the Mt Hess Project area there are numerous copper-gold prospects in an area north of the Gotthardt granodiorite.
Amber Creek Molybdenum-Tin-Tungsten Project - The Amber Creek Project is located 177 km southwest of Cairns and comprises an area covering a number of separate molybdenum, tin and tungsten prospects. These prospects are within the undifferentiated metamorphics which are probably related to the McDevitt Metamorphics which have been intruded by the Elizabeth Creek Granite. Oldfield has conducted geological mapping along with soil and magnetic surveys over the area and has also identified several discrete mineralised vein structures. Tartana will implement an initial exploration programme focused on sampling these structures.
Commodity Outlook
Copper
Copper is often referred to as a bellwether of the markets and the supply/demand balance is often dominated by demand expectations which itself reflects the outlook for world economic growth but particularly with China. As well as copper demand in electric vehicles, stronger copper demand stems from new infrastructure projects in China and India including the expansion of their respective power grids and in China, the development of the high-speed rail network and domestic demand (air conditioners, etc.).
Zinc
According to the International Lead and Zinc Study Group, after increasing by 1.3% in 2018, global zinc mine production is forecast to rise by 6.2% to 13.48 million tonnes in 2019. New zinc supply has been dominated by Australian producers. China is also a significant player in the zinc market as investment in infrastructure and any pick-up in construction could drive overall demand higher.
Management and Board
Tartana Resources Limited is led by a team which has extensive experience in geology, mining and metallurgical processing and product marketing as well as financial, technical and management experience in the resources industry. These include:
Dr Stephen Bartrop (Executive Chairman) with more than 30 years' experience covering periods in both the mining industry and financial sector. With a geology background, Steve has worked in exploration, feasibility and evaluation studies and mining in a range of commodities. In the financial sector, Steve has been involved in research, corporate transactions and IPOs spanning a period of more than 20 years, including senior roles at JPMorgan, Bankers Trust and Macquarie Equities.
Bruce Hills (Executive Director) is currently an Executive Director of Breakaway Investment Group Pty Limited which operates the Breakaway Private Equity Emerging Resources Fund. Bruce is a Director of a number of unlisted companies in the mining and financial services sectors including The Risk Board and Stibium Australia.
Peter Rohner (Executive Director) with over 30 years' experience in the mining industry and has been involved in mineral processing technology development including development of the Jameson flotation cell, IsaMill fine grinding and more recently had significant involvement in further development of Glencore's Albion Process (fine grind oxidative leach) technology.
Craig Nettelbeck (Non-Executive Director) successfully forged global relationships enabling him to negotiate numerous complex transactions before moving into the corporate advisory sector specialising in the agriculture, energy and mining sectors.
Robert Waring (Non-Executive Director) with over 40 years' experience in financial accounting and company secretarial roles, principally in the resources industry.
Risks
You are encouraged to read the Prospectus carefully as it contains detailed information about the Company and the Offer. Like all investments, an investment in the Company carries risk. As set out in Section 9 of the prospectus, Tartana Resources Limited is subject to a range of risks, including but not limited to exploration and development, development of acquisition opportunities, valuation of tenements, dependence on key personnel and native title and land access risks.
Section 734(6) disclosure: The issuer of the securities is Tartana Resources Ltd ACN 126 905 726. The securities to be issued are ordinary shares. The disclosure document for the offer can be obtained by clicking on the link above. The offers of the securities are made in, or accompanied by, a copy of the disclosure document. Investors should consider the disclosure document in deciding whether to acquire the securities. Anyone who wants to acquire the securities will need to complete the application form that will be in or will accompany the disclosure document (which can be done via the electronic application form which will become available by clicking the bid button above).​
Breakaway Research Pty Ltd has provided only a distribution service to OnMarket using its database. Please note that Stephen Bartrop is a director of Tartana Resources and is also a director of Breakaway Research Pty Ltd.
OnMarket has a limited allocation. The offer may close early and the 'Pay By' dates may change. Bids over $10,000 may be scaled back more heavily. Duplicate bids under the same investment profile, investor name or residential address may be cancelled.
.