Private Placement
This Private Placement offer is only open to Professional, Sophisticated and Experienced investors. More information on how to qualify here.
OnMarket has a limited allocation. Minimum application size of $10,000. The Company reserves the right to close the offer early.
Problem
There are ~59,000 registered charities in Australia, yet +70-80% cannot afford a CRM/SRM solution
Yet these groups need it most to ensure they engage with donors and can get funded in a competitive environment
The charity and Not for Profit (NFP) sectors are becoming increasingly digital and social, yet many they lack the right solution to support their donor engagement and fundraising activities. Current products
require $100k-$2m+ of implementation and consulting costs, can take months to implement and require significant human capital and training – leaving many charities to resort to spreadsheets
are clunky and outdated built on old legacy systems that are not flexible or user friendly and require constant updates
require multiple products to manage charity activities and the lack of integration between them.
A plug n play solution – the Xero of SRMs
SupporterHub provides a fully built central hub for all donor engagement. The platform is tailored for the NFP sector to directly support workflows and operations and provides relationship management tools required to support mass engagement. Crucially, SupporterHub
Does not require any expensive, mandatory implementation costs – saving ~$100k-$2m compared with alternative products
Processes donations, manage campaigns, manage data and gain deeper insights with predictive analytics
API integrates with other systems
Intuitive and user friendly, requiring minimal support and training so charities can put valuable time and donor money to where it is needed most
NFP sector is large and growing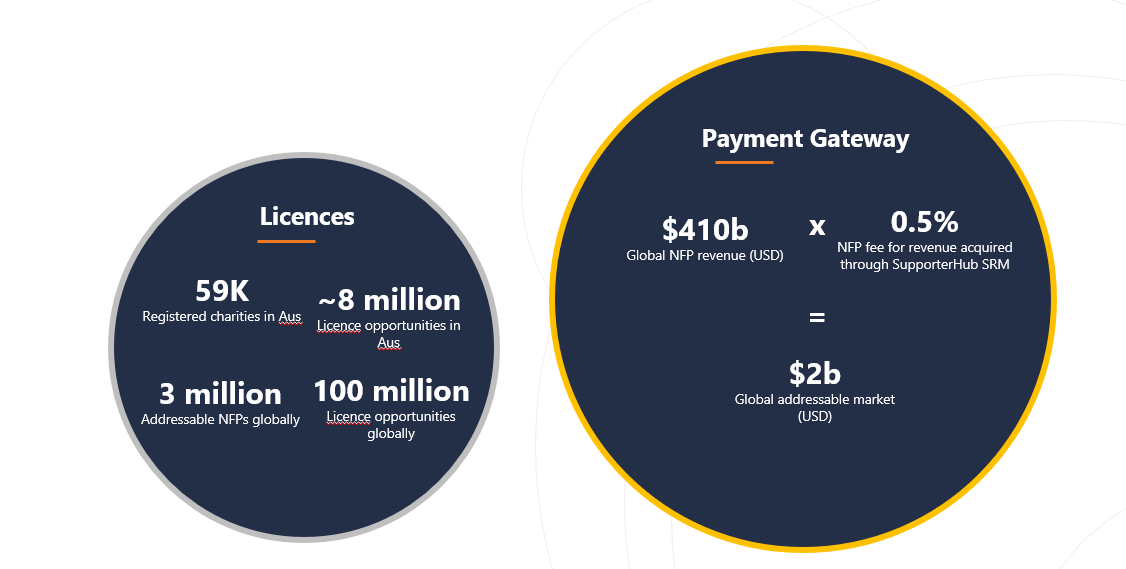 Management team
Anthony Owen– Direct/CEO: Over 25 years' experience across local and global digital media and technology companies. Anthony has experience in international markets working with partners – Microsoft, IBM Watson, Ingram Micro and AppDirect as well as directly with many large corporations and Fortune 500 companies
Brad Anderson – CTO: Ex-Amnesty International executive with 16 years' IT experience and 6 years developing technology strategy for not for profit organisations across the world, and provides a deep understanding of the business, technical and financial challenges they face.
Peter McCormick –Director: Director and COO of SecureCo, a local market leading Cyber Security and Fintech cloud organisation. Over 15 years of sales leadership and operational experience with various telco and IT service providers. Previously General Manager of Sales in Ethan Group and NSW Sales Manager in AAPT
Paul Bird – Director: Founder and Managing Director of SecureCo. Also a co-founder of Homestar Finance (Mozo Non-Bank Lender of the Year 2017). Previously held senior strategic roles at PBL Media and Diageo.
Offer Summary
The offer is a private placement seeking to raise up to $500,000 by issuing convertible notes.
Table 1: Key Offer Stats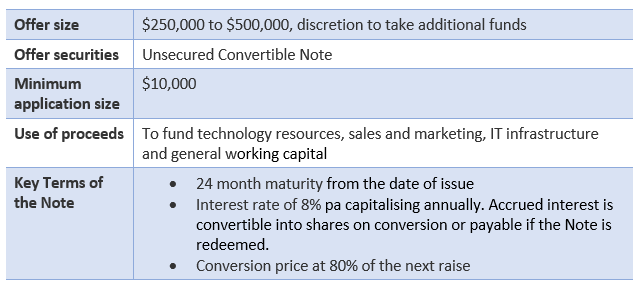 .