This is a restricted offer and is only open to Professional, Sophisticated and Experienced investors. More information on how to qualify here.
Minimum application size of $10,000. OnMarket has a limited allocation under the Offer and the Company reserves the right to close the Offer early.
Introduction
Sportcor Holdings is an Australian based sports technology company that powers data-driven sports engagement by providing leading sporting goods manufacturers with innovative capability to transform their products into smart sporting goods.
The company integrates its proprietary, advanced electronics within traditional sports equipment and delivers subscription-based and AI-driven performance data directly to a player's device.
Sportcor manufactures a single-design core that has application across multiple sports delivering unique player-centric data. Through quality partnerships with leading global sporting goods manufacturers, Sportcor will power products that will be available to consumers, elite teams, high performance sporting academies, clubs and schools.
Sportcor will derive revenue from the sale of data generated by the embedded equipment. This revenue will come via three key channels:
Broadcast networks – licencing fees sold to each sport's governing body who on-sell the licence to broadcasters
Elite teams, academies, clubs & schools – Enterprise level fee for access to data for coaching & performance purposes
Retail – monthly subscriptions to the mobile app for grassroots players who purchase the embdded sports equipment and balls
Sportcor is proud to power Kookaburra's SmartBall, recently launched at The Ashes in London during August 2019. Sportcor has provided Kookaburra with the electronics in an embedded chip in the core of the ball - designed to enable real-time feedback that will change the way we coach, play, officiate and experience the game of cricket.
It's the right time for Sportcor. It is placed at the centre of the high-growth global sports technology sector which sees an estimated US$31b by 2024 (up from US$8.9b in 2018) being directed to data driven innovations across athlete performance technologies, fan engagement and media/ content platforms and e-sports.
Investment Highlights
Global Sports Technology sector expected to grow from US$8b to US$31b in the next 5 years.
Sportcor is an Australian sporting technology company which integrates proprietary advanced electronics within traditional sports equipment and licenses the software and data rights globally.
Secured a 5 year agreement with Kookaburra. Kookaburra launched their SmartBall with Sportcor electronics in August at the Ashes this year.
In agreement negotiations with Gray Nicolls Sports to embed the Sportcor electronics within the broad GNS product range: Steeden rugby league ball, cricket, hockey, water polo, netball, soccer, clothing, shoes and headgear.
In negotiation with several other major sporting good brands to embed Sportcor technology in their products
First mover advantage on Sportcor's movement sensor technology, ready to accelerate to capitalise on this growing trend in sport globally.
An independently tested and working product which can be applied to multiple sporting goods and wearables.
Board of Directors chaired by Michael Kasprowicz (former Australian cricketer and currently a Cricket Australia Board Member, with a strong global network of athletes and administrators), and an experienced management team to drive growth.
For the full investor presentation, see here.
The Sportcor Technology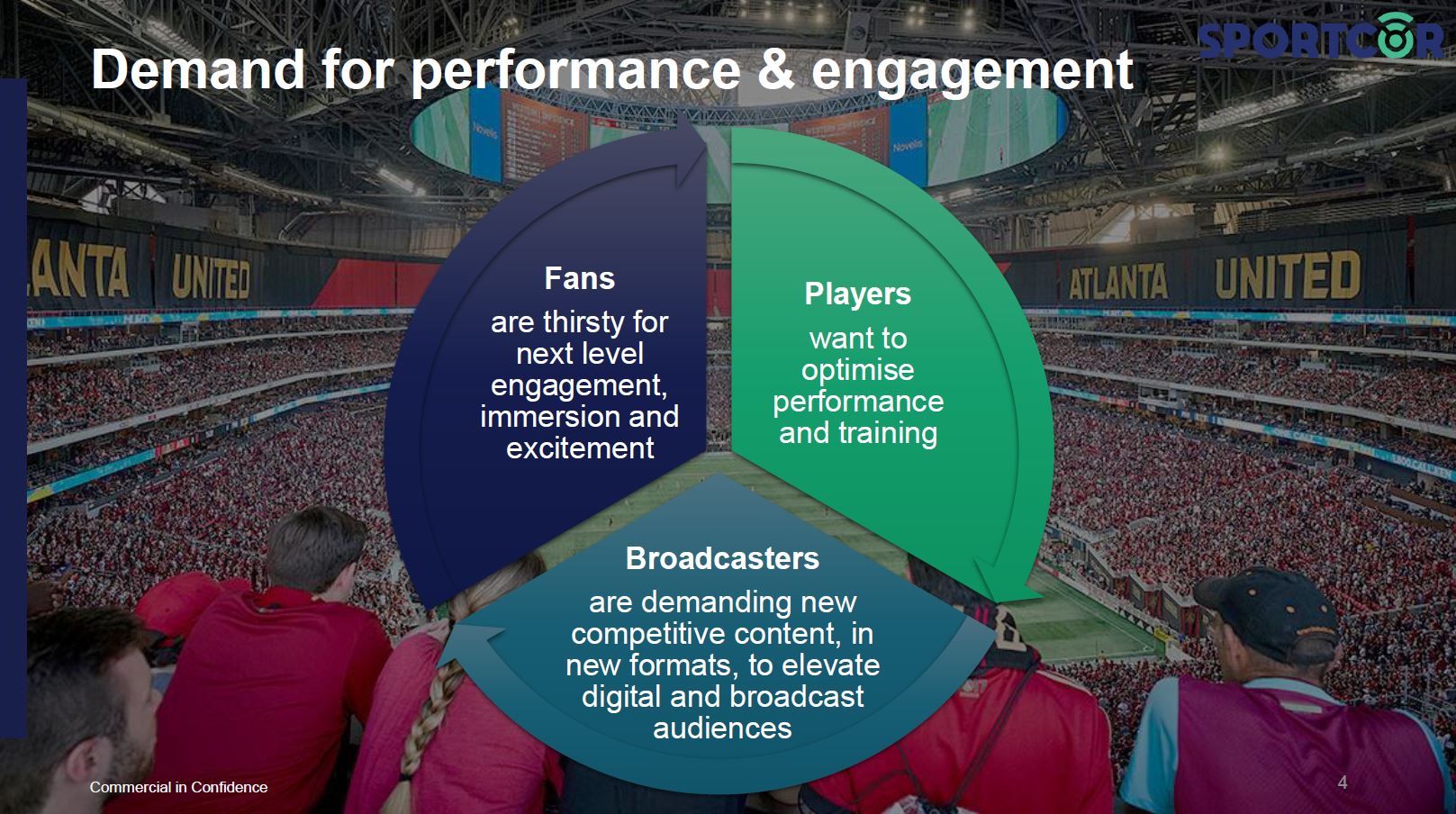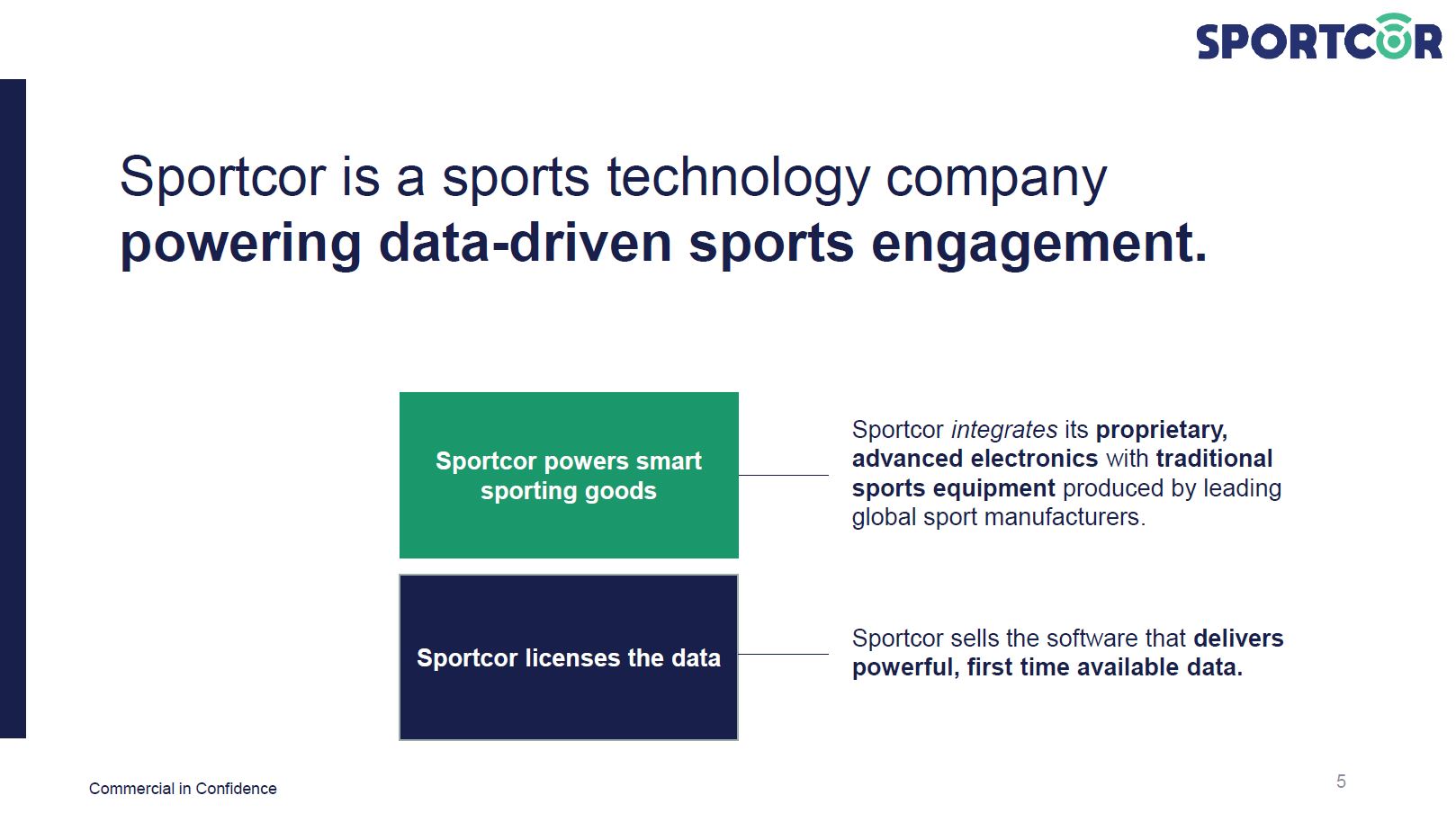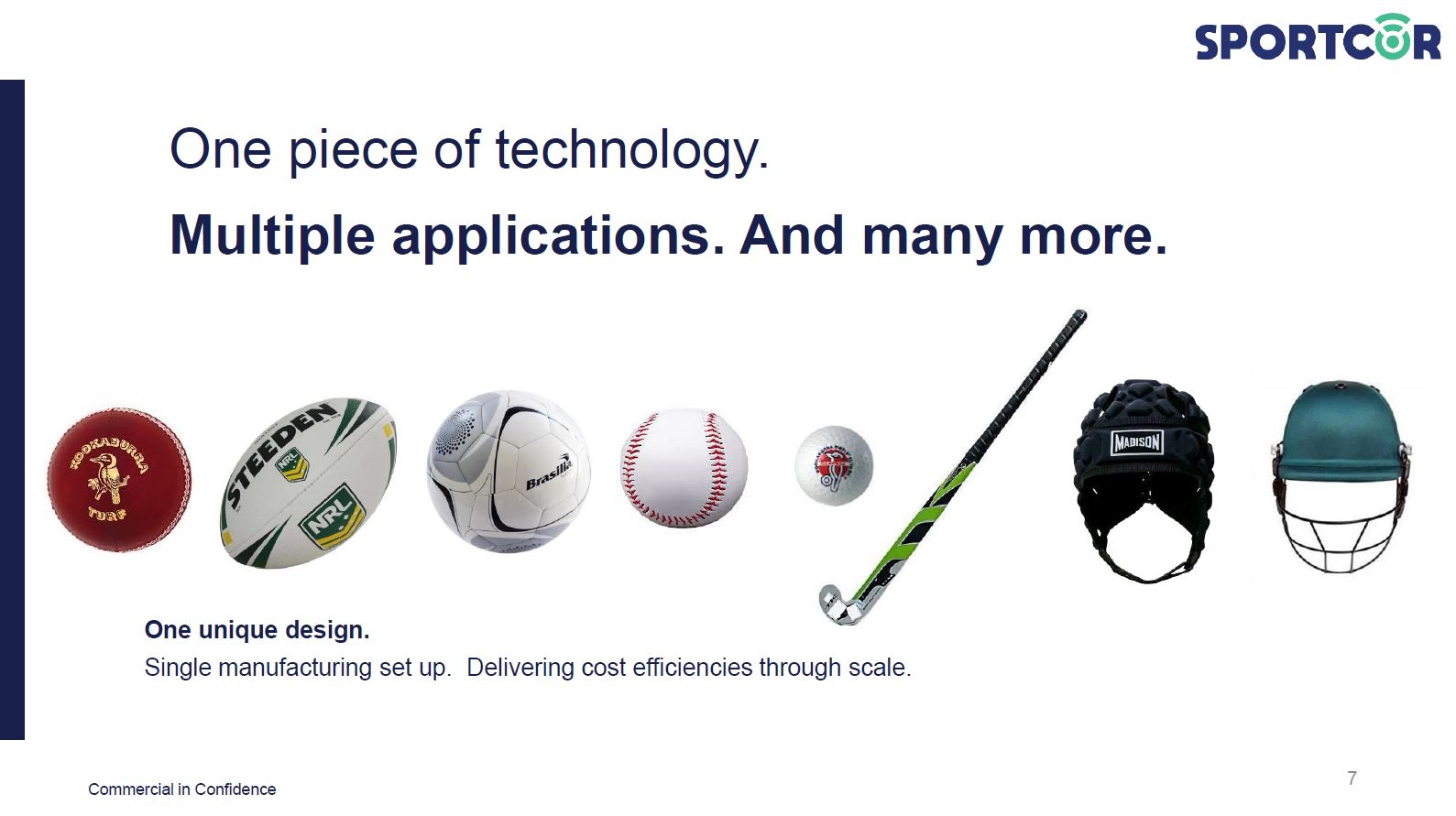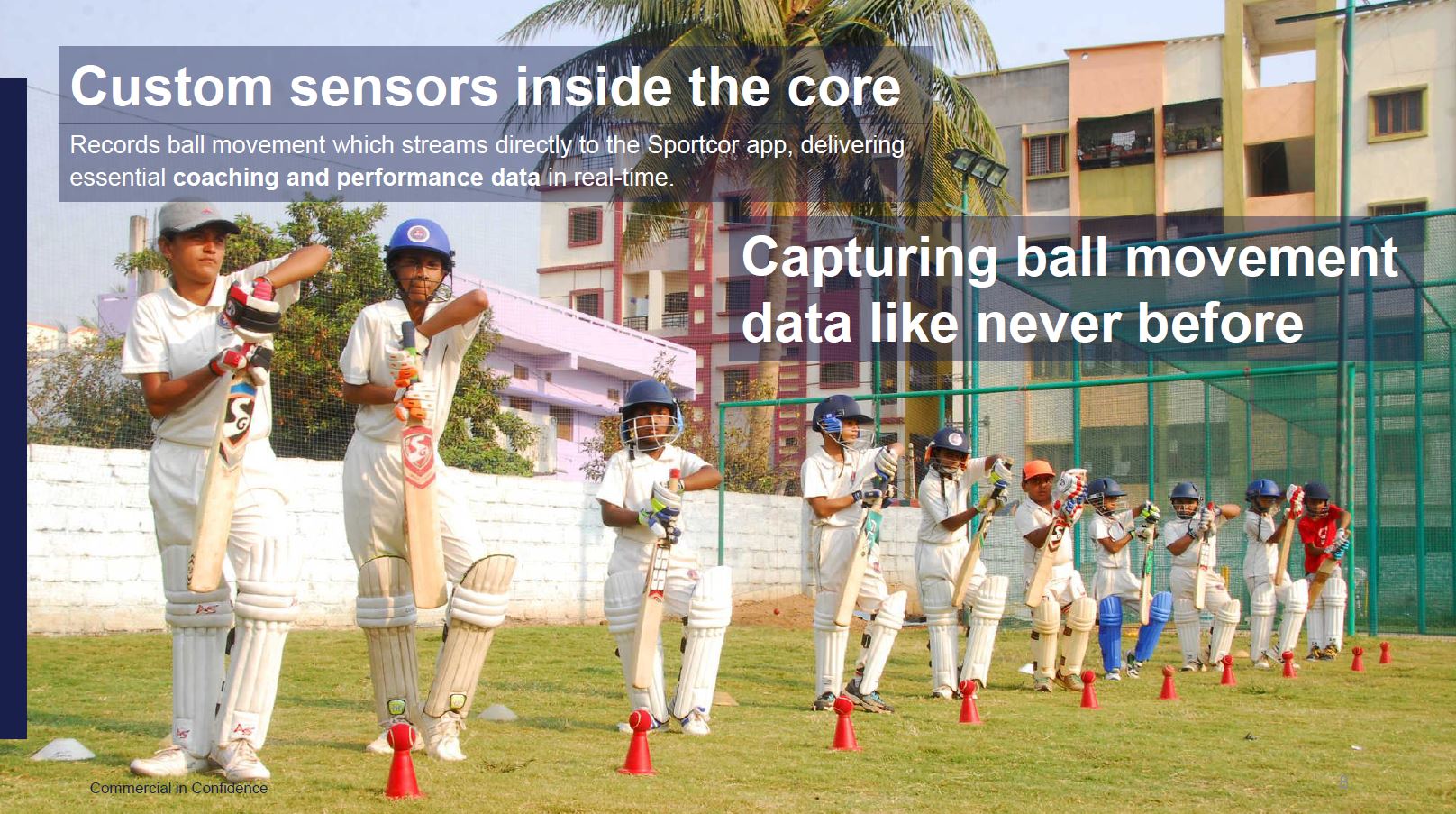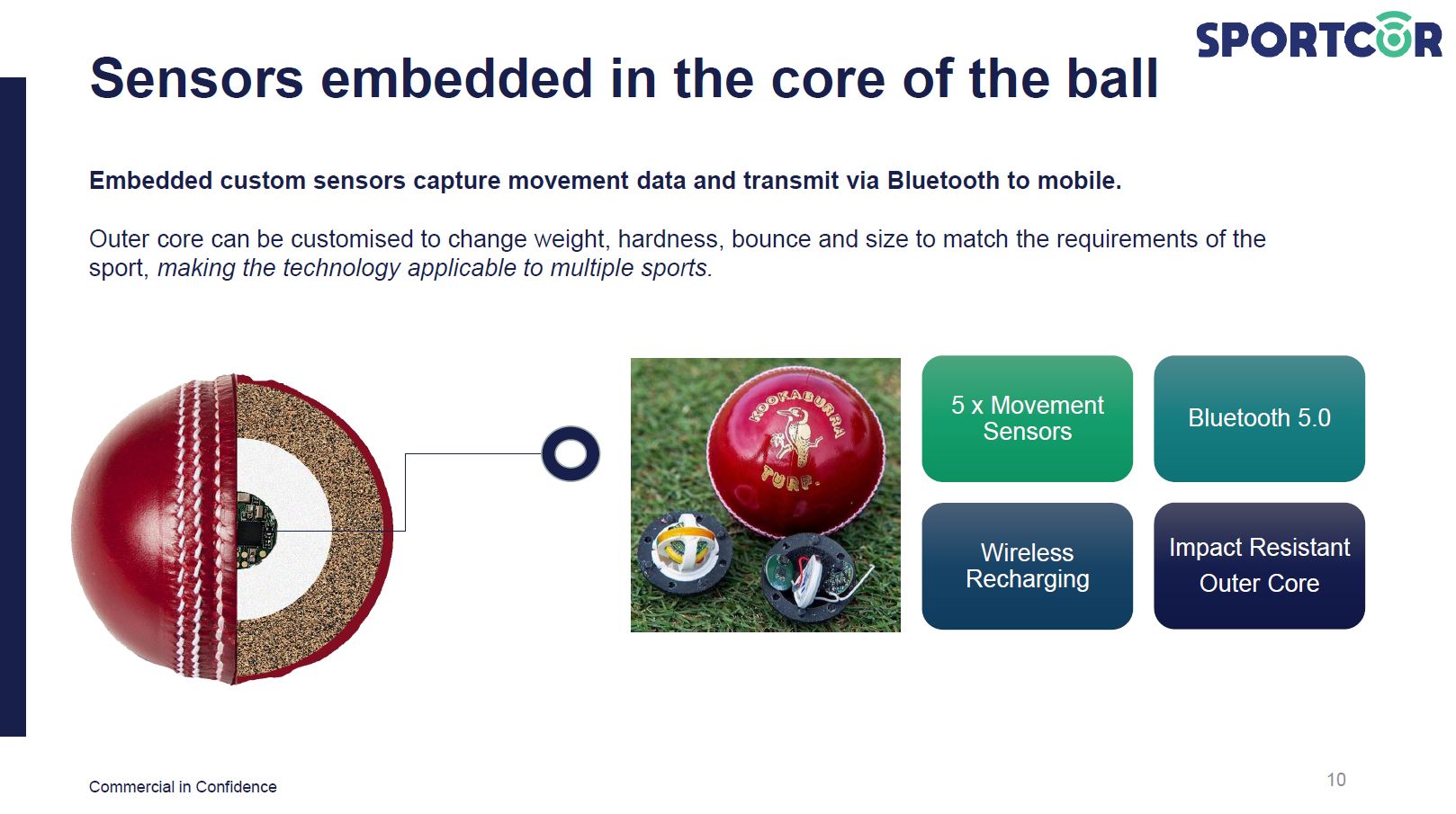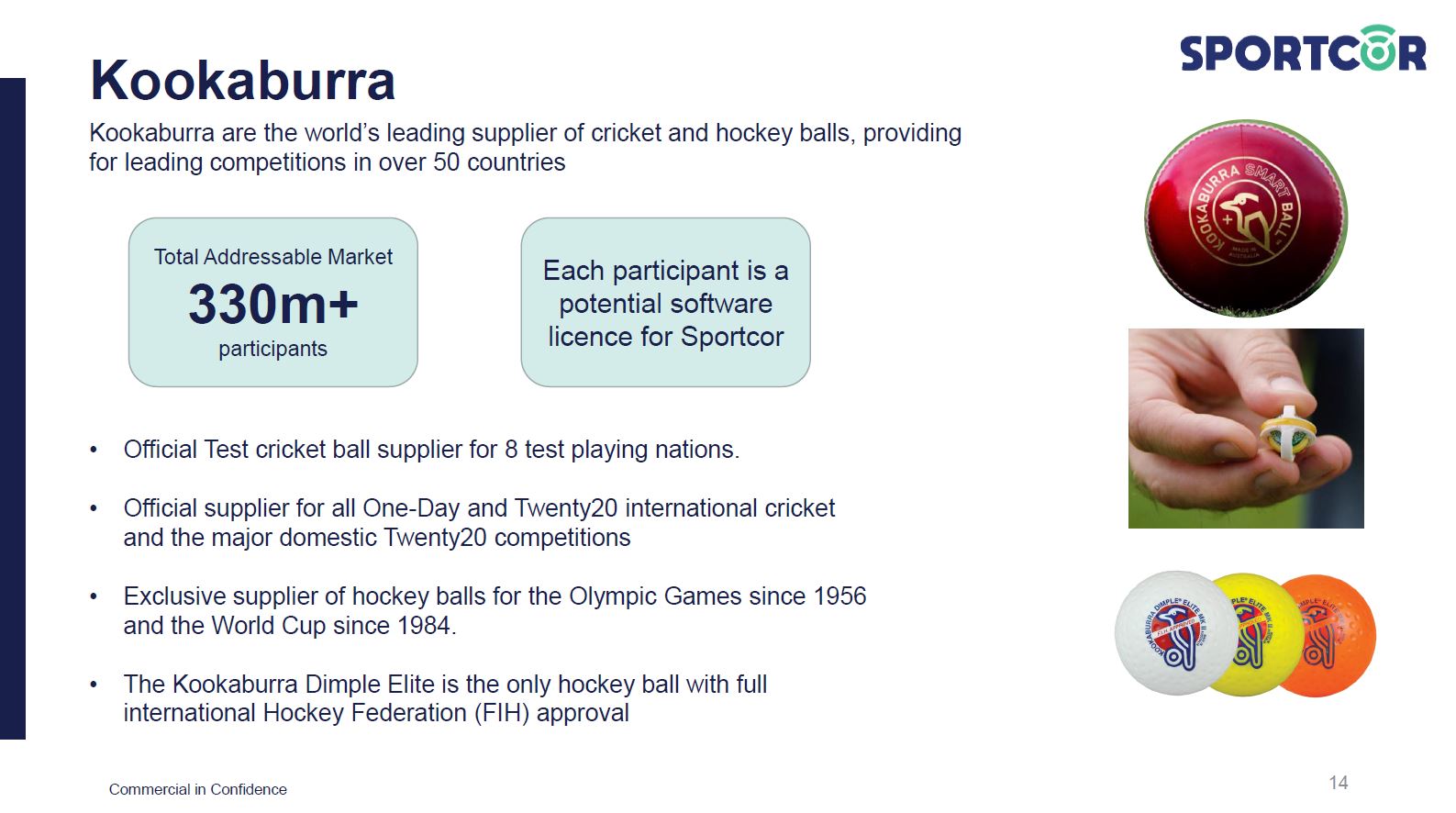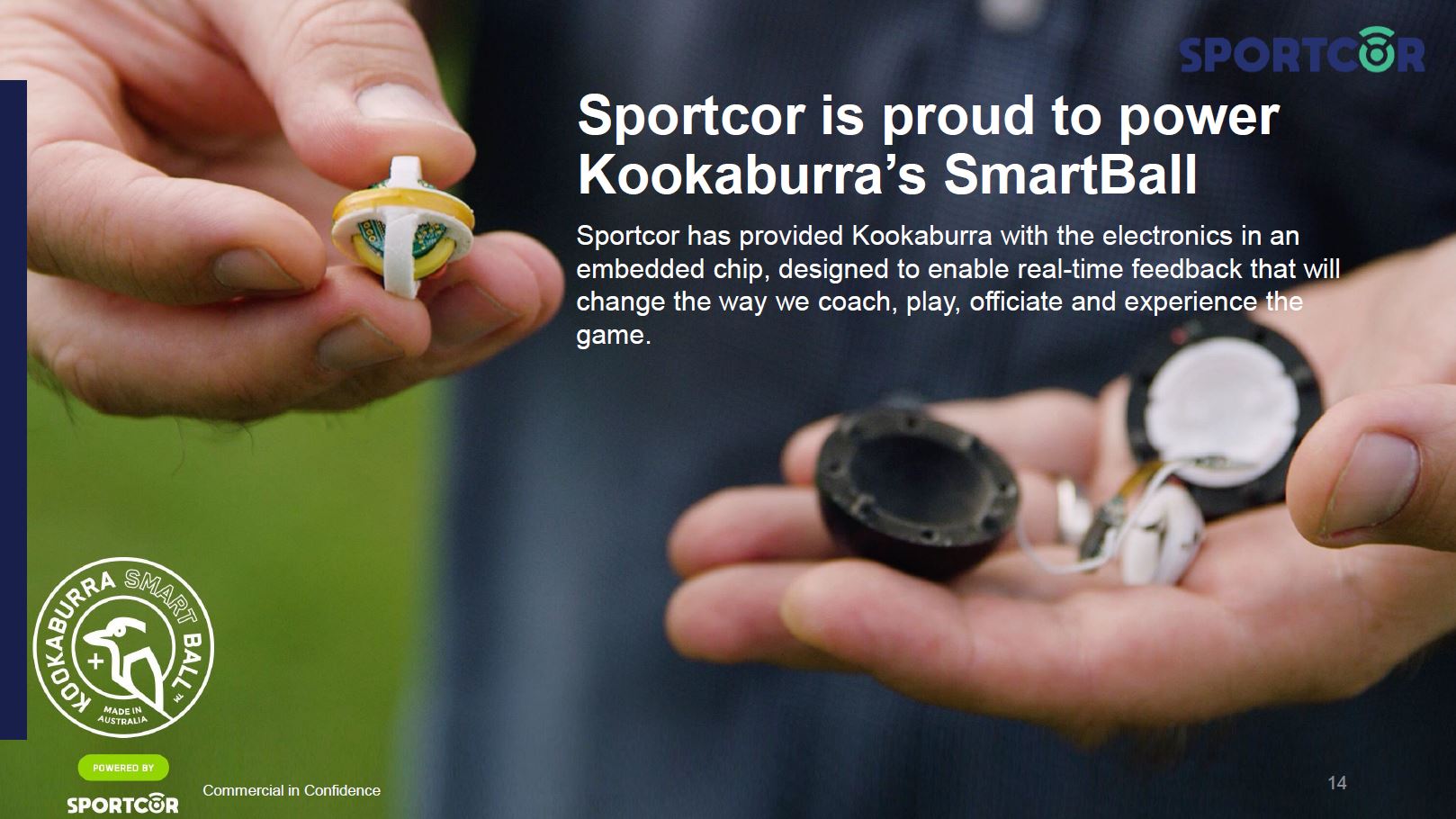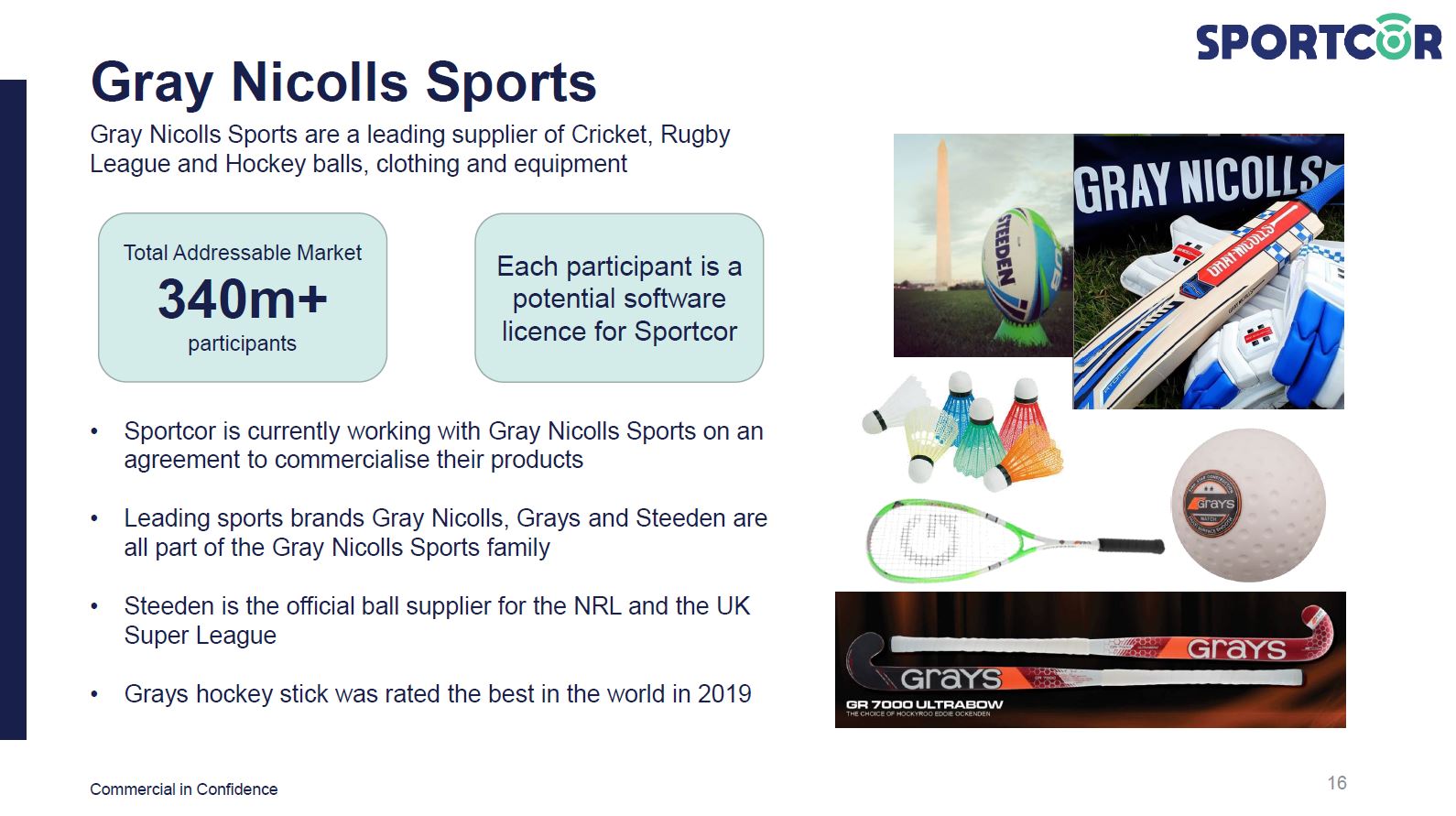 Market Opportunity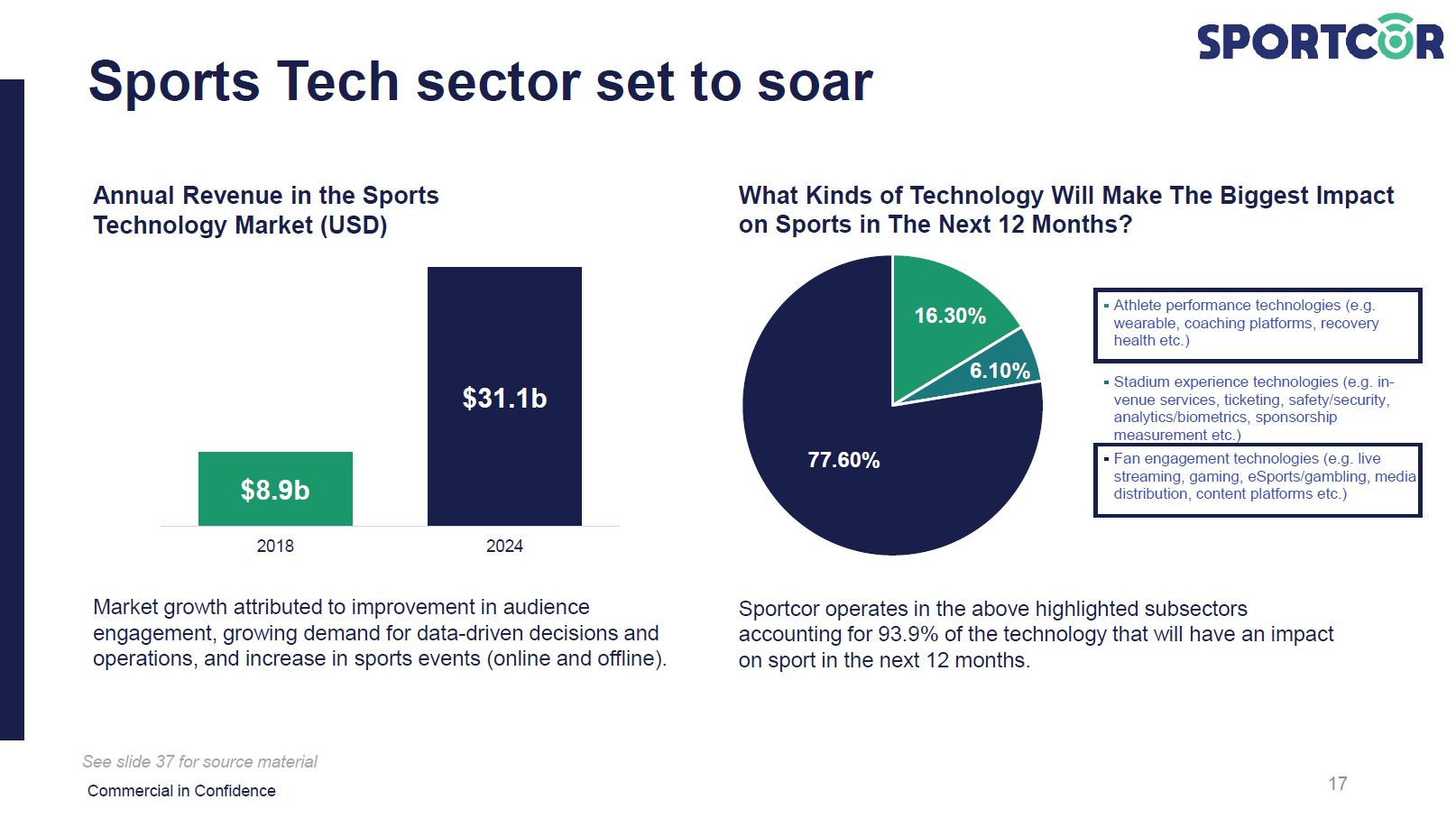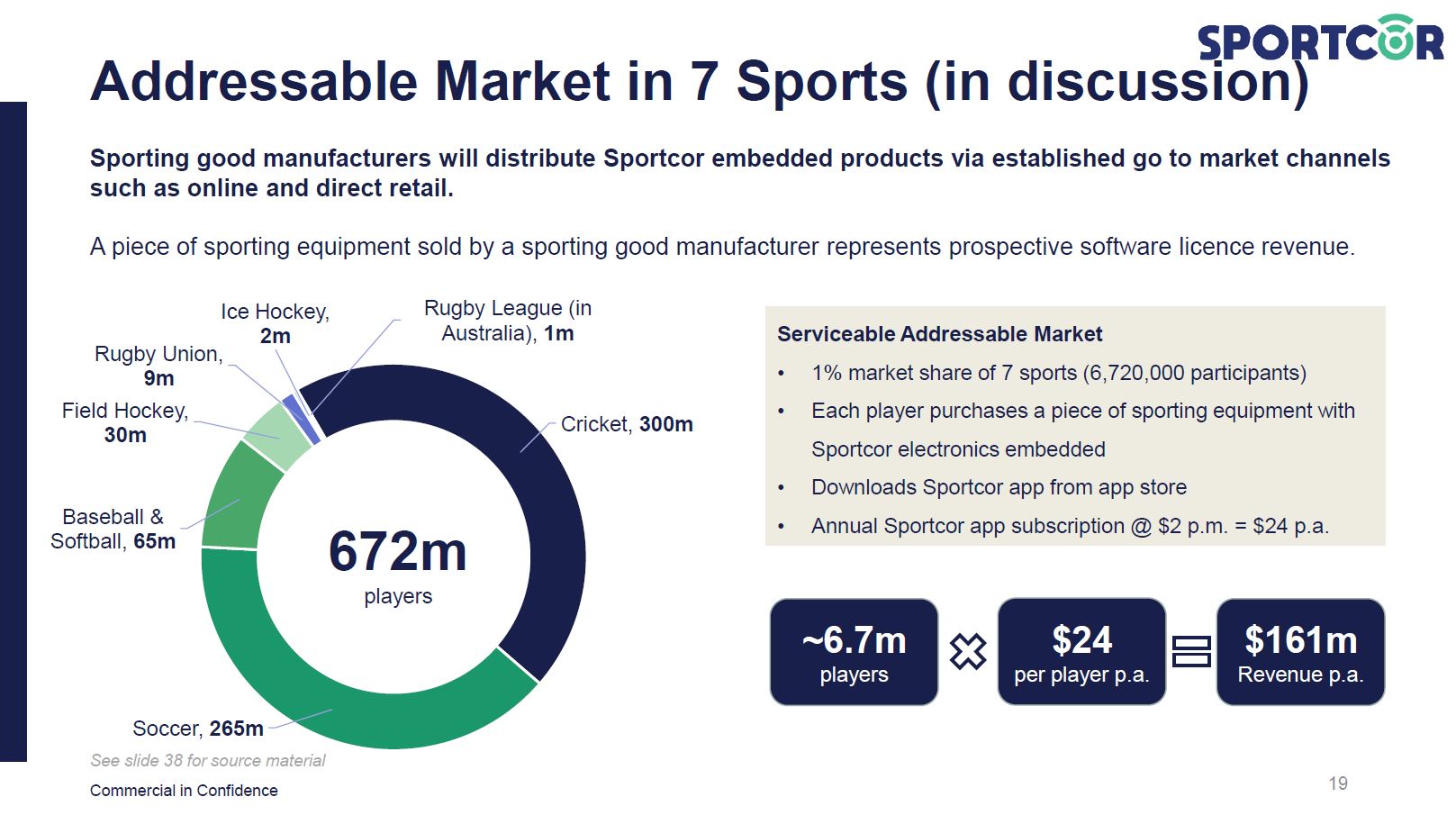 Revenue Model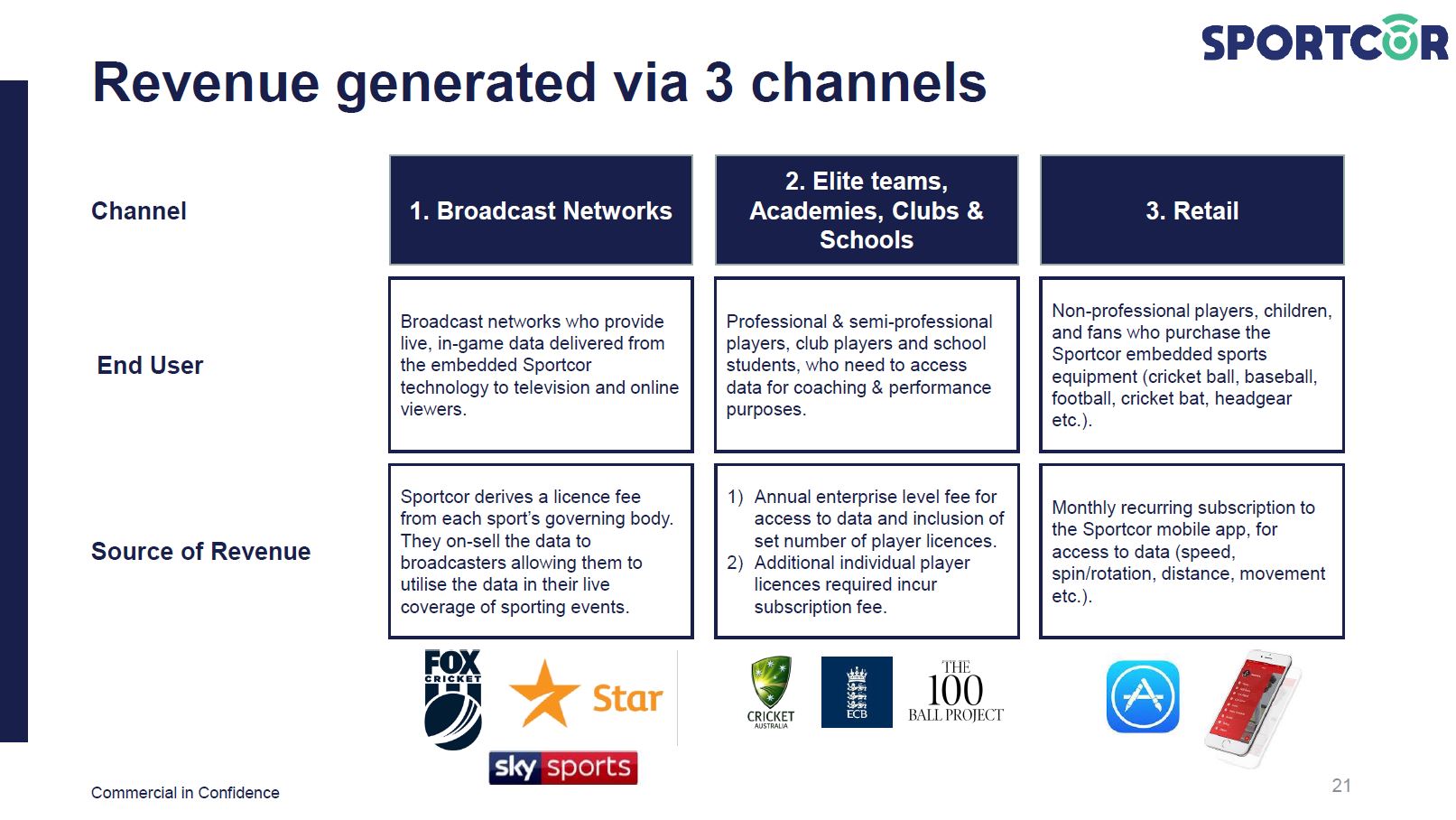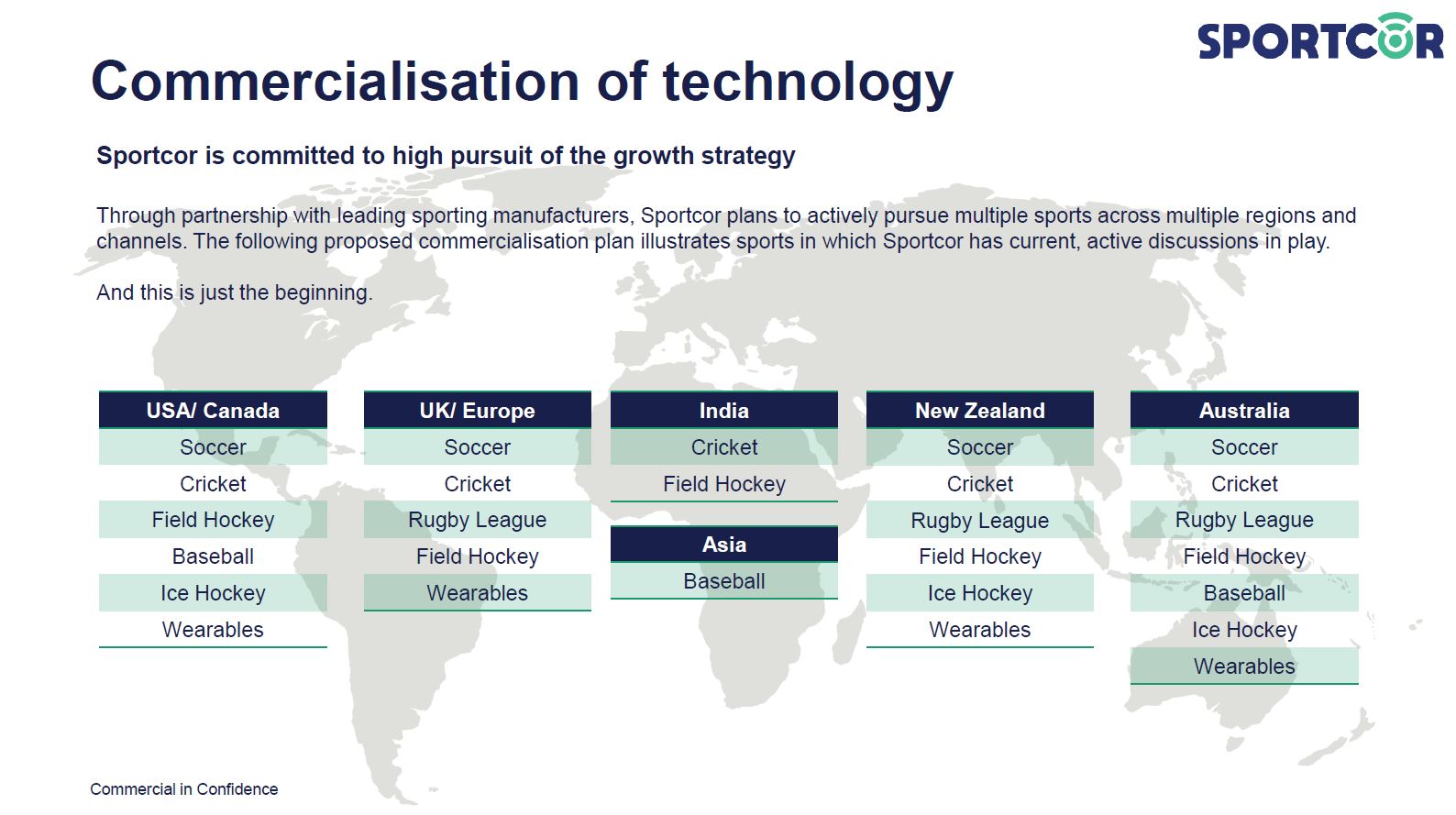 For the full investor presentation, see here.
Details of the Offer
Sportcor Holdings is seeking investment of up to $2.5 million. Planned use of funds will be directed to the commercialisation of the recently launched Kookaburra SmartBall, channel distribution, sales and marketing, expansion of operations and development of Sportcor Mobile App version 1.0.
Section 734(6) disclosure: The issuer of the securities is Sportcor Holdings Pty Ltd ACN 623 089 145. The securities to be issued are ordinary shares. The information provided on the OnMarket website has been prepared by Sportcor Holdings Pty Ltd, and OnMarket makes no representation as to its accuracy or completeness. No prospectus has been prepared and accordingly, the Offer is being made to sophisticated, experienced and professional investors only.
This Investor Presentation and the Term Sheet are intended to provide potential investors with information only and does not constitute a prospectus, short form prospectus or other disclosure document as defined in the Corporations Act 2001 (Cth) ("the Act"). These documents have not been lodged with the Australian Securities and Investments Commission ("ASIC") or any other government body. The offer made under this Investor Presentation and Term Sheet is only available for persons who qualify as sophisticated or experienced investors (as defined in s708(8)-(10) of the Act), professional investors (as defined in s708(11) of the Act), investors to whom personal offers are made under s708(1), or investors to whom disclosure is otherwise not required under Part 6D of the Act (collectively, "Qualified Investors"). Sportcor Holdings Pty Ltd will not issue any shares under this offer to a person unless it is satisfied that the person is a Qualified Investor.
.