The Invoice Exchange Pty Limited ("Skippr") Series A Raising is a restricted offer open to Experienced, Sophisticated and Professional investors. More information.
Introduction
The Invoice Exchange Pty Ltd ('Skippr' or 'the Company') is an early stage fintech business that is capitalising on the $60b SME lending market in Australia by providing accounts receivable finance and cashflow management solutions. Skippr has already successfully raised $750,000 in equity from wholesale investors including executives from top tier investment banks, and $1m in debt for the Skippr Capital Fund. This has allowed the Company to successfully write $6.8m of invoices with 0% default rate since establishment in September 2016.
Market opportunity
Skippr is targeting the $60 to $90 billion in unmet SME lending demand in Australia and is designed to assist over 1.6m SME businesses in Australia that suffer from poor cash flow management. This gap is largely due to banks restricting their lending to SMEs due to higher capital requirements.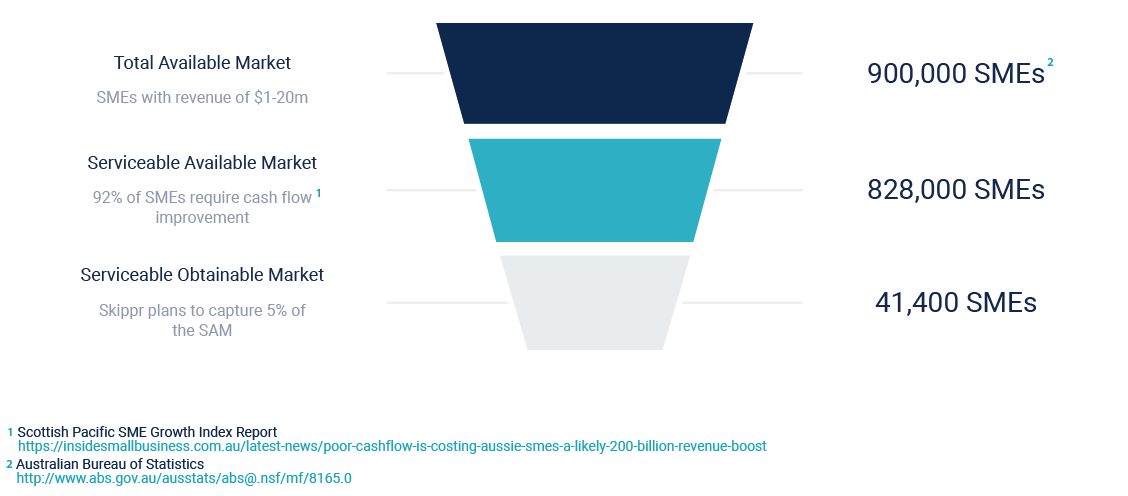 The problem
The SME lending market is largely being serviced by alternative lenders who offer a single, undifferentiated lending product which relies heavily on finance brokers and direct sales and marketing to acquire customers. Excessive competition in these channels has led to an increase in customer acquisition costs highlighting a key flaw with this approach – alternative lenders only engage with SMEs after they make the decision to borrow money.
The solution
Skippr engages with SMEs earlier in the borrowing journey through its cashflow management platform. The platform provides live data insights to engage the customer and their advisor and predict their finance needs. Users can view their moving cash balance (over next 90 days) and key events impacting liquidity in real time, drawdown on finance in-app, execute payments and manage invoice collections via communication technology, automating key steps in the funding and settlement processes.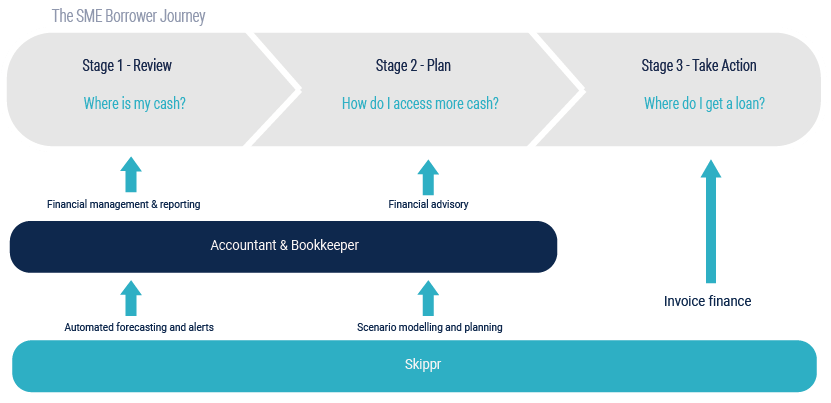 Skippr charges a drawdown fee and an interest rate for each loan drawn through its online portal.
The drawdown fee is charged each time the borrower draws cash from the facility. The fee ranges between 1% - 2% charged against the amount drawn
The interest rate ranges between 0.8% and 4% per 30 days and is charged against the outstanding loan balance on a daily basis. Borrowers are segmented into different risk categories using proprietary machine learning algorithms
Offer overview
As part of this Series A Offer, Skippr is seeking to raise between $1 million and $1.5 million in equity on a pre-money valuation of $5m, having already received equity commitments of $750,000. Skippr is also raising $5m of debt which us due to be finalised by 31 March 2018. Applications made under this Series A offer will be held in escrow pending at least $1m of the debt facility being secured. Funds will be returned to investors if this facility is not secured.
The funding is expected to provide enough financial runway to carry the Company to Series B Funding and/or IPO within 12-24 months.
The proposed use of funds (on a non-binding basis) to drive this milestone are:
Key sales team hires ($35,000 per month)
Key technology development team hires ($47,000 per month)
Directors' salaries ($20,000 per month)
General working capital requirements ($15,000 per month)
which will allow the Company to grow sales, improve service delivery and bolster risk management.
Management and Board
Patrick Crivelli – Co-Founder & CEO
17 years' experience in financial services including seven years as a Fund Manager at HSBC Hong Kong and two years at Susquehanna covering credit and equities
Leads strategy, risk management and operations
Alistair Lamond – Co-Founder & Commercial Director
9 years' experience in financial services, including 4 years at UK alternative finance platform Marketinvoice, driving platform growth from £10m to £600m
Leads sales, marketing and leading channel partnerships
Risks
Investing in a Series A capital raising, including The Invoice Exchange Pty Limited (trading as Skippr) is subject to a range of risks. These include lack of liquidity, the potential for your investment to be diluted through additional capital raisings and the risk that you lose your entire investment. Skippr has no immediate plans to IPO the company, therefore the likely investment horizon should be considered medium to long-term.
Please ensure you read the Shareholders' Deed. You acknowledge that all information has been provided to you by Skippr and OnMarket has not conducted due diligence on the Company, and makes no warranty or representation as to the accuracy or completeness of the information provided.
We recommend that you seek independent professional advice as to whether an investment in the Company is appropriate for your financial objectives, situation and needs.
Section 708 disclosure: The issuer of the securities is The Invoice Exchange Pty Ltd ACN 151 085 157 trading as Skippr. The securities to be issued are ordinary shares. The information provided on the OnMarket website has been prepared by Skippr, and OnMarket makes no representation as to its accuracy or completeness. No prospectus has been prepared and accordingly, the Offer is being made to sophisticated, experienced and professional investors only. It is a condition of the offer that applicants sign a Subscription Agreement and Deed of Accession to the Company's Shareholders Deed, substantially ​in the form provided.
The Company reserves the right to close the offer early. If oversubscribed, applications will be scaled back on a pro rata basis.