Company Overview
SHAPE was founded in 1989 by a group of six industry professionals and is a specialist building contractor and construction manager, focused on commercial fit-out and refurbishments, with select capabilities in new build. SHAPE is Australia's only fit-out and refurbishment specialist with a presence in all mainland states and territories and has evolved from a specialist fit-out and refurbishment company, broadening its product offering to include selective new build, as well as professional services such as buildability reviews and property search assistance.
With a 30-year track-record, SHAPE has established itself as a major national player in the commercial fit-out/ refurbishment market. SHAPE's success has been underpinned by its key strengths and differentiating factors, including:
Dedicated national service coverage with seven offices and a presence in all mainland states and territories;
Highly developed and tailored risk management systems and processes;
Long-standing relationships with blue chip customers driving repeat business;
Diversified end market and geographic exposure;
Reputation for high-quality projects delivered on-time and defect-free;
Demonstrable leadership effectiveness and organisational culture;
Experienced management team and deep talent pool;
Continuous profitability and dividend history;
Strong balance sheet; and
Multiple levers for growth.
SHAPE plans to leverage the above competitive advantages in developing the strong pipeline provided by its existing business and pursue future opportunities appropriate to its core strengths.
SHAPE actively pursued Defence projects in FY21, with a strategy focused on building key stakeholder relationships and establishing a track record of performance upon which it can increase market share. SHAPE's investment in this sector is starting to deliver results, with revenue in this sector in FY21 more than doubling that of FY20 and the future pipeline of Defence projects to provide an opportunity for revenue growth into the future.
Customers
SHAPE has successfully delivered projects for a broad range of customers, across both public and private sectors, and diversified end markets. SHAPE has developed trusted and long-standing relationships with a broad suite of blue chip clients including ASX 200, internationally listed and large multinational companies and government bodies.
SHAPE has a demonstrated ability to secure repeat business from its customers, with revenue from existing SHAPE clients accounting for ~80% of pro forma revenue in FY21.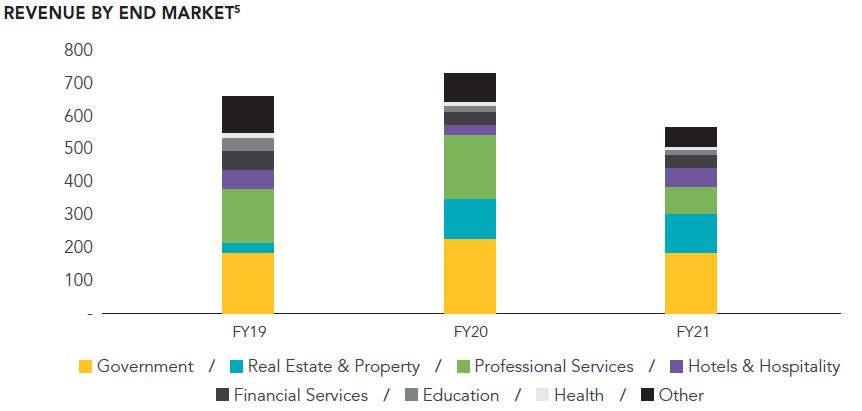 Order Book
SHAPE had a secured project forward order book of $247m as at 30 September 2021, diversified by state, end market and size. SHAPE's order book tends to be weighted towards the south-eastern states of NSW (46%) and VIC (22%) given the higher average project size and contract length relative to other states. However, SHAPE's national presence provides a diversified revenue stream across seven offices. SHAPE anticipates that the revenue generated from the secured project forward order book will be supplemented by new tenders won and completed in the future periods.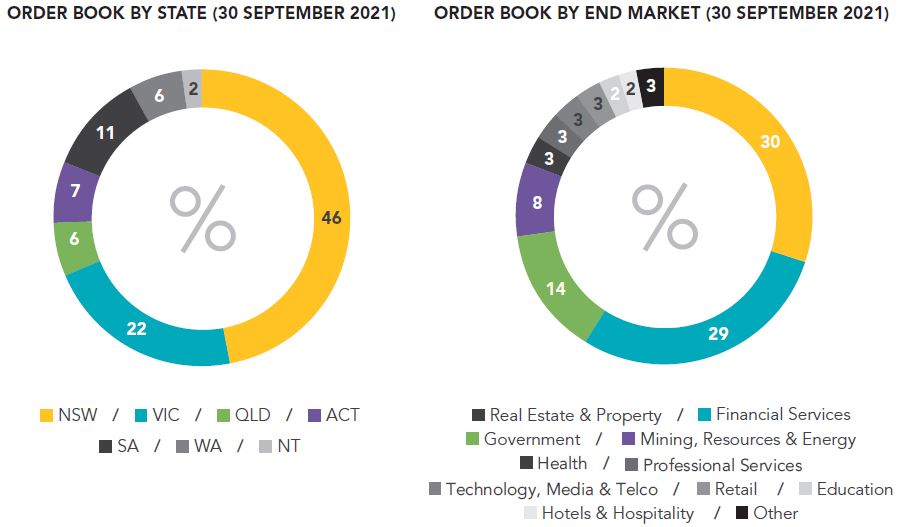 Revenue Model
Revenue is primarily generated by SHAPE in their role as head contractor and construction manager on construction, fit-out and refurbishment projects for customers across Australia. SHAPE recognises revenue and margin over the life of projects based on the estimated stage of completion, which is determined based on costs incurred to date as a percentage of total estimated project costs.
The key drivers of SHAPE's revenue include:
Total number of projects undertaken; and
Average value of projects undertaken
SHAPE has longstanding relationships with its clients which result in repeat work. Approximately 80% of the total revenue in FY21 was derived from repeat customers. SHAPE utilises a variety of delivery models (including Construct Only, Design and Construct (D&C), Early Contractor Involvement (ECI), Managing Contractor (MC).) depending on the nature of the project and specific customer requirements. Revenue also includes income received from the sub -lease of office space in various states and a management fee received from its minority interest in DLG SHAPE.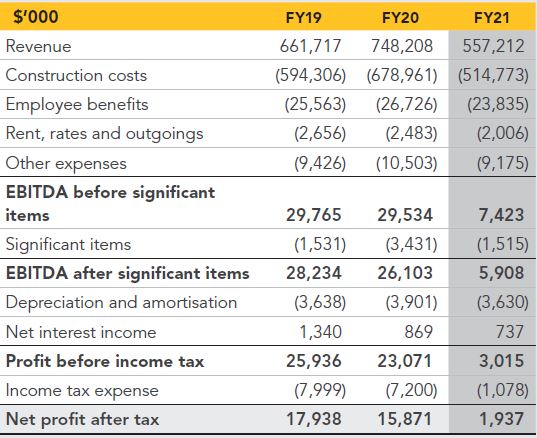 Trading Performance and COVID-19 Impact
SHAPE's financial performance was negatively impacted during the coronavirus pandemic, including due to clients delaying work or reducing the size of projects given the lockdowns and economic uncertainty created by the pandemic. SHAPE's operations were also adversely impacted by the prolonged COVID-19 related lockdowns in key states, which limited construction and building activity including the number of workers on site, along with strict guidelines on distancing and hygiene protocols. These measures resulted in delays to project works and completion timelines for SHAPE projects, albeit SHAPE has experienced no material contract cancellations since the start of the pandemic.
SHAPE's diversified business operations across states, sectors and markets has enabled it to minimise the impacts of the coronavirus pandemic by pivoting into different markets where activity is stronger. The Board believes the strength of SHAPE's existing relationships with its customer base and supply chain will support the business in its trading recovery post COVID-19. With a recovering secured order book, and vaccination rates increasing, SHAPE is well positioned to take advantage of future market opportunities, as restrictions continue to ease and NSW and Victoria (also SHAPE's major regions) reopen. Changes to the design of offices and other commercial interiors are anticipated by industry participants (refer to Section 3.7) when the business restrictions ease, driving future work in the fit-out and refurbishment sector specifically.
Pipeline
SHAPE defines its Pipeline (Pipeline) as the Group's total identified future project tender opportunities. All opportunities included in the Pipeline would be considered by the Company for tender, with a tender decision to be made following receipt of further information regarding the relevant project specifics and scope.
SHAPE actively identifies and monitors the commercial construction market for potential opportunities, informed by regular engagement across the business with clients and industry consultants. SHAPE utilises a customised relationship management software system to analyse identified market opportunities. SHAPE has a total identified project Pipeline of ~$1.9bn as at September 2021. Of this Pipeline, SHAPE has submitted tenders for projects totalling ~$280m and is in the process of tendering for a further ~$230m of works. Previous SHAPE clients comprise over 65% of the total Pipeline, with SHAPE's long-standing relationships and existing track-record of project delivery providing a level of confidence regarding future contract wins. ~80% of FY21 pro forma revenue was derived from existing SHAPE clients, demonstrating SHAPE's ability to win repeat business.
~86% of projects in the Pipeline are anticipated to be awarded in FY22 with a further ~6% expected in FY23. SHAPE has a high level of visibility on Pipeline projects that are anticipated to be awarded within the next six months. It is anticipated by industry participants (refer to Section 3.7) that, as vaccination rates increase and CBD's reopen, there will be renewed demand for commercial refits and an increase in leasing that will further enhance the Pipeline.
Business & Operating Model
SHAPE operates an end-to-end service and delivery model across the project lifecycle, from new build, fit-out and refurbishment, and recurring minor works. The Group principally acts as a head contractor on fit-out and refurbishment projects across Australia, with capabilities across a range of projects and services, including:
New build fit-outs;
New build (including modular buildings);
End of lease make-goods;
New lease fit-outs;
Post project support services throughout the lease term;
Interior reconfigurations;
Refurbishment of ageing building stocks; and
Façade remediation.
SHAPE utilises a variety of delivery and contracting models depending on the nature of the project, specific customer requirements and risk profile. Typically, SHAPE is engaged by an independent project manager on behalf of the asset owner or end user, and in less common cases by the asset owner or operator directly.
SHAPE's primary workforce comprises project managers, construction managers, project engineers and site managers, with trade works being sub-contracted to industry professionals.
Depending on the procurement methodology, SHAPE typically generates its revenue on a Lump Sum or Cost Plus basis. Most contracts require bank guarantees or performance bonds to secure delivery of contract obligations.
SHAPE also operates DLG SHAPE jointly with a First Nations owned business, the David Liddiard Group (DLG). DLG SHAPE provides fit-out and refurbishment services nationally, and has an established track record in delivery projects with specified Indigenous Procurement Policy (IPP) criteria.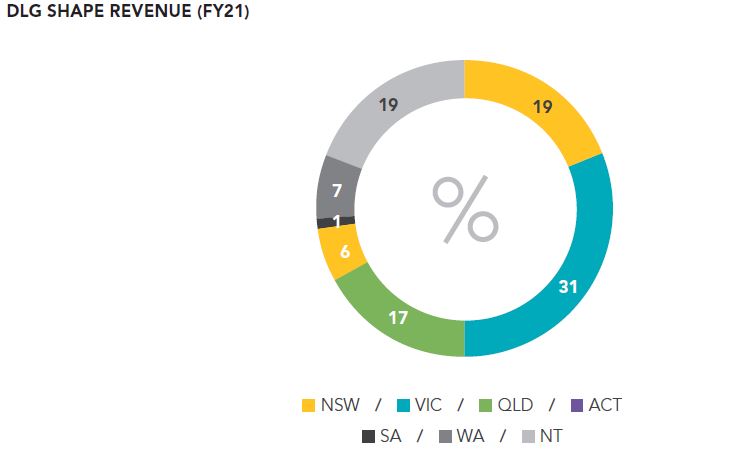 Growth Strategy
SHAPE's growth strategy is focused on both organic and prudent acquisition initiatives in the near to medium term that leverage its core competencies and capabilities. These include:
Expansion into target growth sectors including Defence, cladding / façade replacement, healthcare and science works;
Geographic expansion including establishment of dedicated regional offices, and increasing market penetration in existing regions; and
Service offering expansion including both vertical and horizontal integration, with a focus on opportunistic, complementary bolt-on acquisitions.