Investment Highlights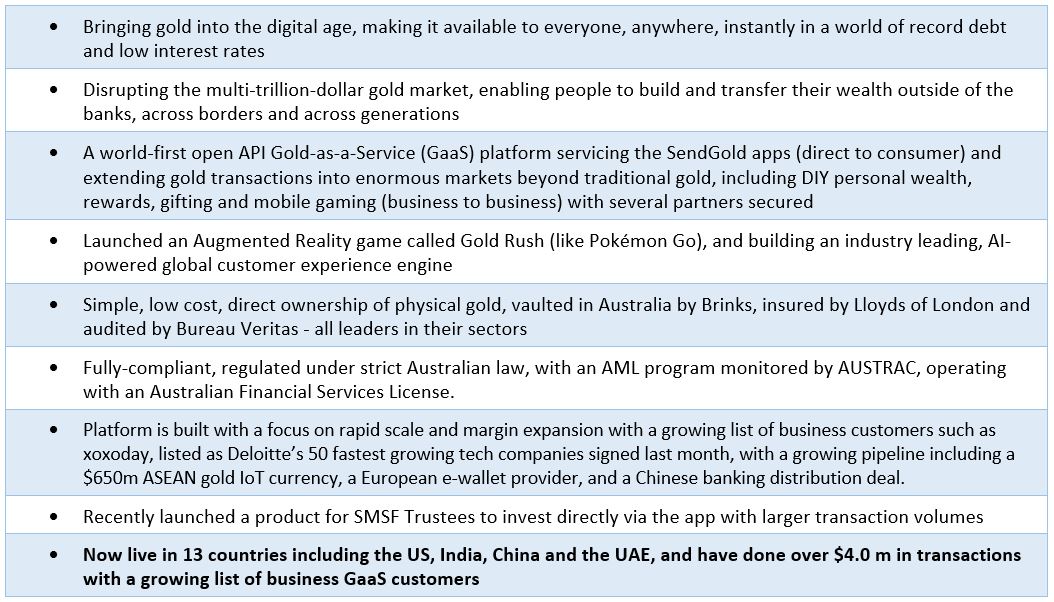 Introduction
SendGold (Mobile Asset Holdings Ltd) is a unique, peer-to-peer digital money platform allowing customers to save, send or gift using gold as money. The platform was developed to bring gold into the digital age, making it available to everyone, anywhere, instantly in a world of record debt and low interest rates.
Fully regulated under Australian Law, SendGold is live in 13 countries including US, India, China and the UAE and have done over $4.0m in transactions with a growing list of business Gold-as-a-Service (GaaS) customers. Current global uncertainty has supported an 819% increase in monthly gold demand has since January 2020.
The Company's revenue model is globally scalable with a pricing model to support several use cases and channels with a platform that drives margin expansion. The secure platform has been developed in conjunction with leaders in the field, with all gold vaulted in Australia with Brinks, insured by Lloyds of London and sourced from refiners certified by the London Bullion Metals Association (LBMA).
Next year Australia is expected to become the largest gold supplier in the world. The global gold investment market is valued today at $7 trillion, with gold traded 25% more than the S&P 500.
SendGold's GaaS platform will allow it to take gold into large new growth markets, like online gifting ($45b), Chinese New Year gifting ($130b), gaming ($135b), and global digital remittances ($720b).
SendGold has also launched an Augmented Reality game called Gold Rush (like Pokémon Go), and building an industry leading, AI-powered global customer experience engine.