Offer now closed. Please ensure applications are funded as soon as possible.
UPDATE
SendGold Investor call with CEO, Jodi Stanton and CTO, Alan Keenleside. recording available here
SendGold is pleased to announce that they are now live in South Africa, the country that produced half of the world's gold. more here
Introduction
SendGold is a peer-to-peer digital money platform which allows customers to save, send, pay or gift quickly and easily using gold.
SendGold is the trading name of Mobile Assets Pty Ltd, a 100% owned subsidiary of the issuer, Mobile Asset Holdings Limited.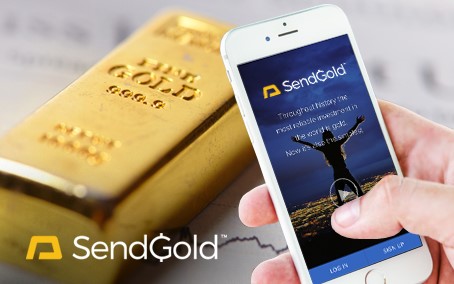 Market Problem
SendGold believe a digital currency revolution has begun because the old money system needs an upgrade:
The monetary crisis that began in 2009 has cost over $15 trillion in banker bailouts and investor losses, but the system is not fixed. It still requires increasing quantities of new debt and is still based on bank currencies that buy less and less in goods and services every year
It still takes days to send funds to another country even though we have a global internet and 6 billion mobile phones in people's hands around the world. There are 2 billion people left behind as they have no access to a bank account
When money does not hold its buying power, people must invest separately just to stay even. But unlike the wealthy who can afford to tie up the majority of their funds in investment assets that can appreciate in value, most people around the world need their funds to be liquid 24/7.
SendGold addresses each of these problems with their digital gold money platform. It is low-cost, global and peer-to-peer like Bitcoin but is instead based on a real asset.

SendGold: Based on Gold
SendGold is based on physical gold bullion because they believe gold is one of history's most reliable investment assets
Long-term returns from gold also compare favourably with returns from other asset classes like equities and bonds, and since 2000 gold has even kept pace with Australian house prices.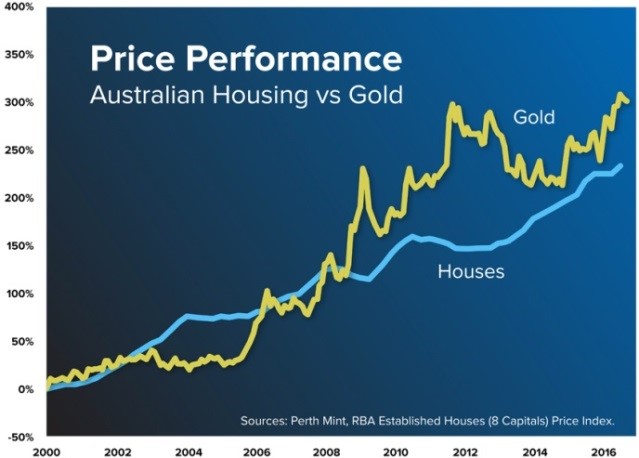 Key Achievements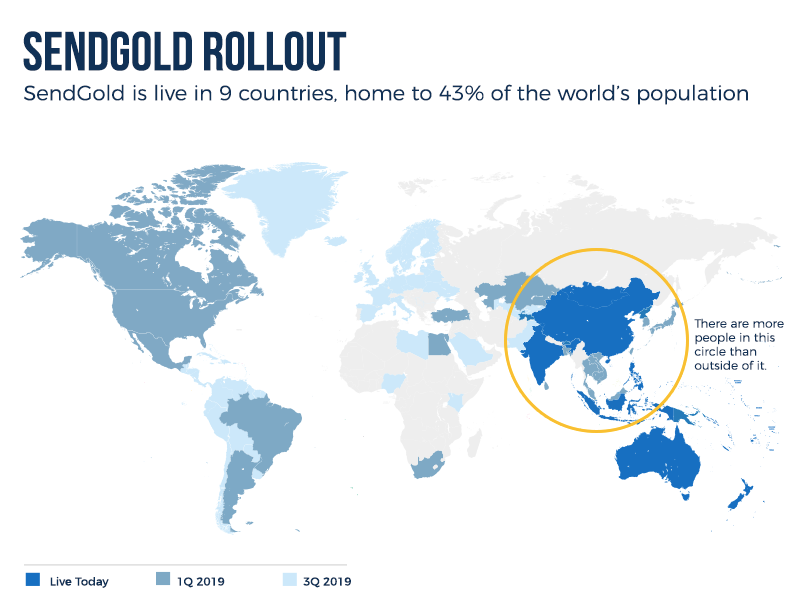 Gold Rush by SendGold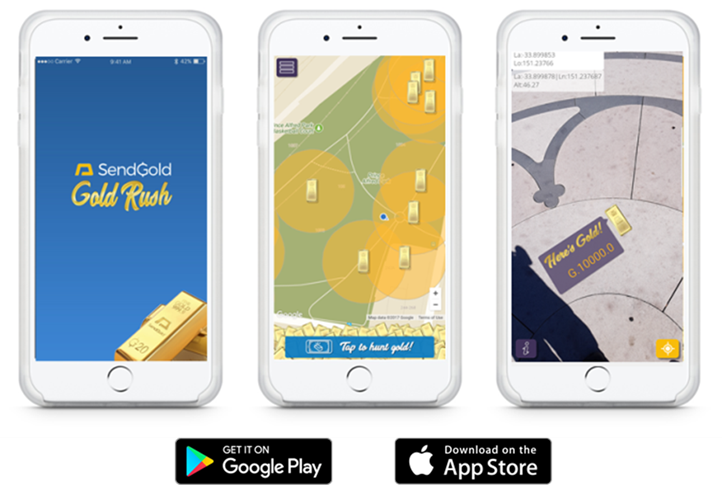 Market Opportunity
Aims to address the demand for simple investments and mobile payments across Asia Pacific and around the world
Targets increasingly wealthy APAC middle class (estimated US$3.3 trillion in new money for investment in the next decade) with an asset they understand and value
Operates in large, high-growth sectors including payments (US$2 trillion in provider revenues p.a.), mobile payments (growing at 33% YOY), cross-border remittances (US$540 billion p.a.), gold trading (US$200B per day), online gifting, social gaming, and rewards.

SendGold Product Roadmap
SendGold intend to grow the Company along several degrees of expansion: geography, hard assets, sectors and technology innovation: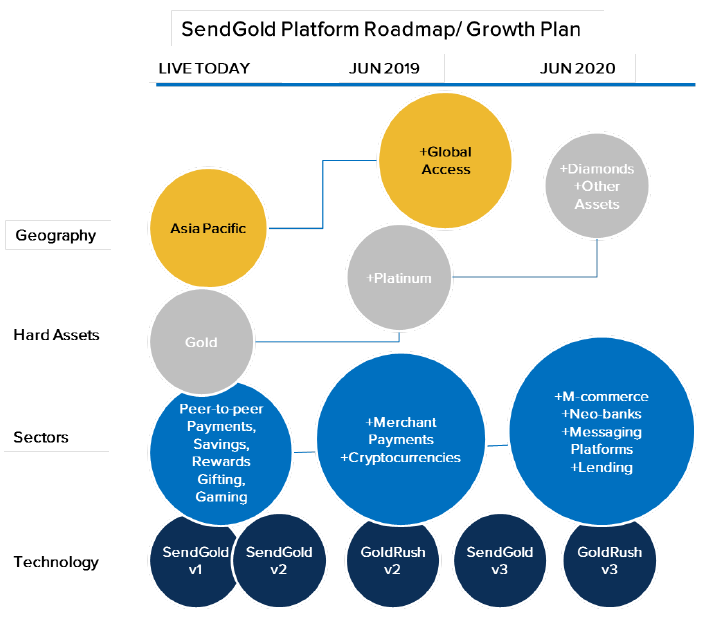 Offer Overview
SendGold has a pre-money valuation of ~A$20.1 million having built the business to-date with founder's funds and private investment rounds. The Company is looking to raise a minimum of $500,000 and a maximum of $2,000,000 via this equity crowdfund offer (the Offer) at $0.50 per share.
The funds raised will be predominately applied to:
Marketing & brand awareness
People & product development.
SendGold's issued capital following the Offer is provided below: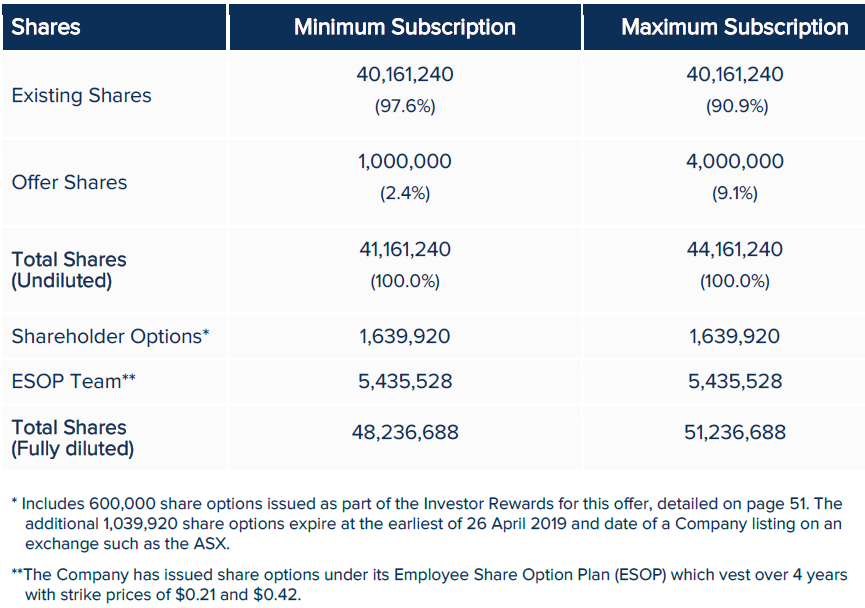 Early Stage Innovation Company
The Company has assessed itself as a qualifying Early Stage Innovation Company (ESIC), and investors who purchase new shares in qualifying ESICs may be eligible for certain early stage tax incentives.
See the link to the ATO website under the Company Releases tab for more information.

Investor Rewards


Risks
SendGold is subject to a range of risks. While investors should consider all the risks before applying for shares, we recommend that investors take particular notice of the following:

Competition and new technologies risk – Competitors may have significant additional experience and/or resources to develop competing products which may adversely affect SendGold's prospects.
Development risk – New products may be delayed in development, may not be capable of cost-effective commercialisation, or may not be supported or adopted by new or existing customers, affecting the Company's prospects.
Gold Price risk – The Company may incur losses on unhedged gold amounts and may be adversely affected by a longer term or persistent fall in the global price of gold, making SendGold less attractive to customers.
Regulatory risk – Changes in applicable regulatory law such as licensing and reporting obligations could increase regulatory compliance costs and affect the Company's ability to promote the Platform.
Customer adoption risk – If the Company fails in the execution of its marketing campaign, customer adoption, and business partnerships strategies, it may have an adverse impact on profitability.
Key man risk – If the Company cannot retain its key people, this may have a detrimental impact on the business.
Funding risk – If the Company requires further financing, there is no assurance that this can be obtained on favourable terms or at all, which may affect the Company's ability to achieve its goals.

A more detailed discussion of risks facing the Company are set out in Section 2.17 of the Offer document.

Management and Board
SendGold has a highly experienced and capable Management and Board across technology, product, financial services and compliance. They bring a track record with top Wall Street firms, online institutional foreign exchange dealers, and risk management consultancies.
Jodi Stanton, Co-founder and CEO
Experience:
6 years financial risk and derivatives advisory with insurers Aetna and UNUM and on Wall Street with clients such as J.P. Morgan and Goldman Sachs
10 years consulting to financial and technology companies, including with McKinsey & Company
Extensive experience investing in, building and leading technology businesses
Bachelors Mathematics, M.B.A. Yale University, former Actuary A.S.A, M.A.A.A.
Mark Pey, Co-founder, Director, Business Development & AML/CTF Compliance Officer
Experience:
10 years Institutional Asset Management, primarily J.P. Morgan
A founder of the first web-based institutional forex platform (Currenex), now the world's third largest
10 years in senior roles for Microsoft Corporation including Financial Services Industry Manager.
Alan Keenleside, Chief Technology Officer
Experience:
15 years of experience delivering technology for the Financial Markets covering Clearing and Settlement, Custody Operations and International Trading.
Former Head of Equity Technology at Bank of America Merrill Lynch
Helped deliver the Nabtrade international trading platform.
Steve Wilson, Chief Security Advisor
Experience:
Recognised global expert in cybersecurity in financial services
Active contributor to numerous cybersecurity committees and industry programs
Consulted to Westpac, Australia Post, Australian Stock Exchange, Standard Chartered Bank Singapore
Nine patents for identity management technology.
The Offer is subject to a Maximum Subscription amount of $2,000,000. If the Maximum Subscription is reached, the Offer will close early. Applications will be treated on a time priority basis and may be subject to scale back, so please fund your application as soon as possible.
IMPORTANT: Please read the below information before investing in this Equity Crowdfunding offer.
RISK WARNING: Crowd-sourced funding is risky. Issuers using this facility include new or rapidly growing ventures. Investment in these types of ventures is speculative and carries high risks. You may lose your entire investment, and you should be in a position to bear this risk without undue hardship. Even if the company is successful, the value of your investment and any return on the investment could be reduced if the company issues more shares. Your investment is unlikely to be liquid. This means you are unlikely to be able to sell your shares quickly or at all if you need the money or decide that this investment is not right for you.
Even though you have remedies for misleading statements in the replacement offer document or misconduct by the company, you may have difficulty recovering your money. There are rules for handling your money. However, if your money is handled inappropriately or the person operating this platform becomes insolvent, you may have difficulty recovering your money. Ask questions, read all information given carefully, and seek independent financial advice before committing yourself to any investment.
5 DAY COOLING OFF PERIOD: There is a 5 business day cooling off period for retail investors. During this period, you may withdraw your application and receive a full refund into your nominated refund account. Please note: After the 5 day cooling off period has expired, you will be unable to withdraw your application. More information here.
ONMARKET FEES: Upon successful completion of the Offer, a maximum fee of 6.5% of the funds raised will be paid to OnMarket by the Company.
ONMARKET INTERESTS: OnMarket and its associates will be participating in this offer.
ONMARKET INTERESTS AND AMOUNTS SUBJECT TO COOLING OFF: The funding bar displayed under each crowd funding offer may include applications where payments are yet to be made and amounts that are subject to the cooling off period.
Section 734(6) disclosure: The issuer of the securities is Mobile Asset Holdings Limited ACN 614 791 043. The securities to be issued are fully-paid ordinary shares. The disclosure document for the offer can be obtained by clicking on the link above. The offers of the securities are made in, or accompanied by, a copy of the disclosure document. Investors should consider the disclosure document in deciding whether to acquire the securities. Anyone who wants to acquire the securities will need to complete the application form that will be in or will accompany the disclosure document (which can be done via the electronic application form which will become available by clicking the bid button above).​
.