Highlights
Founded in 2012, Revvies has developed an innovative, fast dissolving mouth strip that delivers 40 mg of caffeine
Provides athletes, students and busy people with the ability to have a faster, sugar-free, safe and consistent caffeine boost anywhere, anytime
Valued at $1.75 million, the company is aiming to disrupt the multi-billion dollar energy drink and sports nutrition markets
They have sold over 100,000 packs, generating over $200,000 in revenue
Stocked in 475 stores across Australia including Chemist Warehouse, Australia's largest pharmacy group
Supplies 6 national sports teams, 20 professional clubs and Olympic athletes from Australia, New Zealand and the UK
Commenced export trials to Singapore and Malaysia
Early discussions underway with distributors in China and Japan with plans to expand into the Americas
Planned exit via trade sale or IPO within 2-5 years
Invest as little as $250 and up to $10,000 and own shares in Revvies
Detailed below is a summary of the Offer. Please see a full overview of the Company and the Offer in the Offer Document, available under Company Releases.
Background
Revvies Energy Strips are the brain child of husband and wife team, Jacqui and John Nolan-Neylan. They developed Revvies as they wanted a faster acting caffeine boost without sugar, but nothing on the market met their need.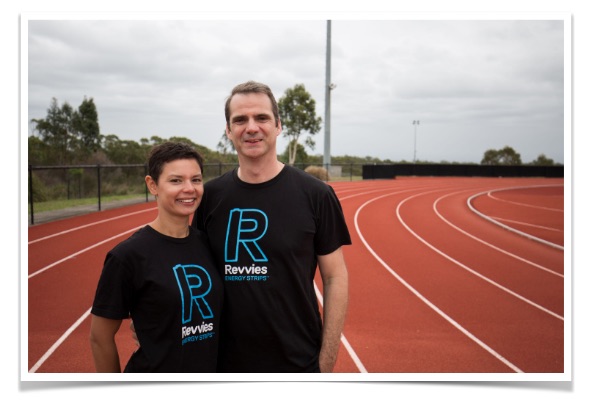 Revvies' unique format provides athletes, students and busy people with the ability to have a faster, sugar-free, safe and consistent caffeine boost anywhere, anytime, as the Revvies 5-pack fits in any pocket, purse or gym bag and can be taken without water.
Caffeine is perhaps one of the most researched and widely used sports performance ingredients with strong evidence showing caffeine masks fatigue, increases alertness, assists in the conversion of fat to energy and assists blood flow.
Since inception, the founders have focused their energy on refining the sales and marketing approach and to prove demand, focusing on the Australian market. Now having sold more than 100,000 packs, generated revenue over $200,000 and built an enviable following amongst professional sporting teams, the company is looking for funds to accelerate growth.

So who is using Revvies?
Revvies already supplies 6 national sports teams, 20 professional clubs and Olympic athletes from Australia, New Zealand and the UK. Revvies athlete ambassadors include Dual Olympians Eloise Wellings and Jessica Trengove, and they currently sponsor the NSW Waratahs in Super Rugby, and Wellington Phoenix in the A-League. Other teams that use Revvies include the Australian Cricket Teams, Brisbane Lions, St Kilda and the Paramatta Eels.
Revvies are also used by recreational runners, cyclists and everyday people to give them the edge they need.

Unique Selling Points
Revvies Energy Strips differentiate from traditional caffeine sources in five key ways:
Faster - Users report feeling the boost in seconds and they are also much faster to consume than established caffeine sources such as energy drinks, gels, shots and coffee.
More convenient - Revvies are more convenient to carry due to their small size and weight.
Sugar-free - Revvies are sugar-free and less than one calorie.
Great value - With an RRP of $4.50 for five strips, a serve costs just $0.90.
Better for Sports - Revvies are ideal for consumption immediately before or during exercise because they contain no liquid and little mass, so they won't slosh around or cause a stitch.
Revvies are also gluten free, suitable for vegans and can be taken without water.
Offer Overview
Revvies Energy Strips (Aus) Limited has a pre money valuation of $1.75 million. The Company is looking to raise a minimum of $250,000 and a maximum of $450,000 via this equity crowdfund offer (the Offer).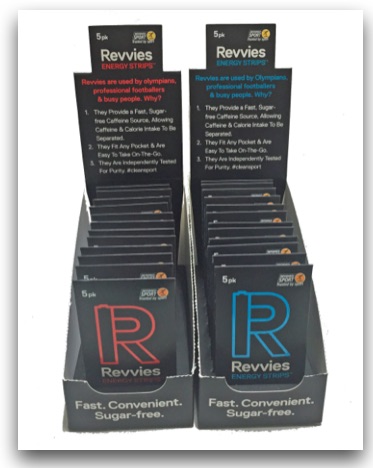 The funds raised will be predominately applied to:
Marketing – Increasing the marketing spend, raise brand awareness, drive sales and expand distribution.
Working capital – Secure the human resources it needs to manage and accelerate growth.
Research and development – Deepen and broaden the product's appeal, conduct independent research into product effectiveness, creating unique IP.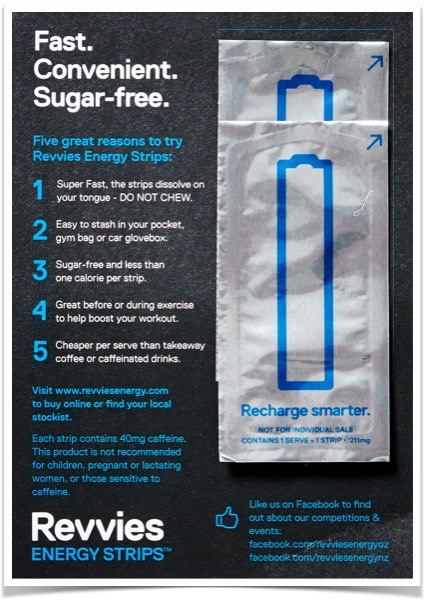 Goals
Revvies aims to be the go-to caffeine source for people undertaking any physical activity and for busy people, with a view to exit via trade sale or IPO within the next 5 years. The company plans to broaden its distribution network through sports, convenience, petrol and grocery channels and double sales in key retailers such as Chemist Warehouse. Revvies also plans on exporting to 2 major Asian markets and envisages introducing a stronger strip to its product line within the next 2 years.
Risks
Revvies Energy Strips Limited is subject to a range of risks. While investors should consider all the risks before applying for shares, we recommend that investors take particular notice of the following:
Interruption to supply – If the supply of ingredients is interrupted, or Revvies is required to find a new manufacturer, there could be an impact on the company's ability to meet supply obligations while a new supplier is sourced.
Interruption to business – Currently one month of stock is stored off site. If there is an interruption to business at its main trading location, there may be a delay in stock delivery and an impact on revenue and profitability.
Competition risk – It is possible that a large player with established distribution streams enters the market which may result in a loss of distributors and customers impacting profitability.
Key staff risk – The company will put in place "key man" insurance. Should any key staff leave the business there would be short term costs involved in relacing these individuals.
Regulatory risk – Revvies is not TGA registered and relies on Trans-Tasman Mutual Recognition Act to sell its product in Australia. Changes to legislation would require the supplier to become TGA registered, which could have an adverse effect on the business.
Distribution risk – Revvies is reliant on a relatively small group of domestic distribution channels to get product to market. Inability to source new channels, or the loss of existing channels, will adversely affect profitability.
Funding risk – Revvies may run out of cash and may need to raise additional funds to achieve its goals. This may not be on favourable terms and may dilute shareholders. If additional funds are not available, the company may not be able to execute its business strategy over the medium term.
A more detailed discussion of risks facing the Company are set out in Section 2.14 of the Offer document.
Management and Board
Revvies has a highly experienced and capable Board. Revvies utilises a variety of contractors and casual staff, with John and Jacqui currently Revvies only full-time staff:
John Nolan-Neylan, Managing Director
Role: John is responsible for overseeing the strategic planning, sales and marketing functions of the business.
Experience:
20 years' experience managing start-ups and SMEs in Australia and the UK.
Developed new export markets in Europe, Asia, North and South America and the Middle East.
Established the European hub for the Australian cosmetics brand, Skin Doctors Cosmeceuticals, growing the UK and European turnover from AU$0 to >AU$10 million in just over 5 years, whilst building a team of 22 staff, including an award-winning marketing department.
MBA and a Master of Marketing.
Jacqui Nolan-Neylan, Operations Director and Company Secretary
Role: Jacqui is responsible for covering the operations, finance and logistics functions.
Experience:
15 years' experience working in senior management roles in start-ups and SMEs.
Experience in HR, strategic planning, logistics, localisation, compliance, administration, facilities, due diligence and accounts.
Key team member of UK based Ash Gaming Ltd, expanded from 7 to over 50 employees, assisting in the company's sale in 2011 for GB£23 million pounds. (~AU$44 million).
BA and MBA (candidate).
The Offer is subject to a Maximum Subscription amount of $450,000. If the Maximum Subscription is reached, the Offer will close early. Applications will be treated on a time priority basis and may be subject to scale back, so please fund your application as soon as possible.
IMPORTANT: Please read the below information before investing in this Equity Crowdfunding offer.
RISK WARNING: Crowd-sourced funding is risky. Issuers using this facility include new or rapidly growing ventures. Investment in these types of ventures is speculative and carries high risks. You may lose your entire investment, and you should be in a position to bear this risk without undue hardship. Even if the company is successful, the value of your investment and any return on the investment could be reduced if the company issues more shares. Your investment is unlikely to be liquid. This means you are unlikely to be able to sell your shares quickly or at all if you need the money or decide that this investment is not right for you.
Even though you have remedies for misleading statements in the offer document or misconduct by the company, you may have difficulty recovering your money. There are rules for handling your money. However, if your money is handled inappropriately or the person operating this platform becomes insolvent, you may have difficulty recovering your money. Ask questions, read all information given carefully, and seek independent financial advice before committing yourself to any investment.
5 DAY COOLING OFF PERIOD: There is a 5 business day cooling off period for retail investors. During this period, you may withdraw your application and receive a full refund into your nominated refund account. More information here.
ONMARKET FEES: Upon successful completion of the Offer, a fee of 7.5% of the funds raised will be paid to OnMarket by the Company.
ONMARKET INTERESTS AND AMOUNTS SUBJECT TO COOLING OFF: The funding bar displayed under each crowd funding offer may include applications where payments are yet to be made and amounts that are subject to the cooling off period. OnMarket and its associates will be participating in this offer.
Section 734(6) disclosure: The issuer of the securities is Revvies Energy Strips Limited ACN 600 703 848. The securities to be issued are ordinary shares. The disclosure document for the offer can be obtained by clicking on the link above. The offers of the securities are made in, or accompanied by, a copy of the disclosure document. Investors should consider the disclosure document in deciding whether to acquire the securities. Anyone who wants to acquire the securities will need to complete the application form that will be in or will accompany the disclosure document (which can be done via the electronic application form which will become available by clicking the bid button above).??
.