Update: The Lead Manager has confirmed that the company has reached the $5 million minimum offer size.
Introduction
Renergen Ltd (ASX: RLT) is an emerging producer of helium and liquefied natural gas (LNG), with existing production and sales of compressed natural gas (CNG). Renergen listed on Johannesburg's AltX securities exchange in June 2015 as South Africa's first listed alternative and renewable energy Company with a market capitalisation of approximately $77.7 million.
The Technical Report prepared by MHA Petroleum Consultants the states that the net present value of the Proved + Probable (2P) Methane and Helium Net gas Reserves at discount rates ranging from 15% to 20% is ZAR9.788B to ZAR6.758B (see table 1, page 4 of the MHA Report in the prospectus). The exchange rate between ZAR to A$ at 13 May 2019 is approximately 9.9:1.
Renergen's principal asset is its 90% shareholding in Tetra4 Proprietary Limited, which holds the first and currently only onshore petroleum production right in South Africa, giving it first mover advantage on distribution of domestic natural gas. The production right was issued by the DMR and is valid for a remaining 23 years. Tetra4's Virginia Gas Project is located in the Free State, approximately 250 km southwest of Johannesburg. The gas fields are situated in an energy scarce area, with high customer density and limited competition. The natural gas contains one of the richest helium concentrations recorded globally.
Tetra4 will sell its helium product under an offtake agreement with Linde Global Helium, as well as to other participants in the global helium industry. Tetra4 has a fully termed offtake agreement with Linde Global Helium for the Virginia Gas Project's helium production for up to 24,000 mcf per annum.
Helium, separated from natural gas after extraction from the ground, is a rare, inert gas, which is an irreplaceable element without substitute. The Company's planned product, liquid helium, is essential for superconducting due to its ultra-low temperature (minus 269°C) and is increasingly viewed as a high-tech element owing to its growing use in electronics manufacturing. As a commodity, helium has experienced strong demand growth and diminishing supply and is now considered to be strategic, given its scarcity. Helium's lack of substitutes in its main markets of MRIs, high-end science engineering, pressure/purge applications and semiconductors has helped the helium BLM auction prices increase by over 460% since 2007.
The following chart depicts the estimate of global supply and demand for helium: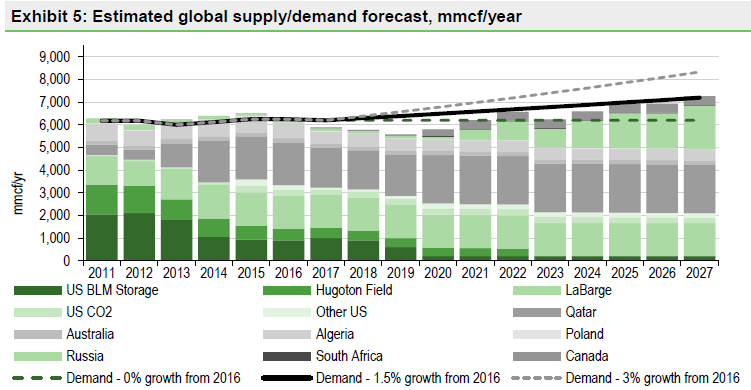 As the Company is already listed on the AltX Securities Exchange in Johannesburg, the Company is offering CHESS Depositary Interests (CDIs) over ordinary shares. CDIs represent the beneficial interest in the underlying shares in a foreign Company and are traded in a manner similar to shares of Australian companies listed on the ASX. Each Share will be equivalent to 1 CDI.
Investment Highlights
Proven helium reserves make Tetra4 a meaningful player in the global landscape – a high helium concentration in its gas stream, with its most recent well producing 11% helium.
First mover advantage - granted the first and only onshore petroleum production right in South Africa and has experience in producing and selling natural gas since May 2016.
Stage One expansion is fully funded – due to the ~$11.8 million rights issue in November, and the committed debt funding of US$40 million from OPIC, the United States government development finance institution. The conditions to OPIC's committed debt funding include execution of formal agreements on or prior to 30 September 2019.
Stage Two upside potential – the 11% helium concentration was discovered in a sandstone trap contained within the production right. The Company intends drilling horizontal wells into the sandstone to prove the full extent of the helium contained within the field.
Large LNG market in South Africa - Demand for LNG is expected to significantly exceed its production capacity, given that South Africa lacks LNG import infrastructure and has no other access to LNG.
Economic stimulator for the region - garnered significant support from local business and communities which is an important underpinning of the social licence to operate and will continue to be a focus during the proposed expansion of the Virginia Gas Project and after helium and LNG production commences.
Offer overview
Renergen Limited is looking to raise A$5 million via it's IPO with the ability to accept a further A$5 million in oversubscriptions.
The purpose of the Offer is:
to fund the drilling of additional production wells in Tetra4's proven gas reserves, aiming to produce gas to operate the New Plant at maximum capacity;
to fund a feasibility study for the commercialisation of the high concentration helium reserves contained in the Virginia Gas Project's prospective sandstone deposit;
to pay for costs and expenses associated with the Offer; and
to provide working capital.
Current operations
Tetra4 is currently producing and selling CNG on a small scale from its existing CNG Plant, which can produce up to 200 GJ per day of gas from one well. The CNG Plant includes a compression station, mobile storage units and a dispensing station located at the site of Tetra4's customer, Megabus, which has been successfully trialling replacement of diesel with Tetra4's CNG product in its buses since May 2016.
The CNG Plant commenced operation in May 2016 and was operating per design specifications since September 2016. The operation has been successfully supplying dedicated CNG buses in the area and has served its purpose of proving the business case for the substitution of CNG for diesel by local fleet operators. Tetra4 will commence supplying CNG to a filling station in Johannesburg for Anheuser-Busch during H1 CY2019. Once the New Plant is operational, CNG production will cease at the Virginia Gas Project and will be replaced with LNG.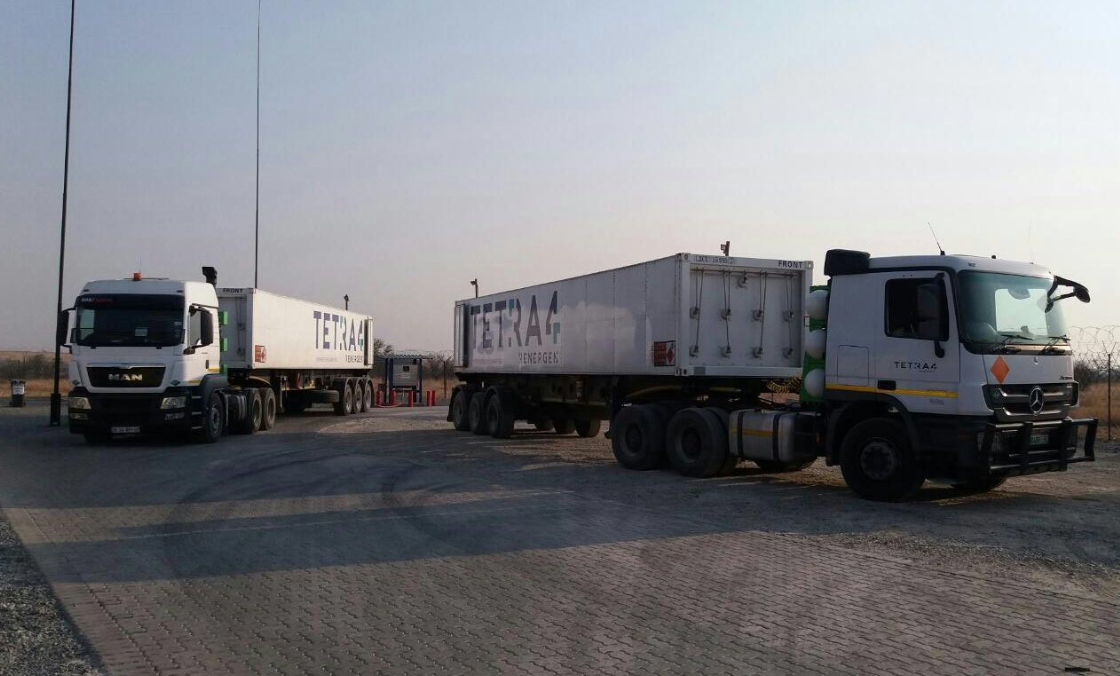 Why is helium important
Helium is a unique industrial gas that exhibits characteristics both of a bulk, commodity gas and of a high-value "specialty" gas. Due to the high cost of extraction, helium use is restricted to relatively few, generally high-technology, applications.
Liquefied helium is distributed in bulk containers each carrying over 25,000 nm3. It is the only industrial gas distributed in such large quantities on a global basis. However, only a handful of sources in the world produce helium.
Helium is a vital and irreplaceable element in many modern industries. Helium is used for space exploration, rocketry, high level science, in the medical industry for MRI machines, fibre optics, electronics, telecommunications, superconductivity, underwater breathing, welding and nuclear power stations and lifting balloons.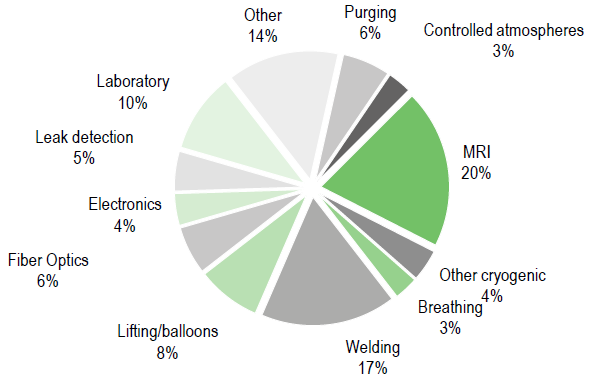 Business overview
Renergen is an emerging producer of helium and LNG, with existing production and sales of CNG. Renergen's natural gas is a renewable resource, since it is produced by living microbial organisms.
The Company's business focus is on the commercialisation of the Virginia Gas Project which has significant reserve estimates of both helium and natural gas. The gas fields are situated in an energy scarce area, with high customer density and limited competition, and contains one of the richest Helium concentrations recorded globally.
The expansion of the Virginia Gas Project to produce helium and LNG will be undertaken in stages. Stage One involves connecting 12 existing economically viable gas wells to a new gas pipeline and constructing the New Plant, for the production of helium and LNG. The New Plant will have a maximum daily production capacity of 74.6 mcf (or about 350 kg) of liquid helium and 2,700GJ (or about 50 tons) of LNG. The New Plant has been designed to be scalable, to support the anticipated growing demand for helium and LNG.
Tetra4 has obtained all regulatory approvals required for the Stage One expansion including obtaining an Environmental Authorisation. Stage One is fully funded as a result of the Company completing a rights issue in November 2018. Renergen will commence the Stage One of the expansion regardless of whether the Minimum Subscription is raised.
Table 1: Major Milestones of Renergen and the Virginia Gas Project

Renergen's strategy is to develop the Virginia Gas Project and begin exploring the Evander Exploration Right and may then seek additional opportunities in the upstream helium and natural gas sector to complement its growth strategy.
If Tetra4 is able to develop the South African LNG market, Renergen will look for opportunities to consolidate similar early stage natural gas fields with the ambition of building a large-scale South African natural gas Company with diversified revenue streams.
Board and Management
Renergen Limited's board and management bring relevant experience and skills to the Company, including industry and business knowledge, financial management and corporate governance experience, including:
Brett Kimber (Chairman) Brett is currently the CEO of Eazi Access Rental Pty Ltd. He stepped down as Managing Director of African Oxygen Limited in January 2015 after a twenty-five-year career in the broader Linde Group across Asia, the US and South Africa.
Stefano Marani (MD and CEO) was part of the team which acquired Tetra4 from Molopo Energy Limited in October 2013 and has been involved with the Company in a management role since October 2013.
Fulufhedzani (Fulu) Ravele (Executive Director and CFO) has experience in financial accounting, internal and external audit
Nick Mitchell (Executive Director and COO) was instrumental in the acquisition of Tetra4 from Molopo Energy Limited in October 2013. He was appointed to the Board of Renergen in November 2015 following the acquisition of Tetra4 by Renergen. Nick is also the current Chairman for the Onshore Petroleum Association of South Africa (ONPASA) which represents the upstream onshore petroleum industry in South Africa
David King (Non-Executive Director, elect) professional geoscientist and has over 38 years' experience in oil and gas and other natural resources industries.
Mbali Swana (Non-Executive Director) has significant experience in implementing large scale projects across Africa and is currently developing Prop5's Africa-wide strategy for the development of infrastructure.
Bane Maleke (Non-Executive Director) spent 20 years in senior management at the Development Bank of South Africa and held the position of Regional Executive for the Southern African Development Community and East Africa Regions.
Francois Olivier (Non-Executive Director) is a portfolio manager and executive committee member at Mazi Asset Management. He has 19 years of investment research and portfolio management experience, the first seven of which were spent in the USA.
Risks
You are encouraged to read the Prospectus carefully as it contains detailed information about the Company and the Offer. Like all investments, an investment in the Company carries risk. Renergen Ltd is subject to a range of risks, including but not limited to risks associated with construction and new production facilities, Regulatory risks, investment in emerging markets and exposure to commodity prices. Please refer to Section 7 of the prospectus for further details.
Section 734(6) disclosure: The issuer of the securities is Renergen Limited (Registration number: 2014/195093/06; ABN 93 998 352 675). The securities to be issued are CHESS Depository Receipts (CDIs) over ordinary shares in the capital of Renergen Ltd, to be quoted on ASX. The disclosure document for the offer can be obtained via the link above. The offers of the securities are made in, or accompanied by, a copy of the disclosure document. Investors should consider the disclosure document in deciding whether to acquire the securities. Anyone who wants to acquire the securities will need to complete the application form that will be in or will accompany the disclosure document (which can be done via the electronic application form which will become available by clicking the bid button above).​
OnMarket has a limited allocation. The offer may close early and the 'Pay By' dates may change. Bids over $10,000 may be scaled back more heavily. Duplicate bids under the same investment profile, investor name or residential address may be cancelled.
.