The PT Blink offer is now closed.
Please consider the offer document and general risk warning before investing.
Investors are entitled to a 5 day cooling-off period.
OnMarket's fees are a maximum of 7.5% of the funds raised, paid by the Company.
If you wish to invest > $10,000 you will be required to be verified as a Sophisticated or Professional investor, you can do this via OnMarket: APPLY HERE
PT Blink has a proven technology that can significantly reduce construction time and lower the costs of building multi-level buildings. By using steel columns and trays manufactured offsite, PT Blink can double project IRR and improve worker safety, accuracy of design and environmental outcomes.
Highlights
Scalable, patent pending building technology using steel columns and trays manufactured off site then strengthened using post-tensioning
Offsite manufacturing results in greater accuracy of design and improved safety
Reduces construction time for multi-level buildings by up to 50%
Uses up to 30% less steel than traditional structures
Potential to materially improve project IRR for developers
Facilitates "Buildings on Buildings" for construction above old, heritage and confined buildings
Revenues earned through licensing the PT Blink technology, and does not bear construction risk
Successfully completed a seven-storey building in Brisbane, reducing construction time from 16 months to 11 months
Four contracts in place, including projects being built by Multiplex and Fletcher Building
Founder, Murray Ellen has over 30 years' experience in innovative steel design technology
Looking at potential IPO in 12-18 months
The Opportunity
PT Blink is an innovative building technology company that has successfully licensed its patent pending technology (the 'Blink Technology') for a number of construction projects in Australia. The Blink Technology is a method of constructing multi-storey buildings using steel columns and steel trays manufactured off site and then strengthened using post-tensioned steel cables.
This construction method allows the building to be erected in a way which is dramatically safer, more accurate, faster and cheaper. Constructing a significant component of the build off-site in a factory, at ground level, reduces the potential for accidents onsite. This also allows greater accuracy at the time the structure is erected due to the components being machine made. Management estimates that current build times are reduced by ~50% utilising the Blink Technology.
The Blink Technology was successfully used in the construction of a seven-story residential building at Spring Hill in Brisbane. Completed on 2017, the construction time was reduced from an estimated 16 months to an actual time of 11 months. The success of the Spring Hill project has resulted in contracts for the design of a further four projects, including projects being built by Fletcher Building and Multiplex.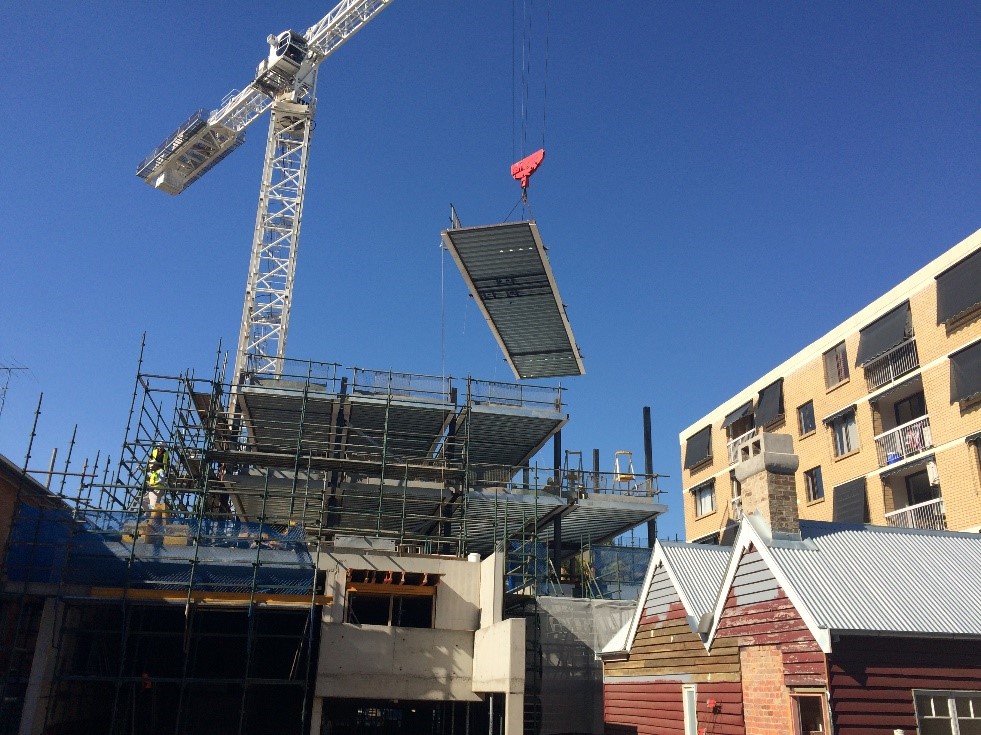 Spring Hill, Brisbane project under construction
Business model
PT Blink is a technology company which derives its income by licensing the Blink Technology. In some cases, PT Blink may license the technology to the developer only, however, for all current and future contracts, Management intends to license to all parties, including developers, builders, structural engineers, components manufacturers and installers.
PT Blink does not take any building or development risk. Structural design risk is sometimes taken and backed by appropriate sub-consultants.
Business strategy
The Blink Technology replaces the traditional construction industry methodology. To further its application and use, they will continue to engage with developers and builders to demonstrate the benefits of the technology. They will also use four current projects as demonstration sites for prospective users, as well as setting up demonstration modules in Toowoomba, Sydney and Melbourne.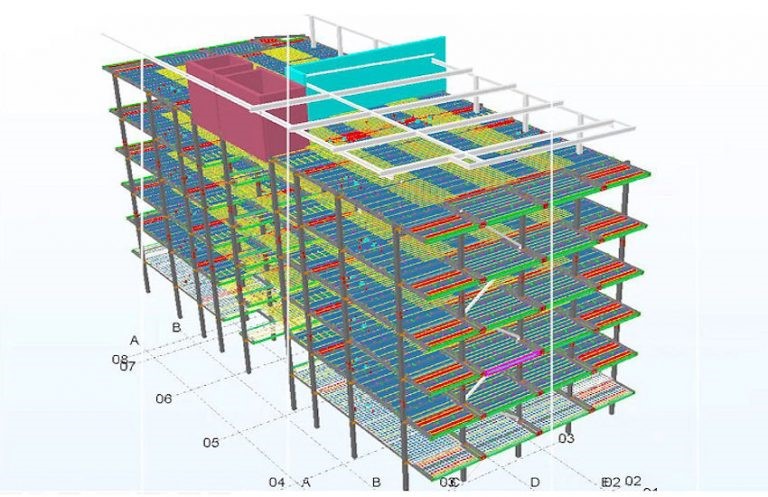 CAD drawing of the Spring Hill, Brisbane project
Current contracts
PT Blink has developed strong relationships with mid and top tier builders including Multiplex and Fletcher building. They have been engaged to licence the PT Blink Technology under four contracts, including:
Brisbane, Queensland – design of components for an 82 story integrated development by Multiplex at 300 George Street, Brisbane
Caboolture, Queensland – design of aged care facility, commercial office building and apartment building to be developed over three stages
The Gap, Queensland – design of vehicle showroom
Fletcher Building Limited – commercial arrangement with Fletcher Building in New Zealand in relation to a multi-level residential building in Auckland
Each of these contracts will be completed or under construction in the next 12 months, with the first three with an estimated value to completion of $1.4 million.
PT Blink is also currently undertaking design work for customers in US and New Zealand, and expects the licences to be in place with developers and builders in these countries by the end of 2018.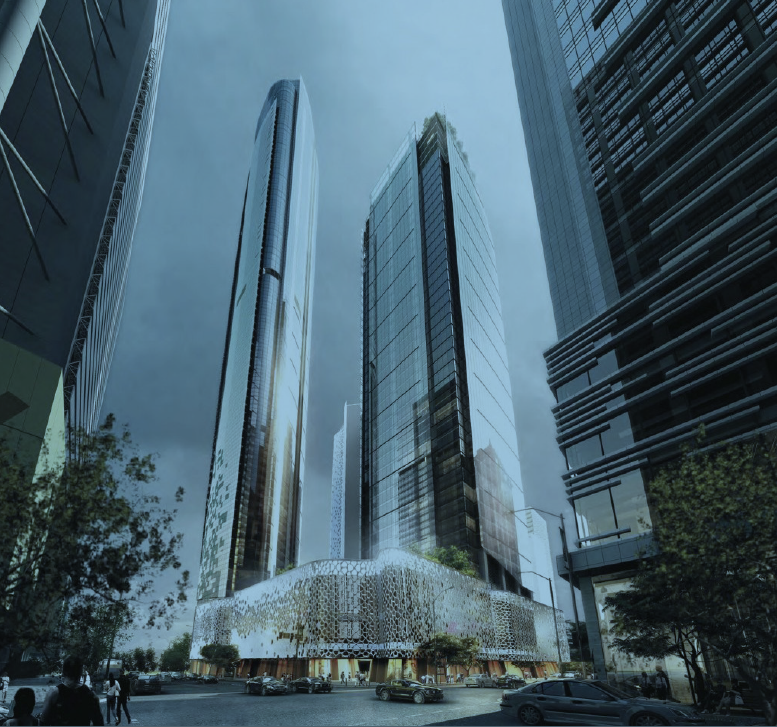 The Blink Technology is being applied to develop the curved podium level of the development of 300 George St, Brisbane
Milestones to date
Since commencing business on 4 July 2016, PT Blink has achieved the following:
The successful completion of the building in Spring Hill, Brisbane
The provision of the technology and know-how to OneSteel in Brisbane to manufacture the components of the columns and trays
The training of a fabricator to assemble the columns and trays from the components manufactured by OneSteel
The training of the installers to assemble the columns and trays on site;
Securing contracts for five further projects
Generating interest for the use of the Blink Technology in New Zealand and the US
Offer Overview
PT Blink Limited has a pre- money valuation of $15.95 million. The Company is looking to raise a minimum of $500,000 and a maximum of $2,000,000 via this equity crowdfund offer (the Offer).
The funds raised will be predominately applied to:
Research and development – enhance the Blink Technology
Demonstration units
Sales and marketing
Working capital
Overseas development
Offer costs
Risks
PT Blink Limited is subject to a range of risks. While investors should consider all the risks before applying for shares, we recommend that investors take particular notice of the following:

Commercialisation risk – If PT Blink is unable to increase the awareness and acceptance of the Blink Technology using the five projects currently under contract, they may not achieve their goals.
Key staff risk – PT Blink is reliant on a few key senior management and experienced personnel. The loss of one of these members may affect the Company's prospects.
IP risk – PT Blink's IP is currently patent pending. If the Company is unable to protect or enforce rights, other companies may copy the product and technology which would affect the Company's prospects.
Funding risk – PT Blink may run out of cash and may need to raise additional funds to achieve its goals. This may not be on favourable terms and may dilute shareholders. If additional funds are not available, the Company may not be able to execute its business strategy.

A more detailed discussion of risks facing the Company are set out in Section 2.6 of the Offer document.
Management and Board
PT Blink has a highly experienced and capable Board. Murray and Brett are the only full-time staff at PT Blink. Following the raise, Edward Lynch will become the full-time CEO and a sales and marketing executive will be employed full-time.
Murray Ellen, Founder and CEO
Role: Murray is responsible for the design and development of the Blink Technology.
Experience:
Structural engineer specialising in post-tensioned steel technology for over 30 years
Conceived, designed and completed projects in Australia, China, Hong Kong, Malaysia, Philippines, Taiwan and Dubai
Governor of Sydney University's Warren Institute for Advanced Engineering
Fellow of the Australian Academy of Technological Sciences and Engineering
Brett Crowley, Executive Chairman and Company Secretary
Role: Brett is responsible for corporate governance, legal, finance and accounting.
Experience:
Solicitor and experienced chairman, finance director and company secretary of ASX-listed companies
Former partner of Ernst & Young (Australia and Hong Kong) and KPMG (Hong Kong) and a Senior Legal Member of the NSW Civil and Administrative Tribunal
Edward Lynch, Non-Executive Director
Role: Ed is responsible for dealing directly with the licensees of the Blink Technology.
Experience:
35 years industry experience as an innovator and strategic advisor in business development and design consultancy to property, technology and manufacturing
Delivered major initiatives and established and evolved businesses in manufacturing and development on every continent
The Offer is subject to a Maximum Subscription amount of $2,000,000. If the Maximum Subscription is reached, the Offer will close early. Applications will be treated on a time priority basis and may be subject to scale back, so please fund your application as soon as possible.
IMPORTANT: Please read the below information before investing in this Equity Crowdfunding offer.
RISK WARNING: Crowd-sourced funding is risky. Issuers using this facility include new or rapidly growing ventures. Investment in these types of ventures is speculative and carries high risks. You may lose your entire investment, and you should be in a position to bear this risk without undue hardship. Even if the company is successful, the value of your investment and any return on the investment could be reduced if the company issues more shares. Your investment is unlikely to be liquid. This means you are unlikely to be able to sell your shares quickly or at all if you need the money or decide that this investment is not right for you.
Even though you have remedies for misleading statements in the replacement offer document or misconduct by the company, you may have difficulty recovering your money. There are rules for handling your money. However, if your money is handled inappropriately or the person operating this platform becomes insolvent, you may have difficulty recovering your money. Ask questions, read all information given carefully, and seek independent financial advice before committing yourself to any investment.
5 DAY COOLING OFF PERIOD: There is a 5 business day cooling off period for retail investors. During this period, you may withdraw your application and receive a full refund into your nominated refund account. More information here.
AMOUNTS SUBJECT TO COOLING OFF: The funding bar displayed under each crowd funding offer may include applications where payments are yet to be made and amounts that are subject to the cooling off period.
ONMARKET INTERESTS: OnMarket and its associates will be participating in this offer.
Section 734(6) disclosure: The issuer of the securities is PT Blink Limited ACN 613 446 003. The securities to be issued are fully-paid ordinary shares. The disclosure document for the offer can be obtained by clicking on the link above. The offers of the securities are made in, or accompanied by, a copy of the disclosure document. Investors should consider the disclosure document in deciding whether to acquire the securities. Anyone who wants to acquire the securities will need to complete the application form that will be in or will accompany the disclosure document (which can be done via the electronic application form which will become available by clicking the bid button above).​
.