OnMarket is accepting applications for the PayGroup Ltd IPO during the Exposure Period. Applications will be not be processed until the completion of the Exposure Period and no preference will be conferred on applications received during the exposure period. If a replacement or supplementary prospectus is issued, this will be provided to you along with the opportunity to withdraw your application.
Introduction
PayGroup Limited (ASX: PYG) ('the Company' or 'the Group') is a Software as a Service (SaaS) company that provides Payroll and HR outsourcing ('Business Process Outsourcing' or 'BPO' solutions) and Cloud-based Human Capital Management (HCM Cloud) software to multinational companies in Asia-Pacific markets. Their solutions help medium to large businesses with employees across multiple countries reduce their operational and compliance risk.
PayGroup's solutions are delivered to approximately 410 client entities with 31,000 customers across 18 countries. The Group is forecast to generate pro forma revenues of $7.6m and pro forma NPAT of $2.6m for FY18. It has a diverse and loyal client base, with the largest Cloud or BPO client entity representing less than 5% of the Group's service revenue for FY17 and 90% client retention rate.
The Company is addressing the Asia Pacific BPO Services market valued at US$20.177 billion, with the Emerging Asia Pacific segment growing at 10.3% (Source: Gartner).
Business Overview
PayGroup generates recurring revenue through its two solution suites. The BPO solution for clients covers the outsourcing of payroll, other employee benefits, banking, treasury and statutory lodgement services which is complemented by HROnline a proprietary Cloud based HCM software.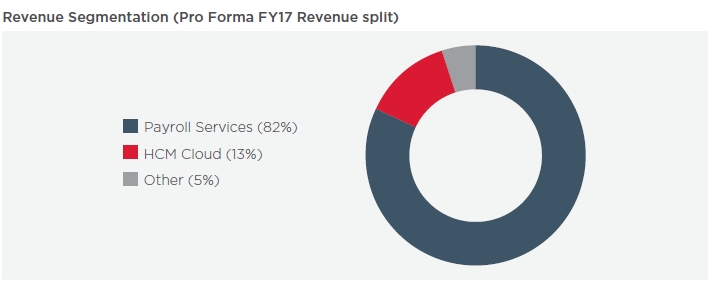 BPO Payroll Services
BPO Payroll Services is PayGroup's core business service and provides outsourced payroll process for its clients' employees. As part of the service, the Group undertakes a business review to streamline the clients' payroll processing, workflow and treasury functions. The Group then transacts on behalf of the client in performing its payroll process, disburses employee payroll and lodges all statutory submissions (including taxation, pension & provident funds and other social benefits). These transactions are delivered through the Cloud.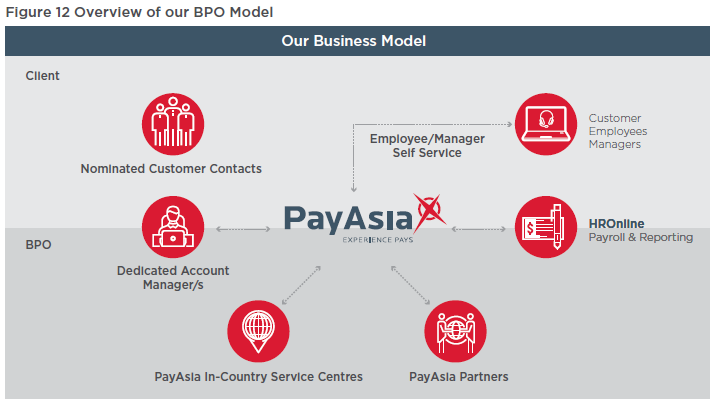 HCM Cloud software
The HCM Cloud product suite supports clients in managing aspects of their employee lifecycle, plus regional and mobile-enabled workflows for critical processes, such as employee and manager self-service, leave management and expense management. The Group will be leveraging the flexibility of its Cloud deployment capabilities to further implement its SaaS HCM suite in additional countries within and outside of the Asia Pacific region.
Sales and marketing
The sales and marketing activities are split into three business units: Cloud software, BPO and Global Marketing and Sales Enablement.

BPO sales are handled by a separate focused sales team in Singapore and Malaysia due to the depth and complexity of BPO Payroll Services and solutions.
Cloud software is sold through a direct sales team, and it is envisaged that strategic relationships will be established for cloud sales via reputable technology integrators, allowing the Company to generate additional revenue at a lower cost of sales.
Global Marketing and Sales Enablement oversees lead generation for both BPO and Cloud sales via traditional and digital marketing and strategic client management programs. The Group envisages adding alliances and/or forming strategic relationships with European and North American BPO and suitable technology providers wanting access to Asia Pacific markets.
Offer Overview
PayGroup is seeking to raise up to $7.5 million via its IPO and will have a market capitalisation of $24.8 million at maximum subscription. The proceeds of the Offer will be used to:
target accelerated business growth through increased sales and marketing by adding sales and marketing resources in Melbourne, Sydney, Singapore, Hong Kong and other key selling markets
establish a Sales Enablement division to manage strategic global relationships with US and European HCM and BPO leaders
focus on the Group's technology platforms, including further development of functionality and refreshing customer experience through user interface improvements
cover costs associated with an ASX-listed company, and other typical administrative costs
Growth Strategy
The Group's objective is to achieve continued growth by expanding its services to existing clients and through new client acquisitions and increasing its global reach by targeting new and existing clients which are headquartered outside the Asia Pacific region which have a need for BPO and HCM services within the Asia Pacific markets. Specific opportunities include:
Cost efficiencies: Convert existing third party technology (and reduce current fees from in‑licensing to PayAsia) to improve margins and improve client service efficiencies
Growing existing client revenue through product offerings: Leverage scalable Cloud platform to extend BPO Payroll Services to more countries without further third party technology reliance and deliver Strategic HR service offerings via to BPO clients globally
Partners and alliances expansion: Target and partner with North American and European providers with fast‑growing demand for Cloud multi‑country payroll services in Asia Pacific
Earn interest income on treasury functions: Implement treasury functions including earning interest on payroll funds which are deposited into the Group's account for periods of time
Rollout of a Corporate Payroll Debit Card: Provide a payroll debit card to clients and their employees to manage workplace salary and travel/expense claims
Management and Board
PayGroup is led by a board with over 60 years combined experience across the global HCM industry and management team with global expertise within BPO Payroll Services, HR Outsourcing and HCM software. Key personnel include:
As set out in Section 7 of the Prospectus, PayGroup Limited is subject to a range of risks, including but not limited to failure to retain existing clients and attract new clients, business operations, disruption and reliance on key software and competitive landscape.
OnMarket is accepting applications for the PayGroup Limited IPO during the Exposure Period. Applications will be not be processed until the completion of the Exposure Period and no preference will be conferred on applications received during the exposure period. If a replacement or supplementary prospectus is issued, this will be provided to you along with the opportunity to withdraw your application
Section 734(6) disclosure: The issuer of the securities is PayGroup Limited ACN 620435038. The securities to be issued are ordinary shares. The disclosure document for the offer can be obtained by clicking on the link above. The offers of the securities are made in, or accompanied by, a copy of the disclosure document. Investors should consider the disclosure document in deciding whether to acquire the securities. Anyone who wants to acquire the securities will need to complete the application form that will be in or will accompany the disclosure document (which can be done via the electronic application form which will become available by clicking the bid button above).​
OnMarket has a limited allocation. The offer may close early and the 'Pay By' dates may change. Bids over $10,000 may be scaled back more heavily. Duplicate bids under the same investment profile, investor name or residential address may be cancelled.