The Openpay Group Ltd IPO has closed early via OnMarket due to strong investor demand.
Applications of over $5,000 will be scaled back more heavily. Duplicate bids under the same investment profile, investor name or residential address may be cancelled, and we cannot guarantee that all funded bids will receive an allocation.
Introduction
Openpay Group Ltd (ASX: OPY) is a Melbourne based payments technology company that offers a buy now, pay later (BNPL) product, with a mission "to change the way people pay, for the better". The technology (Openpay Live) facilitates seamless, secure and swift payments between merchants and customers and allows customers to better manage their cash flow by splitting payments for their in-store and online purchases over time and free of interest from a growing and diverse range of merchants.
With over 1,754 active merchants in Australia, UK and New Zealand, Openpay currently services merchants across four key household spend verticals, including consumer retail, healthcare, automotive and home improvement, representing $366.6 billion in combined sales in Australia during FY19.
Openpay works with merchants to provide a wide variety of BNPL plans ranging from between 2 and 24 months in duration, and of values between $50 and $20,000. This represents larger payment plan sizes and longer terms relative to many of its competitors. With over 153,000 active customers and more than 318,000 active plans, Openpay has delivered significant growth over the last three years, with active plans growing at a CAGR of 112.4% from FY17 to FY19.
Key Growth Metrics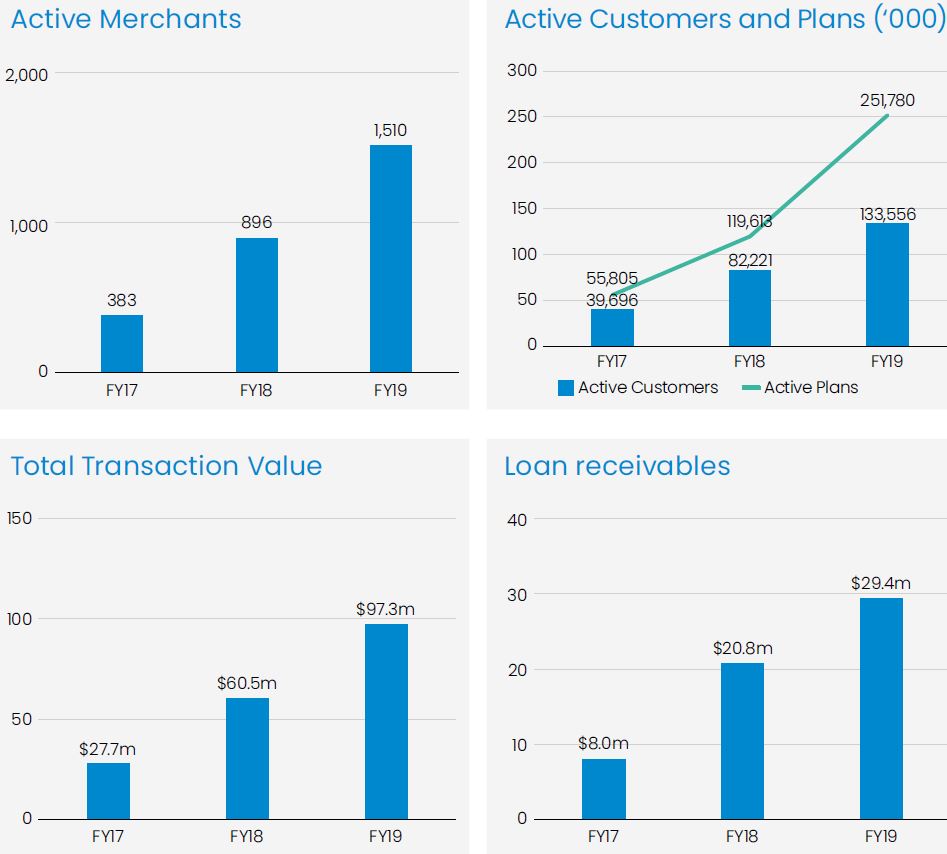 Key Investment Highlights
The Offer is fully underwritten by the Lead Manager, Shaw and Partners.
Flexible payment solution offering buy now pay later option between customers and merchants.
Large potential market opportunity servicing merchants across four key household spend verticals (consumer retail, healthcare, automotive and home improvement) with combined FY19 sales of $366.6bn in Australia
Attractive proposition for customers and merchants by allowing no interest flexible repayments in a rapidly growing network of merchants in-store and online.
Highly scalable business model with integrated sales and marketing model and revenue streams
Innovative and risk focused approach to technology which automatically assesses customer credit applications in real time (approximately 0.1 seconds).
Strong track record of growth at a rate with 1,510 active merchants and 133,556 active customers having grown at a CAGR of 99% and 83%, respectively, translating into significant growth of total transaction value of 88% CAGR over the same period and loan receivables of 92% CAGR over the same period.
Differentiated customer base by offering a wide range of merchants across household spend verticals resulting in a customer base highly diversified across age groups.
Strong future growth opportunities by leveraging flexible and scalable platform as well as differentiated customer base.
Led by an experienced management team and highly capable Board, with extensive expertise in retail, banking, digital payments and regulated and rapidly changing markets.
Offer Overview
Openpay Group Ltd is looking to undertake an IPO on ASX to raise $50 million via the issue of 32.25 million shares at an offer price of $1.60 per share. The company will have an indicative market capitalisation of $150 million at maximum subscription. The offer is fully underwritten by the Lead Manager, Shaw and Partners.

The company proposes to use the funds raised from the Offer to:

Industry overview
Openpay partners with merchants to provide buy now pay later (BNPL) repayment plans to Customers in-store, in-app and online. Openpay's BNPL offering allows Customers to purchase what they want and need while spreading repayments over time and attracting no interest costs.
During FY19, approximately 5.3 million Australian consumers used at least one BNPL arrangement from a provider (representing over a 4 fold increase from FY17), while the total annual transaction value of goods purchased under BNPL arrangements was approximately $6.1 billion (representing nearly a 5 fold increase over the same period). A significant driver of this growth has been the adoption of BNPL arrangements by younger consumers. For the 12 months to January 2019, nearly 1 in 8 Australian consumers in the millennial and generation Z age category had used a BNPL arrangement.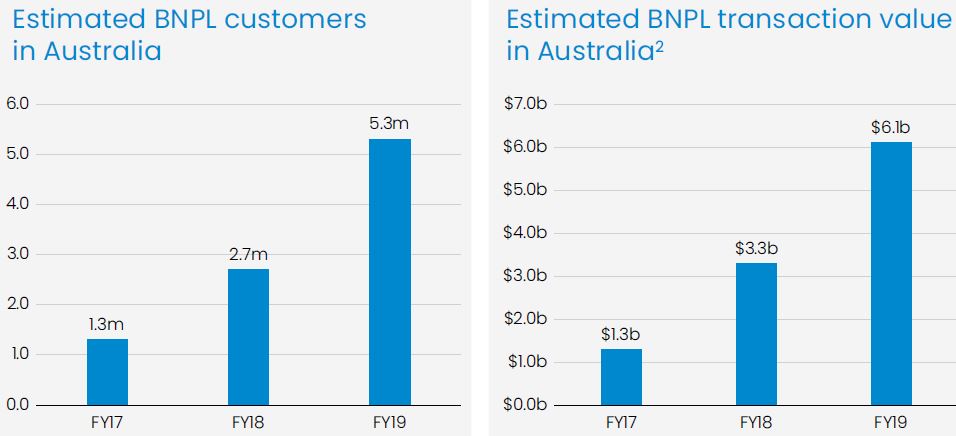 Competitive Differentiation
By providing a range of product features tailored to its targeted sector verticals and age groups, Openpay represents a differentiated offering for its merchants and customers. For customers, this includes plans with zero interest ever, flexibility around timing of commencement of the first repayment, deferred payment capabilities to help avoid late fees, larger payment plan sizes and longer terms relative to many of its competitors.
For merchants, comparatively larger plan sizes and longer terms enhance their ability to increase their average transaction value. As a result of targeting certain verticals (such as dentistry within healthcare), Openpay has been able to establish a competitive market position and, in turn, has been able to attract a comparatively older customer base, which Openpay considers to be financially savvy, lower risk customers.
Company Overview
Established in 2013, Openpay was originally designed as an in-store digital solution for lay-by and was purpose built for retailers and their consumers. Over time, Openpay has extended its offering from an initial focus on in-store point of sale to include plans via online stores and mobile channels in order to provide an omni-channel, flexible solution to both merchants and customers. Openpay has continued to develop its technology as it has developed scale with an increased base of merchants and customers across its targeted sectors.
Following an initial launch within a small group of retail merchants across Australia and New Zealand, operations were commercialised for a broader range of merchants and formally launched in 2016 under the Openpay brand. Openpay expanded its business into the United Kingdom in June 2019, as noted above.
Openpay's history and transaction volume growth

Business model
Using Openpay's software and technology platform, customers can select from a range of no interest payment plans when purchasing goods or services from a diverse and growing range of merchants. These plans allow customers to pay for products over time via a number of repayments, instead of having to fund the entire purchase price upfront.
The Openpay platform allows customers to make in-store and online purchases, and defer the payment for these purchases by splitting the purchase price into multiple repayments over time, while attracting no interest costs. The full purchase price (less the merchant Fee) is paid to merchants by Openpay the business day following the customer purchase. At the time of purchase, the customer pays Openpay a deposit (of between 10% and 33% of the purchase price) followed by instalments for the balance of the purchase price payable to Openpay over time in accordance with the terms of the Openpay plan selected by the customer.
Transaction journey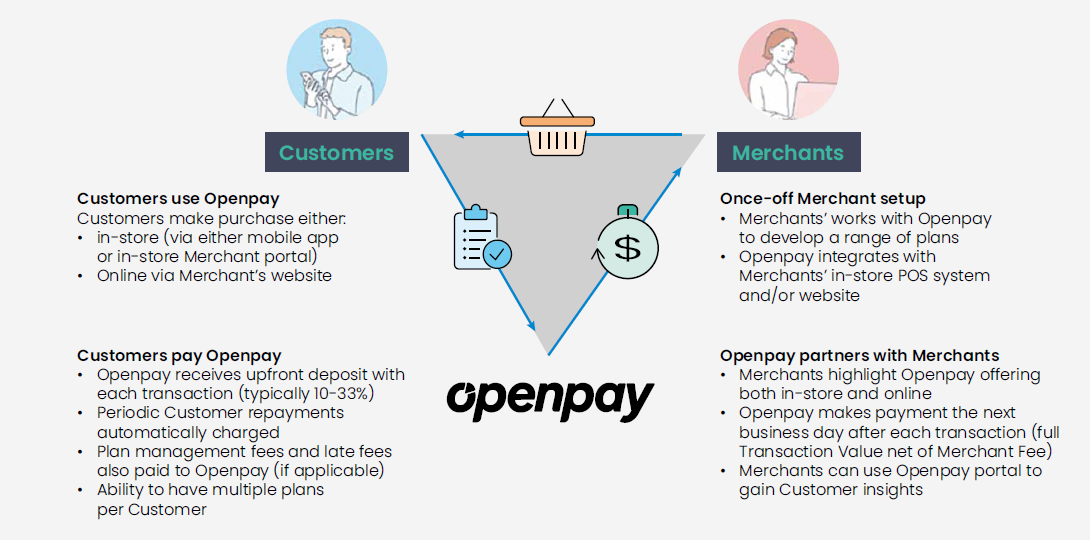 Revenue Model
Openpay generates revenue from fees charged to both its merchants and customers in exchange for the use of its payments platform. These revenue sources are as follows:
Merchant Fees
Percentage of the transaction value of the good or service.
Retained by Openpay when settling the purchase price of the customer order with the merchant.
In FY19, merchant fees contributed 51.8% of Openpay's revenue and represented 5.9% of FY19 total transaction value.
Customer Fees
No interest is ever charged by Openpay on any of its current plans.
In Australia, Openpay receives ongoing plan management and in some cases, an initial plan establishment fee or redraw fee for higher value plans.
Late payment fees payable in the event of a missed automatic repayment on a scheduled repayment date. However, Openpay allows customers to proactively reschedule their plan repayments.
In FY19, Customer Fees contributed 48.2% of Openpay's revenue and represented 5.4% of FY19 total transaction value.

Merchant and Customer bases
Openpay is currently offered via a wide range of merchants across its four targeted verticals. Example merchants where Openpay is currently available include the following:
Example of Openpay merchants by vertical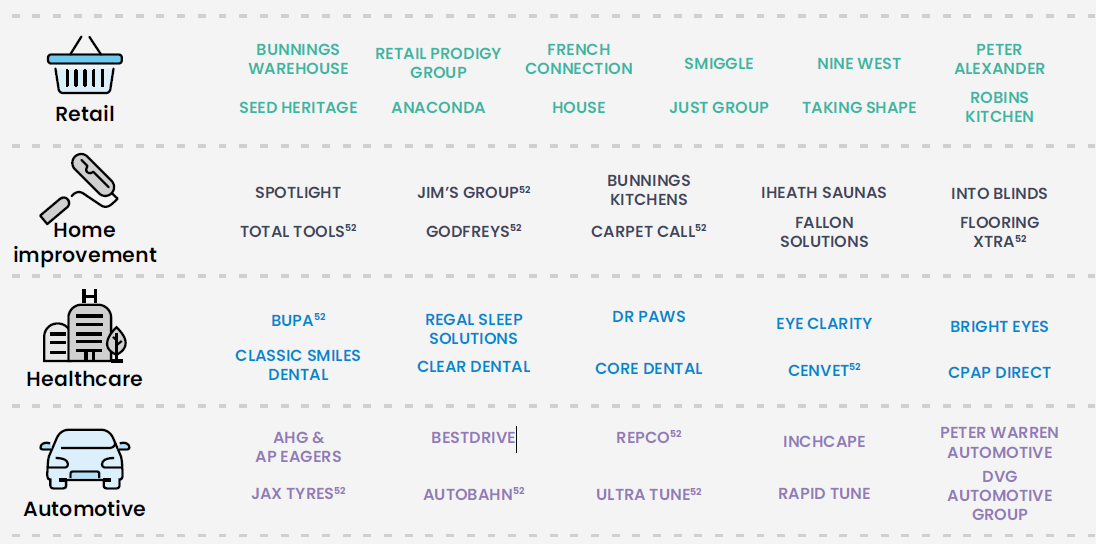 With the potential to engage with customers across a large geographic base, Openpay has demonstrated consistent and significant growth in the number of its active customers and Active Plans since 2017. Active Plans increased from 55,805 as at 30 June 2017 to 251,780 as at 30 June 2019, representing a CAGR of 112.4%. As at 30 September 2019, Openpay's active customers and Active Plans had further increased to 153,094 and 318,065, respectively.

Growth Strategy
Openpay's strategy involves leveraging its flexible and scalable platform, as well as its differentiated Customer experience, to continue to grow its market share in the Australian, New Zealand and UK markets, expand further into other geographic markets and further leverage the capabilities of its platform into other new product areas.
Local market growth
Compared to other BNPL providers, Openpay has a competitive market position in automotive, healthcare and home improvement and aims to continue to grow its activity in these sectors by winning new merchants and increasing the utilisation of existing merchants by providing them with a beneficial customer solution and the knowledge and knowhow to attract new BNPL customers.
Geographical expansion
Openpay's technology platform has demonstrated success in other jurisdictions. This includes an existing presence in New Zealand, principally in support of Australian merchants who operate across both jurisdictions, and its recent expansion into the United Kingdom.
Openpay intends to rapidly grow its presence in the United Kingdom by initially focussing on online merchant integration, followed by in-store.
In support of this objective, Openpay will invest in further marketing and customer acquisition strategies and will look to increase its United Kingdom employee base over the next 12 months.
Further expansion opportunities for Openpay may include following United Kingdom merchants into European markets more broadly, as well as exploring emerging, rapidly growing markets in Asia.
Expand platform capabilities
Openpay intends on continuing to enhance its credit risk and fraud prevention engine with developments in machine learning and artificial intelligence, as well as a growing Customer and merchant database. In addition, the flexibility of Openpay's platform allows it to readily adapt its product offering into new adjacencies.
Openpay's innovative technology platform and deep expertise in merchant operations have enabled it to develop a B2B payment solution which complements its traditional offering as a capital-light, SaaS (software-as-a-service) business, accessing a large market opportunity. Development of this adjacent offering has already commenced.
Platform extension into B2B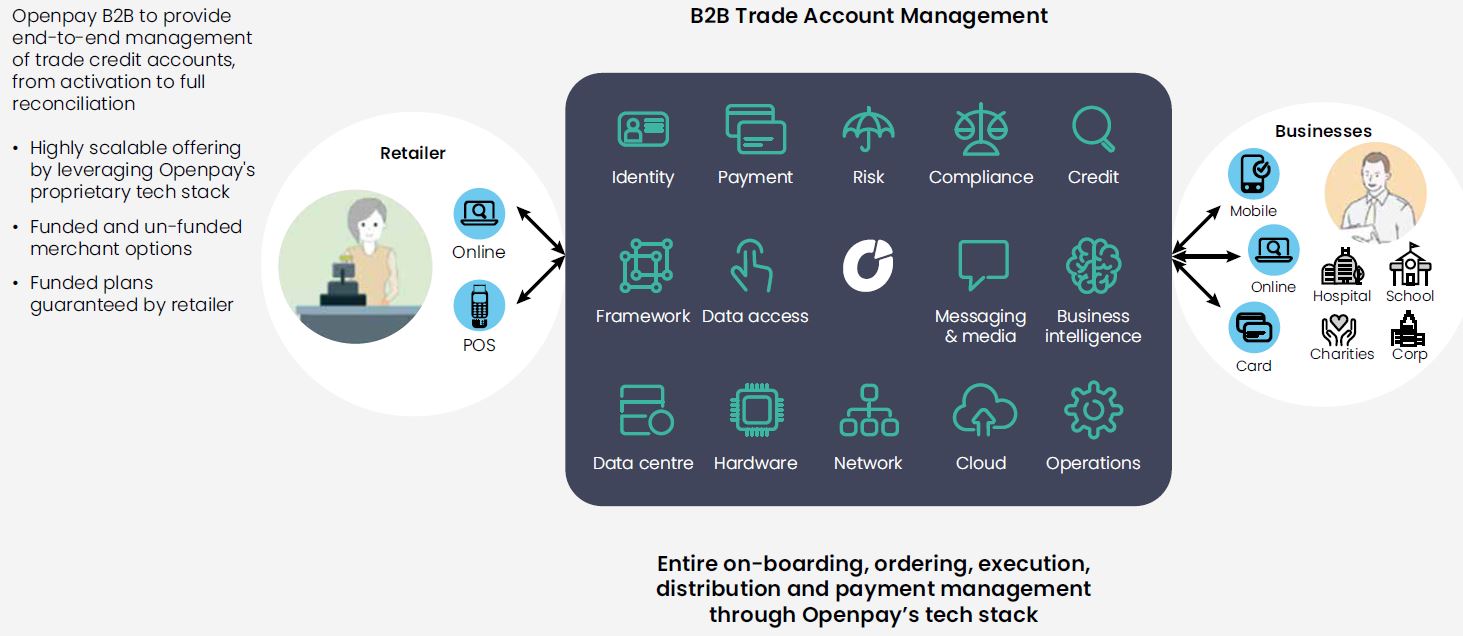 Key Board and Management
Patrick Tuttle - Independent Chairman
Patrick has in excess of 30 years' experience in non-bank, consumer, SME and asset-based finance. Patrick is an Australian Chartered Accountant and has previously acted as divisional finance director for a range of operating businesses within Macquarie Bank Limited, before becoming finance director of Pepper Group in 2001. Patrick became CEO of Pepper Group's Australian mortgage lending and asset finance business in 2008, before also being appointed as Co-Group CEO of Pepper's global business in 2012
Michael Eidel - Chief Executive Officer and Managing Director
Michael has over 20 years' experience in payments, banking, growth transformation, product and strategic development. Michael has previously held senior executive roles at Credit Suisse, McKinsey and CBA, and served as the Chairman of Fides Treasury Services Ltd, and as a Director on the New Payments Platform (NPP) Ltd and on the Australian Payments Council.
Kelly Bayer Rosmarin - Independent Non-Executive Director
Kelly has extensive experience growing and operating large global businesses, leadership, banking, risk management, regulated markets, and driving innovation. Kelly is currently Deputy CEO at Optus
Sibylle Krieger - Independent Non-Executive Director
Sibylle is a professional independent Non-Executive Director with over 35 years' experience as a commercial lawyer, economic regulator and Non-Executive Director of a range of companies.
David Phillips - Non-Executive Director
David has nearly 25 years' experience in financial services, the last 14 of which were with Investec where he has been the Head of Structured Finance, Global Co-head of Investec Aviation Finance and Head of Investec Emerging Companies. David currently remains as a specialist consultant to Investec.
Yaniv Meydan - Non-Executive Director
Yaniv is a co-founder of Openpay and has extensive experience in structured and property finance, receivables financing and business operations both globally and in Australia. Yaniv has been the CEO of the Meydan Group since 2004.
Risks
Some of the key risks of investing in the Company are detailed below. This list of risks is not exhaustive, and further details of these risks and other risks associated with an investment in the Company are detailed in Section 5 of the prospectus.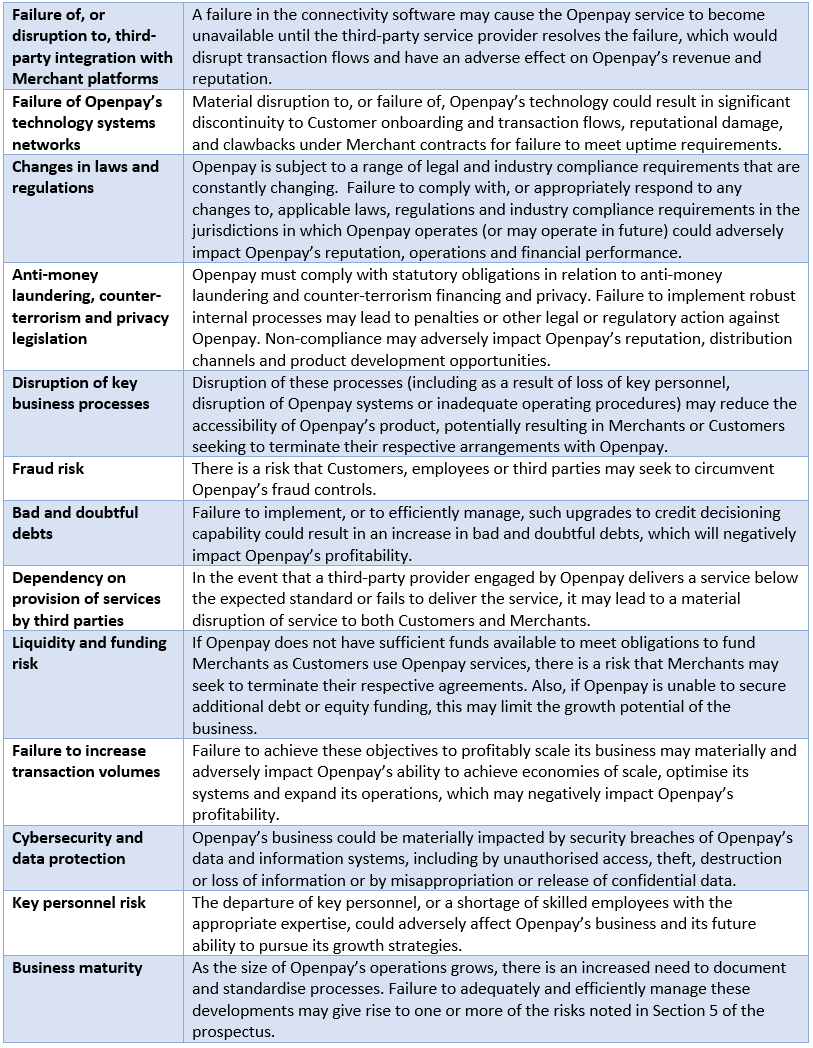 Section 734(6) disclosure: The issuer of the securities is Openpay Group Ltd ACN 637148200. The securities to be issued are ordinary shares. The disclosure document for the offer can be obtained by clicking on the link above. The offers of the securities are made in, or accompanied by, a copy of the disclosure document. Investors should consider the disclosure document in deciding whether to acquire the securities. Anyone who wants to acquire the securities will need to complete the application form that will be in or will accompany the disclosure document (which can be done via the electronic application form which will become available by clicking the bid button above).​
The offer may close early and the 'Pay By' dates may change. Bids over $5,000 may be scaled back more heavily. Duplicate bids under the same investment profile, investor name or residential address may be cancelled.
.