Research
Patersons Securities
Update
The Company has advised that they have extended the offer close date to 28th June 2019. Whilst they have received good investor interest, including firm commitments in excess of $3 million, the offer has been extended to:
allow for presentations to be made to some Asian funds and high net worth investors
meet requests for additional time for international investors to lodge applications
allow additional time for the company to meet the necessary regulatory procedures following its upcoming shareholders meeting.
Please note that OnMarket has a limited allocation and the offer may close earlier than 28 June.
Introduction
Commencing operations in 2016, New Zealand Coastal Seafoods Limited (ASX NZS) (NZCS) is a profitable and growing processor, distributor and exporter of premium seafood products including ling maw, sea cucumber and soft and hard bones (such as elephant fish backbone and dogfish backbone). NZCS focuses on Asian markets and its products are sold, directly and through distributors, to customers, restaurants, seafood traders, supermarkets and other retailers in New Zealand, Australia and Asia.
NZCS sources products exclusively from New Zealand primary suppliers of raw seafood and operates a seafood processing and drying facility in Christchurch, New Zealand, with a current annual production capacity of 60 tonnes of raw seafood products input. NZCS' products are generally targeted at Asian populations who value the perceived health and beauty benefits of collagen-rich ling maw, as well as other seafoods.
A key competitive advantage for NZCS, particularly in Asia, is that New Zealand is renowned for its 'clean & green' reputation. Consequently, NZCS' products attract a price premium relative to the Asian-processed products that are common in its target markets.
NZCS generated EBITDA of NZ$164,673 for the nine months ending 31 December 2018, building on the NZ$56,284 for the full financial year ending 31 March 2018.
Investment Highlights
Established, profitable business leveraged to Asia's growing middle class and growing per capital seafood consumption
Positioned to capitalise on New Zealand's global 'clean and green' reputation
In-house product development and manufacturing, using New Zealand sourced and produced inputs
Focus on premium products for export to Asian markets
Experienced management team with proven ability to manufacture and sell premium seafood products
Clear growth strategy in place with plans to take advantage of many identified potential opportunities in the seafood market
Rapid growth in revenues
Offer overview
The issuer of the prospectus is xTV Networks Limited (ACN 124 251 396) (ASX: XTV) (to be renamed New Zealand Coastal Seafoods Limited) which announced that it had entered into a binding share sale deed to acquire 100% of the issued capital in New Zealand Coastal Seafoods Limited. New Zealand Coastal Seafoods Limited will trade under the ticker ASX: NZS. For more information, please refer to the Prospectus.
New Zealand Coastal Seafoods Limited is seeking to raise up to $6 million and will have an undiluted market capitalisation of approximately $14.2 million at maximum subscription.
NZCS intends to apply the funds raised from the public offer over the first two years following readmission of NZCS to the official list as follows:
expanding its manufacturing facilities and meet other capital expenditures;
expanding its sales staff and marketing;
expanding its operational staff;
acquiring raw seafood for processing and undertaking product development; and
meeting corporate administration costs, including the expenses of the Public Offer.
Industry Overview
NZCS operates in the fast-moving consumer goods (FMCG) industry, focusing on the seafood market. The global seafood market is currently valued at over US$160 billion. China is now the largest consumer of seafood products in the world, accounting for over a third of all global seafood consumption and projected to total over US$67.3 billion in 2019. Consumers in China and other Asian countries increasingly have diets with high seafood content, and a growing middle class with rising disposable incomes is further stimulating growth. China's seafood imports grew 44% in 2018, increasing from US$3.6 billion to US$11.9 billion. Seafood exports from New Zealand continue to be in high demand in Asia, with over half of New Zealand's exported seafood destined for Asian markets. In 2017, New Zealand exported 128,000 tonnes of seafood worth NZ$1.8 billion.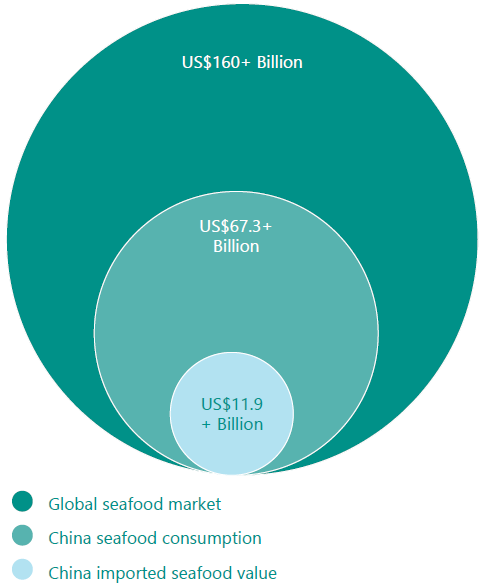 Dried seafood is considered to have many health benefits in Asian markets, and is commonly used in festive banquets, daily cooking, and traditional tonics. Highly desired dried seafood includes intensely-flavoured dried abalone, sea cucumber, shark cartilage and fish maw, which is currently NZCS' key product. These dried seafoods are considered delicacies in many countries.
Products
NZCS is currently selling the following products in New Zealand and through distributors for export to international markets:
dried ling maw;
dried sea cucumber;
dried elephant fish backbone; and
dried dogfish backbone.
NZCS' primary product line is currently dried maw taken from the ling fish. Dried ling maw is sold by weight, with larger pieces typically sold at premium over smaller pieces. The ling fish is a large, white fleshed fish found in deep cool waters and the maw is the swim bladder of the fish. Ling fish is one of New Zealand's top ten seafood export earners and is certified by the Marine Stewardship Council (considered to be the global gold standard for sustainability). Ling maw is cholesterol-free and rich in nutrients and proteins, including collagen. Accordingly, ling maw is valued for its perceived health and nutritional benefits, particularly by Asian populations who eat ling maw in soups that are considered delicacies.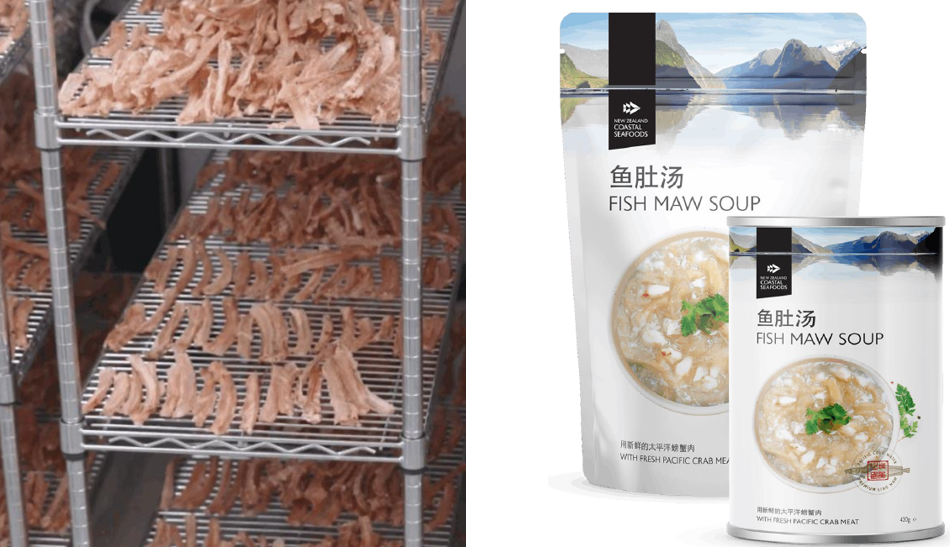 NZCS also sells dried New Zealand sea cucumber and dried soft and hard bones (including elephant fish backbone and dogfish backbone), which are also used in dishes that are considered delicacies by Asian populations.
Growth Strategy
NZCS is implementing a number of growth strategies to increase sales, with a particular focus on Asian markets, including China. These strategies are centred around the following three pillars:
increasing sales of existing products through expanded production capacity and increased ability to access raw seafood supply;
improving profit margins by extending the range of products to include ready-to-eat products such as pre-packaged soups; and
expanding sales capacity by enlarging NZCS' sales force and expanding distribution channels, in existing markets, such as New Zealand, Australia and Hong Kong and entering or further penetrating as relevant markets such as China, Malaysia, Singapore, Indonesia and Vietnam.
Revenue Model
NZCS generates revenue by selling its products through a variety of channels, including direct to customers, restaurants, seafood traders and other retailers in New Zealand, as well as to wholesale distributors who distribute the products to restaurants, supermarkets and various other customers in New Zealand and for export to Asia and Australia.
Board and Management
New Zealand Coastal Seafoods Ltd is led by a management team with extensive experience in FMCG and the seafood industry, including:
Peter Win (CEO) Peter has a long history in the seafood industry and is a co-founder and CEO at NZCS. Prior to co-founding NZCS, Mr Win founded and managed Elanz Limited, a niche food and beverage business that exported locally produced premium products to international markets.
Winton Willesee (Chairman) Winton has served as a director of the Company since July 2016. His broad expertise includes strategy, company development, corporate governance, corporate finance, company public listings, and merger and acquisition transactions.
Cataldo Miccio (Non-Executive Director) Prior to co-founding NZCS, Cataldo was the mayor of Nelson, New Zealand. In 2010, Cataldo successfully sold Bissi Ltd, an apparel company he started in 1998 and which, at its peak, grew to over $15 million in annual sales.
Ms Erlyn Dale (Independent Non-Executive Director) served as a director of the Company since 8 July 2016. She has a broad range of experience in the efficient administration of companies and corporate governance having been involved with several listed and unlisted public and other companies.
Jourdan Thompson (Independent Non-Executive Director) has over 15 years' industry experience in investment banking, finance and restructuring both in Australia and Europe. Jourdan has spent the last 10 years in investment banking, working most recently for Greenhill & Co. in Sydney and ING Investment Bank in London.
Alexander Li (Head of Operations) Li is currently head of operations at NZCS and has been heavily involved in the New Zealand and Chinese dried seafood industry since 1989. Based on that experience, he has an expert knowledge of the production of dried fish maw and other dried seafood. Alexander has also been involved with the development of natural dietary supplements and natural health and beauty products since 2009.
Risks
You are encouraged to read the Prospectus carefully as it contains detailed information about the Company and the Offer. Like all investments, an investment in the Company carries risk. New Zealand Coastal Seafoods Ltd is subject to a range of risks, including risks associated with limited trading history, growth risk, product pricing, consumer demand, supply risk and season and environmental risks. Please refer to Section 7 of the prospectus for further details.
Section 734(6) disclosure: The issuer of the securities is xTV Networks Limited ACN 124 251 396 (to be renamed to New Zealand Coastal Seafoods Limited). The securities to be issued are ordinary shares. The disclosure document for the offer can be obtained by clicking on the link above. The offers of the securities are made in, or accompanied by, a copy of the disclosure document. Investors should consider the disclosure document in deciding whether to acquire the securities. Anyone who wants to acquire the securities will need to complete the application form that will be in or will accompany the disclosure document (which can be done via the electronic application form which will become available by clicking the bid button above).​
OnMarket has a limited allocation. The offer may close early and the 'Pay By' dates may change. Bids over $10,000 may be scaled back more heavily. Duplicate bids under the same investment profile, investor name or residential address may be cancelled.
.