Introduction
Norwest Minerals Limited (ASX:NWM) is primarily a gold and base metals exploration company formed to allow the spin-off of Australian Mines Limited's portfolio of prospective gold and base-metal properties in WA. Norwest's strategy is to focus on delineating an economically viable resource capable of transforming the Company from an explorer into a mineral producer.
The Company has received binding firm commitments from sophisticated investors to subscribe for $4,000,000 under the Cornerstone Offer, $3,000,000 of which is from certain Directors or entities controlled by them.
Norwest Minerals intends to aggressively explore its portfolio of five projects. The Gold and Base-Metal Projects are prospective for gold and/or base metals and make up a total package of 19 tenements (all granted) covering over 1,800 square kilometres.
Norwest Minerals will be led by Charles Schaus, who has extensive experience as a manager in the resource industry, including the founding of Aurox Resources Limited, which he successfully merged with Atlas Iron Limited in 2010 in a scheme of arrangement valuing Aurox at over $130 million.
Offer overview
Norwest Minerals Limited is looking to raise $6.6 million, and will have an estimated market capitalisation of $12.6 million on completion of the offer. As mentioned above, the Company has received binding firm commitments totalling $4,000,000.
The Company intends to use the funds raised under the Offer as follows:
to fund exploration on the Gold and Base-Metal Projects;
to pay for the Company's administration and corporate overheads;
for working capital purposes, including possible new acquisitions; and
to pay for the variable costs of the Offer.
The Projects
The Gold and Base-Metal Projects and the Company's proposed exploration program is set out below.
The Bali Project, located in the Ashburton region of WA, has returned strong copper assays from recent rock chip surface sampling. A maiden electromagnetic (EM) programme will be undertaken prior to the end of 2018. The EM work is designed to highlight subsurface sulphide mineralisation which can be used to assist in targeting Bali Project's copper potential with RC drilling.
The Warriedar Project, located in the Yilgarn Craton, includes a granted mining lease containing the historic Reids Ridge gold mine which will be drill tested down dip from the old workings. To the east, the Mount Laws Prospect is a 1.5 kilometre mineralised trend defined by historic workings and past shallow RC and RAB drilling. Norwest has planned RC drilling of new walk-up gold targets along the Mt Laws trend identified from recent surface sampling and reinterpretation and modification of past exploration work.
The Arunta West Project, located in the Gibson Desert is prospective for iron oxide copper gold (IOCG). A coincident gravity-magnetic anomaly at the North Dovers prospect is the target of four deep diamond drill holes. Norwest will be the first explorers to drill at North Dovers with the work scheduled for May 2019.
The Marymia Project, also located in the Yilgarn Craton, is situated near several world class mining operations, including the Plutonic Gold Mine and the Degrussa Copper Mine. There are a number of promising gold and base metal targets scheduled to be RC drilled across the Marymia Project tenements prior to the end of 2018.
The Marriotts Project, located in the Leonora and Leinster nickel belt, contains an JORC Inferred Mineral Resource of 662,000 t at 1.3% Ni. Remodelling of the deposit's drill data is planned to upgrade the current Inferred resource into the Indicated and Inferred categories. Further work will include a toll treatment assessment of the deposit.
Location map of Norwest's five projects all located in Western Australia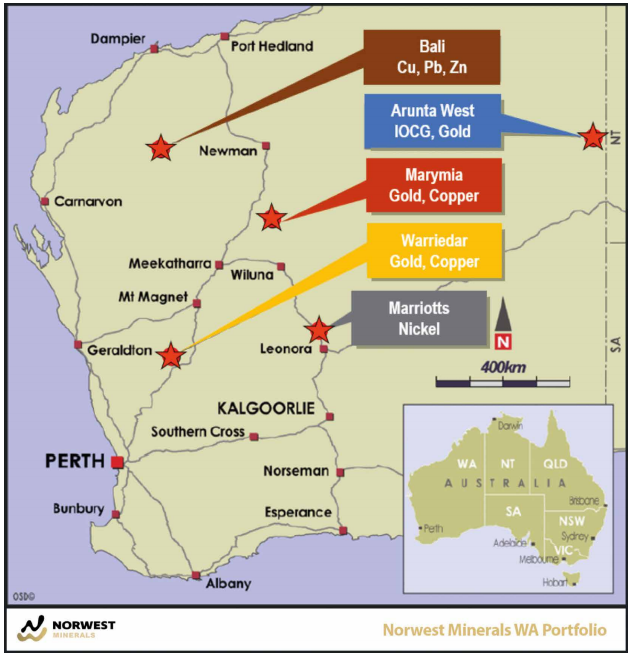 The company's proposed exploration program mostly focuses on drilling. The proposed timeline for the period to 30 September 2020 is shown below: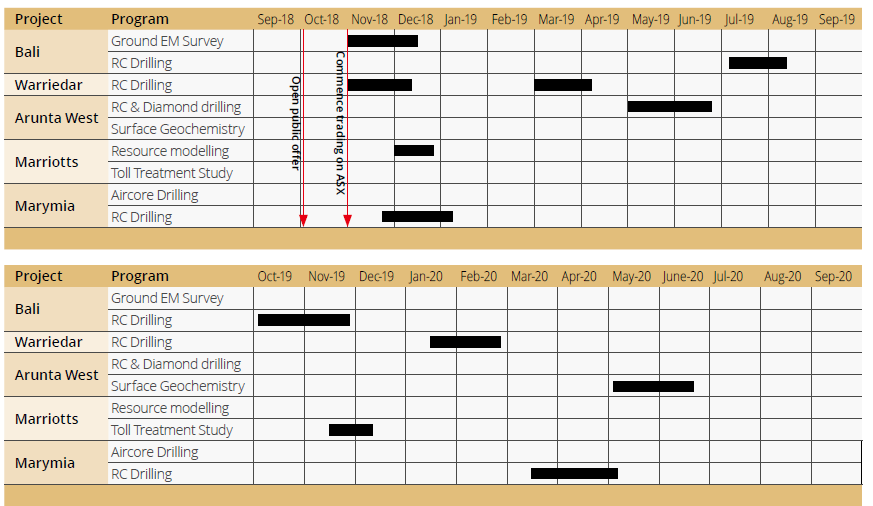 Business Objectives
Norwest's business model is to focus on increasing shareholder value, directing funds raised by the Offer as efficiently as possible into in-ground exploration, and project development to:
systematically explore the Gold and Base-Metal Projects for commercial quantities of copper, gold and other minerals;
if an economic discovery is made, endeavour to develop the Gold and Base-Metal projects and bring them into commercial production;
assess and secure additional mineral projects only if they are demonstrably value accretive in order to avoid unnecessary expense and dilution; and
maintain a strong focus on the health and safety of employees and contractors, building a strong partnership with government and relationship with communities, and working to best practice environmental standards.
Management and Board
Norwest Minerals Limited is led by an experienced board. These include:
Michael Tilley, Chairman. With over 40 years' experience in the accounting and finance industries and he has a broad range of senior advisory and project management experience in all facets of corporate finance. Has was previously a director of Yarra Valley Water Limited and was a director North Queensland Metals.
Charles Schaus, CEO. Mr. Schaus is a geologist and has been a director of a number of companies. He has significant corporate and technical experience in the metals and mining industry. He has held key technical positions in WA mining companies, including Newmont Mining Corporation, Newcrest Mining Limited, Eagle Mountain Mining Limited and also consulted in Ghana for 18 months. In 2003, Charles founded Aurox Resources Limited, and was its managing director.
Benjamin Bell, Non-executive Director. Mr. Bell is a geophysicist and geologist with 20 years' experience in the minerals industry. He joined Australian Mines in November 2011 as CEO and was subsequently appointed managing director in January 2012. He was pivotal in increasing the market capitalisation of Australian Mines Limited from less than $10m when he joined to a recent peak of over $300m. Previously, he was CEO of Ausgold Ltd.
Risks
You are encouraged to read the Prospectus carefully as it contains detailed information about the Company and the Offer. Like all investments, an investment in the Company carries risk. As set out in Section 5 of the prospectus, Norwest Minerals Limited is subject to a range of risks, including but not limited to land access and tenure, native title access, liquidity and failure to satisfy expenditure commitments.
Section 734(6) disclosure: The issuer of the securities is Norwest Minerals Limited ACN 622 979 275. The securities to be issued are ordinary shares. The disclosure document for the offer can be obtained by clicking on the link above. The offers of the securities are made in, or accompanied by, a copy of the disclosure document. Investors should consider the disclosure document in deciding whether to acquire the securities. Anyone who wants to acquire the securities will need to complete the application form that will be in or will accompany the disclosure document (which can be done via the electronic application form which will become available by clicking the bid button above).​
OnMarket has a limited allocation. The offer may close early and the 'Pay By' dates may change. Bids over $10,000 may be scaled back more heavily. Duplicate bids under the same investment profile, investor name or residential address may be cancelled.
.