The Projects
Palmerville Project
The Palmerville Project is the Company's principal exploration asset and has nine tenements as shown in the figure below with the southern end of the holding located about 60 km northwest of Chillagoe, and extends northerly across the Mitchell River and, 50 km further north, across the Palmer River. Both the Mitchell and Palmer Rivers were a focus of alluvial gold mining during the Palmer River gold rush period in the late-19th century.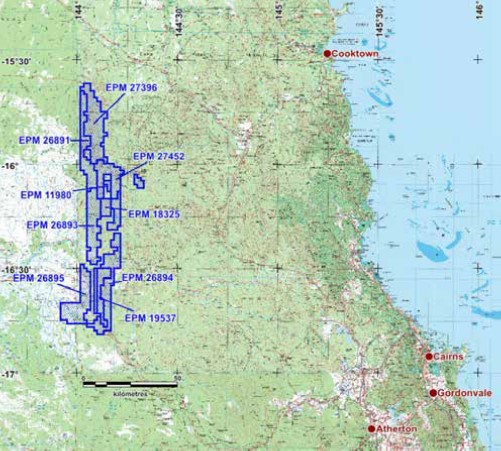 South of the tenements, the Chillagoe Formation is host to the large Red Dome and Mungana porphyry and skarn-associated gold-copper deposits, located about 15 km northwest of Chillagoe and 45 km southeast of the southern limit of the Palmerville Project. Combined, these deposits contain more than 2.6 Moz of gold and 250 kt of copper and exemplify the style of mineralisation targeted within the Palmerville Project. Chillagoe Formation also hosts significant zinc-rich and copper-rich limestone-hosted skarn-associated deposits, particularly at King Vol, Mungana, Griffiths Hill and the Red Cap.
Previous exploration over the Palmerville Project tenements has, in places, been quite extensive with soil, stream sediment and rock chip sampling, trenching, and drilling. Elsewhere, exploration is at an early stage. Over 65 mineral anomalies have been defined by previous exploration.
NMR has a good relationship with the landholder where its high priority exploration targets are located within the Palmerville Project area. The landowner has provided access to the airstrip located on the property, subject to standard commercial terms. NMR may also extend the terms of the access agreement for an additional 3 years.
Eastern Goldfields Project
This Project comprises three prospect areas. The Music Well property consists of two tenements located approximately 260 km north of Kalgoorlie. Mt Vetters is located approximately 50 km north-northwest of Kalgoorlie, and Arcoona is located approximately 100 km northeast of Kalgoorlie.
The Company has entered into an option agreement with Sullivan Creek Pty Ltd and BA Exploration Pty Ltd to acquire two exploration licences at Music Well and two exploration licences applications, at Mt Vetters and Arcoona.
The Company's Eastern Goldfields Project is located within the Yilgarn Craton which makes up much of Western Australia and is Australia's premier mineral province and is endowed with gold, nickel, iron ore, copper, zinc and tantalum. Major gold deposits occur at Kalgoorlie, Kambalda, Mount Magnet, Boddington, Laverton and Wiluna, and are hosted in greenstone belts.
Recent discoveries of granite-hosted gold deposits throughout the Yilgarn Craton opens the door to new prospective areas in the craton where there has been little previous exploration. All three project areas are prospective for granite-hosted gold deposits.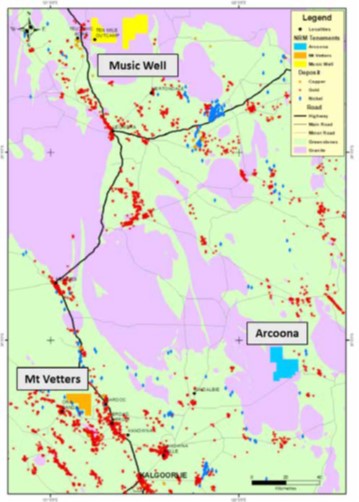 Mount Morgan Project
The Mount Morgan Project is one tenement comprised of four (4) non-contiguous blocks surrounding the township of Mount Morgan located 30 km south of Rockhampton in Central Queensland. A review of past exploration data in the district suggests the tenement is prospective for several styles of mineral deposit. The primary target is Mount Morgan style replacement deposits but there is also potential for intrusive related copper-molybdenum deposits, structurally controlled gold deposits, and intrusive related distal base metal deposits.