Update: The Lead Manager is pleased to advise that Nanoveu Ltd has now received commitments for subscriptions above its minimum raise target of $4.5m.
Introduction
Nanoveu Limited (ASX: NVU) aims to become a market leading technology company by applying nanotechnology to deliver vision shaping applications to digital screens. Nanoveu's award-winning product, EyeFly3DTM, uses a combination of software (application) and hardware (screen protector) to offer real time, affordable and easy to use 3D rendering and 2D-to-3D instant conversion of videos and photos on smartphones and tablets – without the use of 3D glasses.
Nanoveu Pte Ltd is a Singaporean company which was established in 2012 to continue development of and commercialise nanoimprint science applications initiated by A*STAR. Nanoveu Ltd was incorporated in February 2018 for the primary purpose of acquiring Nanoveu Pte Ltd (Nanoveu). A*STAR's Institute of Materials Research and Engineering worked with Temasek Polytechnic to develop a patented technology for an efficient and low-cost nanoimprint lithography (NIL) manufacturing process.
Nanoveu is also developing its complementary EyeFyx technology through its ongoing research and development program. Using the EyeFyx technology (which comprises a combination of hardware and software), the Company is working towards developing a product which aims to correct images for certain vision aberrations on high resolution digital devices, such as smartphones and tablets.
Offer overview
Nanoveu Limited is looking to raise between $4.5 - $6 million and will have an estimated market capitalisation of $26.5 million at maximum subscription.
The proceeds from the Offer will be used for:
EyeFly and EyeFly3DTM product development, production and purchase of inventory;
Sales and marketing;
General working capital; and
the cost of the offer.
The Technology
The product development and test sales programs have been completed for the EyeFly3DTM product, and its "EyeFyx" technology is moving towards commercialisation following completion of the proof of concept stage.
EyeFly3DTM
The EyeFly3DTM is a nanoimprinted protective film that allows users to view 3D images, videos, and games on the go through their mobile devices. The protective screen protector is low-cost, thin, sensitive and flexible. EyeFly3DTM screens are available in Polyethylene terephthalate (PET) or Tempered Glass, and is oleophobic and anti-fingerprint. Users can download the mobile app and view images and videos in 3D. They can also convert their 2D images into 3D.
Nanoveu's EyeFly3DTM product utilises Nano Imprint Lithography (NIL) in the manufacturing process. NIL is an advanced patterning technique effective for sub-100 nanometre applications. Advantages of using NIL in the manufacturing process include:
the pattern resolution of NIL is not limited by optical diffraction, as such, it does not require costly optics and specially formulated resist materials;
Nano imprinters capable of handling rolls with a width of over 1.5 metres are available making the production suitable to mass production; and
the NIL process is very flexible. It can accommodate a large variety of polymeric materials and commercially available resists. It is also compatible with either stiff or flexible substrate materials, particularly silicon, glass, or plastics.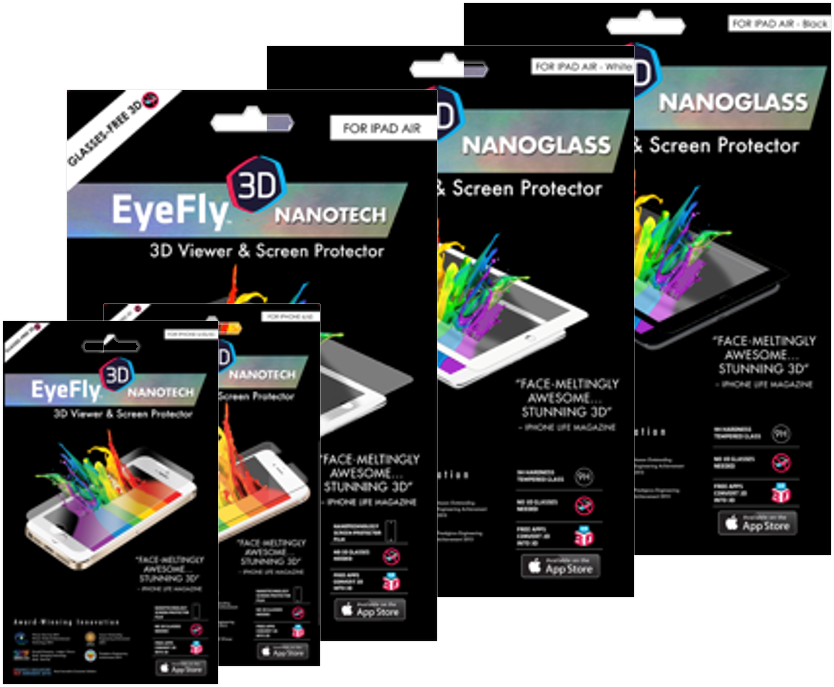 EyeFyx
Using Eyefyx, the Company intends to offer the world's first, commercial, ground-breaking solution of applying a simple nanotech-based screen protector over a smart device/tablet/laptop that works with the appropriate software to correct anyone with farsightedness (hyperopia) and presbyopia.
Nanoveu has developed a technique that adjusts images displayed on a digital device to enable users with hyperopia or presbyopia to view digital content without needing to wear their reading glasses. The technique uses special embedded software and nano-imprint lens technology to render a clear image onto the retina, as opposed to correcting the user's vision with glasses. This process is illustrated below:
Nanoveu's Revenue model
As Nanoveu's EyeFly3DTM product is comprised of both a screen with nano-lenses (an active screen) and software (the EyeFly3DTM app), Nanoveu is able to generate revenue through sales of both hardware and software.
This is initially intended to be achieved through a retail strategy focussed on the US via shopping mall booths/shops/carts and online channels globally, with the aim of generating sufficient demand to transition to a primary wholesale distribution approach.
Growth Strategy
The US is the initial target market for which Nanoveu has established a team with retail sales experience and reach in the sector, plus established experience and reach selling to big box retailers
The Company plans to establish online channels and will engage in digital marketing campaigns to create awareness and harvest interest into sales.
The Company also intends to be proactive in searching for distributors, a key source for which is trade shows, plus the overall interest is expected to attract further enquiries.
Key Highlights
The key investment highlights for Nanoveu include:
a scalable business;
a product targeting the discretionary spend in the gaming and leisure market (EyeFly3DTM);
a product in development (EyeFyx) which is intended to provide a convenient solution for the growing aging population who require vision correcting glasses in order to view digital displays; and
potential to create significant shareholder value.
Management and Board
Nanoveu Limited is led by a carefully selected and experienced team with a broad range of business knowledge and skill base to commensurate with the requirements of the company. These include:
Alfred Chong, Executive Chairman and CEO. Alfred is the Founder of Nanoveu and has a history of building companies and executing trade sales in California and Singapore. Alfred was the Asia Pacific CEO for Atex Media Command, a global provider of solutions and services to the media industry; CEO for THISS Technologies Inc, a satellite communications company; CEO for 121View, a digital signage company; and CMO at 3D International before founding Nanoveu.
Michael van Uffelen, Executive Director and CEO. Michael is an experienced Director, CFO and Company Secretary actively engaged in managing companies and providing corporate advisory services with over 30 years' experience in business management.
Steven Apedaile, Non-executive Director. Steven has worked in the accounting profession for nearly 30 years, 25 of which were spent in Hong Kong with the first 7 years with KPMG Hong Kong and then 18 years with Horwath Hong Kong. Steven has experience in all facets of international business, corporate finance and forensic accounting services.
David Nicol, Non-executive Director. David is a seasoned director and advisor for technology-based companies. He currently serves on four boards, two privately held and two public, both of the latter for which he chairs the Audit Committee. David has held executive positions with three public companies - Verisign, Illuminet, and United Telecom/Sprint – and six early-stage, private companies.
Risks
You are encouraged to read the Prospectus carefully as it contains detailed information about the Company and the Offer. Like all investments, an investment in the Company carries risk. As set out in Section 8 of the prospectus, Nanoveu Limited is subject to a range of risks, including but not limited to research and development, intellectual property rights, competition and reliance on key personnel.
Section 734(6) disclosure: The issuer of the securities is Nanoveu Limited ACN 624 421 085. The securities to be issued are ordinary shares. The disclosure document for the offer can be obtained by clicking on the link above. The offers of the securities are made in, or accompanied by, a copy of the disclosure document. Investors should consider the disclosure document in deciding whether to acquire the securities. Anyone who wants to acquire the securities will need to complete the application form that will be in or will accompany the disclosure document (which can be done via the electronic application form which will become available by clicking the bid button above).​
OnMarket has a limited allocation. The offer may close early and the 'Pay By' dates may change. Bids over $10,000 may be scaled back more heavily. Duplicate bids under the same investment profile, investor name or residential address may be cancelled.
.