Update: The company has lodged a Supplementary Prospectus extending the offer close date to 21 November. Read here
Update: The company is pleased to have prominent investment manager, Regal Funds Management as a shareholder who have been supportive since the pre-IPO capital raising.
Introduction
Montem Resources Limited (ASX: MR1) owns the Chinook Properties, which comprise prospective metallurgical coal leases and freehold titles in southern Alberta and British Columbia, Canada. These properties are located in an active mining district and in close proximity to key mines of Teck Resources, a major exporter of Canadian coking coal.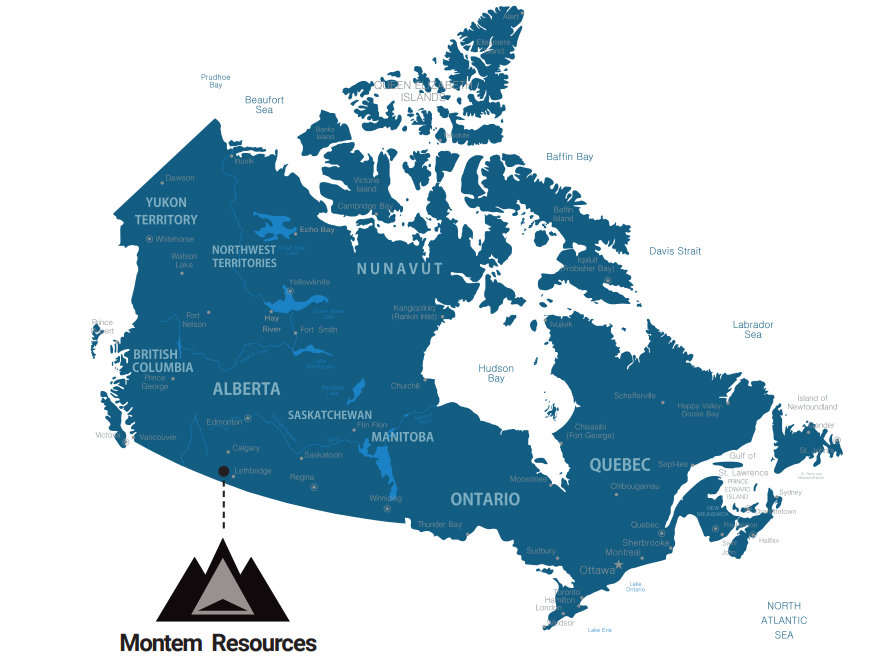 Four of the Chinook Properties contain previous open-cut and underground mines. Montem Resources plans to re-establish mining at the Tent Mountain open-cut mine while exploring development opportunities at the other Chinook Properties. The objective for Montem Resources is to develop a regionally integrated coking coal mining complex in the Crowsnest Pass region, leveraging central infrastructure, and focusing on low cost development of open-cut coking coal mines. Montem Resources has brought together a team of technical and management specialists with extensive experience in coal mining in Canada and Australia, led by Peter Doyle and Bob Bell.
Offer overview
Montem Resources Limited is seeking to raise between $15 million and $20 million and will have an estimated undiluted market capitalisation of approximately $55.8 million at maximum subscription.
The funds raised under the Offer will be primarily directed to:
Conduct exploration and engineering studies to complete a Definitive Feasibility Study and environmental studies at Tent Mountain mine to facilitate permit amendment;
exploration and pre-feasibility studies across other Chinook Properties.
Working capital; and
Cost of the offer
The Properties
The Chinook Properties are six discrete projects located on the front ranges of the Canadian Rocky Mountains in southwestern Alberta, Canada (with Tent Mountain also straddling the Alberta-British Columbia border) and are mostly brownfield projects having supported prior mining. They are:
Tent Mountain mine
Chinook South Project
Chinook North Project
Vicary-Racehorse Project
Isola and Oldman (exploration projects)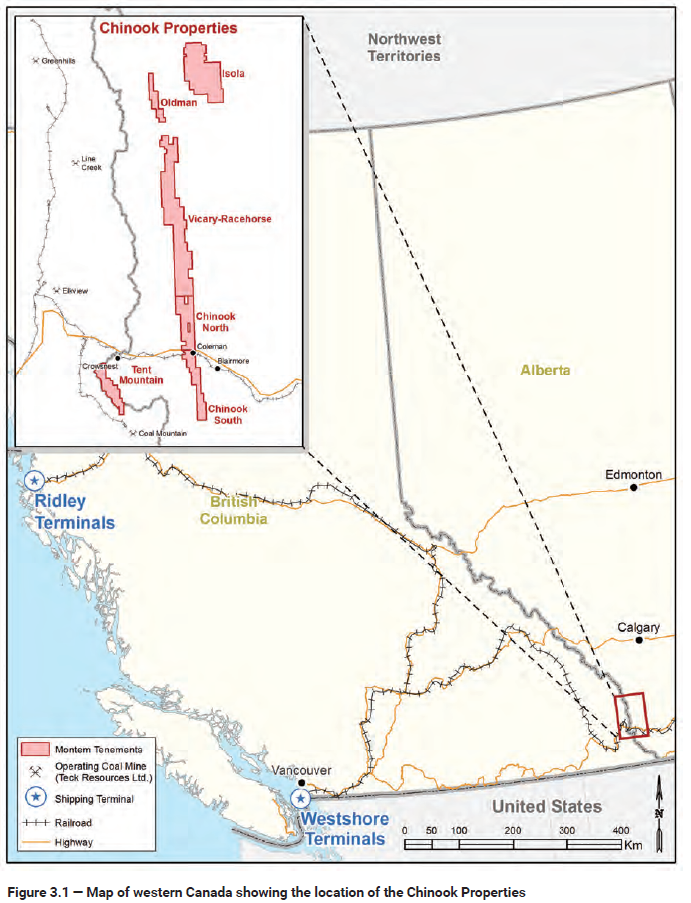 Resource estimates have been completed for the Tent Mountain, Chinook North, Chinook South and Vicary - Racehorse projects. Each of these projects contain JORC Code 2012 classified Coal Resources.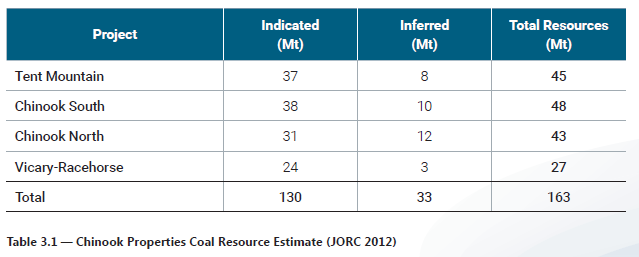 Investment Highlights
Experienced Board and management: extensive coal experience in Canada and Australia
Significant resource: JORC compliant Mineral Resources across four Projects totalling 163Mt (130Mt Indicated, and 33Mt Inferred Mineral Resources)
Clear pathway to production: The Montem Board believes the existing permits at Tent Mountain mine provides a significant advantage in re-establishing mining activities in a comparatively short time frame.
High quality steelmaking coal: Whilst historic production at Tent Mountain mine and Vicary mine was sold as hard coking coal to Japan, there is no certainty similar hard coking coal products will be produced from any of the Chinook Properties. Further drilling and sample testing will be required to confirm whether a soft, semi-soft/weak, semi-hard or hard coking product can be produced.
Previously mined: Four of the Chinook Properties have been mined previously in the 1960s, 1970s and 1980s, with Tent Mountain closing in 1983.
Approvals: Tent Mountain mine has a current environmental approval, however an amendment to the environmental approval is required to restart mining as are requisite additional mine operating licences.
Nearby infrastructure: Most of the Chinook Properties, including Tent Mountain, are within close proximity to the main rail network linking the properties to export ports in Vancouver.
Exploration upside: Potential for Resource extension through exploration activities.
Management and Board
The Montem Resources board and management possess significant experience in ASX-listed coal companies, and in the development and operation of coal mining assets. These include:
Peter Doyle, Managing Director and CEO – has over 20 years' experience in the coal industry including roles in production, project development, marketing and management. Mr Doyle has been involved in successful greenfield and brownfield coal mine developments, and managed coal mines selling to export metallurgical markets.
Bob Bell, Chief Commercial Officer – is a mining engineer with 30 years' experience in the Canadian coal industry and international coal markets. Previously in executive roles with Teck Resources coal division and Luscar.
Rob Yeates, Independent Chairman – has over 35 years coal mining experience and was formerly the Managing Director of Oakbridge Ltd.
Rob Tindall, Non-Executive Director – is the founder of Montem and possesses over 25 years of experience in the finance and resources industry. Mr Tindall was previously CEO of Transatlantic Mining Corporation.
Susie Henderson, Independent Non-Executive Director – is currently North American Leader (Infrastructure, Investment and Economics) for GHD Advisory, a global consulting firm.
Will Souter, Independent Non-Executive Director – is a lawyer and investment banker with extensive global transaction and fund-raising experience, particularly in the resource sector. Previously Executive Director at RFC Ambrian.
Risks
You are encouraged to read the Prospectus carefully as it contains detailed information about the Company and the Offer. Like all investments, an investment in the Company carries risk. As set out in Section 8 of the prospectus, Montem Resources Limited is subject to a range of risks, including but not limited to approval and licences, road and infrastructure access, additional capital requirements and environmental risks.
Section 734(6) disclosure: The issuer of the securities is Montem Resources Limited ACN 623 236 831. The securities to be issued are ordinary shares. The disclosure document for the offer can be obtained by clicking on the link above. The offers of the securities are made in, or accompanied by, a copy of the disclosure document. Investors should consider the disclosure document in deciding whether to acquire the securities. Anyone who wants to acquire the securities will need to complete the application form that will be in or will accompany the disclosure document (which can be done via the electronic application form which will become available by clicking the bid button above).​
OnMarket has a limited allocation. The offer may close early and the 'Pay By' dates may change. Bids over $10,000 may be scaled back more heavily. Duplicate bids under the same investment profile, investor name or residential address may be cancelled.