Update
Microequities has advised that is has received commitments in excess of the $19 million maximum, however, the Company is accepting oversubscriptions.
Introduction
Microequities Asset Management Group Limited (ASX: MAM) is a specialist Microcap and Smallcap Fund Manager that invests using a Value Based Investment Doctrine. The Company, which was founded by Carlos Gil, the current Chief Executive Officer and Chief Investment Officer, commenced operations in 2006, initially providing specialist investment research on Microcap companies. Microequities manages funds exclusively for Wholesale and Sophisticated Investors. Client numbers in Microequities' products have grown from 73 as at 30 June 2013 to 837 as at 31 December 2017.
In early 2014 Microequities undertook a limited capital raising to investors in the Funds, at the time of the capital raising, the Company's funds under management (FUM) was $58 million. This has grown to $442 million as at 31 December 2017, representing compound growth of approximately 69% per annum.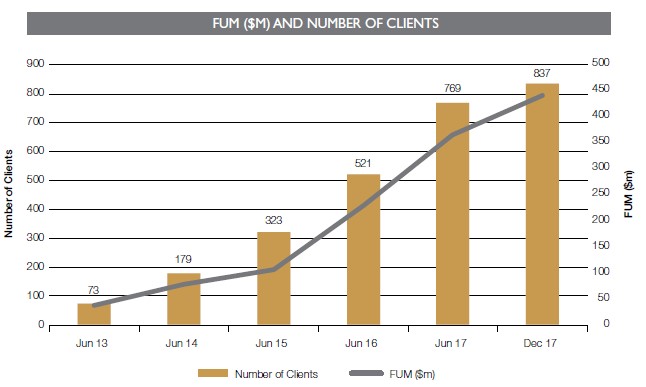 Offer Overview
Microequities Asset Management Limited is seeking to raise between ~$13.6 million and ~$18.9 million via its IPO with a market capitalisation of approximately $106.4 million at maximum subscription. Subject to future business conditions, the performance of Microequities and Microequities' future cash requirements, the Directors current intention is to target a dividend payout ratio in the range of 70% to 100% of Net Operating Cash Profit.
The Offer represents the sale of a maximum of 17.8% of the Existing shares and is facilitated through the sale by the three largest shareholders of a portion of their holding. The purpose of the Offer is to:
facilitate the Listing;
provide an opportunity for Clients to join the Company as Shareholders and solidify the commercial bond between the Company and its Clients;
provide an opportunity to the general public to become Shareholders in a growing funds management business; and
improve awareness of the Microequities brand in the investment community through being listed on ASX.
Revenue
Microequities has grown its revenue, profitability and FUM strongly since its first Fund was launched in 2009. The Company derives income from two primary sources:
Recurring revenue from Management Fees and Administration Fees, and
Performance Fees, which are derived based on the performance of each Fund on an individual investor basis. Other income sources are investment income on treasury assets and miscellaneous other income.
Historical Financial Performance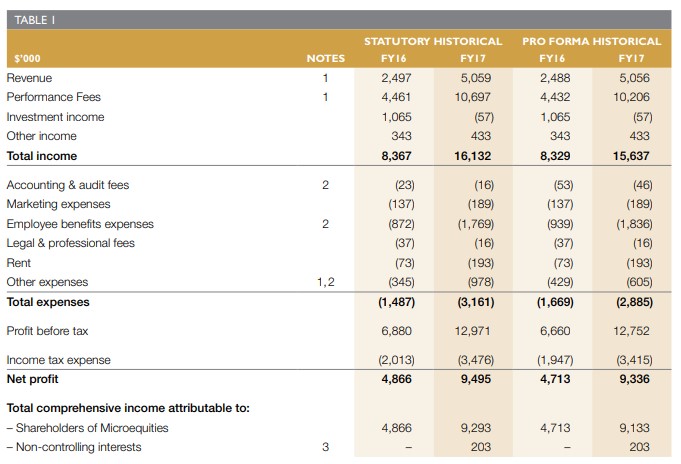 Please see the prospectus for related notes disclosure
Microequities Products
The core Microequities products are the four perpetual Open-ended Funds, which represented 84% of funds under management (FUM) as at 31 December 2017:
the Deep Value Fund (DVF);
the High Income Value Microcap Fund (HIMF);
the Global Value Microcap Fund (GVMF); and
the Pure Microcap Value Fund (PMVF).
Microequities funds have historically performed strongly, with their flagship fund, the Deep Value Fund outperforming the relevant index since inception. The Company also operates eight other ancillary products (being seven Close-ended Funds and one Open-ended Fund).
Investment Strategy
Microequities approaches investing in equities as being akin to entering into a business partnership and becoming part owners in the business. Microequities takes a long-term, buy and hold approach to investment decisions and seeks to identify quality, profitable, undervalued companies with genuine long-term growth pathways run by competent and honest management teams.
Industry Overview
Microequities operates in the Australian managed funds industry, which offers a broad range of products and services for the accumulation and management of personal wealth. The industry is composed mainly of superannuation based and non-superannuation based managed funds, life insurance corporations, unit trusts and funds managed by professional service firms (Fund Managers). The funds are spread across a range of investment asset classes, including but not limited to Australian and international equities, bonds, property and commodities.
Dividend Policy
Microequities has historically paid dividends from its Net operating profits. Subject to future business conditions, the performance of Microequities and Microequities future cash requirements, the Directors' current intention is to target a dividend payout ratio in the range of 70% to 100% of Net Operating Cash Profit. Since all income of Microequities is Australian sourced and Australian tax is paid on that income, it is likely, but not guaranteed, that any dividend that is paid will be fully franked. It is the current intention of the Directors to pay interim dividends in respect of the financial half years ending 31 December and final dividends in respect of the financial full years ending 30 June
Directors and Key Personnel
Microequities Asset Management Limited is led by a board who relevant experience and skills, including industry and business knowledge, financial management and corporate governance experience. Key personnel include:
Leslie Szekely, Non-executive Director and Chairperson previously a tax consulting partner with Horwaths Chartered Accountant for 20 years.
Craig Shapiro, Independent Non-executive Director with over 30 years' experience in the financial services industry. Craig previously spent 22 years at Macquarie Group where he was the Global Group Treasurer and Executive Director.
Carlos Gill, Executive Director, CEO and CIO. Carlos is the founder of Microequities with over 20 years' experience in stockbroking, funds management and investment research.
Samuel Gutman, Executive Director with experience in the IT industry.
As set out in Section 5 of the prospectus, Microequities Asset Management Limited is subject to a range of risks, including but not limited to market stability, reliance on key staff, poor investment performance and regulatory changes.
Section 734(6) disclosure: The issuer of the securities is Microequities Asset Management Group Limited ACN 110 770 056. The securities to be issued are ordinary shares. The disclosure document for the offer can be obtained by clicking on the link above. The offers of the securities are made in, or accompanied by, a copy of the disclosure document. Investors should consider the disclosure document in deciding whether to acquire the securities. Anyone who wants to acquire the securities will need to complete the application form that will be in or will accompany the disclosure document (which can be done via the electronic application form which will become available by clicking the bid button above).​
OnMarket has a limited allocation. The offer may close early and the 'Pay By' dates may change. Bids over $10,000 may be scaled back more heavily. Duplicate bids under the same investment profile, investor name or residential address may be cancelled.