The Projects
Lode's tenements lie within the southern part of the New England Fold Belt, also known at the New England Orogeny (NEO) which holds considerable potential for economic mineralisation, despite the fact that only one gold mine is currently operating in the region. The most significant mining period was from the 1850s up to World War 1.
Most recently the New England Fold Belt has experienced a massive resurgence in exploration interest. Just in the last year the area under exploration title has grown from 7,296 km2 to 17,322km2, an increase of 137%. Companies acquiring ground include a number from North America with the largest being Newmont Australia Pty Ltd (Newmont). Gold companies of this ilk typically target multi-million-ounce gold deposits. Lode has the advantage of being a front runner of this wave and has acquired exploration projects in the New England Fold Belt where much of the early work has already been completed. The Projects include:
Uralla Gold (incorporating Uralla West)
Located 8km west of Uralla was one of the earlier goldfields discovered in NSW and a significant gold producer in the 1850s. Lode's Uralla Gold project (EL8980 and EL9087) encompasses the entire goldfield and where two mineralisation styles are being targeted, that being high grade mineralised veins and high tonnage mineralisation associated with cupula structures. Previous work has discovered and delineated the former style of mineralisation in high-grade lodes that remain open and many targets including high grade surface samples, defined through preliminary surface work, were not followed up with drilling.
Historical drilling at the Martin's Shaft prospect has resulted in a number of solid intercepts including 14.0m @ 4.83 g/t Au (incl. 3.0m @ 6.94 g/t Au) in drill hole SGRDD002 and 11.0m @ 5.38 g/t Au (incl. 6.0m @ 8.30 g/t Au) in drill hole SGRDD004. Surface sampling at the Hudson's prospect has returned grades in the order of 8.03, 7.58, 6.38, 6.31, 5.29 and 5.06 g/t.
Uralla general geology and historical workings
Webbs Consol Silver
Webbs Consol is a historical silver mining centre with high grade silver bearing lodes providing attractive targets that are essentially drill ready. Historical records of underground sampling indicated open ended high-grade mineralisation remains at relative shallow depths and subsequent geophysical anomalies were never followed-up by drilling Historical channel samples taken at main Webbs Consol mine indicate open ended high-grade mineralisation at 60m depth. 12 samples averaged 210g/t Ag, 22.6% Zn and 2.74% Pb.
Silver bearing galena mineralisation from Webbs Consol's main shaft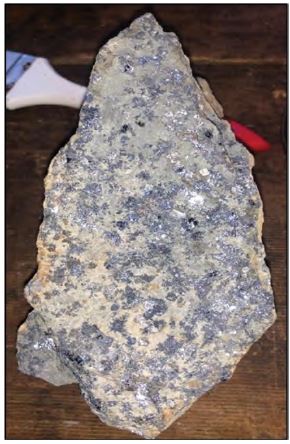 Fender Copper
This project has four known copper deposits of which the Trough Gully copper mine is a drill ready target. In addition, previous exploration surface work has delineated two significant copper anomalies presenting potential large tonnage targets. The Trough Gully and Fisher's Copper workings have received particular attention, with Blayden, 2007a noting that the VHMS style deposits are favourably located within and to the west of the Peel-Manning Fault System (locally termed the Spring Creek Fault). The deposits vary greatly in size from small areas of copper carbonate staining up to deposits such as Trough Gully and Fischer's Copper, from which 2,572t and 2,643t of ore, respectively, were produced (Blayden, 2007a). At the Trough Gully mine copper mineralisation open along strike & down dip. Historical sampling of working extremities resulted in 8 samples averaging 2.2% Cu, 1.2% Zn, 10 g/t Ag.
Elsinore Copper
The project possesses a large 6km regional magnetic and IP anomaly with anomalous base/ precious metals in geochemical sampling. There has been very little exploration completed within EL9004 but the Elsinore Prospect remains untested despite coincident anomalous geochemical and geophysical responses. In Geos Mining's opinion, this remains as the best target for drilling.
Thor Gold
This project contains a large 2km long gold anomaly potentially associated with high level intrusions and/ or the surface representation of large and deep crustal structures. Radiometric imagery shows thorium signatures potentially indicating shallowly buried or just unroofed granites and/or areas of related alteration. Newmont has pegged ground with similar geology. Lode intends to initially carry out broad geochemical sampling.
Tea Tree
This project covers a historical goldfield which is underexplored with only two drill holes of which one intercepted gold mineralisation but with no follow-up drilling. Historical gold production has been limited but the very high gold grades would have been attractive to historical miners. The lack of virtually any drilling presents an opportunity for Lode to test below the extent of the historical mining, which probably targeted supergene enrichment at the base of complete oxidation (BOCO). The potential for auriferous mineralisation hosted by quartz-sulphide veins below the BOCO is quite good along the interpreted structural corridor.