Update
Irexchange has recently signed an MOU with Sigma Healthcare to enter the pharmacy channel. Sigma is Australia's largest retail pharmacy network, and provides the opportunity to connect suppliers and pharmacies for front of shop products. The company is also in talks with potential partners to enter the China cross-border e-commerce market.
The offer close date is midday Monday 18 February, 2019 (AEDT).
Introduction
irexchange Limited (ASX: IRX) is a disruptive technology and distribution business that connects suppliers and retailers through a digital supply-chain marketplace, empowering independent retailers and suppliers to better compete, improve market access and increase returns.
By removing the middleman and all associated costs, irexchange has reinvented the relationship between suppliers and retailers, giving them price transparency across a wide range of popular stock keeping units (SKUs) in multiple segments across the grocery, frozen, produce and liquor sectors.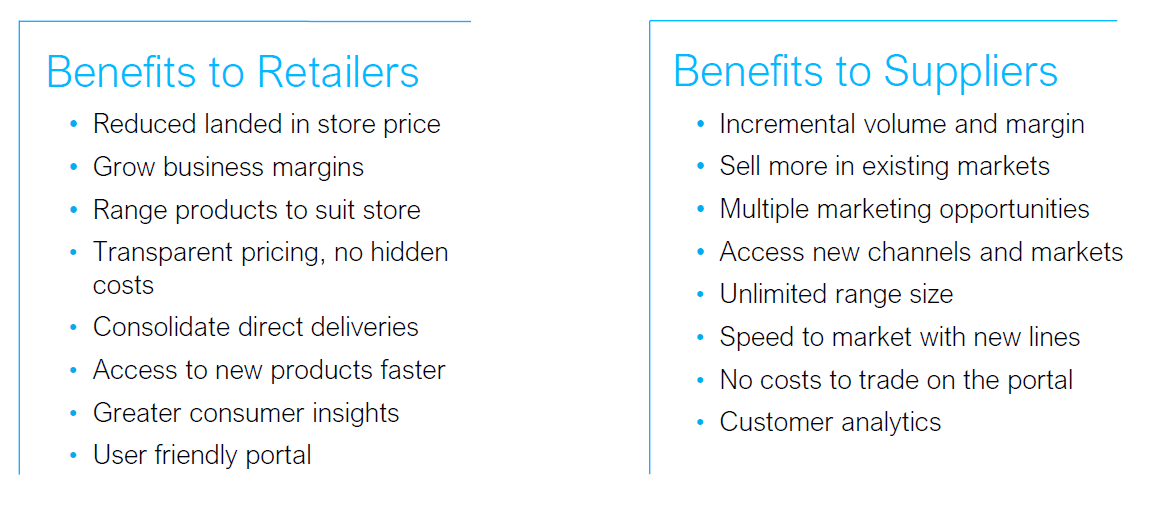 Trading commenced in New South Wales in December 2016, and has since grown to include Victoria, South Australia and Queensland, with over 170 suppliers and 600 retailers onboarded within the first two years of operation (with approximately 50% trading regularly). During 2018, irexchange saw a four-fold increase in the number of top 100 FMCG suppliers actively engaged on the platform, and now trades with over 20% of the top 100 FMCG suppliers including Swisse, Bellamy's, Reckitt Benckiser, L'Oreal, Unilever, Kraft Heinz, Kimberly Clark, Carlton and United Breweries and ABC Tissue.
The company's immediate growth strategy is to focus on the expansion of its operations geographically and into other channels including pharmacy, petrol and convenience and the China Cross border e-commerce marketplace.
To date, irexchange has raised in excess of $40 million to fund product and technology development, enhance market entry and support the rapid scaling up of its operations.
Investment Highlights
Disruptive technology platform and business model that enables retailers and suppliers to trade efficiently and transparently, lowering operating costs and enabling fulfilment
Disintermediating large, incumbent wholesalers within $107 billion total addressable market for retail supermarket and grocery sales
Allows independent retailers to better compete by removing prohibitive costs and inventory levels
Provides retailers and suppliers with opportunity for up to 10% margin improvement compared with traditional wholesale model
Partnered with leading distribution companies DHL and Emergent Cold, providing an asset light, low cost fulfillment capability that is scalable and flexible
Has grown its network to over 600 independent retailers across Australia since December 2016
Over 170 FMCG suppliers, including 20% of the top 100 FMCG suppliers, trade on the platform
Suppliers include global brands such as Swisse, Bellamy's, Reckitt Benckiser, L'Oreal, Unilever, Kraft Heinz, and Carlton and United Breweries
Experienced board and management team with FMCG sector experience
In final discussions with cross border e-commerce (CBEC) partner to enter the China CBEC market
Offer overview
irexchange Limited is looking to raise up to $17.5 million via the IPO and will have an indicative market capitalisation of approximately $74.3 million at maximum subscription.
The proceeds of the offer will be used for the following: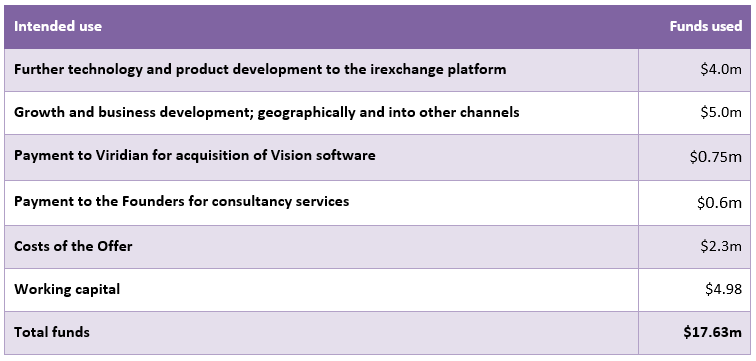 * Includes $130,000 of existing cash at time of listing
Revenue Model
irexchange generates revenue by charging the net product price plus a handling and freight / distribution fee plus a minimal percentage service fee. Freight is charged at cost to retailers. For illustration purposes, see example below.

Goods are sold to customers on a transparent basis where the price paid to suppliers is mirrored in the price charged to customers.
The freight costs charged to customers is a flat fee per carton which is structured to provide transparent recovery of freight costs incurred by the Company.
The Company also generates revenue by charging a per carton handling and distribution and transaction fee as a percentage of the carton value. Revenue is therefore primarily a function of carton value and number of cartons.
Growth Strategy
irexchange aims to grow its business in three phases.
Phase 1 (current): Expand further into the independent grocery, liquor, pharmacy and petrol and convenience sectors in the Australian market.
Phase 2: Expand its geographical reach to include all Australian states and territories, as well as into other channels and territories including international B2C marketplaces and the China cross border e-commerce (CBEC) marketplace.
Phase 3: Expand into other international markets where high retailer and supplier fragmentation exists.
Industry Overview
As a business focused on FMCG retail, irexchange is addressing a market valued at $107 billion in retail sales for supermarket & grocery (including petrol & convenience), $6 billion for pharmacy and $18 billion for liquor, giving a total addressable market of approximately $131 billion in 2018.

While the retail sectors addressed by the Company are relatively concentrated (the top-2 retailers and banners have a 69% share of sales in supermarket & grocery (including petrol & convenience), 44% in community pharmacy and 66% in liquor), there is also a substantial base of independent retail operators in each sector. In the supermarket & grocery (including petrol & convenience) sector, for example, independent operators account for an estimated 22% share, with retail sales of $23.5 billion.
The industry revenue for Grocery, Liquor & Tobacco Products Wholesaling was approximately $86 billion in 2017, and this has grown at almost 6% since 2013, approximately double the rate of GDP growth over this period.
Board and Management
Brett Charlton (CEO) previously held senior executive roles in FMCG and healthcare at Sanofi Healthcare, Fonterra, PepsiCo and Diageo and has a strong track record in driving business growth, building operational efficiency and supporting the development of high performing teams. Most recently, Brett built a $50 million e-commerce business into China and South-East Asia, partnering with Australian Pharmacies and distributors to present the Ostelin and Cenovis brands to Asian consumers online
Brett Coventry (CFO) has steered high growth technology companies to IPO, including as CFO of Catapult Group International (ASX:CAT), where he was also General Manager Commercial. Brett led Catapult's successful IPO and acquisitions of XOS Digital and PlayerTek. Brett previously held the CFO position at Money3 Corporation (ASX:MNY) where he also acted as joint Company Secretary.
Andrew Reeves (Independent Chairman) was formerly Chief Executive Officer of George Weston Foods and Managing Director at Lion Ltd and Coca-Cola Amatil. Andrew presently serves on the boards of Oz Harvest, The Healthy Grain, Credit Union Australia and Keytone Dairy
Ian Hicks AM (Deputy Chariman), currently Executive Chairman of Applied International Pty Ltd, a private investment group. Ian is also the former Chairman of Deutscher & Hackett, former Deputy Chairman of the National Gallery of Victoria Foundation, a former trustee of -McClelland Gallery and Sculpture Park and Alzheimers Australia (now Dementia Australia)
Suzanne Douglas (Independent Director) is a highly experienced FMCG leader and innovator with a strong record of developing businesses, and building and delivering strategies for growth. Suzanne has held high profile leadership roles as Managing Director, H.J. Heinz Australia, General Manager, McPherson's Consumer Products, and General Manager Marketing Innovation and Special Projects, Devondale Murray Goulburn
John Ayre (Non-Executive Director), established ULR Land Rover 44 years ago which grew into the ULR Automotive Group, comprising ULR Land Rover, ULR Jaguar, Melbourne City Land Rover, Melbourne City Jaguar and Melbourne City Volvo
Risks
You are encouraged to read the Prospectus carefully as it contains detailed information about the Company and the Offer. Like all investments, an investment in the Company carries risk. irexchange Limited is subject to a range of risks, including risks associated with increased competition, protection of intellectual property, reliance on third-party logistics and warehousing services, ability to attract and retain key personnel, supply chain disruption risk, a failure to retain existing customers and attract new customers and disruption and failure of technology systems. Please refer to Section 5 of the prospectus for further details.
Section 734(6) disclosure: The issuer of the securities is irexchange Limited ACN 612 319 276. The securities to be issued are ordinary shares. The disclosure document for the offer can be obtained by clicking on the link above. The offers of the securities are made in, or accompanied by, a copy of the disclosure document. Investors should consider the disclosure document in deciding whether to acquire the securities. Anyone who wants to acquire the securities will need to complete the application form that will be in or will accompany the disclosure document (which can be done via the electronic application form which will become available by clicking the bid button above).​
OnMarket has a limited allocation. The offer may close early and the 'Pay By' dates may change. Bids over $10,000 may be scaled back more heavily. Duplicate bids under the same investment profile, investor name or residential address may be cancelled.
.