Converting Note
This Converting Note offer is only open to Professional, Sophisticated and Experienced investors. More information on how to qualify here.
OnMarket has a limited allocation. Minimum application size of $10,000 (see Key Terms). The Company reserves the right to close the Offer early.
Update: Granite Power have recently put in place an MOU with a steel mill based in the Western Pacific, with a number of prospective waste heat to power projects
Introduction
Granite Power Limited is an Australian clean energy company that has developed proprietary solutions for converting low temperature heat to electricity.
The company is commercialising GRANEX® using a Build Own Operate and Transfer (BOOT)-like model, where the customer identifies a heat source, which is then assessed by GPL for technical and commercial viability. If the assessment is favourable, the company negotiates a long-term Power Purchase Agreement (PPA) with the customer. The PPA electricity offtake payments fund operating costs, depreciation of capital equipment, and a return on the capital invested and the company delivers and commissions an installed GRANEX® plant against that PPA. GRANEX® modules are rapidly installed with no cost to the customer.
Problem
The majority of industrial processes and transportation systems worldwide use fossil fuel as the primary energy source. These processes intrinsically create large amounts of waste heat which is normally lost to the atmosphere.
Recovery of this waste heat to provide electricity is gaining increased global attention, spurred by high prices of both grid power and hydrocarbon fuels, and by the growing imperative to reduce global CO2 emissions. Such electricity does not involve additional emissions and is therefore considered "clean" energy.
Converting low temperature waste heat to electricity
The usual means of converting such low temperature heat to electricity is through the Organic Rankine Cycle (ORC). Granite Power has developed important refinements to ORC, called GRANEX®, which at little added cost significantly improve the electrical power recovered and hence project yields and paybacks. In real-world installations, the yield improvement is often 15% and can be as high as 30%. GRANEX® greatly improves upon ORC by using working fluids operating in their supercritical phase.
Following construction and operation of a series of pilot and demonstration plants at lab scale, 35kW and 170kW, Granite Power has readied a commercial GRANEX® module that recovers about 860kW (720-740kW net of auxiliary loads) in a 40-foot container package. Modules can be rapidly deployed into a variety of end-use applications. Plants are autonomous with no onsite staff required and have low maintenance costs.
Business Strategy
Granite Power Limited's business is finding, developing and operating waste heat and geothermal generation projects globally. In the last 6-9 months, GPL has found that the UK and EU are becoming highly favourable for the deployment of GRANEX® technology. GPL has already secured some UK grant funding for the installation of its existing 35kW demonstration plant at Tata Steel in Wales and the identification of further demonstration/prototype sites.
Granite Power Ltd's strategy is as follows:
Install GRANEX® unit on customer's existing site
Generate electricity from heat.
Sell discounted power via long term utility style PPA agreement
Customers only pay for delivered power, no upfront capital
Granite Power recovers plant cost + commercial margin

Management team
Prof. Michael Dureau– Non-Executive Director/Chairman, currently Deputy Chairman of the Warren Centre for Advanced Engineering Ltd and is the immediate Past President of the Electrical & Information Engineering Foundation both at Sydney University. Previous senior management roles in Australia included Managing Director of ABB Power Generation and Alstom Power.
Stephen de Belle – Managing Director, strong track record in business start-up activities, particularly regarding listed companies, including various power and other infrastructure projects. Previous roles include: Managing Director, Midwest Corporation Ltd; Chairman, Australian Superannuation Nominees Ltd; Director of Xylogy Pty Ltd.
David Tanner - Lead Engineer, with 30 years' experience in design and engineering management of Industrial Power Plants in Australia and SE Asia. Following international work at Babcock, David held design and engineering management positions at ABB, ALSTOM and AE&E, responsible for the engineering of numerous boiler and turnkey steam plants in the 10-150 MW range.
Offer Summary
The offer is a private placement seeking to raise up to $500,000 by issuing convertible notes.
Table 1: Key Offer Stats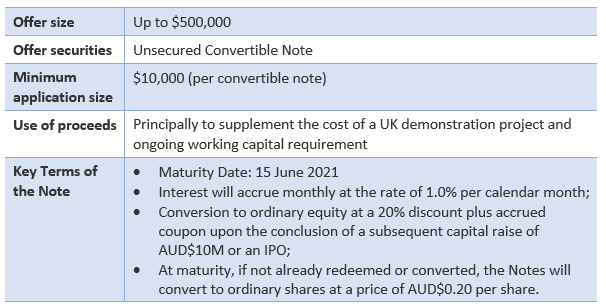 Following the completion of the OnMarket application process (for the Unsecured Convertible Notes), we will require you to complete and sign the Converting Note Deed and return the scanned copy to OnMarket at support@onmarket.com.au, and the hard copy to:
OnMarket BookBuilds Pty Ltd
Level 31
200 Barangaroo Ave
Sydney NSW 2000
Section 734(6) disclosure: The issuer of the securities is Granite Power Limited ABN 90 112 714 440. The securities to be issued are unsecured convertible notes. The disclosure document for the offer can be obtained by clicking on the link above. The offers of the securities are made in, or accompanied by, a copy of the disclosure document. Investors should consider the disclosure document in deciding whether to acquire the securities. Anyone who wants to acquire the securities will need to complete the application form that will be in or will accompany the disclosure document (which can be done via the electronic application form which will become available by clicking the bid button above)
.