Frontier Diamonds Ltd (ASX: FDX) is a diamond mining company focussed on the globally renowned Kimberley region of South Africa. Post listing, Frontier will own a 74% interest in Sedi Diamonds (Pty) Ltd (Sedi South Africa), the owner and operator of the Star Diamond Mine and Sedibeng JV Mines.
With an estimated resource base of 1.307 million carats and forecast revenues of US$22.8 million for FY2019, the Directors believe that the Star Diamond Mine and Sedibeng JV Mines produce diamonds of excellent quality and value per carat that are well regarded and keenly sought after by major diamond buyers around the world.
Frontier's aim is to unlock the potential of the existing producing mines, and to actively investigate growth opportunities through joint ventures and acquisitions. Sedi South Africa's extensive underground operating experience and in-house engineering expertise is expected to provide a significant competitive advantage in the potential pursuit of such opportunities.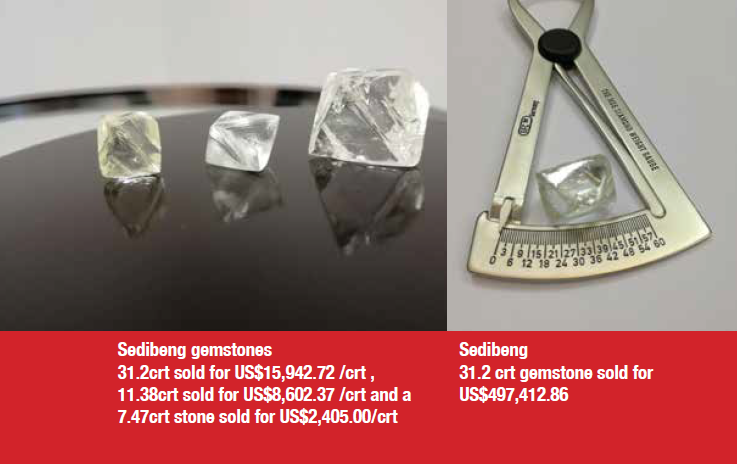 Offer overview
Frontier Diamonds Ltd is looking to raise between $4 million and $6 million via its IPO, and will have an estimated market capitalisation of $41.9 million at maximum subscription. The key purpose of the offer is to provide Frontier Diamonds with funding to:
continue to operate and develop Frontier's key Projects, being the Star Diamond Mine and Sedibeng JV Diamond Mine
implement a growth strategy to seek out further exploration, mining, acquisition and joint venture opportunities in Southern Africa
Mining Operations
Star Diamonds is located 12 km North East from the town Theunissen in the Free State Province of South Africa and Sedibeng is located approximately 40 km north of the town Delportshoop and 80 km west of the town of Warrenton in the Northern Cape Province of South Africa. Both mines have been in operation for over 60 years and all mine infrastructure already exists.
The Diamond Mineral Resources of the Star and Seidbeng mines as at 28 February 2017 was estimated as 4.551 million tonnes (Mt) at 28.7 carats per hundred tonnes (cpht) containing 1.307 million carats (Mct).
Both mines operate a Dense Media Separation (DMS) and Final Recovery Plant capable of treating the Ore Reserve at a head feed rate of 30tph and 50tph or at an average annualised rate of 110,000tpa and 180,000tph respectively. The process uses well proven diamond recovery technology for kimberlite ore.
Business Model
Sedi South Africa's activities over the previous few years have been to refurbish and re-establish both the Sedibeng JV Mine and Star Diamond Mine from a situation of care and maintenance to return to production.
Frontier's aim is to further unlock the potential of the mines by increasing throughput whilst maintaining low operating costs and low capital investments. To support this, Sedi South Africa's contracted mining team has a proven track record in underground and surface mining operations, with both mines complying with South African regulative control.
The company aims to achieve a long term predictable revenue stream supported by a consistent historical production profile of operations. The high quality diamonds produced by the mines will be sold via established marketing platforms and tender house facilities that the company has access to.
The Company has also recently acquired a tailings processing plant to reprocess significant tailings dumps at the Sedibeng JV Mine, and potentially, surrounding mines.
Financials
During the twelve months to 30 June 2017, Sedi South Africa achieved revenue of US$5.7 million.
During FY2018 the company is forecasting revenues of US$12.9 million, and an operating profit of US$0.3 million, due to increasing mining throughput to 132,002 tonnes per annum and optimised production capacity at the mines.
Optimisation of the mines production capacity and access to higher grade development areas in FY2019 will allow the mine to reach a production capacity of 215,500 tons of primary ore per annum. Revenue of US$23.0 million from the mining activities for the twelve months ended 30 June 2019 is forecast to generate an operating profit of US$7.6 million.
Board and Management
Frontier's Board has significant expertise and experience in the mining industry including Mr Jan Louw, Managing Director and previous CEO of Frontier Mining Group. Mr Louw has extensive experience in planning, developing and managing large scale open cast and underground mining operations, having worked in senior management positions for Anglo American for 16 years in South Africa and Namibia.
As set out in Section 5 of the Prospectus, Frontier Diamond Ltd is subject to a range of risks, including but not limited to exploration and development, limited history, licences and international operations.
Section 734(6) disclosure: The issuer of the securities is Frontier Diamonds Ltd ACN 616 232 556. The securities to be issued are ordinary shares. The disclosure document for the offer can be obtained by clicking on the link above. The offers of the securities are made in, or accompanied by, a copy of the disclosure document. Investors should consider the disclosure document in deciding whether to acquire the securities. Anyone who wants to acquire the securities will need to complete the application form that will be in or will accompany the disclosure document (which can be done via the electronic application form which will become available by clicking the bid button above).​
OnMarket has a limited allocation. The offer close and the 'Pay By' dates may change. Bids over $10,000 may be scaled back more heavily. Duplicate bids under the same investment profile or investor name may be cancelled.​
.