Business Overview
EP&T was founded in 1993 on the principles of Environment, Property and Technology. Initially supplying hardware‑based energy efficiency solutions in the Australian market. The experience gained from this market was first channelled into a manual, data‑driven operational efficiency solution and as they expanded and technology advanced, they combined their data‑driven insights and Intellectual Property (IP) with research and development to create the proprietary EDGE software solution. After 27 years of operation, data sources and analytics capabilities in the building energy optimisation space are well‑honed and constantly evolving.
EP&T has an international presence with offices in Europe, the Middle East, Asia and Australia and continues to expand into new territories. With several client relationships spanning 10 years, EP&T has proven to be a trusted analytics partner for its clients. EP&T's clients include entities such as British Land, M&G Real Estate, Derwent London, IHG, and Property NSW.
EP&T's EDGE Platform
EP&T's EDGE platform is a stand‑alone, modular solution for building owners, operators, and occupiers. EDGE plays a significant role – from data capture at the property, to aggregation and analysis, to the implementation of EP&T's solutions. The Energy & Water Analytics module is the core component, and clients can customise remaining modules and performance optimisation services to suit their specific needs.
The EDGE platform is hardware agnostic and can capture, cleanse and aggregate data from multiple sources within a building. EP&T designs its solutions around the characteristics of each individual building and based on client requirements.
The full suite solution comprises of four stages, to which the EDGE platform is central. The figure below shows the process flow of how EP&T delivers the benefits it provides to clients.

Clients are categorised into three key groups:
Building Owners;
Operators; and
Occupiers.
Each has their own specific requirements when it comes to building optimisation. The EDGE platform has been designed to be flexible enough to meet the needs of all three client groups. For example, the reporting functionality and capabilities of the EDGE platform can be used smartphone, tablet and desktop. The Building in your Pocket', the EDGE smartphone (and tablet) app provides client site teams with access to alerts even when they are away from their desktop computers, and regardless of whether they are an owner, operator or occupier.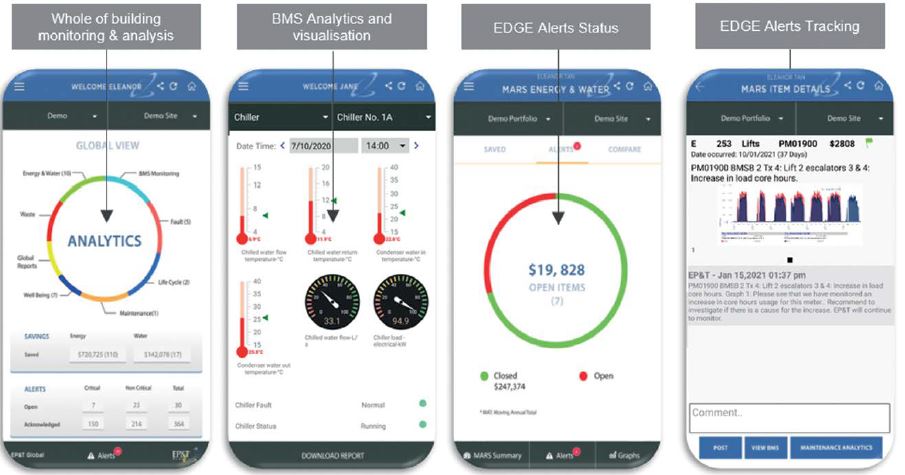 Product Strength
There are a number of key competitive strengths to our platform. These include:
A single platform (EDGE) with a comprehensive monitoring and data analysis tools.
High fidelity, granular data capture with systems designed to capture the level of data most suited to the client's building and goals which delivers accurate insights and energy savings.
Machine Learning Capabilities using the depth and breadth of over 27 years of data capture to continually inform optimisation recommendations.
A stand‑alone, modular solution
Hardware agnostic that can capture data from multiple sources and devices and doesn't limit capability to service different asset classes.
Performance optimisation processes combining detailed analytics, insights and experience of engineers and collaborative client interaction.
Not reliant on third parties for the provision of core software solutions.
Average annual savings achieved across EP&T's client portfolio when compared against the baseline year is approximately 22%.
This equates to over 100,000 tonnes of CO2 emissions avoided each year, which is equivalent to taking over 22,000 passenger vehicles off the road annually and over the past 5 years EP&T has delivered over $110 million in energy savings for clients.
Revenue Model
EP&T generates revenue by selling the EDGE platform under a SaaS subscription direct to clients. The SaaS fees cover all system set up costs and ongoing services for a client in a fixed recurring fee. Fees are charged monthly, quarterly or annually. On occasion, revenue is derived from upfront charges to clients or through one off sales of ancillary services or equipment.

Global ACV CAGR of 24% was achieved from June 2018 to June 2020. At February 2021 ACV is $8.1 million up from $7.6m at June 2020. Prior to June 2018 the majority of ACV was generated within Australia. Investment in overseas operations has delivered a 57% CAGR in non‑Australian based ACV from June 2018 to June 2020 and this now represents 64% of total group ACV.
Total Annualised Contract Value (A$m)

Growth Strategy
EP&T has the following key strategies for growth:
Investing in Sales and Marketing – Investment will be made in expanding EP&T's sales team to enable the successful roll‑out of the SaaS model globally. This will be supported by targeted marketing campaigns to increase EP&T's brand recognition and gain deeper levels of market penetration.
Moving to a SaaS based client engagement model – Historically, EP&T used a capital model with high upfront installation fees to clients. In September 2019 this was replaced with a SaaS based model benefitting from lower or no upfront costs to clients.
Driving product innovation – continued product innovation to meet EP&T's client needs. The expansion of the product suite may open up further cross sell opportunities and increase EP&T's addressable market.
Further International Expansion – EP&T has successfully established offices in three countries outside of Australia. It has a pipeline of global sales opportunities and will assess if further international expansion will be pursued in those regions where EP&T considers the greatest addressable market opportunities reside.