Business Overview
Emerald Clinics operates a network of specialist medical Clinics and uses purpose-built software and technology to gather high quality clinical data from informed and consenting patients. The real-world data (RWD) generated across Emerald Clinics' clinical network is commercially valuable and, when anonymised and analysed, can be used as clinical evidence to improve cannabinoid and other medicine development, improve clinical trial design and delivery, develop clinical decision support tools for clinicians, guide pharmacovigilance programs, inform health economic and payment coverage decisions and, ultimately, aims to improve patient health outcomes.
Emerald Clinics' mission is to ensure that cannabinoid-based medicines are appropriately prescribed to suitable patients in order to improve health outcomes and quality-of-life. A core component of the Emerald Clinics Care Model is the capture of comprehensive RWD, from consenting patients that can be used as real world evidence (RWE) to support innovation across the cannabinoid medicine industry (Emerald Data Platform).
Emerald Clinics received its first TGA approval for the prescription of medicinal cannabis on 28 December 2018. As of 18 November 2019, Emerald Clinics has received 811 successful initial approvals for the prescription of medicinal cannabis and Emerald Clinics has received referrals for 818 unique patients who are now considered Active Patients across its four Clinics.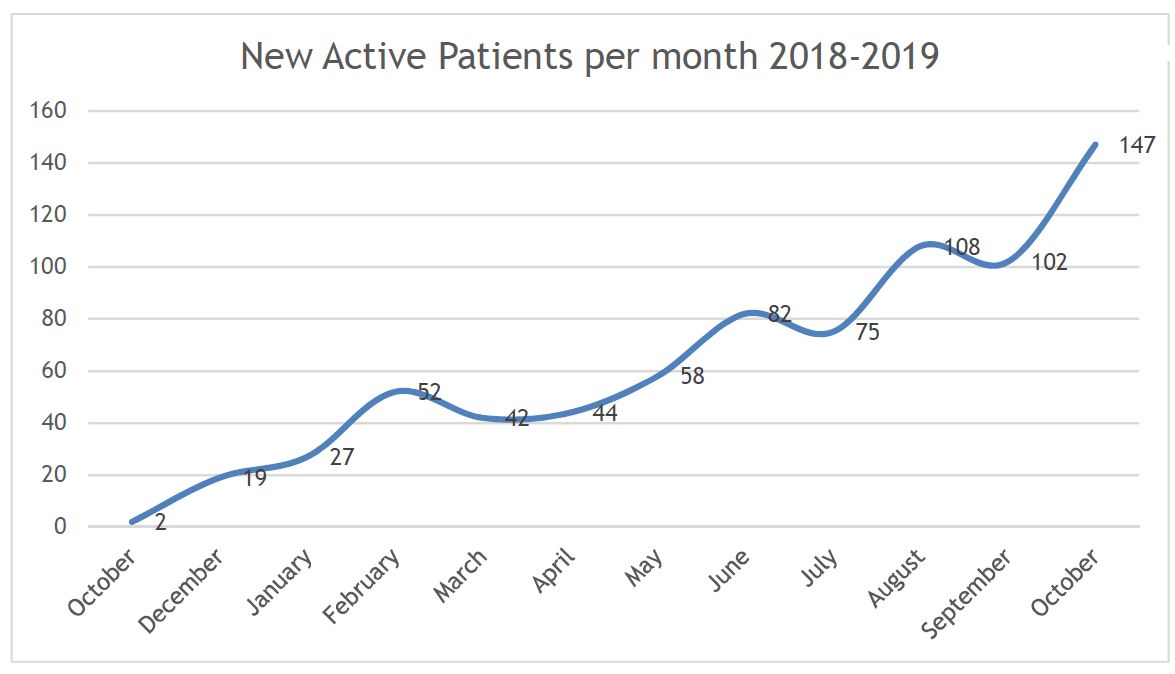 The Emerald Data Platform
Initially, Emerald Clinics focussed on developing the architecture, policies, processes and implementation plans for its clinical data capture approach, which underpins the Emerald Data Platform. During the start-up phase of product development, Emerald Clinics developed protocols for data collection and privacy protection with the intent of generating data focussed on the treatment of chronic and neuropathic pain with cannabinoid products. Emerald Clinics has since secured fee-paying contracts for the use of the Emerald Data Platform.
The Emerald Data Platform adheres to strict security, data governance and quality management standards and all data is captured, encrypted and stored in either an electronic health record (EHR) or an FDA-compliant electronic data capture system (EDC). This helps ensure that the RWE generated from Emerald Clinics' RWD could be presented to major global regulators such as the Food and Drug Administration (FDA) in the US and the European Medicines Agency (EMA) in Europe. Both the FDA and EMA are actively developing guidance to increase the use of RWE in support of "market authorisations".
The Platform

Emerald Clinics' clinicians and research team collect information from each consenting patient. This data comprises a demographic profile as well as specific safety and treatment outcomes as monitored via routine medical examinations and a suite of clinically validated measures and questionnaires designed to evaluate changes in specific medical conditions, adverse events, quality-of-life changes, physical and emotional functioning and sleep.
Emerald Care Model
The "Emerald Care Model" is a combination of clinical protocol (which determines the schedule of assessments and sequencing of when and how such assessments are performed), business processes and decision making affecting the patient experience.
Patients present to Emerald Clinics with a referral from their primary care doctor or treating specialist. All patients undergo an initial medical screen to assess their needs and suitability for cannabinoid therapy. If deemed appropriate, an application will be made by the medical practitioner to the TGA.
Patients are also invited to provide their consent to allow their anonymous clinical data to be aggregated and shared for research and commercial purposes thus helping develop Emerald Clinics' RWE asset.
Emerald Clinics
The Clinics generate revenue and provide patient data. Consultations are billed directly to the patient or, on a case-by-case basis to a patient's insurer. The Clinics derive revenue in a manner consistent with other general practice and specialist medical centres, noting however, that as part of Emerald Clinics' governance model, doctors at the Clinics are remunerated on a per-day, rather than per-consult or prescription basis. This is designed to ensure that there is no financial incentive to prescribe cannabinoid products.
To date, Emerald Clinics has received SAS-B approvals from the TGA for the following non-exhaustive indications:
chronic, non-cancer pain
chemotherapy-induced nausea and vomiting;
palliative care indications;
cancer pain;
neuropathic pain;
spasticity from neurological conditions; and
anorexia and wasting associated with chronic illness (such as cancer).
A majority of Emerald Clinics' patients have presented for the symptomatic treatment of chronic, noncancer pain.
The Clinics