Upcoming Private Placement
This is an upcoming Private Placement offer and is only open to Professional, Sophisticated and Experienced investors. More information on how to qualify here.
Introduction
EAT Displays is an adtech company that provides digital out-of-home advertising solutions in previously untapped, engaging retail environments such as foodcourts and airports. The company has turned the traditional table into a powerful innovative display unit that provides advertisers, retailers and others with an unparalleled opportunity to connect and engage with each other, at a time when consumers are at their most receptive and responsive – while taking time out to eat, drink, relax and charge their mobile devices.
The company has installed its globally patented smart table at 4 locations with LendLease and Dexus, has a contract to install with ISPT, and is in advanced stages with Sydney Airport and a number of other blue-chip clients as it expands its national footprint.
EAT Displays records and stores customer behaviour and demographics through concealed visual sensors, and has the ability to provide hypertargeted advertising content based on specific demographic features. This allows brands to reach target audiences in highly engaged, retail environments while store managers can gain deeper insights into customer behaviour.
The Addressable Market
The initial targets are shopping centres and airports, where people sit to eat and drink for prolonged periods, with a high propensity to spend. Average dwell time in food courts is 20 minutes; international airports is 120 minutes.

Investment Highlights
Fully-built, globally patented technology providing digital out-of-home advertising solutions through a smart, digital table
Reaching previously untapped locations within food courts and airports through scalable, plug n play solution
Wide geographic application where people are engaged for prolonged periods with high propensity to purchase
Ability to target specific demographics through concealed visual sensors
Valuable data capture, providing deep insights into consumer behaviour for store managers and brands
Attractive path to market, engaging directly with blue-chip landlords as well as facilities managers such as JLL and Colliers
Contracts with Dexus, Lendlease, ISPT. MOU with JLL, discussions with AMP, Westfield, Virgin and others
Compelling unit economics; long expected lifetime due to high durability, low maintenance and fixed nature
Diverse functionality such as smartphone connectivity and QR scanning allows audiences to remain engaged for longer
Contracts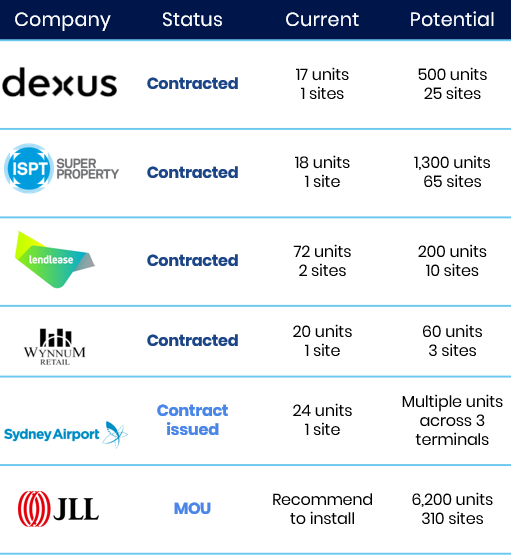 Management Team
Adam Canceri – Founder and CEO: Practiced 16 years of law before founding EAT. Areas of practice included commercial, property, licensing and IP law. Adam also has a degree in Commerce majoring in business management and marketing.
Jack Wang - CTO: Holds Master of Computer Science from UNSW and is the former Chairman of The Computer Society at Beijing Technology and Business University. Jack now coordinates hardware & software development.
Matt Knox – Consulting CIO: with almost 20 years' experience in web, mobile, microelectronics and machine learning. He has been involved in several successful tech start-ups and is the founder and current CTO of CodeLab, a Sydney based global technology company.
Denise Canceri – General Manager: With nearly two decades in BDM roles for Optus, Vodafone and Telstra, Denise's experience in business administration allows her to effectively implement corporate growth strategies whilst overseeing our financial health.
Leng Peng – Consulting Developer: a java developer for News Digital Media, News Corp Australia and Resmed providing valuable insight into the creation, development and implementation of both front-end and back-end systems.
Adrian Canceri – General Counsel: Adrian was admitted as a Barrister to the New South Wales Bar in August 2001 and is a member of the Bar Association of NSW and the Australian Bar Association. He has a wealth of advocacy experience in a variety of jurisdictions and is a seasoned litigator.
Section 708 disclosure: The issuer of the securities is EAT Displays Holdings Pty Ltd ACN 623 195 246. The securities to be issued are fully paid ordinary shares. The information provided on the OnMarket website has been prepared by EAT Displays Holdings Ltd, and OnMarket makes no representation as to its accuracy or completeness. No prospectus has been prepared and accordingly, the Offer is being made to sophisticated, experienced and professional investors only.
The offer close and the 'Pay By' dates may change. Duplicate bids under the same investment profile or investor name may be cancelled. If oversubscribed, applications will be scaled back on a pro rata basis.
.